Abstract
Parent–offspring conflict has been scarcely studied in Neotropical primates. In this study, we explored mother–offspring conflict in a group of wild black and gold howler monkeys (Alouatta caraya) in northeastern Argentina. We used the all-occurrences technique to record behaviors, completing 712 h of observation. The results showed that all immature individuals between 2 and 23 months expressed conflict with regard to suckling or traveling with their mothers. Successful suckling attempts negatively correlated with the age of the immatures, occurring least frequently with the presence of newborns. In the juvenile period, the decline in successful attempts was a consequence of juveniles reducing suckling attempts and mother rejection.
This is a preview of subscription content, log in to check access.
Access options
Buy single article
Instant access to the full article PDF.
US$ 39.95
Price includes VAT for USA
Subscribe to journal
Immediate online access to all issues from 2019. Subscription will auto renew annually.
US$ 99
This is the net price. Taxes to be calculated in checkout.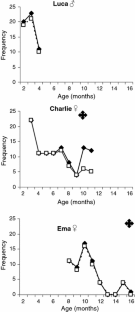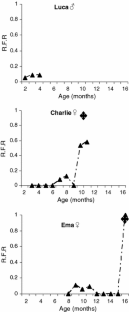 References
Agoramoorthy G, Rudran R (1992) Adoption in free-ranging red howler monkeys, Alouatta seniculus of Venezuela. Primates 33:551–555

Altmann J (1974) Observational study of behavior: sampling methods. Behaviour 49:227–267

Altmann J (1980) Baboon mothers and infants. Harvard University Press, Cambridge

Bateson P (1994) The dynamics of parent–offspring relationships in mammals. Trends Ecol Evol 9:399–402

Bentley-Condit VK (2003) Sex differences in captive olive baboon behavior during the first fourteen days of life. Int J Primatol 24:1093–1112

Berman CM, Rasmussen KLR, Suomi SJ (1993) Reproductive consequences of maternal care patterns during estrus among free-ranging rhesus monkeys. Behav Ecol Sociobiol 32:391–399

Biedzicki de Marques AA, Ades C (2000) Male care in a group of wild Alouatta fusca clamitans in Southern Brazil. Folia Primatol 71:409–412

Calegaro-Marques C, Bicca-Marques JC (1993a) Allomaternal care in the black howler monkey (Alouatta caraya). Folia Primatol 61:104–109

Calegaro-Marques C, Bicca-Marques JC (1993b) Reproduçaõ de Alouatta caraya Humboldt, 1812 (Primates, Cebidae). A Primatologia do Brasil 4:51–66

Clarke MR (1990) Behavioral development and socialization of infants in a free ranging group of howling monkeys (Alouatta palliata). Folia Primatol 54:1–15

Clarke MR, Glander KE (1981) Adoption of infant howling monkeys (Alouatta palliata). Am J Primatol 1:469–472

Clarke MR, Glander KE, Zucker EL (1998) Infant–nonmother interactions of mantled howler infants with group members. Int J Primatol 19:451–472

Crockett CM, Eisenberg JF (1987) Howlers: variations in group size and demography. In: Smuts BB, Cheney DL, Seyfarth RM, Wangham RW, Struhsaker TT (eds) Primate societies. University of Chicago Press, Chicago, pp 54–68

Devinney BJ, Berman CM, Rasmussen KLR (2003) Individual differences in response to sibling birth among free-ranging yearling rhesus monkeys (Macaca mulatta) on Cayo Santiago. Behaviour 140:899–924

DeVore I (1963) Mother-infant relations in free-ranging baboons. In: Rheinggold HL (ed) Maternal behavior in mammals. Wiley, New York, pp 305–335

Di Fiore A, Campbell CJ (2007) The Atelines: variation in ecology, behavior, and social organization. In: Campbell CJ, Fuentes A, MacKinnon KC, Panger M, Bearder SK (eds) Primates in perspective. Oxford University Press, New York, pp 155–185

Gomendio M (1991) Parent/offspring conflict and maternal investment in rhesus macaques. Anim Behav 42:993–1005

Hauser MD (1986) Parent–offspring conflict: care elicitation behaviour and the "cry-wolf" syndrome. In: Else JG, Lee PC (eds) Primate ontogeny, cognition, and social behaviour. Cambridge University Press, Cambridge, pp 193–203

Hauser MD, Fairbanks LA (1988) Mother–offspring conflict in vervet monkeys: variation in response to ecological conditions. Anim Behav 36:802–813

Horr DA (1977) Orangutan maturation: growing up in a female world. In: Chevalier-Skolnikoff S, Poirier FE (eds) Primate bio-social development. Garland, New York, pp 289–321

Horvat JR, Kraemer HC (1982) Behavioral changes during weaning in captive chimpanzees. Primates 23:488–499

Ingram JC (1977) Interactions between parents and infants and the development of independence in the common marmoset (Callithrix jacchus). Anim Behav 25:811–827

Kowalewski MM (2007) Patterns of affiliation and co-operation in howler monkeys: an alternative model to explain social organization in non-human primates. PhD thesis, University of Illinois at Urbana-Champaign

Kowalewski MM, Zunino GE (2004) Birth seasonality in Alouatta caraya in northern Argentina. Int J Primatol 25:383–400

Locke-Haydon J, Chalmers NR (1983) The development of infant-caregiver relationships in captive common marmosets (Callithrix jacchus). Int J Primatol 4:63–81

Maestripieri D (2002) Parent–offspring conflict in primates. Int J Primatol 23:923–951

Miranda JMD, Aguiar LM, Ludwig G, Moro-Rios RF, Passos FC (2005) The first seven months on an infant of Alouatta guariba (Humboldt) (Primates, Atelidae): interactions and the development of behavioral patterns. Rev Bras Zool 22:1191–1195

Rumiz DI (1990) Alouatta caraya: population density and demography in Northern Argentina. Am J Primatol 21:279–294

Rumiz DI (1992) Effects of demography, kinship, and ecology on the behavior of the red howler monkey, Alouatta seniculus. PhD thesis. University of Florida

Schino G, Troisi A (2001) Relationship with the mother modulates the response of yearling Japanese macaques (Macaca fuscata) to the birth of a sibling. J Comp Psychol 115:392–396

Schino G, Majolo B, Ventura R, Troisi A (2001) Resumption of sexual activity affects mother–infant interactions in Japanese macaques. Behaviour 138:261–275

Tanaka I (1992) Three phases of lactation in free-ranging Japanese macaques. Anim Behav 44:129–139

Treves A, Drescher A, Snowdon CT (2003) Maternal watchfulness in black howler monkeys (Alouatta pigra). Ethology 109:135–146

Trivers RL (1972) Parental investment and sexual selection. In: Campbell B (ed) Sexual selection and the descent of man 1871–1971. Aldine, Chicago, pp 136–179

Trivers RL (1974) Parent–offspring conflict. Am Zool 14:249–264

Worlein JM, Eaton GG, Johnson DF, Glick BB (1988) Mating season effects on mother-infant conflict in Japanese macaques, Macaca fuscata. Anim Behav 36:1472–1481

Zhao O, Tan CL, Pan W (2008) Weaning age, infant care, and behavioral development in Trachypithecus leucocephalus. Int J Primatol 29:583–591

Zunino GE, González V, Kowalewski MM, Bravo SP (2001) Alouatta caraya relations among habitat density and social organization. Primate Report 61:37–46
Acknowledgments
We thank the Centro de Capacitación Comunitaria of Isla Cerrito for logistic support. We are very grateful to all field assistants that helped us in data collection. We thank Melissa Raguet for valuable comments on an earlier version of this manuscript. This study was supported by the National Council of Research and Technology of Argentina (CONICET) (S.P.) and the American Society of Primatology (S.P.).
About this article
Cite this article
Pavé, R., Kowalewski, M.M., Peker, S.M. et al. Preliminary study of mother–offspring conflict in black and gold howler monkeys (Alouatta caraya). Primates 51, 221–226 (2010). https://doi.org/10.1007/s10329-010-0189-3
Received:

Accepted:

Published:

Issue Date:
Keywords
Alouatta caraya

Parent–offspring conflict

Mother–infant interactions

Nursing