Abstract
The white-fronted spider monkey, Ateles marginatus, is endemic to Brazilian Amazon between the Tapajós and Xingu Rivers, and is classified as endangered due primarily to habitat loss. This study presents data on the distribution and relative abundance of the species in the northwestern corner of its distribution, on the lower Tapajós River, centered on the 545,000 ha Tapajós National Forest (Flona Tapajós). Quantitative data were collected in line transect surveys at 14 sites, and confirmatory interviews were conducted at these, and a further four sites. The results indicate that A. marginatus is extinct or extremely rare at sites in the northern extreme of the study area, but is relatively widespread further south, except in very small fragments (<100 ha). While the present-day occurrence of A. marginatus is clearly affected by habitat fragmentation, the species' original distribution appears to have been characterized by local lacunas, determined by factors relating to habitat quality. While hunting pressure does not seem to be a major threat at the present time, competition with a second atelid, Alouatta discolor, may have reinforced the effects of habitat disturbance in some areas, especially smaller fragments. Grouping patterns were typical of the genus, including an apparent female bias in the sex ratio of adults. Overall, the results indicate an ongoing decline in the occurrence of A. marginatus within the study area, local extinction, especially in smaller fragments, and an urgent need for the establishment of effective conservation measures.
This is a preview of subscription content,
to check access.
Access this article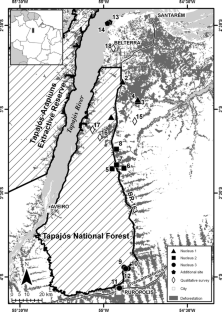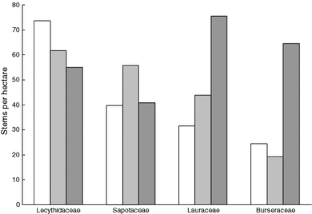 Similar content being viewed by others
References
Bobadilla UL, Ferrari SF (2000) Habitat use by Chiropotes satanas utahicki and syntopic platyrrhines in eastern Amazonia. Am J Primatol 50:215–224

Bodmer RE, Fang TG, Ybañes LM (1988) Primates and ungulates: a comparison of susceptibility to hunting. Primate Conserv 9:79–83

Buckland ST, Anderson DR, Burnham KP, Laake JL (1993) Distance sampling: estimating abundance of biological populations. Chapman & Hall, New York

Coelho FJF, Ferreira HC, Barros-Silva S, Ribeiro AG, Terezo EFM (1976) As Regiões Fitoecológicas, Sua Natureza e Seus Recursos Econômicos. Estudo Fitoecológico. Capítulo IV—Vegetação. Projeto RadamBrasil 10:311–405

Corrêa HKM (2006) Ecologia de dois grupos de sagüis-brancos, Mico argentatus (Linnaeus 1771) em um fragmento florestal natural, Santarém-Pará (dissertation). Museu Paraense Emílio Goeldi, Belém, p 232

Emídio-Silva C (1998) A caça de subsistência praticada pelos índios Parakanã (sudeste do Pará): características e sustentabilidade (thesis). Universidade Federal do Pará, Belém

Ferrari SF (2004) Biogeography of Amazonian primates. In: Mendes SL, Chiarello AG (eds) A primatologia no Brasil-8. Sociedade Brasileira de Primatologia, Santa Teresa, pp 101–122

Ferrari SF, Lopes MA (1990) A survey of primates in central Pará. Bol Mus Para E Goeldi Zool 6:169–179

Ferrari SF, Ghilardi Jr. R, Lima EM, Pina ALCB, Martins SS (2002) Mudanças a longo prazo nas populações de mamíferos da área de influência da Usina Hidrelétrica de Tucuruí, Pará. In: Resumos do XXIV° Congresso Brasileiro de Zoologia. Sociedade Brasileira de Zoologia, Itajaí, pp 540–541

Ferrari SF, Iwanaga S, Ravetta AL, Freitas FC, Sousa BAR, Souza LL, Costa CG, Coutinho PEG (2003) Dynamics of primate communities along the Santarém-Cuiabá highway in southern central Brazilian Amazônia. In: Marsh LK (ed) Primates in fragments. Kluwer, New York, pp 123–144

Ferrari SF, Bobadilla UL, Emidio-Silva C (2007) Where have all the titis gone? The heterogeneous distribution of Callicebus moloch in eastern Amazonia, and its implications for the conservation of Amazonian primates. Primate Conserv 22:49–54

GTI (2004) Plano de desenvolvimento sustentável para a área de influência da BR-163. Decreto de 15 de março de 2004. Coordenação da casa civil da presidência da república—oficina de consulta à sociedade local. Brasília (Brazil)

Haugaasen T, Peres CA (2005) Primate assemblage structure in Amazonian flooded and unflooded forests. Am J Primatol 67:243–258

IUCN (2008) 2008 IUCN red list of threatened species. http://www.iucnredlist.org

Iwanaga S, Ferrari SF (2002a) Geographic distribution of red howlers, Alouatta seniculus (Platyrrhini, Alouattini), in southwestern Brazilian Amazonia, with notes on Alouatta caraya. Int J Primatol 23:1245–1256

Iwanaga S, Ferrari SF (2002b) Geographic distribution and abundance of woolly (Lagothrix cana) and spider (Ateles chamek) monkeys in southwestern Brazilian Amazonia. Am J Primatol 56:57–64

Kellogg R, Goldman EA (1944) Review of the spider monkeys. Proceed US Natl Mus 96:1–45

Lehmann SM (2004) Biogeography of the primates of Guyana: effects of habitat use and diet on geographic distribution. Int J Primatol 25:1225–1242

Martins ES, Ayres JM, Valle MB (1988) On the status of Ateles belzebuth marginatus with notes on other primates of the Iriri river basin. Primate Conserv 9:87–91

Martins SS, Silva Júnior JS, Lima EM, Santos RR (2005) Primatas da Estação Científica Ferreira Penna, Floresta Nacional de Caxiuanã, Pará. In: Resumos do XI° Congresso Brasileiro de Primatologia. Sociedade Brasileira de Primatologia, Porto Alegre, p 124

Milton K (1981) Estimates of reproductive parameters for free-ranging Ateles geoffroyi. Primates 22:574–579

Nunes AP (1992) Uso do habitat, comportamento alimentar e organização social de Ateles belzebuth belzebuth (Primate: Cebidae) (thesis). Museu Paraense Emílio Goeldi/Universidade Federal do Pará, Belém, p 194

Nunes AP (1995) Status, distribution and viability of wild populations of Ateles belzebuth marginatus. Neotrop Primates 3:17–18

Nunes AP, Chapman CA (1997) A re-evaluation of factors influencing the sex ratio of spider monkey populations with new data from Maracá Island, Brazil. Folia Primatol 68:31–33

Peres CA (1990) Effects of hunting on western Amazonian primate communities. Biol Conserv 54:47–59

Peres CA (1997) Effects of habitat quality and hunting pressure on arboreal folivore densities in Neotropical forests: a case study of howler monkeys (Alouatta spp.). Folia Primatol 68:199–222

Ráez-Luna EF (1995) Hunting large primates and conservation of the Neotropical rain forests. Oryx 29:43–48

Ravetta AL (2001) O coatá-de-testa-branca (Ateles marginatus) do baixo rio Tapajós, Pará: ecologia e status de conservação (thesis). Museu Goeldi/Universidade Federal do Pará, Belém

van Roosmalen MGM (1985) Habitat preferences, diet, feeding strategy and social organization of the black spider monkey (Ateles paniscus paniscus Linnaeus 1758) in Surinam. Acta Amazon 15:1–238

van Roosmalen MGM, Klein LL (1988) The spider monkeys, genus Ateles. In: Mittermeier RA, Rylands AB, Coimbra-Filho AF, Fonseca GAB (eds) Ecology and behavior of Neotropical primates, vol 2. World Wildlife Fund, Washington, DC, pp 455–537

Symington MM (1987) Sex ratio and maternal rank in wild spider monkeys: when daughters disperse. Behav Ecol Sociobiol 20:421–425

Symington MM (1988) Demography, ranging patterns and activity budgets of black spider monkey (Ateles paniscus chamek) in the Manu National Park, Peru. Am J Primatol 15:45–67
Acknowledgments
This study was made possible by the support of PROBIO/MMA/BIRD/GEF/CNPq, IBAMA-Santarém, and the Kapok Foundation, and all research activities complied with federal legislation. CNPq provided research stipends to both authors (process no. 307506/2003-7). We are especially grateful to Simone Iwanaga, Cláudia Costa, Luciane Souza, Francisco Freitas, Belmira Sousa, Paulo Coutinho, and João Batista Lira do Carmo for their assistance with data collection, Luis C.F. Barbosa for the preparation of the map, and Marilyn Norconk and Anthony Rylands for their suggestions for the improvement of the manuscript.
About this article
Cite this article
Ravetta, A.L., Ferrari, S.F. Geographic distribution and population characteristics of the endangered white-fronted spider monkey (Ateles marginatus) on the lower Tapajós River in central Brazilian Amazonia. Primates 50, 261–268 (2009). https://doi.org/10.1007/s10329-009-0146-1
Received:

Accepted:

Published:

Issue Date:

DOI: https://doi.org/10.1007/s10329-009-0146-1
Keywords