Abstract
Each local population of chimpanzees shows cultural variation, but little is known about how behavioral variations first emerge, and how often variants spread to other individuals and then become fixed as a local culture in chimpanzee society. Although field studies of chimpanzees are still too short to answer these questions definitively, it may stimulate further study in various sites to summarize the developments observed over the past 40 years at Mahale, Tanzania. Innovative patterns were operationally defined as new behavioral patterns performed by M group chimpanzees from 1981 onwards. Innovations included patterns of feeding (n = 8), human-directed behavior (n = 3), hygiene behavior (n = 4), maternal carrying of infants (n = 2), courtship (n = 2), play (n = 6), intimidation displays (n = 3), and quasi-grooming (n = 4). Although most patterns were repeated later by other individuals, six patterns were never seen performed by another individual, and eight patterns were performed by one or a few individuals but social transmission was unlikely. Thus, innovation was not rare, but emergence of fashion or establishment of traditions seems to occur rarely in chimpanzee society.
Access options
Buy single article
Instant access to the full article PDF.
USD 39.95
Price includes VAT (USA)
Tax calculation will be finalised during checkout.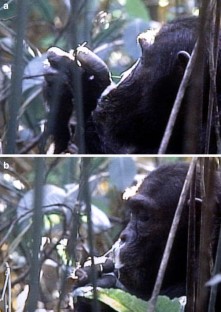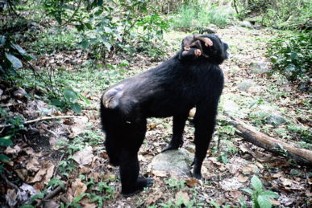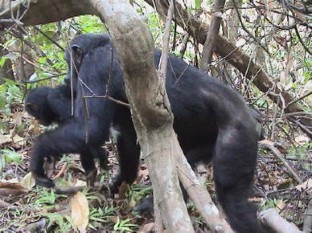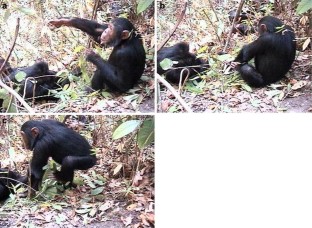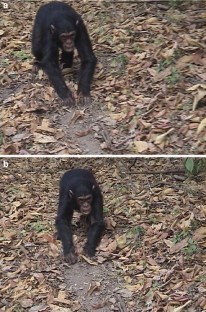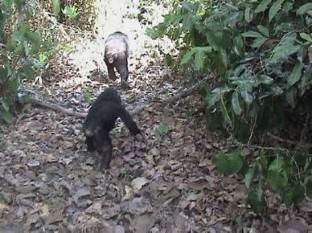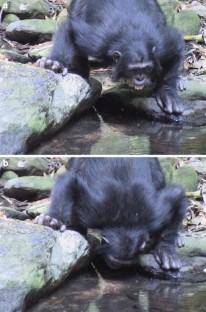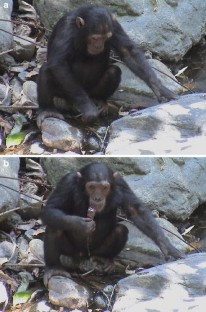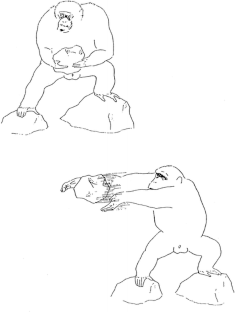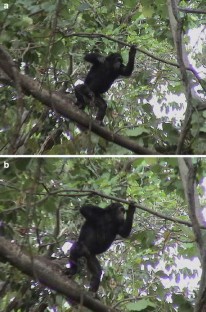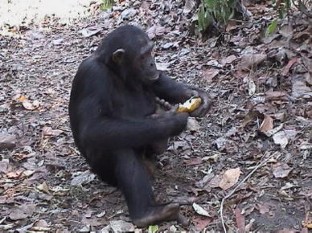 References
Biro D, Inoue-Nakamura N, Tonooka R, Yamakoshi G, Sousa C, Matsuzawa T (2003) Cultural innovation and transmission of tool use in wild chimpanzees: evidence from field experiments. Anim Cogn 6:213–223

Goodall J (1968) The behavior of free-living chimpanzees in the Gombe Stream Reserve. Anim Behav Monogr 1:161–311

Goodall J (1973) Cultural elements in a chimpanzee community. In: Menzel E (ed) Precultural primate behavior. Karger, Basel, pp 144–184

Goodall J (1986) The chimpanzees of Gombe. Harvard University Press, Cambridge, MA

Hayaki H (1985) Social play of juvenile and adolescent chimpanzees in the Mahale Mountains National Park, Tanzania. Primates 26:343–360

Hosaka K, Nishida T, Hamai M, Matsumoto-Oda A, Uehara S (2001) Predation of mammals by the chimpanzees of the Mahale Mountains, Tanzania. In: Galdikas BMF, Briggs NE, Sherman LK, Shapiro GL, Goodall J (eds) All apes great and small. vol 1: African apes. Kluwer/Plenum, New York, pp 107–130

Kawai M (1965) Newly acquired pre-cultural behavior of the natural troop of Japanese monkeys on Koshima Islet. Primates 6:1–30

Kummer H, Goodall J (1985) Conditions of innovative behavior in primates. Philos Trans R Soc Lond B 308:441–471

Leca J-B, Gunst N, Huffman MA (2007) Japanese macaque cultures: inter-and intra-troop behavioral variability of stone handling patterns across 10 troops. Behaviour 144:251–281

Marchant LF, McGrew WC (1999) Innovative behavior at Mahale: new data on nasal probe and nipple press. Pan Afr News 6:16–18

McGrew WC (1992) Chimpanzee material culture. Cambridge University Press, Cambridge

McGrew WC (2004) The cultured chimpanzee. Cambridge University Press, Cambridge

McGrew WC, Marchant LF (1998) Chimpanzee wears a knotted skin "necklace". Pan Afr News 5:8–9

McGrew WC, Tutin CEG (1978) Evidence for a social custom in wild chimpanzees? Man 13:234–251

Matsusaka T, Kutsukake N (2002) Use of leaf-sponge and leaf-spoon by juvenile chimpanzees at Mahale. Pan Afr News 9:6–9

Matsusaka T, Nishie H, Shimada M, Kutsukake N, Zamma K, Nakamura M, Nishida T (2006) Tool-use for drinking water by immature chimpanzees of Mahale: prevalence of an unessential behavior. Primates 47:113–122

Nakamura M (1997) First observed case of chimpanzee predation on yellow baboons (Papio cynocephalus) at the Mahale Mountains National Park. Pan Afr News 4:9–11

Nakamura M, Itoh N (2005) Notes on the behavior of a newly immigrated female chimpanzee to the Mahale M group. Pan Afr News 12:20–22

Nakamura M, McGrew WC, Marchant LF, Nishida T (2000) Social scratch: another custom in wild chimpanzees? Primates 41:237–248

Nishida T (1973) The children of the mountain spirits (in Japanese). Chikuma-Shobo, Tokyo

Nishida T (1980) Local differences in responses to water among wild chimpanzees. Folia Primatol 33:189–209

Nishida T (1981) The leaf-clipping display: a newly discovered expressive gesture in wild chimpanzees. J Hum Evol 9:117–128

Nishida T (1987) Local traditions and cultural transmission. In: Smuts BB, Cheney DL, Seyfarth RM, Wrangham RW, Struhsaker TT (eds) Primate societies. University of Chicago Press, Chicago, pp 462–474

Nishida T (1993) Chimpanzees are always new to me. In: Cavalieri P, Singer P (eds) Great ape project. Fourth Estate, London, pp 24–26

Nishida T (1994) Review of recent findings on Mahale chimpanzees: implications and future research directions. In: Wrangham RW, McGrew WC, de Waal FBM, Heltne PG (eds) Chimpanzee cultures. Harvard University Press, Cambridge, pp 373–396

Nishida T (1997a) Baboon invasion into chimpanzee habitat. Pan Afr News 4:11–12

Nishida T (1997b) Sexual behavior of adult male chimpanzees of the Mahale Mountains National Park, Tanzania. Primates 38:379–399

Nishida T (2002a) Competition between baboons and chimpanzees at Mahale. Pan Afr News 9:23–26

Nishida T (2002b) A self-medicating attempt to remove the sand flea from a toe by a young chimpanzee. Pan Afr News 9:5–6

Nishida T (2003) Individuality and flexibility of cultural behavior patterns in chimpanzees. In: de Waal FBM, Tyack PL (eds) Animal social complexity. Harvard University Press, Cambridge, MA, pp 392–413

Nishida T, Kawanaka K (1985) Within-group cannibalism by adult male chimpanzees. Primates 26:274–284

Nishida T, Nakamura M (1993) Chimpanzee tool use to clear a blocked nasal passage. Folia Primatol 61:218–220

Nishida T, Wallauer W (2003) Leaf-pile pulling: an unusual play pattern in wild chimpanzees. Am J Primatol 60:167–173

Nishida T, Mitani JC, Watts D (2004) Variable grooming behaviour in wild chimpanzees. Folia Primatol 75:31–36

Nishida T, Kano T, Goodall J, McGrew WC, Nakamura M (1999) The ethogram and ethnography of Mahale chimpanzees. Anthropol Sci 107:141–188

Nishie H (2004) Increased hunting of yellow baboons (Papio cynocephalus) by M group chimpanzees at Mahale. Pan Afr News 11:10–12

Perry S, Baker M, Fedigan L, Gros-Louis J, Jack K, MacKinnon KC, Manson JH, Panger M, Pyle K, Rose L (2003) Social conventions in wild white-faced capuchin monkeys. Curr Anthropol 44:241–268

Plooij FX (1984) The behavioral development of free-living chimpanzee babies and infants. Ablex, Norwood

Sakamaki T (1998) First record of algae feeding by a female chimpanzee at Mahale. Pan Afr News 5:1–3

Takahata Y, Hiraiwa-Hasegawa M, Takasaki H, Nyundo R (1986) Newly acquired feeding habits among the chimpanzees of the Mahale Mountains National Park, Tanzania. Hum Evol 1:277–284

Takasaki H (1983) Mahale chimpanzees taste mangoes—towards acquisition of a new food item? Primates 24:273–275

Tanaka I (1998) Social diffusion of modified louse egg-handling techniques during grooming in free-ranging Japanese macaques. Anim Behav 56:229–236

Tomasello M, Call J (1997) Primate cognition. Oxford University Press, New York

Uehara S (2002) Evidence of the leaf-clipping behavior by a chimpanzee of an unhabituated group at Mahale. Pan Afr News 9:3–4

Whiten A, Ham R (1992) On the nature and evolution of imitation in the animal kingdom: reappraisal of a century of research. Adv Study Behav 21:239–283

Whiten A, Goodall J, McGrew WC, Nishida T, Reynolds V, Sugiyama Y, Tutin CEG, Wrangham RW, Boesch C (1999) Cultures in chimpanzees. Nature 399:682–685

Wrangham RW (1975) The behavioural ecology of chimpanzees in the Gombe National Park, Tanzania. PhD Thesis, University of Cambridge

Yamakoshi G, Sugiyama Y (1995) Pestle-pounding behavior of wild chimpanzees at Bossou, Guinea: a newly observed tool-using behavior. Primates 36:489–500
Acknowledgments
We thank the Tanzania Commission for Science and Technology, Tanzania Wildlife Research Institute, and Tanzania National Parks for permission to work at the Mahale Mountains National Park, and Mahale Mountains Wildlife Research Centre and Mahale Mountains National Park for logistic support. We are indebted to all colleagues and Tanzanian assistants who have worked at Mahale for permission to use the shared data. We thank ANC production for permission to use pictures from their video footage. We thank two anonymous reviewers and Prof. Yukio Takahata for useful comments. The field work was financed by the JSPS Fund for Scientific Research (#12375003, 16255007, 19255008), Global Environment Research Fund of the Ministry of Environment (F-061) and the Leakey Foundation.
About this article
Cite this article
Nishida, T., Matsusaka, T. & McGrew, W.C. Emergence, propagation or disappearance of novel behavioral patterns in the habituated chimpanzees of Mahale: a review. Primates 50, 23–36 (2009). https://doi.org/10.1007/s10329-008-0109-y
Received:

Accepted:

Published:

Issue Date:
Keywords
Chimpanzee

Idiosyncrasy

Innovation

Learning

Mahale