Abstract
This report documents the response of wild mantled howlers (Alouatta palliata) to coseismic activity (seismic activity at the time of an earthquake). During field work on the north coast of Honduras, data were collected on a habituated troop of mantled howlers as they responded to coseismic activity. The seismic event occurred on 13 February 2001 at 0822 hours local time with a magnitude of Richter scale 6.6, focus depth of approximately 15 km at a distance of 341 km from the epicentre to the field site, Cuero y Salado. At the field site, based upon Jeffreys and Bullen (1988), body waves, noted as P and S waves, arrived at 60 and 87 s, respectively, with surface waves arriving approximately 103 s post-origin time of the seismic event. While there are three reports on non-human primate response to coseismic activity in the literature, they report on captive non-human primates. This is the first documented response on a non-captive troop. In addition, this report compares the intensity measure encountered by a wild troop of howlers and one captive group of orangutans as set out by the Modified Mercalli Intensity scale. The Modified Mercalli measure of intensity is one of two standard measures of seismic activity and rates what a person sees and feels at their location (Wood and Neumann 1931; Richter 1958). Thus, arboreal nonhuman primates are found to respond to coseismic activity ranging from Level IV to Level VI as based upon the modified Mercalli intensity scale.
Access options
Buy single article
Instant access to the full article PDF.
USD 39.95
Price excludes VAT (USA)
Tax calculation will be finalised during checkout.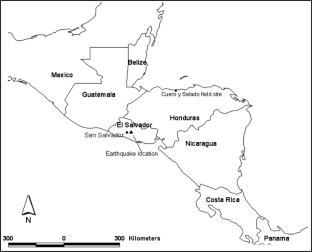 References
Altmann J (1974) Observational study of behavior: sampling methods. Behaviour 9:227–267

Anderson C (1973) Animals, earthquakes, and eruptions. Field Mus Nat Hist Bull 44:9–11

Antilla A (2001) Orangutans react to earthquake in Seattle. Long Call 6:4

Bolt BA (1999) Earthquakes, 4th edn. Freeman, New York

Bommer JJ, Benito MB, Ciudad-Real M, Lemoine A, Lopez-Menjivar MA, Madariaga R, Mankelow J, Mendez de Hasbun P, Murphy W, Nieto-Lovo M, Rodriquez-Pineda CE, Rosa H (2002) The El Salvador earthquakes of January and February 2001: context, characteristics, and implications for seismic risk. Soil Dyn Earthquake Eng 22:349–418

CEPREDENAC (2004) Coordination centre for the prevention of natural disasters in Central America http://www.cepredenac.org/

Chen AT, Ouchi T, Lin AM, Chen JC, Maruyama T (2000) Phenomena associated with the 1999 Chi-Chi earthquake in Taiwan, possible precursors and after effects. Terr Atmos Ocean Sci 11:689–700

Cox JA (1998) Land characteristics of Honduras, Technical Report CGIAR—consultative group on international agricultural research

Evernden JF (ed) (1976) Abnormal animal behavior prior to earthquakes I, proceedings of conference XI. US Geological Survey, Menlo Park

Grochembake JA (2003) Central America unites against earthquakes. Tierramerica (interpress service new agency), division of UNEP/UNDP http://www.ipsnews.net/

Hill PS (2001) Vibration and animal communication: a review. Am Zool 41:1135–1142

Ikeya M, Takaki S, Takashimizu D (1996a) Electric shocks resulting in seismic animal anomalous behaviors (SAABs). Jpn J Appl Phys 65:710–712

Ikeya M, Furuta H, Kajiwara N, Anzai H (1996b) Ground electric field effects on rats and sparrows: seismic anomalous animal behaviors (SAABs). Jpn J Appl Phys 35:4587–4594

Jeffreys H, Bullen KE (1988) First published in 1940, reprinted in Seismological Tables. British Association Seismological Investigations Committee, Gray Milne Trust

Kirschvink JL (2000) Earthquake prediction by animals: evolution and sensory perception. Bull Seismol Soc Am 90:312–323

Krusko N, Dolhinov P, Anderson C, Bortz W, Kastlen J, Flesher K, Flood M, Howe R, Kelly A, Favour NE, Leydorf C, Limbach C, Read E (1986) Earthquake: langur monkey's response. Lab Primate Newslett 25(1):6–7

Lott DF, Hart BL, Howell MW (1981) Retrospective studies of unusual animal behavior as an earthquake predictor. Geophys Res Lett 8:1203–1206

Michels C (1997) Latitude/longitude distance calculation. http://jan.ucc.nau.edu/∼cvm/latlongdist.html - formats

Richter CF (1958) Elementary seismology. Freeman, San Francisco

Shaw E (1977) Can animals anticipate earthquakes? Nat Hist 86:14–20

Tributsch H (1982) When snakes awake: animals and earthquake prediction. MIT Press, Cambridge, Mass.

USGS (2004a) Earthquake hazards program—Pacific Northwest region, community intensity maps, postal code 98103 region http://pasadena.wr.usgs.gov/shake/pnw/STORE/X2281854/ciim_display.html

USGS (2004b) Community internet intensity map: the science behind the maps. http://pasadena.wr.usgs.gov/shake/pnw/html/background.html - intensities

USGS (2004c) Modified Mercalli Intensity. The severity of an earthquake, a US Geological Survey General Interest Publication. US Government Printing office 1989, pp 288–913 http://neic.usgs.gov/neis/general/mercalli.html

Vreugdenhil D, Meerman J, Meyrat A, Gòmez LD, Graham DJ (2000) Map of the ecosystems of Central America: final report. World Bank, Washington

Wood HO, Neumann F (1931) Modified Mercalli intensity scale of 1931. Bull Seismol Soc Am 21:277–283
Acknowledgements
This paper acknowledges and is grateful for the financial assistance provided by the Department of Anthropology (Ontario Graduate Scholarship) at the University of Toronto, Canada; the Institute for Environmental Studies (Labatt Fellowship) at the University of Toronto, Canada; and Standard Fruit, the Mayan Division of DOLE. Thanks go to Dr. Frances Burton, University of Toronto at Scarborough; Fundacion Cuero y Salado, La Ceiba, Honduras; my local assistants, Arnoldo and Chico, and their families; the residents of CySWC and my Hondurans friends for their steady and continued support; James Dewey, USGS; Betty Araniva de Gonzalez, USAID El Salvador; Dr. Julian Bommer, Imperial College London; Dr. Allison Bent, Geological Survey of Canada; and Sadia Butt, for her GIS and Map assistance.
About this article
Cite this article
Snarr, K.A. Seismic activity response as observed in mantled howlers (Alouatta palliata), Cuero y Salado Wildlife Refuge, Honduras. Primates 46, 281–285 (2005). https://doi.org/10.1007/s10329-005-0151-y
Received:

Accepted:

Published:

Issue Date:

DOI: https://doi.org/10.1007/s10329-005-0151-y
Keywords
Alouatta palliata

Honduras

Mantled howler

Seismic activity