Abstract
Japanese star anise (Illicium anisatum L., JSA) is seriously damaged by a ringspot disease in Japan. Herein, to determine the causal agent using high-throughput sequencing, we discovered viral RNAs associated with JSA ringspot disease. We then determined the complete or near-complete nucleotide sequences of these RNAs using Sanger sequencing and RACE. The complementary strand of viral RNAs 1, 2, 3, 4, and 5 encoded a single protein, which shared sequence identity with P1 (RNA-dependent RNA polymerase), P2 (glycoprotein precursor), P3 (nucleocapsid protein), P4 (movement protein), and a protein with unknown function of emaraviruses (genus Emaravirus), respectively; however, the highest amino acid sequence identity for the P1–P5 proteins between JSARaV and known emaraviruses was 41.9%, 30.0%, 30.1%, 52.2%, and 38.0%, respectively, all of which were lower than the species demarcation criterion. Furthermore, RNA segments harbored conserved 12-nt terminal sequences at the 5′- and 3′-termini, and a high complementarity of approximately 20 nt in 5′- and 3′-terminal sequences. Transmission electron microscopy confirmed the presence of virus-like particles. JSA ringspot disease was found to be transmitted by an eriophyid mite (subclass Acari, superfamily Eriophyoidea) that belongs to the family Diptilomiopidae. Taken together, these results identified the virus responsible for the ringspot disease of JSA as a new member of the genus, Emaravirus, which we named as the Japanese star anise ringspot-associated virus (JSARaV). Moreover, this is the first report noting that eriophyid mites of the family Diptilomiopidae are capable of transmitting emaravirus.
Access options
Buy single article
Instant access to the full article PDF.
USD 39.95
Price includes VAT (USA)
Tax calculation will be finalised during checkout.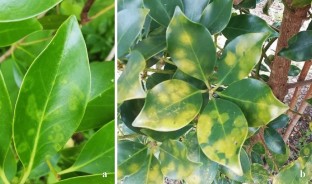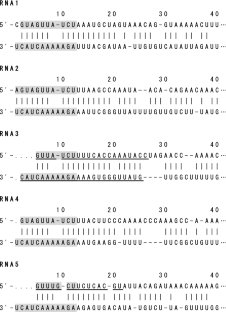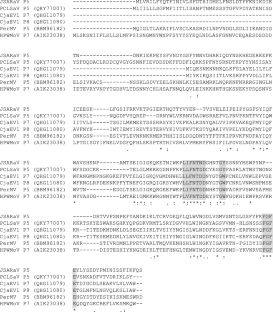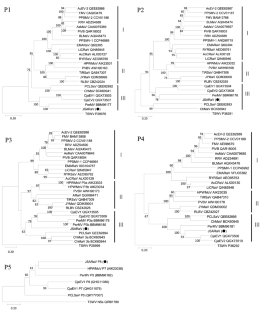 References
Amrine JW Jr, Hindal DF, Stasny TA, Williams RL, Coffman CC (1988) Transmission of the rose rosette disease agent to Rosa multiflora by Phyllocoptes fructiphilus (Acari: Eriophyidae). Entomol News 99:239–252

Buzkan N, Chiumenti M, Massart S, Sarpkaya K, Karadağ S, Minafra A (2019) A new emaravirus discovered in Pistacia from Turkey. Virus Res 263:159–163

Dietzgen RG, Freitas-Astúa J, Chabi-Jesus C, Ramos-González PL, Goodin MM, Kondo H, Tassi AD, Kitajima EW (2018) Dichorhaviruses in their host plants and mite vectors. Adv Virus Res 102:119–148

Elbeaino T, Digiaro M, Uppala M, Sudini H (2015) Deep sequencing of dsRNAs recovered from mosaic-diseased pigeonpea reveals the presence of a novel emaravirus: pigeonpea sterility mosaic virus 2. Arch Virol 160:2019–2029

Elbeaino T, Digiaro M, Mielke-Ehret N, Muehlbach HP, Martelli GP, ICTV Report Consortium (2018) ICTV virus taxonomy profile: Fimoviridae. J Gen Virol 99:1478–1479

Flock RA, Wallace JM (1955) Transmission of fig mosaic by the eriophyid mite Aceria ficus. Phytopathology 45:52–54

Fukumoto F, Maeno A (1994) Cucumber mosaic virus isolated from Illicium anisatum L. (in Japanese). Proc Kanto Tosan Plant Prot Soc 41:181–183

Gordon SC, Taylor CE (1976) Some aspects of the biology of the raspberry leaf and bud mite (Phyllocoptes (Eriophyes) gracilis Nal.) Eriophyidae in Scotland. J Hortic Sci 51:501–508

Gupta AK, Hein GL, Tatineni S (2019) P7 and P8 proteins of High Plains wheat mosaic virus, a negative-strand RNA virus, employ distinct mechanisms of RNA silencing suppression. Virology 535:20–31

Hasegawa Y (2020) Relationship between three eriophyoidea species and ring spot symptoms on Illicium anisatum L. leaves (in Japanese with English summary). Bull Grad Stud Sci Eng Eng Hosei Univ 61:1–3

Hasegawa Y, Tatara A (2020) Three kinds of Eriophyoidae on Illicium anisatum L. and the symptom of ringspot on leaves of it (abstract in Japanese). In: Administrative office of 64th annual meeting of the Japanese Society of Applied Entomology and Zoology (ed) Abstracts of 64th annual meeting of the Japanese Society of Applied Entomology and Zoology. Administrative office of 64th annual meeting of the Japanese Society of Applied Entomology and Zoology, Nagoya, Japan, p 132

Hassan M, Di Bello PL, Keller KE, Martin RR, Sabanadzovic S, Tzanetakis IE (2017) A new, widespread emaravirus discovered in blackberry. Virus Res 235:1–5

Higgins DG, Sharp PM (1988) CLUSTAL: a package for performing multiple sequence alignment on a microcomputer. Gene 73:237–244

Ilyas M, Avelar S, Schuch UK, Brown JK (2018) First report of an emaravirus associated with witches' broom disease and eriophyid mite infestations of the blue palo verde tree in Arizona. Plant Dis 102:1863

Ishikawa K, Maejima K, Nagashima S, Sawamura N, Takinami Y, Komatsu K, Hashimoto M, Yamaji Y, Yamamoto J, Namba S (2012) First report of fig mosaic virus infecting common fig (Ficus carica) in Japan. J Gen Plant Pathol 78:136–139

Kadono F (1996) Eriophyoid mites. In: Ehara S, Shinkaji N (eds) Principals of plant acalogy (in Japanese). Zenkoku Nouson Kyouiku Kyoukai, Tokyo, pp 204–236

Kubota K, Usugi T, Tomitaka Y, Shimomoto Y, Takeuchi S, Kadono F, Yanagisawa H, Chiaki Y, Tsuda S (2020) Perilla mosaic virus is a highly divergent emaravirus transmitted by Shevtchenkella sp. (Acari: Eriophyidae). Phytopathology 110:1352–1361

Kubota K, Chiaki Y, Yanagisawa H, Takeyama S, Suzuki R, Kohyama M, Horikawa T, Toda S, Kadono F (2021a) First report of pear chlorotic leaf spot-associated virus on Japanese and European pears in Japan and its detection from an eriophyid mite. Plant Dis 105:1234

Kubota K, Chiaki Y, Yanagisawa H, Yamasaki J, Horikawa H, Tsunekawa K, Morita Y (2021b) Novel degenerate primer sets for the detection and identification of emaraviruses reveal new chrysanthemum species. J Virol Methods 288:113992

Kubota K, Yanagisawa H, Chiaki Y, Yamasaki J, Horikawa H, Tsunekawa K, Morita Y, Kadono F (2021c) Complete nucleotide sequence of chrysanthemum mosaic-associated virus, a novel emaravirus infecting chrysanthemum. Arch Virol 166:1241–1245

Kulkarni NK, Kumar PL, Muniyappa V, Jones AT, Reddy DVR (2002) Transmission of pigeon pea sterility mosaic virus by the eriophyid mite, Aceria cajani (Acari: Arthropoda). Plant Dis 86:1297–1302

Kumar S, Stecher G, Li M, Knyaz C, Tamura K (2018) MEGA X: Molecular evolutionary genetics analysis across computing platforms. Mol Biol Evol 35:1547–1549

Lipman DJ, Pearson WR (1985) Rapid and sensitive protein similarity searches. Science 227:1435–1441

Liu H, Wang G, Yang Z, Wang Y, Zhang Z, Li L, Waqas MW, Zhang J, Xu L, Qi L, Hong J, Hong N (2020) Identification and characterization of a pear chlorotic leaf spot-associated virus, a novel emaravirus associated with a severe disease of pear trees in China. Plant Dis 104:2786–2798

Mielke-Ehret N, Mühlbach HP (2012) Emaravirus: a novel genus of multipartite, negative strand RNA plant viruses. Viruses 4:1515–1536

Ministry of Agriculture, Forestry and Fisheries of Japan (2018) Statistical survey on minor crops. Available via DIALOG. https://www.e-stat.go.jp/dbview?sid=0001784612. Accessed 23 Jul 2021

Mühlbach HP, Mielke-Ehret N (2012) Emaravirus. In: King AMQ et al (eds) Virus taxonomy. Classification and nomenclature of viruses, Ninth Report of the International Committee on Taxonomy of Viruses. Elsevier Academic Press, Oxford, UK, pp 767–770

Nakakoshi M, Nishioka H, Katayama E (2011) New versatile staining reagents for biological transmission electron microscopy that substitute for uranyl acetate. J Electron Microsc 60:401–407

Nalepa A (1916) Neue Gallmilben (32. Fortsetzung) (in German). Anz Der Kais Akad Der Wiss Math Naturwiseenschaftliche Kl Wien 53:283–284

Olmedo-Velarde A, Park AC, Sugano J, Uchida JY, Kawate M, Borth WB, Hu JS, Melzer MJ (2019) Characterization of ti ringspot associated virus, a novel emaravirus associated with an emerging ringspot disease of Cordyline fruticosa. Plant Dis 103:2345–2352

Peracchio C, Forgia M, Chiapello M, Vallino M, Turina M, Ciuffo M (2020) A complex virome including two distinct emaraviruses associated with virus-like symptoms in Camellia japonica. Virus Res 286:197964

Samarfard S, McTaggart AR, Sharman M, Bejerman NE, Dietzgen RG (2020) Viromes of ten alfalfa plants in Australia reveal diverse known viruses and a novel RNA virus. Pathogens 9:214

Sato T (1967) A modified method for lead staining of thin sections (in Japanese). J Electron Microsc 16:133

Seifers DL, Harvey TL, Martin TJ, Jensen SG (1997) Identification of the wheat curl mite as the vector of the High Plains virus of corn and wheat. Plant Dis 81:1161–1166

Shen S, Kusakabe T, Shimizu Y (2017) Electron staining using EM Stainer for detecting viral infected bacterial cells in a fresh water lake (Lake Biwa, Japan) (in Japanese with English summary). EICA 22:27–31

Shimomoto Y, Ikeda K, Asahina Y, Yano K, Oka M, Oki T, Yamasaki J, Takeuchi S, Morita Y (2020) First report of 'Candidatus Phytoplasma solani' associated with pepper chlorosis of sweet pepper, Capsicum annuum L., in Japan. J Gen Plant Pathol 86:76–79

Sumiyoshi H (2004) Survey of incidence of pests and diseases on Illicium anisatum, Cleyera japonica and Eurya japonica in Kagoshima Prefecture (in Japanese). Kyushu J for Res 57:243–245

von Bargen S, Kubrusli RA, Gaskin T, Fürl S, Hüttner F, Blystad DR, Karlin DG, Jalkanen R, Büttner C (2020) Characterisation of a novel emaravirus identified in mosaic-diseased Eurasian aspen (Populus tremula). Ann Appl Biol 176:210–222

Walker PJ, Siddell SG, Lefkowitz EJ, Mushegian AR, Adriaenssens EM, Dempsey DM, Dutilh BE, Harrach B, Harrison RL, Hendrickson RC, Junglen S, Knowles NJ, Kropinski AM, Krupovic M, Kuhn JH, Nibert M, Orton RJ, Rubino L, Sabanadzovic S, Simmonds P, Smith DB, Varsani A, Zerbini FM, Davison AJ (2020) Changes to virus taxonomy and the Statutes ratified by the International Committee on Taxonomy of Viruses (2020). Arch Virol 165:2737–2748

Wang Y, Zhai L, Wen S, Yang Z, Wang G, Hong N (2020a) Molecular characterization of a novel emaravrius infecting Actinidia spp. in China. Virus Res 275:197736

Wang YQ, Song Y, Cao MJ, Cheng Q, Wu JX, Hu T (2020b) Identification of a novel emaravirus infecting lilac through next-generation sequencing. J Integr Agric 19:2064–2071

Yamashita S (1997) Current problems on eriophyid mites in Japan: their injurious diseases and transmitted viruses (in Japanese). Plant Prot 51:471–476

Yamashita S (2003) Occurrence and control of eriophyoid mites. Shikimi (Illicium anisatum) (in Japanese). Plant Prot 57:409–410

Yang C, Zhang S, Han T, Fu J, Di Serio F, Cao M (2019) Identification and characterization of a novel emaravirus associated with jujube (Ziziphus jujuba Mill.) yellow mottle disease. Front Microbiol 10:1417

Yu C, Karlin DG, Lu Y, Wright K, Chen J, MacFarlane S (2013) Experimental and bioinformatic evidence that raspberry leaf blotch emaravirus P4 is a movement protein of the 30K superfamily. J Gen Virol 94:2117–2128

Zheng Y, Navarro B, Wang G, Wang Y, Yang Z, Xu W, Zhu C, Wang L, Di Serio F, Hong N (2017) Actinidia chlorotic ringspot-associated virus: a novel emaravirus infecting kiwifruit plants. Mol Plant Pathol 18:569–581

Zuker M (1989) On finding all suboptimal foldings of an RNA molecule. Science 244:48–52
Acknowledgements
This work was supported by the Fund for Objective Basic Research provided by CARC/NARO to K.K. and H.Y.
Ethics declarations
Conflict of interest
The authors declare that they have no conflict of interest.
Ethical approval
This article does not contain any studies using human participants or animals performed by any of the authors.
Additional information
Publisher's Note
Springer Nature remains neutral with regard to jurisdictional claims in published maps and institutional affiliations.
Supplementary Information
Below is the link to the electronic supplementary material.
Supplementary file1. Supplementary Fig. S1 Detection of five RNA segments of Japanese star anise ringspot-associated virus (JSARaV) from symptomatic Japanese star anise leaves by RT-PCR. RT-PCR primers JSA1 and JSA2 were used to detect JSARaV RNA1, JSARaV-R2-1800fw, and JSARaV-R2-2247rv to detect RNA2, JSARaV-R3-1200fw, and JSARaV-R3-1689rv to detect RNA3, JSARaV-R4-1200fw, and JSARaV-R4-1500rv to detect RNA4, and JSARaV-R5-600fw and JSARaV-R5-900rv to detect RNA5 (Supplementary Table S1). M, 1 kb Plus DNA ladder (New England Biolabs, Ipswich, MA, USA). 1–6, Symptomatic leaves collected from different fields in Kochi and Shizuoka Prefectures, Japan; 7–9, asymptomatic leaves from different fields in Kochi Prefecture. (DOCX 335 kb)
About this article
Cite this article
Shimomoto, Y., Okada, T., Ikeda, K. et al. Japanese star anise ringspot-associated virus is a distinct emaravirus transmitted by the eriophyid mite (the family Diptilomiopidae). J Gen Plant Pathol (2021). https://doi.org/10.1007/s10327-021-01038-1
Received:

Accepted:

Published:
Keywords
JSARaV

Illicium anisatum
Emaravirus

High-throughput sequencing

Electron microscopy

Transmission test