Abstract
Burkholderia is a genus of aerobic gram-negative bacteria belonging to the phylum Proteobacteria. B. gladioli causes rot symptoms in economically important crops and expensive ornamental plants, including rice, gladiolus, onion, and cymbidium. B. gladioli and B. glumae produce the toxin toxoflavin, a major virulence factor associated with disease development. However, the pathogenic mechanisms of B. gladioli remain largely unknown. Here, we constructed transposon library of B. gladioli and screened two mutants with reduced virulence among about 800 mutant strains. The position where the transposon was inserted on the genome was in purM and serC in the mutant strains. Inoculation tests were conducted using strains in which each serC and purM were complemented with a plasmid. The area showing symptoms increased significantly compared to that of the mutants, and the amount of toxoflavin produced in the purM mutant strain was significantly reduced. In contrast, toxoflavin production was observed in the purM-complemented strain. These findings indicate that both serC and purM are involved in the virulence of B. gladioli.
Access options
Buy single article
Instant access to the full article PDF.
USD 39.95
Price includes VAT (USA)
Tax calculation will be finalised during checkout.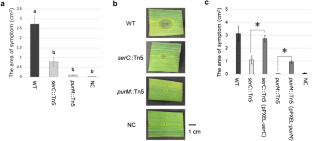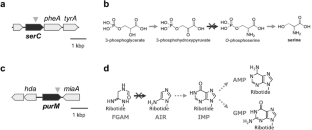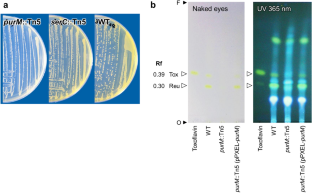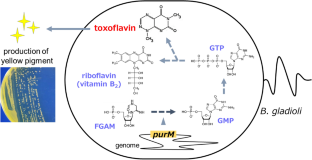 References
Azegami K, Nishiyama K, Ikeda H, Tanaka S, Watanabe Y (1985) About the rot of Cymbidium occurring in Fukuoka prefecture (in Japanese). Ann Phytopath Soc Japan 51:343–344

Baek JY, Jun DY, Taub D, Kim YH (2003) Characterization of human phosphoserine aminotransferase involved in the phosphorylated pathway of L-serine biosynthesis. Biochem J 373:191–200

Choi O, Lee Y, Han I, Kim H, Goo E, Kim J, Hwang I (2013) A simple and sensitive biosensor strain for detecting toxoflavin using β-galactosidase activity. Biosens Bioelectron 50:256–261

Chun H, Choi O, Goo E, Kim N, Kim H, Kang Y, Kim J, Moon JS, Hwang I (2009) The quorum sensing-dependent gene katG of Burkholderia glumae is important for protection from visible light. J Bacteriol 191:4152–4157

Compant S, Nowak J, Coenye T, Clément C, Ait Barka E (2008) Diversity and occurrence of Burkholderia spp. in the natural environment. FEMS Microbiol Rev 32:607–626

Cuccui J, Easton A, Chu KK, Bancroft GJ, Oyston PCF, Titball RW, Wren BW (2007) Development of signature-tagged mutagenesis in Burkholderia pseudomallei to identify genes important in survival and pathogenesis. Infect Immun 75:1186–1195

Estrada-de los Santos P, Vinuesa P, Martínez-Aguilar L, Hirsch AM, Caballero-Mellado J (2013) Phylogenetic analysis of Burkholderia species by multilocus sequence analysis. Curr Microbiol 67:51–60

Fory PA, Triplett L, Ballen C, Abello JF, Duitama J, Aricapa MG, Prado GA, Correa F, Hamilton J, Leach JE, Tohme J, Mosquera GM (2014) Comparative analysis of two emerging rice seed bacterial pathogens. Phytopathology 104:436–444

Furuya N, Iiyama K, Shiozaki N, Matsuyama N (1997) Phytotoxin produced by Burkholderia gladioli. J Fac Agric Kyushu Univ 42:33–37

Furuya N, Ura H, Iiyama K, Matsumoto M, Takeshita M, Takanami Y (2002) Specific oligonucleotide primers based on sequences of the 16S–23S rDNA spacer region for the detection of Burkholderia gladioli by PCR. J Gen Plant Pathol 68:220–224

Ham JH, Melanson RA, Rush MC (2011) Burkholderia glumae: next major pathogen of rice? Mol Plant Pathol 12:329–339

Iiyama K, Furuya N, Hara K, Nakashima N, Takanami Y, Matsuyama N (1994) Phytotoxin produced by Pseudomonas glumae Kurita et Tabei, a causal bacterium of the grain and seedling rot of rice. J Fac Agric Kyushu Univ 38:175–181

Jeong Y, Kim J, Kim S, Kang Y, Nagamatsu T, Hwang I (2003) Toxoflavin produced by Burkholderia glumae causing rice grain rot is responsible for inducing bacterial wilt in many field crops. Plant Dis 87:890–895

Karunakaran R, Mauchline TH, Hosie AHF, Poole PS (2005) A family of promoter probe vectors incorporating autofluorescent and chromogenic reporter proteins for studying gene expression in Gram-negative bacteria. Microbiology 151:3249–3256

Kim J, Kang Y, Choi O, Jeong Y, Jeong JE, Lim JY, Kim M, Moon JS, Suga H, Hwang I (2007) Regulation of polar flagellum genes is mediated by quorum sensing and FlhDC in Burkholderia glumae. Mol Microbiol 64:165–179

Kim S, Park J, Choi O, Kim J, Seo YS (2014) Investigation of quorum sensing-dependent gene expression in Burkholderia gladioli BSR3 through RNA-seq analyses. J Microbiol Biotechnol 24:1609–1621

Lee DH, Lim JA, Lee J, Roh E, Jung K, Choi M, Oh C, Ryu S, Yun J, Heu S (2013) Characterization of genes required for the pathogenicity of Pectobacterium carotovorum subsp. carotovorum Pcc21 in Chinese cabbage. Microbiology 159:1487–1496

Lee J, Park J, Kim S, Park I, Seo YS (2016) Differential regulation of toxoflavin production and its role in the enhanced virulence of Burkholderia gladioli. Mol Plant Pathol 17:65–76

Levenberg B, Linton SN (1966) On the biosynthesis of toxoflavin, an azapteridine antibiotic produced by Pseudomonas cocovenenans. J Biol Chem 241:846–852

McCulloch L (1921) A bacterial disease of Gladiolus. Science 54:115–116

McCulloch L (1924) A bacterial blight of gladioli. J Agric Res 27:225–230

Molina-Henares MA, García-Salamanca A, Molina-Henares AJ, de la Torre J, Herrera MC, Ramos JL, Duque E (2009) Functional analysis of aromatic biosynthetic pathways in Pseudomonas putida KT2440. Microb Biotechnol 2:91–100

Moon H, Park HJ, Jeong A, Han SW, Park CJ (2017) Isolation and identification of Burkholderia gladioli on Cymbidium orchids in Korea. Biotechnol Biotechnol Equip 31:280–288

Nandakumar R, Shahjahan AKM, Yuan XL, Dickstein ER, Groth DE, Clark CA, Cartwright RD, Rush MC (2009) Burkholderia glumae and B. gladioli cause bacterial panicle blight in rice in the southern United States. Plant Dis 93:896–905

Propst KL, Mima T, Choi KH, Dow SW, Schweizer HP (2010) A Burkholderia pseudomallei ΔpurM mutant is avirulent in immunocompetent and immunodeficient animals: candidate strain for exclusion from select-agent lists. Infect Immun 78:3136–3143

Sato Z, Koiso Y, Iwasaki S, Matsuda I, Shirata A (1989) Toxins produced by Pseudomonas glumae, the causal agent of bacterial grain rot of rice (in Japanese with English abstract). Ann Phytopath Soc Japan 55:353–356

Seo YS, Lim J, Choi BS, Kim H, Goo E, Lee B, Lim JS, Choi IY, Moon JS, Kim J, Hwang I (2011) Complete genome sequence of Burkholderia gladioli BSR3. J Bacteriol 193:3149

Stoyanova M, Pavlina I, Moncheva P, Bogatzevska N (2007) Biodiversity and incidence of Burkholderia species. Biotechnol Biotechnol Equip 21:306–310

Suzuki F, Sawada H, Azegami K, Tsuchiya K (2004) Molecular characterization of the tox operon involved in toxoflavin biosynthesis of Burkholderia glumae. J Gen Plant Pathol 70:97–107

Ura H, Furuya N, Iiyama K, Hidaka M, Tsuchiya K, Matsuyama N (2006) Burkholderia gladioli associated with symptoms of bacterial grain rot and leaf-sheath browning of rice plants. J Gen Plant Pathol 72:98–103

Verstraete MM, Perez-Borrajero C, Brown KL, Heinrichs DE, Murphy MEP (2018) SbnI is a free serine kinase that generates O-phospho-L-serine for staphyloferrin B biosynthesis in Staphylococcus aureus. J Biol Chem 293:6147–6160

Yabuuchi E, Kosako Y, Oyaizu H, Yano I, Hotta H, Hashimoto Y, Ezaki T, Arakawa M (1992) Proposal of Burkholderia gen. nov. and transfer of seven species of the genus Pseudomonas homology group II to the new genus, with the type species Burkholderia cepacia (Palleroni and Holmes 1981) comb. nov. Microbiol Immunol 36:1251–1275

Yan Q, Wang N (2012) High-throughput screening and analysis of genes of Xanthomonas citri subsp. citri involved in citrus canker symptom development. Mol Plant Microbe Interact 25:69–84
Acknowledgements
We thank Dr. Koji Azegami for providing wild-type strain of B. gladioli pv. gladioli. This work was partially supported by Grants-in-Aid for Scientific Research from the Japan Society for the Promotion of Science (Grant nos. 20H02991).
Ethics declarations
Conflict of interest
The authors declare no conflicts of interest associated with this manuscript.
Research involving human participants and/or animals
This article does not contain any studies with human participants or animals performed by any of the authors.
Informed consent
Not applicable.
Additional information
Publisher's Note
Springer Nature remains neutral with regard to jurisdictional claims in published maps and institutional affiliations.
Supplementary Information
Below is the link to the electronic supplementary material.
About this article
Cite this article
Endo, A., Hamamoto, H. & Oshima, K. Serine and purine synthesis pathways are involved in the virulence of Burkholderia gladioli, the causative agent of gladiolus rot. J Gen Plant Pathol (2021). https://doi.org/10.1007/s10327-021-01031-8
Received:

Accepted:

Published:
Keywords
Burkholderia
Burkholderia gladioli

Virulence

Toxoflavin

Serine synthesis

Purine synthesis