Abstract
An easy, rapid method has been needed to test the pathogenicity of strains of Ralstonia pseudosolanacearum, the cause of serious bacterial wilt on ginger (Zingiber officinale). When ginger leaves were clip-inoculated with race 4 strains, yellowing and V-shaped lesions developed on leaves, but no lesions formed after inoculation with race 1 strain or on mock-inoculated leaves. Tests of different bacterial concentrations as inoculum showed that the optimal concentration was greater than or equal to 106 cfu/ml. This simple, high-throughput leaf clipping inoculation method provides an efficient, easy method to evaluate pathogenicity of R. pseudosolanacearum race 4 on ginger.
Access options
Buy single article
Instant access to the full article PDF.
US$ 39.95
Tax calculation will be finalised during checkout.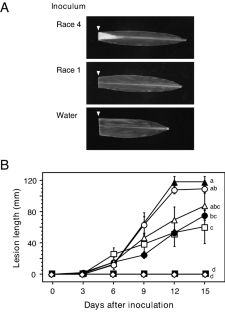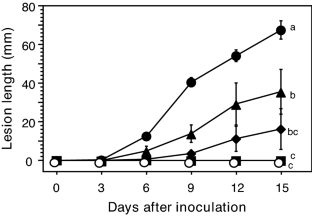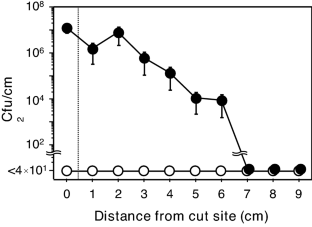 References
Buddenhagen IW (1986) Bacterial wilt revisited. In: Persley GJ (ed). Bacterial wilt disease in Asia and the South Pacific. Proceedings of an International Workshop held at PCARRD Los Baños, Philippines, October 1985. ACIAR, Canberra, pp 126–143

Choi JE, Han KS (1990) Bacterial soft rot and rhizome rot caused by Erwinia carotovora subsp. carotovora, Pseudomonas marginalis and P. solanacearum (in Korean with English abstract). Korean J Plant Pathol 6:363–368

Hayward AC, Moffett ML, Pegg KG (1967) Bacterial wilt of ginger in Queensland. Qld J Agr Anim Sci 24:1–5

Ishii M, Aragaki M (1963) Ginger wilt caused by Pseudomonas solanacearum E. F. Smith. Plant Dis Rep 47:710–713

Kauffman HE, Reddy APK, Hsieh SPY, Merca SD (1973) An improved technique for evaluating resistance of rice varieties to Xanthomonas oryzae. Plant Dis Rep 57:537–541

Kelman A (1954) The relationship of pathogenicity of Pseudomonas solanacearum to colony appearance on a tetrazolium medium. Phytopathology 44:693–695

Kifelew H, Kassa B, Sadessa K, Hunduma T (2015) Prevalence of bacterial wilt of ginger (Zingiber officinale) caused by Ralstonia solanacearum (Smith) in Ethiopia. Int J Res Stud Agric Sci 6:14–22

Kovach ME, Elzer PH, Hill DS, Robertson GT, Farris MA, Roop RM II, Peterson KM (1995) Four new derivatives of the broad-host-range cloning vector pBBR1MCS, carrying different antibiotic-resistance cassettes. Gene 166:175–176

Kumar A, Sarma YR (2004) Characterization of Ralstonia solanacearum causing bacterial wilt of ginger. Indian Phytopathol 57:12–17

Kumar R, Barman A, Phukan T, Kabyashree K, Singh N, Jha G, Sonti RV, Genin S, Ray SK (2016) Ralstonia solanacearum virulence in tomato seedlings inoculated by leaf clipping. Plant Pathol 66:835–841

Morita Y, Yano K, Tsuchiya K, Kawada Y (1996) Bacterial wilt of Curcuma alismatifolia caused by Pseudomonas solanacearum (in Japanese with English summary). Proc Assoc Plant Protec Shikoku 31:1–6

Mulya K, Shiomi T, Oniki M (1990) Bacterial wilt disease on industrial crops in Indonesia. Ind Crops Res J 2:30–36

Orian G (1953) Botanical Division Report. Department of Agriculture, Mauritius, 1952 pp 37–40

Paret ML, de Silva AS, Alvarez AM (2008) Ralstonia solanacearum race 4: risk assessment for edible ginger and floricultural ginger industries in Hawaii. HortTechnology 18:90–96

Phukan T, Kabyashree K, Singh R, Sharma PL, Singh N, Barman A, Jena BR, Ray SK (2019) Ralstonia solanacearum virulence in eggplant seedlings by the leaf-clip inoculation. Phytopathol Res 1:23

Safni I, Cleenwerck I, De Vos P, Fegan M, Sly L, Kappler U (2014) Polyphasic taxonomic revision of the Ralstonia solanacearum species complex: proposal to emend the descriptions of Ralstonia solanacearum and Ralstonia syzygii and reclassify current R. syzygii strains as Ralstonia syzygii subsp. syzygii subsp. nov., R. solanacearum phylotype IV strains as Ralstonia syzygii subsp. indonesiensis subsp. nov., banana blood disease bacterium strains as Ralstonia syzygii subsp. celebesensis subsp. nov. and R. solanacearum phylotype I and III strains as Ralstonia pseudosolanacearum sp. nov. Int J Syst Evol Microbiol 64:3087–3103

Thomas KM (1941) Detailed administration report of the government mycologist for the year 1940–41. Rep Dep Agric Madras 1941:53–74

Tsuchiya K, Yano K, Horita M, Morita Y, Kawada Y, d'Ursel CM (2005) Occurrence and epidemic adaptation of new strains of Ralstonia solanacearum associated with Zingiberaceae plants under agro-ecosystem in Japan. In: Hayward AC, Philippe P, Hayward AC (eds) Bacterial wilt disease and the Ralstonia solanacearum species complex. APS Press, St. Paul, pp 463–469

Waki T, Horita M, Kurose D, Mulya K, Tsuchiya K (2013) Genetic diversity of Zingiberaceae plant isolates of Ralstonia solanacearum in the Asia-Pacific region. Jpn Agric Res Q 47:283–294

Xianming Z, Chun D (1995) Biotypes of Pseudomonas solanacearum (Smith) Smith from various hosts in Guangdong Province (in Chinese with English abstract). J South Agric Univ 16:50–53

Yano K, Kawada Y, Horita M, Hikichi Y, Tsuchiya K (2011) Phylogenetic discrimination and host ranges of Ralstonia solanacearum isolates from Zingiberaceae plants (in Japanese with English summary). Jpn J Phytophathol 77:88–95
Acknowledgements
Part of this research was supported by the grants from the Project of the NARO Bio-Oriented Technology Research Advancement Institution (Research Program on Development of Innovative Technology No. 29014C).
Additional information
Publisher's Note
Springer Nature remains neutral with regard to jurisdictional claims in published maps and institutional affiliations.
Supplementary Information
Below is the link to the electronic supplementary material.
About this article
Cite this article
Iiyama, K., Imamura, M., Inoue, T. et al. Pathogenicity evaluation of Ralstonia pseudosolanacearum race 4 on ginger by leaf-clipping inoculation. J Gen Plant Pathol 87, 269–272 (2021). https://doi.org/10.1007/s10327-021-01017-6
Received:

Accepted:

Published:

Issue Date:
Keywords
Ralstonia pseudosolanacearum

Ginger

Virulence

Pathogenicity