Abstract
In August 2018, leaf spots with circular or irregular brown lesions on Gentiana rhodantha leaves were widespread in Liupanshui, Guizhou Province, China. Three strains of Pestalotiopsis spp. were found by single-spore isolation to be associated with the lesions. Based on asexual and sexual characteristics and multilocus (ITS, TUB, tef-1) phylogenic data, strains were identified as Pestalotiopsis trachicarpicola Y.M.Zhang & K.D.Hyde. This is the first report of G. rhodantha leaf spot caused by P. trachicarpicola. In culture tests, the optimum for mycelial growth was 20–25 °C at pH 7–9 and for conidial germination 25–30 °C and pH 6–9.
Access options
Buy single article
Instant access to the full article PDF.
US$ 39.95
Tax calculation will be finalised during checkout.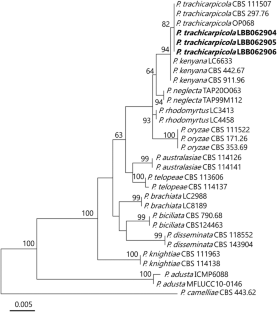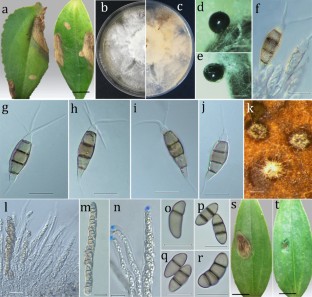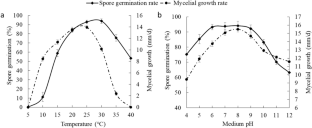 References
Chomnunti P, Schoch CL, Aguirre-Hudson B, Ko-Ko TW, Hongsanan S, Jones EBG, Kodsueb R, Phookamsak R, Chukeatirote E, Bahkali AH, Hyde KD (2011) Capnodiaceae. Fungal Divers 51:103–134

Kobayashi T, Ishihara M, Ono Y (2001) A new species of Pestalosphaeria, the teleomorph of Pestalotiopsis neglecta. Mycoscience 42:211–216

Kumar S, Stecher G, Li M, Knyaz C, Tamura K (2018) MEGA X: Molecular evolutionary genetics analysis across computing platforms. Mol Biol Evol 35:1547–1549

Liu F, Hou L, Raza M, Cai L (2017) Pestalotiopsis and allied genera from camellia, with description of 11 new species from China. Sci Rep 7:1–19

Maharachchikumbura SSN, Guo LD, Cai L, Chukeatirote E, Wu WP, Sun X, Crous PW, Bhat DJ, McKenzie EHC, Bahkali AH, Hyde KD (2012) A multi-locus backbone tree for Pestalotiopsis, with a polyphasic characterization of 14 new species. Fungal Divers 56:95–129

Maharachchikumbura SSN, Hyde KD, Groenewald JZ, Xu J, Crous PW (2014) Pestalotiopsis revisited. Stud Mycol 79:121–186

Nekoduka S, Tanaka K, Sano T (2013) Overwintering of brown leaf spot fungus, Mycochaetophora gentianae, in infected gentian leaves as the primary inoculum source. J Gen Plant Pathol 79:175–177

Steyaert RL (1953) New and old species of Pestalotiopsis. Trans Br Mycol Soc 36:81–89

Suwannarach N, Bussaban B, Hyde KD, Lumyong S (2010) Muscodor cinnamomi, a new endophytic species from Cinnamomum bejolghota. Mycotaxon 114:15–23

Verkley GJ, Quaedvlieg W, Shin HD, Crous PW (2013) A new approach to species delimitation in Septoria. Stud Mycol 75:213–305

Xu M, Zhang M, Wang D, Yang CR, Zhang YJ (2011) Phenolic compounds from the whole plants of Gentiana rhodantha (Gentianaceae). Chem Biodivers 8:1891–1900

Zhang YM, Maharachchikumbura S, Mckenzie E, Hyde KD (2012) A novel species of Pestalotiopsis causing leaf spots of Trachycarpus fortune. Cryptogamie Mycol 33:311–318

Zhu P, Ge Q, Xu T (1991) The perfect stage of Pestalotiopsis from China. Mycotaxon 40:129–140
Acknowledgements
The research was funded by Youth Science and Technology Talent Cultivating Project of Guizhou Department of Education (no. QJH KY[2018]381), Construction Project of Key and Distinctive Laboratory of Guizhou General University (no. QJH KY2017[012]) and Natural Science Foundation of Guizhou Province (no. QKH J[2014]7447). We thank EditSprings (https://www.editsprings.com/) for providing expert linguistic services.
Ethics declarations
Conflict of interest
The authors declare that they have no conflict of interest.
Ethical approval
This article does not contain any studies with human participants or animals performed by any of the authors.
Additional information
Publisher's Note
Springer Nature remains neutral with regard to jurisdictional claims in published maps and institutional affiliations.
About this article
Cite this article
Zhang, X., Yang, Y., Li, S. et al. First report of leaf spots on Gentiana rhodantha caused by Pestalotiopsis trachicarpicola. J Gen Plant Pathol 87, 316–321 (2021). https://doi.org/10.1007/s10327-021-01015-8
Received:

Accepted:

Published:

Issue Date:
Keywords
Leaf spot

Gentiana rhodantha
Pestalotiopsis trachicarpicola

Taxonomy