Abstract
Lethal wilt disease of coconut, reported as a disease of unknown etiology as early as 2007, was for the first time found consistently in association with a phytoplasma in diseased coconut trees in Thanjavur, Thiruvarur and Pudukkottai districts in Tamil Nadu on the southeastern coast of India. Nested PCR with phytoplasma-specific universal primers and in silico restriction analysis of 16S rDNA sequences revealed the association of 'Candidatus Phytoplasma asteris' (16SrI-B) group phytoplasma, which was confirmed by sequence analysis of translation elongation factor (tuf) and ribosomal protein (rp) genes. Because this disease kills affected palms within 5 months, recommendations are given to arrest the spread of the pathogen to other coconut-growing regions in the country.
Access options
Buy single article
Instant access to the full article PDF.
US$ 39.95
Tax calculation will be finalised during checkout.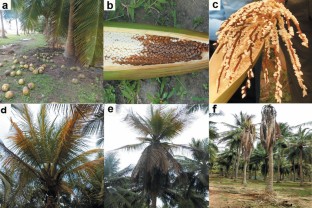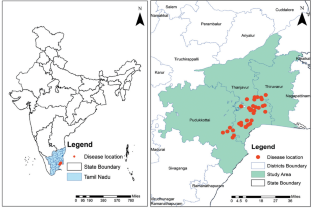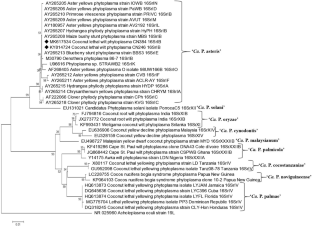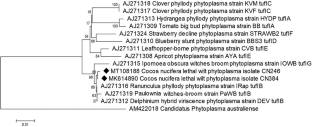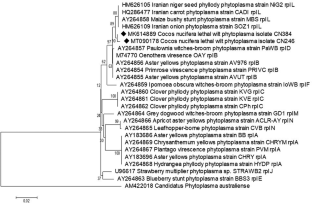 Data availability
The nucleotide sequence data reported are available in the GenBank database under accessions KY814724, MK617534, MK614890, MT108188, MK614889 and MT090178.
References
Adkar-Purushothama CR, Casati P, Quaglino F, Durante G, Bianco PA (2009) First report of a 'Candidatus Phytoplasma asteris'-related strain associated with a yellows disease of black pepper (Piper nigrum) in India. Plant Pathol 58:789

Adkar-Purushothama CR, Quaglino F, Casati P, Bianco PA (2011) Molecular typing of Coorg black pepper yellows phytoplasma by multiple gene analyses. Ann Appl Biol 159:58–68

Altschul SF, Gish W, Miller W, Myers W, Lipman DJ (1990) Basic local alignment search tool. J Mol Biol 215:403–410

Alvarez E, Mejía JF, Contaldo N, Paltrinieri S, Duduk B, Bertaccini A (2014) 'Candidatus Phytoplasma asteris' strains associated with oil palm lethal wilt in Colombia. Plant Dis 98:311–318

Arocha-Rosete Y, Konan Konan JL, Diallo AH, Allou K, Scott JA (2014) Identification and molecular characterization of the phytoplasma associated with a lethal yellowing-type disease of coconut in Côte d'Ivoire. Can J Plant Pathol 36:141–150

Bedendo IP, Davis RE, Dally EL (2000) Detection and identification of the maize bushy stunt phytoplasma in corn plants in Brazil using PCR and RFLP. Int J Pest Manag 46:73–76

Bertaccini A, Duduk B, Paltrinieri S, Contaldo N (2014) Phytoplasmas and phytoplasma diseases: a severe threat to agriculture. Am J Plant Sci 5:1763–1788

Bhaskaran R, Vaithilingam R, Ramanathan A, Natarajan C, Marimuthu R, Subramanian KV (2007) A new lethal disease of coconut in Tamil Nadu. Indian Coconut J 38:2–4

Cordova I, Oropeza C, Puch Hau C, Harrison NA, Colli-Rodriguez A, Narvaez M, Nic-Matos G, Reyes C, Saenz L (2014) A real-time PCR assay for detection of coconut lethal yellowing phytoplasmas of group 16SrIV subgroups A, D and E found in the Americas. J Plant Pathol 96:343–352. https://doi.org/10.4454/JPP.V96I2.031

Deng S, Hiruki C (1991) Amplification of 16S rRNA genes from culturable and nonculturable Mollicutes. J Microbiol Methods 14:53–61

Gundersen DE, Lee I-M (1996) Ultrasensitive detection of phytoplasmas by nested-PCR assays using two universal primer pairs. Phytopathol Mediterr 35:144–151

Harrison NA, Davis R, Oropeza C, Helmick E, Narvaez M, Eden-Green S, Dollet M, Dickinson M (2014) 'Candidatus Phytoplasma palmicola', associated with a lethal yellowing-type disease of coconut (Cocos nucifera L.) in Mozambique. Int J Syst Evol Microbiol 64:1890–1899. https://doi.org/10.1099/ijs.0.060053-0

Khan JA, Singh SK, Ahmad J (2008) Characterization and phylogeny of a phytoplasma inducing sandal spike disease in sandal (Santalum album). Ann Appl Biol 153:365–372

Kwadjo KE, Beugré NDI, Dietrich CH, Kodjo ATT, Diallo HA, Yankey N, Dery S, Wilson M, Konan JLK, Contaldo N, Paltrinieri S, Bertaccini A, Arocha-Rosete Y (2018) Identification of Nedotepa curta Dmitriev as a potential vector of the Côte d'Ivoire lethal yellowing phytoplasma in coconut palms sole or in mixed infection with a 'Candidatus Phytoplasma asteris'-related strain. Crop Prot 110:48–56

Lee I-M, Martini M, Bottner KD, Dane RA, Black MC, Troxclair N (2003) Ecological implications from a molecular analysis of phytoplasmas involved in an aster yellows epidemic in various crops in Texas. Phytopathol 93:1368–1377

Lee I-M, Gundersen-Rindal DE, Davis RE, Bottner KD, Marcone C, Seemuller E (2004) 'Candidatus Phytoplasma asteris', a novel phytoplasma taxon associated with aster yellows and related diseases. Int J Syst Evol Microbiol 54:1037–1048

Lim P-O, Sears BB (1992) Evolutionary relationships of a plant-pathogenic mycoplasmalike organism and Acholeplasma laidlawii deduced from two ribosomal protein gene sequences. J Bacteriol 174:2606–2611

Lodhi MA, Ye G-N, Weeden NF, Reisch BI (1994) A simple and efficient method for DNA extraction from grapevine cultivars and Vitis species. Plant Mol Biol Rep 12:6–13. https://doi.org/10.1007/BF02668658

Manimekalai R, Soumya VP, Sathish Kumar R, Selvarajan R, Reddy K, Thomas GV, Sasikala M, Rajeev G, Baranwal VK (2010) Molecular detection of 16SrXI group phytoplasma associated with root (wilt) disease of coconut (Cocos nucifera) in India. Plant Dis 94:636

Mehdi A, Baranwal VK, Kochu Babu M, Praveena D (2012) Sequence analysis of 16S rRNA and secA genes confirms the association of 16SrI-B subgroup phytoplasma with oil palm (Elaeis guineensis Jacq.) stunting disease in India. J Phytopathol 160:6–12

Nampoothiri KUK, Krishnakumar V, Thampan PK, Achutan Nair M (eds) (2018) The coconut palm (Cocos nucifera L.)—research and development perspectives. Springer Nature Singapore. https://doi.org/10.1007/978-981-13-2754-4

Nejat N, Vadamalai G, Davis RE, Harrison NA, Sijam K, Dickinson M, Abdullah SNA, Zhao Y (2013) 'Candidatus Phytoplasma malaysianum', a novel taxon associated with virescence and phyllody of Madagascar periwinkle (Catharanthus roseus). Int J Syst Evol Microbiol 63:540–548

Oropeza C, Cordova I, Chumba A, Narváez M, Sáenz L, Ashburner R, Harrison N (2011) Phytoplasma distribution in coconut palms affected by lethal yellowing disease. Ann Appl Biol 159:109–117

Parthasarathy MV (1974) Mycoplasmalike organisms associated with lethal yellowing disease of palms. Phytopathology 64:667–674

Perera L, Meegahakumbura MK, Wijesekara HRT, Fernando WBS, Dickinson MJ (2012) A phytoplasma is associated with Weligama coconut leaf wilt disease in Sri Lanka. J Plant Pathol 94:205–209

Rao GP, Kumar M, Madhupriya SAK (2017) First report of 'Candidatus Phytoplasma asteris' (16SrI-B subgroup) associated with a maize leaf redness disease in India. Phytopathogenic Mollicutes 7:52–56

Rao GP, Madhupriya TV, Manimekalai R, Tiwari AK, Yadav A (2017) A century progress of research on phytoplasma diseases in India. Phytopathogenic Mollicutes 7:1–38. https://doi.org/10.5958/2249-4677.2017.00001.9

Salehi M, Esmaeilzadeh Hosseini SA, Salehi E (2016) First report of a 'Candidatus phytoplasma asteris' related phytoplasma associated with eucalyptus little leaf disease in Iran. J Plant Pathol 98:175

Schneider B, Gibb KS, Seemüller E (1997) Sequence and RFLP analysis of the elongation factor Tu gene used in differentiation and classification of phytoplasmas. Microbiology 143:3381–3389

Singh AK, Gopala RA, Goel S, Rao GP (2018) Identification of 'Candidatus Phytoplasma asteris' causing sesame phyllody disease and its natural weed host in Jammu, India. Indian Phytopathol 71:143–146

Solomon JJ, Geetha L (2004) Phytoplasma diseases of coconut in India—root (wilt) and tatipaka diseases. CORD [Coconut Res & Develop J] 20:21–35

Solomon JJ, Govindankutty MP, Nienhaus F (1983) Association of mycoplasmalike organisms with the coconut root (wilt) disease in India. J Plant Dis Prot 90:295–297

Tamura K, Stecher G, Peterson D, Filipski A, Kumar S (2013) MEGA6: molecular evolutionary genetics analysis version 6.0. Mol Biol Evol 30:2725–2729. https://doi.org/10.1093/molbev/mst197

Thangeswari S, Karthikeyan A, Merin B (2018) A new lethal disease of coconut with unknown etiology in Tamil Nadu. Indian Coconut J 60:18–21

Thomas DL (1979) Mycoplasmalike bodies associated with lethal declines palms in Florida. Phytopathology 69:928–934

Thompson JD, Higgins DG, Gibson TJ (1994) CLUSTAL W: improving the sensitivity of progressive multiple sequence alignment through sequence weighting, position-specific gap penalties and weight matrix choice. Nucleic Acids Res 22:4673–4680. https://doi.org/10.1093/nar/22.22.4673

un Nabi S, Dubey DK, Rao GP, Baranwal VK, Sharma P (2015) Molecular characterization of 'Candidatus Phytoplasma asteris' subgroup I-B associated with sesame phyllody disease and identification of its natural vector and weed reservoir in India. Australas Plant Pathol 44:289–297

Valarmathi P, Rabindran R, Velazhahan R, Suresh S, Robin S (2013) First report of rice orange leaf disease phytoplasma (16 SrI) in rice (Oryza sativa) in India. Australas Plant Dis Notes 8:141–143

Wijesekara HTR, Perera AAFLK, Meegehekumbura MGMK, Dassanayaka EM, Ranasinghe C (2013) Serological and molecular techniques. In: Gunasena HPM, Gunathilaka HAJ, Fernando LCP, Everard JMD, Appuhamy PAHN (eds) Weligama coconut leaf wilt disease six years after. Coconut Research Institute of Sri Lanka, Lunuwila, pp 56–70

Wilson M (2019) Searching for the vectors of coconut lethal yellowing: a 50 year unfinished journey. Phytopathogenic Mollicutes 9:97–98

Zhao Y, Wei W, Lee I-M, Shao J, Suo X, Davis RE (2009) Construction of an interactive online phytoplasma classification tool, /PhyClassifier, and its application in analysis of the peach X-disease phytoplasma group (16SrIII). Int J Syst Evol Microbiol 59:2582–2593. https://doi.org/10.1099/ijs.0.010249-0
Acknowledgements
Authors thank ICAR, New Delhi for the approval of a Grant in aid through the Institute Research Project, Dr. P. Chowdappa, former Director, ICAR-CPCRI, Kasaragod for the support extended during the study and Dr. B. Rajendran, Former Professor and Head, Coconut Research Station, TNAU, Veppankulam for the technical support extended during the survey programme. The authors wholeheartedly thank the anonymous reviewers whose suggestions had vastly improved the technical content and quality of manuscript.
Ethics declarations
Conflict of interest
The authors declare that they have no conflict of interest.
Research involving human participants and/ or animals
This article does not contain any studies with human participants or animals performed by any of the authors.
Additional information
Publisher's Note
Springer Nature remains neutral with regard to jurisdictional claims in published maps and institutional affiliations.
About this article
Cite this article
Babu, M., Thangeswari, S., Josephrajkumar, A. et al. First report on the association of 'Candidatus Phytoplasma asteris' with lethal wilt disease of coconut (Cocos nucifera L.) in India. J Gen Plant Pathol 87, 16–23 (2021). https://doi.org/10.1007/s10327-020-00970-y
Received:

Accepted:

Published:

Issue Date:
Keywords
Palm phytoplasma

16SrI-B

Aster yellows

Monocot

Tamil Nadu