Abstract
Strawberry vein banding virus (SVBV) and strawberry mild yellow edge virus (SMYEV) have caused disease in strawberries for many years in Japan, but little is known about their molecular properties. We thus determined the complete genomic sequence of an isolate of each virus from Tochigi Prefecture. A nucleotide sequence analysis showed that SVBV is closely related to Chinese isolates, whereas SMYEV is closely related to German and Argentine isolates. This is the first report describing the complete genome sequences of SVBV and SMYEV isolated in Japan. Moreover, we constructed an infectious SMYEV clone, which induced mild yellowing on inoculated strawberry plants.
This is a preview of subscription content, log in to check access.
Access options
Buy single article
Instant access to the full article PDF.
US$ 39.95
Price includes VAT for USA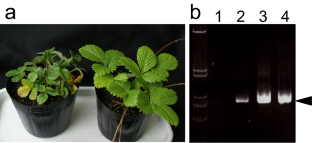 References
Bhagwat B, Dickison V, Su L, Bernardy M, Wiersma PA, Nie X, Xiang Y (2016) Molecular characterization of divergent strawberry mild yellow edge virus isolates from eastern Canada. J Phytopathol 164:691–696

Cho JD, Choi GS, Chung BN, Kim JS, Choi HS (2011) Strawberry mild yellow edge potexvirus from strawberry in Korea. Plant Pathol J 27:187–190

Conci VC, Torrico AK, Cafrune E, Quevedo V, Baino O, Ramallo JC, Borquez AM, Mollinedo VA, Agüero JJ, Kirschbaum DS (2009) First report of Strawberry mild yellow edge virus in Argentina. Acta Hortic 842:303–306

Converse RH (1992) Modern approaches to strawberry virus research. Acta Hortic 308:19–30

Frazier NW, Morris TJ (1987) Strawberry vein banding. In: Converse RH (ed) Virus diseases of small fruits. US Dept Agric Handbook no. 631, US Government Printing Office, Washington, DC, USA, pp 16–20

Green MR, Sambrook J (2012) Cloning and transformation with plasmid vectors. In: Molecular cloning: a laboratory manual, 4th ed, vol 1. Cold Spring Harbor Laboratory Press, Woodbury, NY, USA pp 157–258

Jelkmann W, Martin RR, Lesemann DE, Vetten HJ, Skelton F (1990) A new potexvirus associated with strawberry mild yellow edge disease. J Gen Virol 71:1251–1258

Kumar S, Stecher G, Tamura K (2016) MEGA7: Molecular evolutionary genetics analysis version 7.0 for bigger datasets. Mol Biol Evol 33:1870–1874

Lamprecht S, Jelkmann W (1997) Infectious cDNA clone used to identify strawberry mild yellow edge-associated potexvirus as causal agent of the disease. J Gen Virol 78:2347–2353

Lavandero B, Rojas P, Ramirez CC, Salazar M, Caligari PDS (2012) Genetic structure of the aphid, Chaetosiphon fragaefolii, and its role as a vector of the Strawberry yellow edge virus to a native strawberry, Fragaria chiloensis in Chile. J Insect Sci 12:110

Martin RR, Converse RH (1985) Purification, properties and serology of strawberry mild yellow-edge virus. J Phytopathol 114:21–30

Martin RR, Tzanetakis IE (2006) Characaterization and recent advances in detection of strawberry viruses. Plant Dis 90:384–396

Martin RR, Tzanetakis IE (2013) High risk strawberry viruses by region in the United States and Canada: implications for certification, nurseries, and fruit production. Plant Dis 97:1358–1362

Martin DP, Murrell B, Golden M, Khoosal A, Muhire B (2015) RDP4: Detection and analysis of recombination patterns in virus genomes. Virus Evol 1:vev003

Mráz I, Petrzik K, Šíp M, Fránová-Honetšlegrová J (1998) Variability in coat protein sequence homology among American and European sources of Strawberry vein banding virus. Plant Dis 82:544–546

Petrzik K, Beneš V, Mráz I, Honetšlegrová-Fránová J, Ansorge W, Špak J (1998a) Strawberry vein banding virus—definitive member of the genus Caulimovirus. Virus Genes 16:303–305

Petrzik K, Mráz I, Dulić-Marković I (1998b) Quarantine strawberry vein banding virus firstly detected in Slovakia and Serbia. Acta Virol 42:87–89

Ragab M, El-Dougdoug K, Mousa S, Attia A, Sobolev I, Spiegel S, Freeman S, Zeidan M, Tzanetakis IE, Martin RR (2009) Detection of strawberry viruses in Egypt. Acta Hortic 842:319–322

Suehiro N, Natsuaki T, Watanabe T, Okuda S (2004) An important determinant of the ability of Turnip mosaic virus to infect Brassica spp. and/or Raphanus sativus is in its P3 protein. J Gen Virol 85:2087–2098

Thompson JR, Jelkmann W (2004) Strain diversity and conserved genome elements in Strawberry mild yellow edge virus. Arch Virol 149:1897–1909

Verchot-Lubicz J, Baulcombe DC (2011) Potexvirus. In: Tidona C, Darai G (eds) The Springer index of viruses. Springer, NY, pp 505–515

Yoshikawa N, Inouye T (1989) Strawberry viruses occurring in Japan. Acta Hortic 236:59–68
Acknowledgements
Strawberry plants were provided and maintained by the Plant Pathology and Applied Entomology Laboratory of the Tochigi Prefectural Agricultural Experiment Station. This study was supported by a grant (27017A) to TN from the "Science and Technology Research Promotion Program for Agriculture, Forestry, Fisheries and Food Industry". We thank Edanz Group (https://en-author-services.edanzgroup.com/) for editing a draft of this manuscript.
Ethics declarations
Conflict of interest
The authors declare that they have no conflict of interest.
Ethical approval
This article does not contain any studies with human participants or animals performed by any of the authors.
Additional information
Publisher's Note
Springer Nature remains neutral with regard to jurisdictional claims in published maps and institutional affiliations.
The DDBJ/EMBL/GenBank accession numbers for the SVBV-T, SMYEV-T1, and SMYEV-T2 sequences are LC315804, LC515235, and LC515236, respectively
Electronic supplementary material
Below is the link to the electronic supplementary material.
Neighbor-joining phylogenetic trees for SVBV-T, other SVBV isolates, and CaMV (outgroup; accession NC_001497) based on the amino acid sequence encoded by ORF5 and for b, c SMYEV-T1, SMYEV-T2, and other SMYEV isolates based on the amino acid sequences encoded byb ORF1 and c ORF5. Numbers on branches are the bootstrap values (%) obtained for 1000 replicates. Only bootstrap values exceeding 60% are presented (PPTX 181 kb)
About this article
Cite this article
Takamura, Y., Yamaryo, S., Wang, W. et al. First report of the complete genomic sequences of strawberry mild yellow edge virus and strawberry vein banding virus isolated in Japan. J Gen Plant Pathol (2020). https://doi.org/10.1007/s10327-020-00947-x
Received:

Accepted:

Published:
Keywords
Strawberry

Caulimovirus

SVBV

Potexvirus

SMYEV