Abstract
Quorum sensing (QS) is a mechanism for bacterial cell–cell communication using QS signals. N-acyl-homoserine lactones (AHLs), QS signals in Pseudomonas syringae pv. tabaci (Pta) 6605, are synthesized by an AHL synthase (PsyI) and recognized by the cognate transcription factor PsyR. To reveal the role of PsyR in virulence, we generated a ∆psyR mutant and complemented strains of Pta 6605 and found that the ∆psyR mutant is remarkably reduced in AHL production and ability to cause disease and propagate in host tobacco leaves. The phenotypes of complemented strains were restored to that of the wild type (WT). Because the ∆psyR mutant lost nearly all AHL production, we investigated the function of PsyR in the transcription of psyI and production of AHL. Electrophoretic mobility shift assays suggested that the recombinant PsyR protein binds the promoter region of psyI but not psyR without AHL. The addition of AHL did not significantly affect this binding. The binding core sequence of this region was identified as a 20-bp lux box-like sequence. To reveal the function of PsyR and AHL on psyI transcription, we constructed a psyI promoter::lacZYA chimeric reporter gene, and inserted it into the WT and ∆psyI mutant of Pta 6605. β-galactosidase activity increased in a bacterial density-dependent manner in the WT and also in a ∆psyI mutant after the addition of exogenous AHL. These results indicate that the solo PsyR binds the lux box in the psyI promoter and activates transcription in the concomitant presence of AHL.
Access options
Buy single article
Instant access to the full article PDF.
US$ 39.95
Tax calculation will be finalised during checkout.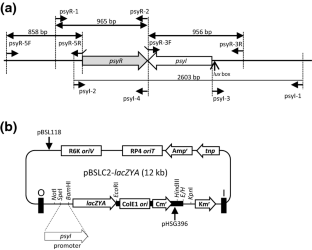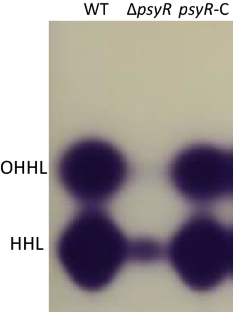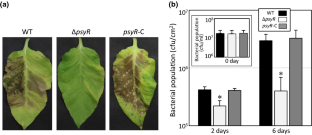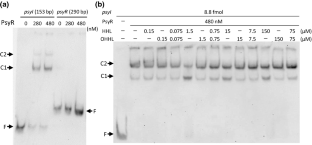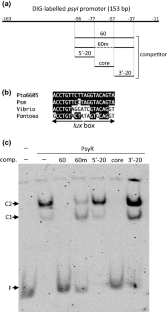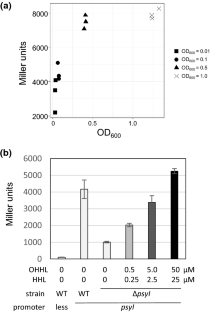 References
Alexeyev MF, Shokolenko IN, Croughan TP (1995) New mini-Tn5 derivatives for insertion mutagenesis and genetic engineering in gram-negative bacteria. Can J Microbiol 41:1053–1055

Carlier A, Burbank L, von Bodman SB (2009) Identification and characterization of three novel EsaI/EsaR quorum-sensing controlled stewartan exopolysaccharide biosynthetic genes in Pantoea stewartii ssp. stewartii. Mol Microbiol 74:903–913

Devine JH, Vountryman C, Baldwin TO (1988) Nucleotide sequence of the luxR and luxI genes and structure of the primary regulatory region of the lux regulon of Vibrio fischeri ATCC 7744. Biochemistry 27:837–842

Elasri M, Delorme S, Lemanceau P, Stewart G, Laue B, Glickmann E, Oger PM, Dessaux Y (2001) Acyl-homoserine lactone production is more common among plant-associated Pseudomonas spp. than among soilborne Pseudomonas spp. Appl Environ Microbiol 67:1198–1209

Fuqua C, Parsek MR, Greenberg EP (2001) Regulation of gene expression by cell-to-cell communication: acyl-homoserinelactone quorum sensing. Annu Rev Genet 35:439–468

Ham JH (2013) Intercellular and intracellular signalling systems that globally control the expression of virulence genes in plant pathogenic bacteria. Mol Plant Pathol 14:308–322

Kanda E, Tatsuta T, Suzuki T, Taguchi F, Naito K, Inagaki Y, Toyoda K, Shiraishi T, Ichinose Y (2011) Two flagellar stators and their roles in motility and virulence in Pseudomonas syringae pv. tabaci 6605. Mol Genet Genom 285:163–174

Kawakita Y, Taguchi F, Inagaki Y, Toyoda K, Shiraishi T, Ichinose Y (2012) Characterization of each aefR and mexT mutant in Pseudomonas syringae pv. tabaci 6605. Mol Genet Genom 287:473–484

Marutani M, Taguchi F, Ogawa Y, Hossain MM, Inagaki Y, Toyoda K, Shiraishi T, Ichinose Y (2008) Gac two-component system in Pseudomonas syringae pv. tabaci is required for virulence but not for hypersensitive reaction. Mol Genet Genom 279:313–322

McClean KH, Winson MK, Fish L, Taylor A, Chhabra SR, Camara M, Daykin M, Lamb JH, Swift S, Bycroft BW, Stewart GSAB, Williams P (1997) Quorum sensing and Chromobacterium violaceum: exploitation of violacein production and inhibition for the detection of N-acylhomoserine lactones. Microbiology 143:3703–3711

Miller JH (1992) The lac system. In: Miller JH (ed) A short course in bacterial genetics. A laboratory manual and handbook for Escherichia coli and related bacteria. Cold Spring Harbor Laboratory Press, Plainview, pp 43–80

Minogue TD, Wehland-von Trebra M, Bernhard F, von Bodman SB (2002) The autoregulatory role of EsaR, a quorum-sensing regulator in Pantoea stewartii ssp. stewartii: evidence for a repressor function. Mol Microbiol 44:1625–1635

Newton JA, Fray RG (2004) Integration of environmental and host-derived signals with quorum sensing during plant–microbe interactions. Cell Microbiol 6:213–224

Quiñones B, Pujol CJ, Lindow SE (2004) Regulation of AHL production and its contribution to epiphytic fitness in Pseudomonas syringae. Mol Plant-Microbe Interact 17:521–531

Sawada T, Eguchi M, Asaki S, Kashiwagi R, Shimomura K, Taguchi F, Matsui H, Yamamoto M, Noutoshi Y, Toyoda K, Ichinose Y (2018) MexEF-OprN multidrug efflux pump transporter negatively controls N-acyl-homoserine lactone production in Pseudomonas syringae pv. tabaci 6605. Mol Genet Genom 293:907–917

Schäfer A, Tauch A, Jäger W, Kalinowski J, Thierbach G, Pühler A (1994) Small mobilizable multi-purpose cloning vectors derived from the Escherichia coli plasmids pK18 and pK19: selection of defined deletions in the chromosome of Corynebacterium glutamicum. Gene 145:69–73

Schu DJ, Carlier AL, Jamison KP, von Bodman S, Stevens AM (2009) Structure/function analysis of the Pantoea stewartii quorum-sensing regulator EsaR as an activator of transcription. J Bacteriol 191:7402–7409

Shong J, Huang YM, Bystroff C, Collins CH (2013) Directed evolution of the quorum-sensing regulator EsaR for increased signal sensitivity. ACS Chem Biol 8:789–795

Simon R, Priefer U, Pühler A (1983) A broad host range mobilization system for in vivo genetic engineering: transposon mutagenesis in Gram-negative bacteria. Nat Biotechnol 1:784–791

Stevens AM, Queneau Y, Soulère L, von Bodman S, Doutheau A (2011) Mechanisms and synthetic modulators of AHL-dependent gene regulation. Chem Rev 111:4–27

Studholme DJ (2011) Application of high-throughput genome sequencing to intrapathovar variation in Pseudomonas syringae. Mol Plant Pathol 12:829–838

Taguchi F, Ogawa Y, Takeuchi K, Suzuki T, Toyoda K, Shiraishi T, Ichinose Y (2006) A homologue of the 3-oxoacyl-(acyl carrier protein) synthase III gene located in the glycosylation island of Pseudomonas syringae pv. tabaci regulates virulence factors via N-acyl homoserine lactone and fatty acid synthesis. J Bacteriol 188:8376–8384

Taguchi F, Yamamoto M, Ohnishi-Kameyama M, Iwaki M, Yoshida M, Ishii T, Konishi T, Ichinose Y (2010) Defects in flagellin glycosylation affect the virulence of Pseudomonas syringae pv. tabaci 6605. Microbiology 156:72–80

Taguchi F, Inoue Y, Suzuki T, Inagaki Y, Yamamoto M, Toyoda K, Noutoshi Y, Shiraishi T, Ichinose Y (2015) Characterization of quorum sensing-controlled transcriptional regulator MarR and Rieske (2Fe-2S) cluster-containing protein (Orf5), which are involved in resistance to environmental stresses in Pseudomonas syringae pv. tabaci 6605. Mol Plant Pathol 16:376–387

Tamura N, Murata Y, Mukaihara T (2005) Isolation of Ralstonia solanacearum hrpB constitutive mutants and secretion analysis of hrpB-regulated gene products that share homology with known type III effectors and enzymes. Microbiology 151:2873–2884

Tsai CS, Winans SC (2010) LuxR-type quorum-sensing regulators that are detached from common scents. Mol Microbiol 77:1072–1082

Tsai CS, Winans SC (2011) The quorum-hindered transcription factor YenR of Yersinia enterocolitica inhibits pheromone production and promotes motility via a small non-coding RNA. Mol Microbiol 80:556–571

Urbanowski ML, Lostroh CP, Greenberg EP (2004) Reversible acyl-homoserine lactone binding to purified Vibrio fischeri LuxR protein. J Bacteriol 186:631–637

von Bodman SB, Farrand SK (1995) Capsular polysaccharide biosynthesis and pathogenicity in Erwinia stewartii require induction by an N-acylhomoserine lactone autoinducer. J Bacterial 177:5000–5008

von Bodman SB, Bauer WD, Coplin DL (2003) Quorum sensing in plant-pathogenic bacteria. Annu Rev Phytopathol 41:455–482

Whitehead NA, Barnard AM, Slater H, Simpson NJ, Salmond GP (2001) Quorum-sensing in Gram-negative bacteria. FEMS Microbiol Rev 25:365–404
Acknowledgements
We thank the Leaf Tobacco Research Laboratory of Japan Tobacco Inc. for providing Pta 6605. This work was supported in part by Grants-in-Aid for Scientific Research (nos. 15H04458 and 19H02956) from the Ministry of Education, Culture, Sports, Science and Technology of Japan.
Ethics declarations
Conflicts of interest
The authors declare that they have no conflict of interest.
Ethical approval
This article does not contain any studies with human participants or animals performed by any of the authors.
Additional information
Publisher's Note
Springer Nature remains neutral with regard to jurisdictional claims in published maps and institutional affiliations.
Electronic supplementary material
Below is the link to the electronic supplementary material.
About this article
Cite this article
Ichinose, Y., Tasaka, Y., Yamamoto, S. et al. PsyR, a transcriptional regulator in quorum sensing system, binds lux box-like sequence in psyI promoter without AHL quorum sensing molecule and activates psyI transcription with AHL in Pseudomonas syringae pv. tabaci 6605. J Gen Plant Pathol 86, 124–133 (2020). https://doi.org/10.1007/s10327-019-00893-3
Received:

Accepted:

Published:

Issue Date:
Keywords
AHL

PsyI

PsyR

Quorum sensing