Abstract
Two detection methods combining loop-mediated isothermal amplification (LAMP) and a bait trap were developed to detect Pythium helicoides in greenhouses containing roses, miniature roses, and poinsettias in hydroponic culture systems. In "Bait-LAMP", a crude extract derived from perilla seeds as the bait was used in the LAMP reaction, whereas in the "Bait culture-LAMP", a crude extract of mycelia grown out from perilla seeds onto Pythium-selective medium served as the bait. The two methods are simple and rapid for practical monitoring of P. helicoides in hydroponic culture systems.
This is a preview of subscription content,
to check access.
Access this article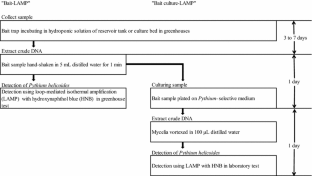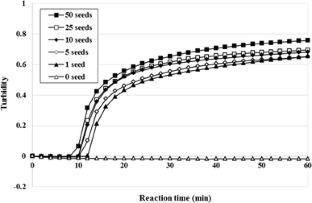 Similar content being viewed by others
References
Cohen J (1960) A coefficient of agreement for nominal scales. Educ Psychol Meas 20:37–46

Feinstein AR, Cicchetti DV (1990) High agreement but low kappa: I. The problems with two paradoxes. J Clin Epidemiol 43:543–549

Goto M, Honda E, Ogura A, Nomoto A, Hanaki K (2009) Colorimetric detection of loop-mediated isothermal amplification reaction by using hydroxy naphthol blue. Biotechnology 46:167–172

Kageyama K (2011) Characteristics of high-temperature-growing Pythium species nowadays frequently occurring disease (in Japanese). Plant Prot 65:102–106

Kageyama K (2014) Molecular taxonomy and its application to ecological studies of Pythium species. J Gen Plant Pathol 80:314–326

Kageyama K, Aoyagi T, Sunouchi R, Fukui H (2002) Root rot of miniature roses caused by Pythium helicoides. J Gen Plant Pathol 68:15–20

Ko WH, Chase LL, Kunimoto RK (1973) A microsyringe method for determining concentration of fungal propagules. Phytopathology 63:1206–1207

Landis JR, Koch GG (1977) The measurement of observer agreement for categorical data. Biometrics 33:159–174

McNemar Q (1947) Note on the sampling error of the difference between correlated proportions or percentages. Psychometrika 12:153–157

Miyake N, Nagai H, Kageyama K (2014) Wilt and root rot of poinsettia caused by three high-temperature-tolerant Pythium species in ebb-and-flow irrigation systems. J Gen Plant Pathol 80:479–489

Mori Y, Nagamine K, Tomita N, Notomi T (2001) Detection of loop-mediated isothermal amplification reaction by turbidity derived from magnesium pyrophosphate formation. Biochem Biophys Res Commun 289:150–154

Mori Y, Kitao M, Tomita N, Notomi T (2004) Real-time turbidimetry of LAMP reaction for quantifying template DNA. J Biochem Biophys Methods 59:145–157

Morita Y, Tojo M (2007) Modifications of PARP medium using fluazinam, miconazole, and nystatin for detection of Pythium spp. in soil. Plant Dis 91:1591–1599

Nagamine K, Hase T, Notomi T (2002) Accelerated reaction by loop-mediated isothermal amplification using loop primers. Mol Cell Probes 16:223–229

Notomi T, Okayama H, Masubuchi H, Yonekawa T, Watanabe K, Amino N, Hase T (2000) Loop-mediated isothermal amplification of DNA. Nucleic Acids Res 28:e63

Stanghellini ME, Rasmussen SL (1994) Hydroponics: a solution for zoosporic pathogens. Plant Dis 78:1129–1138

Takahashi R, Fukuta S, Kuroyanagi S, Miyake N, Nagai H, Kageyama K, Ishiguro Y (2014) Development and application of a loop-mediated isothermal amplification assay for rapid detection of Pythium helicoides. FEMS Microbiol Lett 355:28–35

Thinggaard K, Middelboe AL (1989) Phytophthora and Pythium in pot cultures grown on ebb and flow bench with recirculating nutrient solution. J Phytopathol 125:343–352

van der Plaats-Niterink AJ (1981) Monograph of the genus Pythium. Stud Mycol 21:1–242

Watanabe H, Kageyama K, Taguchi Y, Horinouchi H, Hyakumachi M (2008) Bait method to detect Pythium species that grow at high temperatures in hydroponic solutions. J Gen Plant Pathol 74:417–424

Waterhouse GM (1967) Key to Pythium pringsheim. Mycol Pap 109:1–15
Acknowledgements
This work was supported in part by Science and Technology Research Promotion Program for Agriculture, Forestry, Fisheries and Food Industries from the Ministry of Agriculture, Forestry and Fisheries, Japan.
About this article
Cite this article
Miyake, N., Nagai, H., Kato, S. et al. Practical method combining loop-mediated isothermal amplification and bait trap to detect Pythium helicoides from hydroponic culture solutions. J Gen Plant Pathol 83, 1–6 (2017). https://doi.org/10.1007/s10327-016-0691-6
Received:

Accepted:

Published:

Issue Date:

DOI: https://doi.org/10.1007/s10327-016-0691-6
Keywords