Abstract
Neutral electrolyzed water (NEW: pH 6.5–7.5) applied through an overhead irrigation system was evaluated for control of strawberry anthracnose caused by Colletotrichum fructicola. Conidia of the pathogen were completely killed by a 10-s exposure to 10.0 mg/L of available chlorine in the NEW. Disease suppression was significantly higher using the NEW treatment through overhead irrigation, either alone or combined with fungicides, than using conventional fungicides. Plants had no visible phytotoxicity after the NEW treatment, even when combined with fungicides. Thus, the NEW treatment was effective at controlling anthracnose caused by C. fructicola.
Access options
Buy single article
Instant access to the full article PDF.
US$ 39.95
Tax calculation will be finalised during checkout.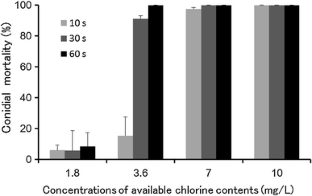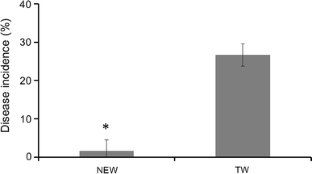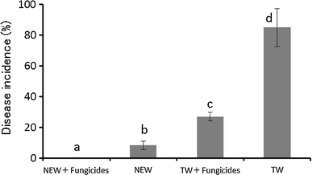 References
Al-Haq MI, Sugiyama J, Isobe S (2005) Applications of electrolyzed water in agriculture and food industries. Food Sci Technol Res 11:135–150

Cui X, Shang Y, Shi Z, Xin H, Cao W (2009) Physicochemical properties and bactericidal efficiency of neutral and acidic electrolyzed water under different storage conditions. J Food Eng 91:582–586

Freeman S, Horowitz S, Sharon A (2001) Pathogenic and nonpathogenic lifestyles in Colletotrichum acutatum from strawberry and other plants. Phytopathology 91:986–992

Fujiwara K, Doi R, Iimoto M, Fugii T (2000) Fundamental studies on crop disease control by spraying electrolyzed anode-side water. 4: effects of pH and available chlorine concentration on the severity of powdery mildew infection and percentage of leaves with a leaf burn-like physiological disorder on tomato leaves (in Japanese with English abstract). Environ Cont Biol 38:263–271

Guentzel JL, Lam KL, Callan MA, Emmons SA, Dunham VL (2008) Reduction of bacteria on spinach, lettuce, and surfaces in food service areas using neutral electrolyzed oxidizing water. Food Microbiol 25:36–41

Guentzel JL, Callan MA, Lam KL, Emmons SA, Dunham VL (2011) Evaluation of electrolyzed oxidizing water for phytotoxic effects and pre-harvest management of gray mold disease on strawberry plants. Crop Protect 30:1274–1279

Hirayama Y, Kawamoto Y, Matsutani S, Nishizaki M, Okayama K (2008) Occurrence of fungicides resistant isolates of Glomerella cingulata causing the strawberry anthracnose in Nara Prefecture (in Japanese). Ann Rept Kansai Pl Prot 50:93–94

Hou YT, Ren J, Liu HJ, Li FD (2012) Efficiency of electrolyzed water (EW) on inhibition of Phytophthora parasitica var. nicotianae growth in vitro. Crop Protect 42:128–133

Howard CM, Maas JL, Chandler CK, Albregts EE (1992) Anthracnose of strawberry caused by the Colletotrichum complex in Florida. Plant Dis 76:976–981

Huang YR, Hung YC, Hsu SY, Huang YW, Hwang DF (2008) Application of electrolyzed water in the food industry. Food Cont 19:329–345

Inada M, Yamaguchi J, Furuta A (2010) An agar dilution method to test the sensitivity of Glomerella cingulata, causal fungus of strawberry anthracnose, to azoxystrobin (in Japanese with English abstract). Jpn J Phytopathol 76:1–6

Issa-Zacharia A, Kamitani Y, Tiisekwa A, Morita K, Iwasaki K (2010) In vitro inactivation of Escherichia coli, Staphylococcus aureus and Salmonella spp. using slightly acidic electrolyzed water. J Biosci Bioeng 110:308–313

Jia GL, Shi JY, Song ZH, Li FD (2015) Prevention of enzymatic browning of Chinese yam (Dioscorea spp.) using electrolyzed oxidizing water. J Food Sci 80:C718–C728

Kusakari S, Achiwa N, Abe K, Okada K (2013) The control effect of acidic electrolyzed water (AEW) on gray mold of strawberry and anthracnose of cucumber in field conditions (in Japanese with English abstract). Ann Rept Kansai Pl Prot 55:17–21

MacKenzie SJ, Mertely JC, Peres NA (2009) Curative and protectant activity of fungicides for control of crown rot of strawberry caused by Colletotrichum gloeosporioides. Plant Dis 93:815–820

Monnin A, Lee J, Pascall MA (2012) Efficacy of neutral electrolyzed water for sanitization of cutting boards used in the preparation of foods. J Food Eng 110:541–546

Mueller DS, Hung YC, Oetting RD, van Iersel MW, Buck JW (2003) Evaluation of electrolyzed oxidizing water for management of powdery mildew on gerbera daisy. Plant Dis 87:965–969

Okayama K, Tsujimoto A (1994) Occurrence of strawberry anthracnose caused by Glomerella cingulata (Stoneman) Spaulding et Schrenk and pathogenicity of the fungus (in Japanese with English abstract). Jpn J Phytopathol 60:617–623

Peres NA, Timmer LW, Adaskaveg JE, Correll JC (2005) Lifestyles of Colletotrichum acutatum. Plant Dis 89:784–796

Torlak E (2014) Inactivation of Alicyclobacillus acidoterrestris spores in aqueous suspension and on apples by neutral electrolyzed water. Int J Food Microbiol 185:69–72

Weir BS, Johnston PR, Damm U (2012) The Colletotrichum gloeosporioides species complex. Stud Mycol 73:115–180
Acknowledgments
We are grateful to Dr. Janice Y. Uchida and Dr. Naoyuki Matsumoto for their critical review and valuable comments on an earlier version of this manuscript and to Dr. Toyozo Sato for his valuable comments on the latest taxonomy of Colletotrichum. We also thank Kana Ueda for her technical assistance.
About this article
Cite this article
Hirayama, Y., Asano, S., Watanabe, K. et al. Control of Colletotrichum fructicola on strawberry with a foliar spray of neutral electrolyzed water through an overhead irrigation system. J Gen Plant Pathol 82, 186–189 (2016). https://doi.org/10.1007/s10327-016-0667-6
Received:

Accepted:

Published:

Issue Date:
Keywords
Colletotrichum fructicola

Neutral electrolyzed water (NEW)

Overhead irrigation

Fungicide application

Strawberry anthracnose