Abstract
Poinsettia plants growing in ebb-and-flow irrigation systems developed wilting and root rot during the summer growing seasons of 2010 in Gifu Prefecture and 2011 in Aichi Prefecture. Pythium species were isolated from roots with rot symptoms. The isolates were identified as P. helicoides and P. myriotylum on the basis of morphological characteristics and sequence homologies in the rDNA internal transcribed spacer regions. In pathogenicity tests, these isolates caused severe wilting and root rot. This is the first report of poinsettia root rot disease caused by P. helicoides and P. myriotylum, although P. aphanidermatum was reported as a pathogen of poinsettia root rot. To better understand these diseases, we performed an epidemiological study of three high-temperature-tolerant Pythium species, P. aphanidermatum, P. helicoides and P. myriotylum. Disease incidence as a percentage of diseased plants was greatest at 35 °C for all three species. Disease severity using the rating scale of root rot was also highest at 35 °C, particularly with high zoospore inoculum densities (100.0 zoospores/mL). Although the disease incidence and severity were reduced at lower temperatures, the three Pythium species were able to cause disease at temperatures as low as 20 °C.
Access options
Buy single article
Instant access to the full article PDF.
US$ 39.95
Tax calculation will be finalised during checkout.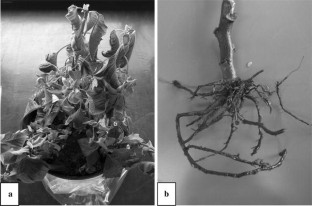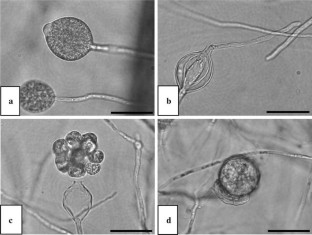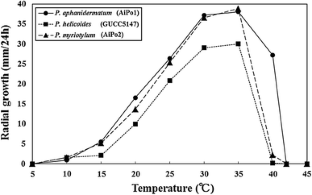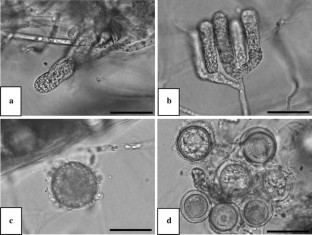 References
Altschul SF, Madden TL, Schäffer AA, Zhang J, Zhang Z, Miller W, Lipman DJ (1997) Gapped BLAST and PSI-BLAST: a new generation of protein database search programs. Nucleic Acids Res 25:3389–3402

Anderson MG, Fortnum BA, Martin SB (1997) First report of Pythium myriotylum in a tobacco seedling float system in South Carolina. Plant Dis 81:227

Bolton AT (1978) Sudden wilting of poinsettia (Euphorbia pulcherrima) caused by Pythium aphanidermatum. Can J Plant Sci 58:569–570

Chellemi DO, Mitchell DJ, Kannwischer-Mitchell ME, Rayside PA, Rosskopf EN (2000) Pythium spp. associated with bell pepper production in Florida. Plant Dis 84:1271–1274

Chikuo Y, Ito Y, Matsushita Y, Sumitomo K (2008) Causal pathogens occurred on chrysanthemum (Chrysanthemum moriforium) damping-off found in Okinoerabu island (Abstract in Japanese). Jpn J Phytopathol 74:177

Jenkins JRSF, Averre CW (1983) Root diseases of vegetables in hydroponic culture systems in North Carolina greenhouses. Plant Dis 67:968–970

Kageyama K, Aoyagi T, Sunouchi R, Fukui H (2002) Root rot of miniature roses caused by Pythium helicoides. J Gen Plant Pathol 68:15–20

Kageyama K, Suzuki M, Priyatmojo A, Oto Y, Ishiguro K, Suga H, Aoyagi T, Fukui H (2003) Characterization and identification of asexual strains of Pythium associated with root rot of rose in Japan. J Phytopathol 151:485–491

Kageyama K, Watarai M, Iwashita T, Tomita M, Suematsu M, Fukui H, Suga H (2012) Damping-off of Glycyrrhiza sp. caused by three Pythium species (Abstract in Japanese). Jpn J Phytopathol 78:184

Ko WH, Lynne L, Chase L, Kunimoto RK (1973) A microsyringe method for determining concentration of fungal propagules. Phytopathology 63:1206–1207

Miyake N, Kuroyanagi S, Kawamura H, Kageyama K (2010) Occurrence of damping-off of Deutzia caused by Pythium myriotylum (Abstract in Japanese). Jpn J Phytopathol 76:65

Miyazaki A, Watanabe H, Kageyama K (2009) First report of root rot on begonia (Begonia × hiemalis) caused by Pythium helicoides Drechsler in Japan (in Japanese). Ann Rept Kansai Pl Prot 51:53–54

Moorman GW, Kang S, Geiser DM (2002) Identification and characterization of Pythium species associated with greenhouse floral crops in Pennsylvania. Plant Dis 86:1227–1231

Morita Y, Tojo M (2007) Modifications of PARP medium using fluazinam, miconazole, and nystatin for detection of Pythium spp. in soil. Plant Dis 91:1591–1599

Moulin F, Lemanceau P, Alabouvette C (1994) Pathogenicity of Pythium species on cucumber in peat-sand, rockwool and hydroponics. Eur J Plant Pathol 100:3–17

Ono T, Kagiwada S, Hoshi H, Horie H (2011) First report of damping-off of wild turmeric caused by Pythium myriotylum (in Japanese). Annu Rept Kanto Pl Prot Soc 58:61–62

Sanogo S, Moorman GW (1993) Transmission and control of Pythium aphanidermatum in an ebb-and-flow subirrigation system. Plant Dis 77:287–290

Stanghellini ME, Rasmussen SL (1994) Hydroponics: a solution for zoosporic pathogens. Plant Dis 78:1129–1138

Stanghellini ME, Nielsen CJ, Kim DH, Rasmussen SL, Rorbaugh PA (2000a) Influence of sub-versus top-irrigation and surfactants in a recirculating system on disease incidence caused by Phytophthora spp. in potted pepper plants. Plant Dis 84:1147–1150

Stanghellini ME, Vilchez M, Kim DH, Aguiar JL, Armendariz J (2000b) First report of root rot caused by Pythium aphanidermatum on artichoke. Plant Dis 84:811

Sugawara K, Kageyama K, Satou M, Namai T (2010) Pythium rot of Alstroemeria caused by Pythium myriotylum and P. helicoides (Abstract in Japanese). Jpn J Phytopathol 76:44

Suzuki M, Kageyama K, Ichikawa T, Uchiyama T (2009) Occurrence of Pythium root rot of gerbera caused by Pythium helicoides (Abstract in Japanese). Jpn J Phytopathol 75:237

Thinggaard K, Andersen H (1995) Influence of watering frequency and electrical conductivity of the nutrient solution on Phytophthora root rot in pot plants of Gerbera. Plant Dis 79:259–263

Thinggaard K, Middelboe AL (1989) Phytophthora and Pythium in pot plant cultures grown on ebb and flow bench with recirculating nutrient solution. J Phytopathol 125:343–352

Tojo M, Fujita Y, Awad HM, Ichitani T (1993) Preparation of Pythium inocula using bentgrass seeds for glasshouse studies (in Japanese). Proc Kansai Pl Prot 35:1–5

van der Plaats-Niterink AJ (1981) Monograph of the genus Pythium. Stud Mycol 21:1–242

Watanabe H, Taguchi Y, Hyakumachi M, Kageyama K (2007) Pythium and Phytophthora species associated with root and stem rots of kalanchoe. J Gen Plant Pathol 73:81–88

Watanabe H, Horinouchi H, Kato T, Kuwabara K, Takai K, Kageyama K (2008) Occurrence of Pythium root rot of poinsettia caused by Pythium aphanidermatum (Abstract in Japanese). Jpn J Phytopathol 74:178

Waterhouse GM (1967) Key to Pythium Pringsheim. Mycol Pap 109:1–15

White TJ, Bruns T, Lee S, Taylor JW (1990) Amplification and direct sequencing of fungal ribosomal RNA genes for phylogenetics. In: Innis MA, Gelfand DH, Sninsky JJ, White TJ (eds) PCR protocols: a guide to methods and applications. Academic Press, San Diego, pp 315–322
Acknowledgments
This work was supported by Science and Technology Research Promotion Program for Agriculture, Forestry, Fisheries and Food Industries from the Ministry of Agriculture, Forestry and Fisheries, Japan.
Additional information
The nucleotide sequences reported here are available in the DNA Data Bank of Japan (DDBJ), European Molecular Biology Laboratory (EMBLE), and GenBank databases under accession number AB825964 and AB825965.
About this article
Cite this article
Miyake, N., Nagai, H. & Kageyama, K. Wilt and root rot of poinsettia caused by three high-temperature-tolerant Pythium species in ebb-and-flow irrigation systems. J Gen Plant Pathol 80, 479–489 (2014). https://doi.org/10.1007/s10327-014-0542-2
Received:

Accepted:

Published:

Issue Date:
Keywords
Pythium aphanidermatum
Pythium helicoides
Pythium myriotylum

Poinsettia

Root rots

High temperature