Abstract
Clubroot disease, caused by Plasmodiophora brassicae Woronin, affects various cruciferous crops. Variations in pathogenicity and virulence are present among field populations of P. brassicae. Many races (pathotypes) have been reported in Japan as well as in other countries using various differential systems. Populations can be classified into four pathotypes using two clubroot-resistant (CR) cultivars of Chinese cabbage as differential hosts in Japan. However, it was recently indicated that each population is often heterogenic and composed of multiple genotypes (races or pathotypes). Breakdown in CR cultivars of Chinese cabbage is a problem in some areas of Japan and may contribute to the selective propagation of minor pathogenic genotypes on the CR cultivars. Clubroot has also been recorded on five species of cruciferous weeds in Japan. In particular, clubroot of Cardamine flexuosa is widely distributed in Japan. Some populations of C. flexuosa are often moderately pathogenic on Chinese cabbage and turnip. Therefore, the epidemiological relationship between clubroot of cruciferous crops and that of the weed has been noted but not thoroughly clarified. The relationship between pathogenic and genetic variations has also been examined among populations from cruciferous crops and weeds in Japan. The result implies an interesting genetic relationship among Williams' races, among pathotypes determined using CR cultivars of Chinese cabbage and among populations from crops and C. flexuosa. This review includes an introduction of the status of studies on pathogenic and genetic diversity in P. brassicae from Japan.
Access options
Buy single article
Instant access to the full article PDF.
USD 39.95
Price includes VAT (USA)
Tax calculation will be finalised during checkout.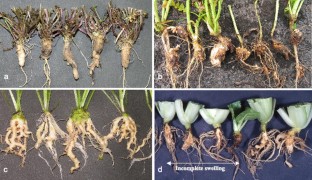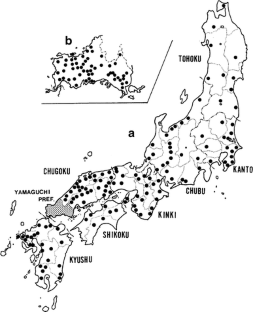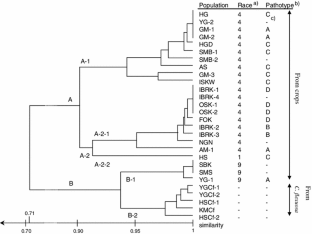 References
Ayers GW (1957) Races of Plasmodiophora brassicae. Can J Bot 35:923–932

Buczacki ST, Ockendon JG (1979) Preliminary observations on variation in susceptibility to clubroot among collections of some wild crucifers. Annu Appl Biol 92:113–118

Buczacki ST, Toxopeus H, Mattusch P, Johnston TD, Dixon GR, Holboth LA (1975) Study of physiologic specialization in Plsamodiophora brassicae: proposals for attempted rationalization through an international approach. Trans Br Mycol Soc 65:295–303

Buhariwalla H, Greaves S, Magrath R, Mithen R (1995) Development of specific PCR primers for the amplification of polymorphic DNA from the obligate root pathogen Plasmodiophora brassicae. Physiol Mol Plant Pathol 47:83–94

Colhoun J (1958) Club root disease of crucifers caused by Plasmodiophora brassicae Woronin. A monograph. Pytopath Paper No. 3, Commonwealth Mycol Inst, Kew, UK pp 1–108

Deora A, Gossen BD, McDonald MR (2012) Infection and development of Plasmodiophora brassicae in resistant and susceptible canola cultivars. Can J Plant Pathol 34:239–247

Dixon GR (2009) The occurrence and economic impact of Plasmodiophora brassicae and clubroot disease. J Plant Growth Regul 28:194–202

Fähling M, Graf H, Siemens J (2003) Pathotype separation of Plasmodiophora brassicae by the host plant. J Phytopathol 151:425–430

Gibbs JG (1932) Weed host plants of club-root in New Zealand. N Z J Agric 44:273–276

Halsted BD (1894) Club-root in common weeds. Bull Torry Bot Club 21:76–78

Hatakeyama K, Fujimura M, Ishida M, Suzuki T (2004) New classification method for Plasmodiophora brassicae field isolates in Japan based on resistance of F1 cultivars of Chinese cabbage (Brassica rapa L.) to clubroot. Breed Sci 54:197–201

Honig F (1931) The causal organism of finger-and-toe disease (Plasmodiophora brassicae Wor.) (in German). A monograph. Gartenbauwissensch 5:116–225

Horikoshi N, Tairako K (2002) Occurrence of clubroot in Japanese radish caused by Plasmodiophora brassicae Woronin in Fukushima (in Japanese with English summary). Annu Rep Prot Plant North Jpn 53:58–60

Horiuchi S, Hori M (1982) Variations in PCNB susceptibility and virulence among populations of Plasmodiophora brassicae (abstract in Japanese). Ann Phytopathol Soc Jpn 48:102

Hwang SF, Ahmed HU, Zhou Q, Strelkov SE, Gossen BD, Peng G, Turnbull GD (2011) Influence of cultivar resistance and inoculum density on root hair infection of canola (Brassica napus) by Plasmodiophora brassicae. Plant Pathol 60:820–829

Ikegami H (1975) Susceptibility and resistance to clubroot of cruciferous vegetable species and varieties (in Japanese with English summary). Res Bul Fac Agric Gifu Univ 38:11–28

Ikegami H (1978) Research trends of clubroot on cruciferous vegetables in recent years (in Japanese). Shokubutsu Boeki (Plant Prot) 32:53–61

Ikegami H (1992) Ecology of Plasmodiophora brassicae and control of clubroot disease (in Japanese). Tsuchi to biseibutsu (Soil Microorg) 39:1–10

Ito S, Maehara T, Tanaka S, Kameya-Iwaki M, Yano S, Kishi F (1997) Cloning of a single-copy DNA sequence unique to Plasmodiophora brassicae. Physiol Mol Plant Pathol 50:289–300

Ito S, Maehara T, Maruno E, Tanaka S, Kameya-Iwaki M, Kishi F (1999) Development of a PCR-based assay for the detection of Plasmodiophora brassicae in soil. J Phytopathol 147:83–88

Johnston TD (1968) Club root in Brassica: a standard inoculation technique and the specification of races. Plant Pathol 17:184–187

Jones DR, Ingram DS, Dixon GR (1982) Characterization of isolates derived from single resting spores of Plasmodiophora brassicae and studies of their interaction. Plant Pathol 31:239–246

Kageyama K, Kamimura Y, Hyakumachi M (1995) A simple inoculation method with a single resting spore of Plasmodiophora brassicae. Annu Phytopathol Soc Jpn 61:415–418

Karling JS (1968) The Plasmodiohorales, 2nd edn. Hafner, New York

Keen NT, Williams PH (1969) Synthesis and degradation of starch and lipids following infection of cabbage by Plasmodiophora brassicae. Phytopathology 59:778–785

Kroll TK, Lacy GH, Moore LD (1983) A quantitative description of the colonization of susceptible and resistant radish plants by Plasmodiophora brassicae. J Phytopathol 108:97–105

Kuginuki Y, Yoshikawa H, Hirai M (1999) Variation in virulence of Plasmodiophora brassicae in Japan tested with clubroot-resistant cultivars of Chinese cabbage (Brassica rapa L. ssp. pekinensis). Eur J Plant Pathol 105:327–332

LeBoldus JM, Manolii VP, Turkington TK, Strelkov SE (2012) Adaptation to Brassica host genotypes by a single-spore isolate and population of Plasmodiophora brassicae (clubroot). Plant Dis 96:833–838

MacFarlane I (1955) Variation in Plasmodiophora brassicae Woron. Annu Appl Biol 43:297–306

Manzanares-Dauleux MJ, Divaret I, Baron F, Thomas G (2001) Assessment of biological and molecular variability between and within field isolates of Plasmodiophora brassicae. Plant Pathol 50:165–173

Matsumoto S (2012) Genetic analysis of clubroot resistance in Brassica rapa and development of the resistant cultivars by marker assisted selection (in Japanese). Shokubutsu Boeki (Plant Prot) 66:43–46

Möller M, Harling R (1996) Randomly amplified polymorphic DNA (RAPD) profiling of Plasmodiophora brassicae. Lett Appl Microbiol 22:70–75

Morgner M (1995) Mikroscopische Untersuchungen der Reaktion empfindlicher und resistenter Genotypen vershiedener Brassica-Arten gegenüber Plasmodiophora brassicae Wor (in German with English summary). PhD dissertation, Free University of Berlin, Berlin

Murai K, Tanaka S, Katumoto K, Nishi Y (1986) Variation in pathogenicity of a population from Cardamine flexuosa by propagation in Chinese cabbage (abstract in Japanese). Ann Phytopathol Soc Jpn 52:132

Nowicki B (1973) The host range of the fungus Plasmodiophora brassicae Wor (in Polish with English summary). Acta Agrobot 26:53–61

Oku T, Ochi M, Maeda M, Chokyu S (2011) Breakdown of clubroot resistance hiroshimana 'CR Hiroshima No. 2' (Brassica rapa L.) (abstract in Japanese). Jpn J Phytopathol 77:153

Oku T, Ochi M, Maeda M, Chokyu S (2012) A cause of breakdown of clubroot resistance hiroshimana 'CR Hiroshimana No 2' (Brassica rapa L.) (abstract in Japanese). Jpn J Phytopathol 78:222

Osaki K (2008) Studies on diversity of pathogenicity within Plsamodiophora brassicae (in Japanese with English summary). PhD dissertation, Tottori Univ, Tottori, Japan

Osaki K, Tanaka S, Ito S (2004) A case of breakdown in clubroot-resistant cultivars of Chinese cabbage (abstract in Japanese). Jpn J Phytopathol 70:66

Osaki K, Tanaka S, Ito S (2008a) Pathogenicity of Plasmodiophora brassicae populations from small, spheroid, resistant-type clubroot galls on roots of clubroot-resistant cultivars of Chinese cabbage (Brassica rapa L. subsp. pekinensis). J Gen Plant Pathol 74:242–245

Osaki K, Fujiyama S, Nakayama A, Shimizu Y, Ito S, Tanaka S (2008b) Relation between pathogenicity and genetic variation within Plasmodiophora brassicae. J Gen Plant Pathol 74:281–288

Petcharat V, Chuenchitt S, Lim S, Santipracha Q (1987) Club root: a new disease of crucifers in Thailand (in Thai with English summary). J Thai Phytopathol Soc 9:15–22

Reyes AA, Davidson TR, Marks CF (1974) Races, pathogenicity and chemical control of Plasmodiophora brassicae in Ontario. Phytopathology 64:173–177

Seaman WL, Walker JC, Larson RH (1963) A new race of Plasmodiophora brassicae affecting Badger Shipper cabbage. Phytopathology 53:1426–1429

Shibato Y, Hayashida T, Hamachi Y, Ogata T (2001) Pathogenicity of Plasmodiophora brassicae isolated from the clubroot disease infected cruciferous vegetable in Keichiku Region, Fukuoka Prefecture (in Japanese with English summary). Bull Fukuoka Agric Res Cent 20:53–57

Somé A, Manzanares MJ, Laurence F, Baron F, Thomas G, Rouxel F (1996) Variation for virulence on Brassica napus L. amongst Plasmodiophora brassicae collections from France and derived single-spore isolates. Plant Pathol 45:432–439

Suzuki M, Torii Y, Kageyama K (2006) Occurrence of clubroot disease on Japanese horseradish in mountain stream (abstract in Japanese). Jpn J Phytopathol 72:251

Takematsu T, Ichizen N (1993) Sekai no Zassou II (in Japanese). Zenkoku Noson Kyoiku Kyokai, Tokyo, pp 415–417

Tanaka S (1996) Recent progress in studies on clubroot disease on crucifers (in Japanese). Shokubutsu Boeki (Plant Prot) 50:281–284

Tanaka S, Tanina K, Muramoto K, Katumoto K, Nishi Y (1983) Ecological studies on clubroot of crucifers (III) Clubroot susceptibility of Capsella bursa-pastoris from various areas (abstract in Japanese). Ann Phytopathol Soc Jpn 49:390

Tanaka S, Inoue T, Murai K, Katumoto K, Nishi Y (1984) Ecological studies on clubroot of crucifers (IV) Pathogenicity of Plasmodiophora brassicae populations from Cardamine flexuosa (abstract in Japanese). Ann Phytopathol Soc Jpn 50:396

Tanaka S, Negoro M, Ota T, Katumoto K, Nishi Y (1990) Clubroot of spring Chinese cabbage in Nagasaki Prefecture, Kyushu (in Japanese with English summary). Bull Fac Agric Yamaguchi Univ 38:33–45

Tanaka S, Sakamoto Y, Kajima K, Fujieda K, Katumoto K, Nishi Y (1991) Pathogenicity of three isolates of clubroot fungus attacking clubroot-resistant cultivars of Chinese cabbage (in Japanese wih English summary). Bull Fac Agric Yamaguchi Univ 39:113–122

Tanaka S, Ito S, Kameya-Iwaki M, Katumoto K, Nishi Y (1993) Occurrence and distribution of clubroot disease on two cruciferous weeds, Cardamine flexuosa and C. scutata, in Japan. Trans Mycol Soc Jpn 34:381–388

Tanaka S, Murai K, Ito S, Katumoto K, Nishi Y (1994) The occurrence clubroot disease of wasabi (Eutrema wasabi Maxim.) and its possible source of infection (in Japanese with English summary). Annu Phytopathol Soc Jpn 60:257–259

Tanaka S, Tsuchiya S, Ito S, Kameya-Iwaki M (1997a) Pathogenicity of an isolate of Plasmodiophora brassicae from Fukuoka Prefecture (in Japanese with English summary). Proc Assoc Pl Prot Kyushu 43:35–38

Tanaka S, Yoshihara S, Ito S, Kameya-Iwaki M (1997b) The influence of virulence of Plasmodiophora brassicae populations on epidemiology of Chinese cabbage clubroot and efficacy of fungicides (in Japanese with English summary). Ann Phytopathol Soc Jpn 63:183–187

Tanaka S, Fujiyama S, Shigemori S, Nakayama A, Ito S, Kameya-Iwaki M (1998) Pathogenesis of isolates of Plasmodiophora brassicae from Japan (1) Race and pathogenesis in clubroot resistant cultivars (in Japanese with English summary). Kyushu Pl Prot Res 44:15–19

Tanaka S, Mido H, Ito S (2006a) Colonization by two isolates of Plasmodiophora brassicae with differing pathogenicity on a clubroot-resistant cultivar of Chinese cabbage (Brassica rapa L. subsp. pekinensis). J Gen Plant Pathol 72:205–209

Tanaka S, Mizui Y, Terasaki H, Sakamoto Y, Ito S (2006b) Distribution of clubroot disease of a cruciferous weed, Cardamine flexuosa, in major isolated islands, Hokkaido and Okinawa in Japan. Mycoscience 47:72–77

Tanaka Y, Katayama T, Shibato Y, Hayashida T, Himeno S (2009) Characteristics of clubroot resistant Nabana 'Harukana' (in Japanese with English summary). Bull Fukuoka Agric Res Cent 28:84–88

Tanina K, Tanaka S, Katumoto K, Nishi Y (1985) Ecological studies on clubroot of crucifers (V) variation in susceptibility to Plasmodiophora brassicae populations from Chinese cabbage among collections of Capsella bursa-pastoris (abstract in Japanese). Ann Phytopathol Soc Jpn 51:77

Tsushima S (2003) Clubroot disease (in Japanese). Shokubutsu Boeki (Plant Prot) 57:233–236

Umehara Y, Tamura M (1968) Ecological studies on the clubroot of cruciferous crops (in Japanese with English summary). Bull Ishikawa ken Agric Exp Stat 5:1–18

Voorrips RE (1995) Plasmodiophora brassicae: aspects of pathogenesis and resistance in Brassica oleracea. Euphytica 83:139–146

Williams PH (1966) A system for the determination of races of Plsamodiophora brassicae that infect cabbage and rutabaga. Phytopathology 56:624–626

Williams PH, Keen NT, Strandberg JO, McNabola SS (1968) Metabolite synthesis and degradation during clubroot development in cabbage hypocotyls. Phytopathology 58:921–928

Wit F, van de Weg M (1964) Clubroot-resistance in turnip (Brassica campestris L.). 1. Physiologic races of the parasite and their identification in mixtures. Euphytica 13:9–18

Yamagishi H, Yoshikawa H, Ashizawa M, Hida K, Yui S (1986) Effects of resistant plants as a catch crop on the reduction of resting spores of clubroot (Plasmodiophora brassicae Woron.) in soil (in Japanese wih English summary). J Jpn Soc Hortic Sci 54:460–466

Yano S, Tanaka S, Ito S, Kameya-Iwaki M (1996) Variations of isozyme and soluble proteins among field populations of Plasmodiophora brassicae. Ann Phytopathol Soc Jpn 62:365–371

Yano S, Tanaka S, Ito S, Kameya-Iwaki M (1997) Variations of random amplified polymorphic DNA (RAPD) patterns among field populations of Plasmodiophora brassicae. Ann Phytopathol Soc Jpn 63:179–182

Yoshikawa H (1981) Breeding for clubroot resistance in Chinese cabbage. In: Teleker NS, Gibbs TD (eds) Chinese cabbage. AVRDC, Tainan, pp 405–413

Yoshikawa H (1990) Races of Plasmodiophora brassicae on crucifer crops (in Japanese). Shokubutsu Boeki (Plant Prot) 44:295–298

Yoshikawa H (1993) Studies on breeding of clubroot resistance in cole crops (in Japanese with English summary). Bull Natl Res Inst Veg Ornam Plants Tea Jpn Ser A7:1–165
About this article
Cite this article
Tanaka, S., Ito, Si. Pathogenic and genetic diversity in Plasmodiophora brassicae (clubroot) from Japan. J Gen Plant Pathol 79, 297–306 (2013). https://doi.org/10.1007/s10327-013-0456-4
Received:

Accepted:

Published:

Issue Date:
Keywords
Epidemiological relationship

Genetic diversity

Pathogenic diversity

Plasmodiophora brassicae

Selective propagation

Wild hosts