Abstract
Powdery mildew fungi, comprising 16 genera and ca. 900 species, are exclusively obligate biotrophs of plants. Although several publications have addressed the phylogeny and evolution of powdery mildews based on morphology and host relationships, this review focuses on the evolution of several phenotypic characters based on molecular phylogeny: (1) morphology of appendages; (2) mycelium, ectoparasitic or endoparasitic; (3) number of asci per chasmothecium (fruiting body of powdery mildews), e.g., one to several; (4) conidiogenesis, conidia catenescent (i.e., maturing in chains: Euoidium-type) or maturing one at a time (Pseudoidium-type). Putative ancestral features of the powdery mildews are described as follows. In teleomorphs, large-sized chasmothecia, containing many 8-spored asci, had many appendages with uncinate-circinate apices, arising around the supraequatorial part of chasmothecia. In anamorphs, conidia were produced in chains (Euoidium-type) without distinct fibrosin bodies. Parasitism was ectoparasitic.
Access options
Buy single article
Instant access to the full article PDF.
USD 39.95
Price includes VAT (USA)
Tax calculation will be finalised during checkout.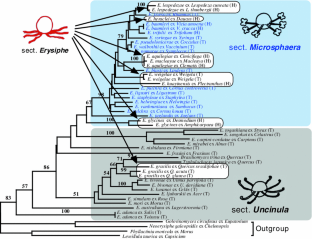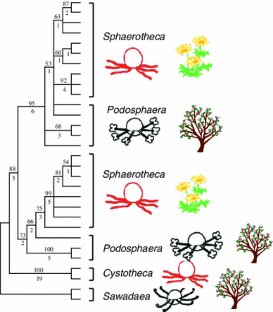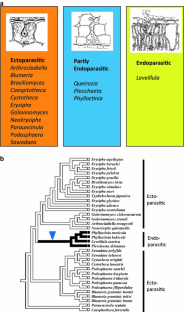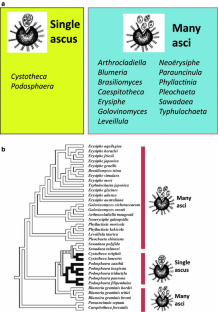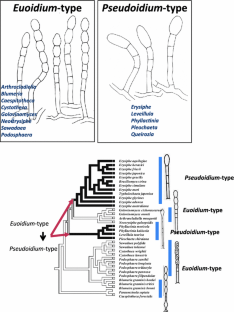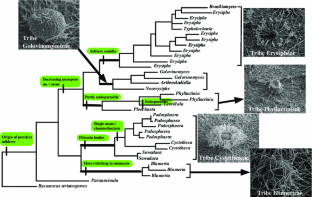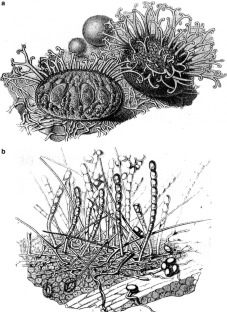 References
Amano K (1986) Host range and geographical distribution of the powdery mildew fungi. Japan Scientific Societies Press, Tokyo

Arnaud G (1921) Étude sur les champignons parasites (in French). Ann Épiphyt 7:1–116

Blumer S (1933) Die Erysiphaceen Mitteleuropas unter besonderer Berücksichtigung der Schweiz (in German). Beitr Krypt-Fl Schweiz 7:1–483

Braun U (1981) Taxonomic studies in the genus Erysiphe I. Generic delimitation and position in the system of the Erysiphaceae. Nova Hedwigia 34:679–719

Braun U (1987) A monograph of the Erysiphales (powdery mildews). Beih Nova Hedwigia 89:1–700

Braun U (1995) The powdery mildews (Erysiphales) of Europe. G. Fischer Verlag, Jena

Braun U, Cook RTA (2012) Taxonomic manual of the Erysiphales (powdery mildews). CBS Biodiversity Series No 11. CBS, Utrecht

Heluta VP (1981) Mesto roda Podosphaera Kunze v sheme vozmozhnyh filogeneticheskih vzaimosvyazey rodov muchnisto-rosyanyh gribov (in Ukrainian). Novosti Sist Vyssh Nizsh Rast 1979:200–209

Hirata K (1968) Notes on host range and geographic distribution of the powdery mildew fungi. Trans Mycol Soc Jpn 9:73–88

Jaczewski AA (1927) Karmanny opredelitel' gribov. Vyp. 2. Muchnisto-rosyanye griby. Mikologicheskaya Laboratoriya Imeni Professora A.A. Jaczewskogo, Gosudarstvennogo Instituta Opytnoy Agronomii, Leningrad

Katumoto K (1973) Notes on the genera Lanomyces Gäum. and Cystotheca Berk. et Curt. Rept Tottori Mycol Inst 10:437–446

Kishino H, Hasegawa M (1989) Evaluation of the maximum likelihood estimate of the evolutionary tree topologies from DNA sequence data, and the branching order in Hominoidea. J Mol Evol 29:170–179

Léveillé JH (1851) Organisation et disposition méthodique des espèces qui composent le genre Erysiphé. Ann Sci Nat Bot Ser 3(15):109–179

Mori Y, Sato Y, Takamatsu S (2000a) Evolutionary analysis of the powdery mildew fungi using nucleotide sequences of the nuclear ribosomal DNA. Mycologia 92:74–93

Mori Y, Sato Y, Takamatsu S (2000b) Molecular phylogeny and radiation time of Erysiphales inferred from the nuclear ribosomal DNA sequences. Mycoscience 41:437–447

Neger FW (1901) Beiträge zur Biologie der Erysipheen (in German). Flora 88:333–370

Palti J (1988) The Leveillula mildews. Bot Rev 54:423–535

Raymond J (1927) Le blanc du chêne (in French). Ann Epiphyt 13:94–129

Shiroya Y, Nakashima C, Takamatsu S (2008) Erysiphe monascogera sp. nov., an unusual powdery mildew fungus found on fruits of Styrax japonica. Mycoscience 49:199–206

Takamatsu S (2004) Phylogeny and evolution of the powdery mildew fungi (Erysiphales, Ascomycota) inferred from nuclear ribosomal DNA sequences. Mycoscience 45:147–157

Takamatsu S (2013) Origin and evolution of the powdery mildews (Ascomycota, Erysiphales). Mycoscience 54:75–86

Takamatsu S, Hirata T, Sato Y, Nomura Y (1999) Phylogenetic relationships of Microsphaera and Erysiphe section Erysiphe (powdery mildews) inferred from the rDNA ITS sequences. Mycoscience 40:259–268

Takamatsu S, Hirata T, Sato Y (2000) A parasitic transition from trees to herbs occurred at least twice in tribe Cystotheceae (Erysiphaceae): evidence from nuclear ribosomal DNA. Mycol Res 104:1304–1311

Takamatsu S, Inagaki M, Niinomi S, Khodaparast SA, Shin HD, Grigaliunaite B, Havrylenko M (2008) Comprehensive molecular phylogenetic analysis and evolution of the genus Phyllactinia (Ascomycota: Erysiphales) and its allied genera. Mycol Res 112:299–315

Tulasne LR, Tulasne CC (1861) Selecta fungorum carpologia 1 (in French). Paris

Wang Z, Binder M, Schoch CL, Johnston PR, Spatafora JW, Hibbett DS (2006a) Evolution of helotialean fungi (Leotiomycetes, Pezizomycotina): a nuclear rDNA phylogeny. Mol Phylogenet Evol 41:295–312

Wang Z, Johnston PR, Takamatsu S, Spatafora JW, Hibbett DS (2006b) Toward a phylogenetic classification of the Leotiomycetes based on rDNA data. Mycologia 98:1065–1075
Acknowledgments
The author wishes to thank Dr. Uwe Braun of Martin-Luther-Universität for critical reading the manuscript and helpful comments. This work was supported, in part, by a Grant-in-Aid for Scientific Research No. 23580061 from the Japan Society for the Promotion of Science.
About this article
Cite this article
Takamatsu, S. Molecular phylogeny reveals phenotypic evolution of powdery mildews (Erysiphales, Ascomycota). J Gen Plant Pathol 79, 218–226 (2013). https://doi.org/10.1007/s10327-013-0447-5
Received:

Accepted:

Published:

Issue Date:
Keywords
Ancestral character

Derived character

DNA sequence

Erysiphaceae

Phylogenetic tree