Abstract
Photocatalytic optical fibers are promising materials for degrading organic pollutants in wastewater, owing to their low light mass transfer resistance, their high efficiency of light utilization, and their inhibition of photocatalyst deactivation. In particular, optical fibers have been applied for the removal of phenols, dyes, organic acids and antibiotics in wastewater. Yet, optical fibers have limitations such as poor photocatalytic activity and low sustainability. Here, we review the principle and use of photocatalytic optical fibers, including photocatalytic quartz and plastic optical fibers, for the degradation of the organic pollutants in water. We present methods to enhance photocatalytic activity, light utilization efficiency, and adhesion strength by using TiO2-based photocatalytic coatings.
This is a preview of subscription content, log in to check access.
Access options
Buy single article
Instant access to the full article PDF.
US$ 39.95
Tax calculation will be finalised during checkout.
Subscribe to journal
Immediate online access to all issues from 2019. Subscription will auto renew annually.
US$ 99
Tax calculation will be finalised during checkout.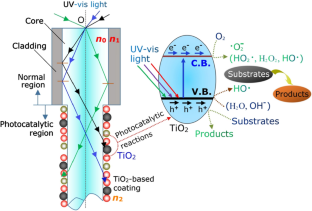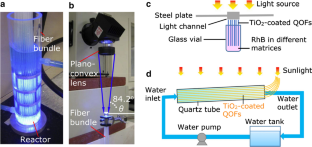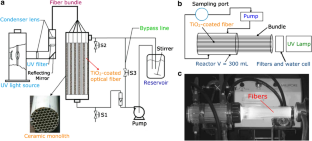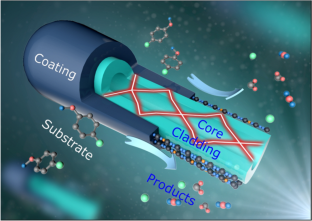 Acknowledgements
The authors gratefully acknowledge the support received from the National Natural Science Foundation of China (NSFC) (51876018, 51806026), Scientific and Technological Research Program, Chongqing Municipal Education Commission Foundation (KJQN201801117), Postgraduate Research Innovation Project of Chongqing University of Technology (ycx20192047), and Postgraduate Research Innovation Project of Chongqing (CYS18309, CYS19318).
Ethics declarations
Conflict of interest
There are no conflicts of interest to declare.
Additional information
Publisher's Note
Springer Nature remains neutral with regard to jurisdictional claims in published maps and institutional affiliations.
About this article
Cite this article
Wu, Y., Zhong, L., Yuan, J. et al. Photocatalytic optical fibers for degradation of organic pollutants in wastewater: a review. Environ Chem Lett (2020). https://doi.org/10.1007/s10311-020-01141-3
Received:

Accepted:

Published:
Keywords
Photocatalytic optical fibers

TiO2-based photocatalytic coating

Organic pollutants

Wastewater

Photocatalytic degradation

Photocatalytic activity