Abstract
Steroids are important scaffolds for the synthesis of molecules of pharmaceutical interest and constitute a distinct family of natural products. The demand for green and sustainable chemistry has fostered for the development of new reactions and chemical processes in steroidal chemistry. This review describes state-of-the-art approaches such as heterogeneous catalysis, microwave synthesis and microbial transformations for steroid synthesis.
Access options
Buy single article
Instant access to the full article PDF.
USD 39.95
Price excludes VAT (USA)
Tax calculation will be finalised during checkout.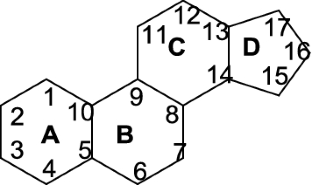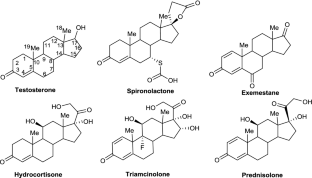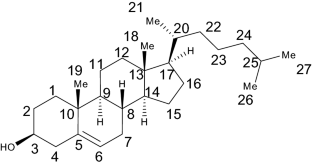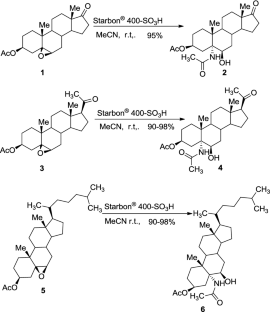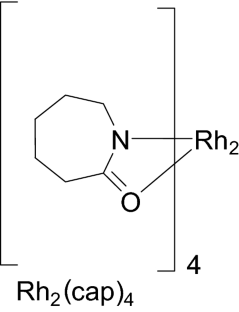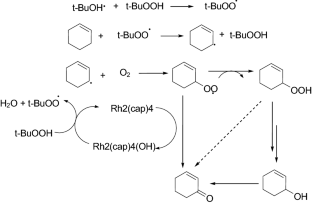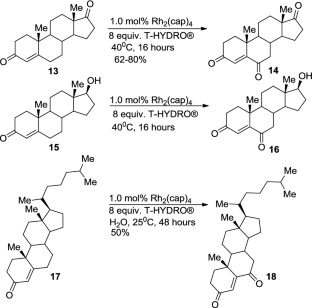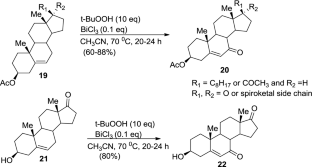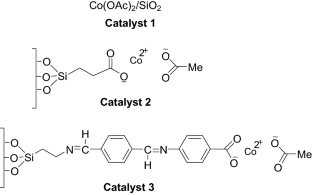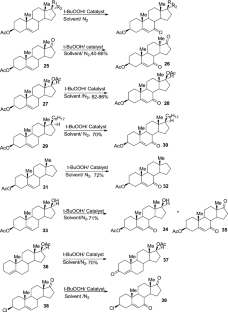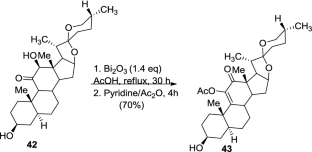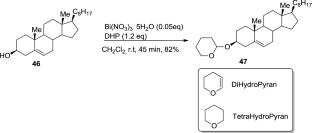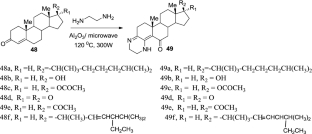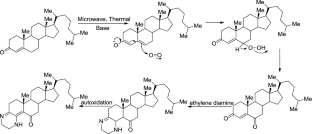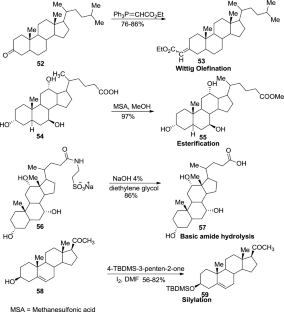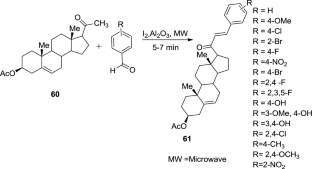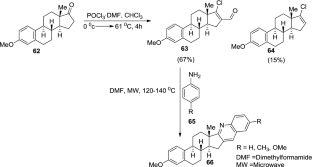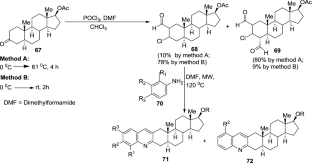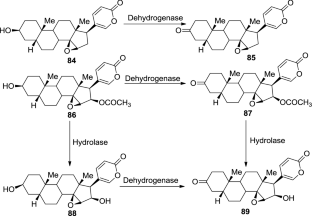 References
Alam M, Lee DU (2015) Eco-friendly synthesis, physiochemical studies, biological assay and molecular docking of steroidal oxime-ether. EXCLI J 14:394–407. https://doi.org/10.17179/excli2014-675

Angello EJ, Figdor SK, Hughes GMK, Ordway HW, Pinson R Jr, Bloom BM, Laubach GD (1963) A Stereospecific Synthesis of C-21-Methylated Corticosteroids. J Org Chem 28:1531–1539. https://doi.org/10.1021/jo01041a022

Baji A, Gyovai A, Wolfling J, Minorics R, Ocsovszki I, Zupko I, Frank E (2016) Microwave-assisted one-pot synthesis of steroid–quinoline hybrids and an evaluation of their antiproliferative activities on gynecological cancer cell lines. RSC. Adv. 6:27501–27516. https://doi.org/10.1039/c6ra03910c

Banday AH, Mir BP, Lone IH, Suri KA, Kumar HMS (2010) Studies on novel D-ring substituted steroidal pyrazolines as potential anticancer agents. Steroids 75:805–809. https://doi.org/10.1016/j.steroids.2010.02.014

Bianchi M, Baulieu EE (2012) 3β-Methoxy-pregnenolone (MAP4343) as an innovative therapeutic approach for depressive disorders. PNAS 109:1713–1718. https://doi.org/10.1073/pnas.1121485109

Borah JM, Chowdhury P (2011) Expedited Baeyer–Villiger oxidation of steroidal ketones by microwave irradiation. Steroids 76:1341–1345. https://doi.org/10.1016/j.steroids.2011.06.014

Borthakur M, Barthakur MG, Boruah RC (2008) Microwave promoted one-pot synthesis of novel A-ring fused steroidal dehydropiperazines. Steroids 73:539–542. https://doi.org/10.1016/j.steroids.2008.01.005

Boruah A, Baruah B, Prajapati D, Sandhu JS (1997) Regeneration of carbonyl compounds from oximes under microwave irradiations. Tetrahedron Lett 38:4267–4268. https://doi.org/10.1016/S0040-4039(97),00875-7

Bryselbout C, Henner P, Lichtfouse E (1998) Fossil fuel biomarkers in plant waxes as pollution parameters. Sci Tot Environ 222(3):201–204. https://doi.org/10.1016/S0048-9697(98)00297-6

Budarin VL, Clark JH, Luque R, Macquarrie DJ (2007) Versatile mesoporous carbonaceous materials for acid catalysis. Chem Commun 6:634–636. https://doi.org/10.1039/b614537j

Bulman Page PC, McCarthy TJ (1991) Oxidation adjacent to C=C Bonds. In: Trost BM, Flemming I (chief eds), Ley SV (vol ed) Comprehensive organic synthesis. Pergammon Press, Oxford.7:83–117. ISBN: 0-08-040598-3

Cichowicz NR, Kaplan W, Khomutnyk Y, Bhattarai B, Sun Z, Nagorny P (2015) Concise enantioselective synthesis of oxygenated steroids via sequential copper(II)-catalyzed michael addition/intramolecular aldol cyclization reactions. J Am Chem Soc 137:14341–14348. https://doi.org/10.1021/jacs.5b08528

Dayal B, Ertel NH (1998) Rapid hydrolysis of bile acid conjugates using microwaves: retention of absolute stereochemistry in the hydrolysis of (25R) 3α,7α,12α- trihydroxy-5β-cholestan-26-oyltaurine. Lipids 33:333–338. https://doi.org/10.1007/s11745-998-0213-y

Dewick PM (2009) The mevalonate and methylerythritol phosphate pathways: terpenoids and steroids. Medicinal natural products: a biosynthetic approach, 3rd edn. Wiley, Chichester, pp 187–310

Djerassi C, Ringgold HJ, Rosenkranz G (1954) Sterodial sapogenins. J Am Chem Soc 76:5533–5536. https://doi.org/10.1021/ja01650a077

Doyle MP, Catino AJ, Choi H, Nichols JM (2012) U S Patent, Patent No. US8, 163:944 B2, April 24

Dsikowitzky L, Schäfer L, Dwiyitno et al (2017) Evidence of massive river pollution in the tropical megacity Jakarta as indicated by faecal steroid occurrence and the seasonal flushing out into the coastal ecosystem. Environ Chem Lett 15:703–708. https://doi.org/10.1007/s10311-017-0641-3

Dunn PJ, Wells AS, Williams MT (eds) (2010) Green chemistry in pharmaceutical industry. Wiley, Weinheim. ISBN 978-3-527-32418-7

Fenyvesi E, Puskás I, Szente L (2018) Applications of steroid drugs entrapped in cyclodextrins. Environ Chem Lett 1:1–2. https://doi.org/10.1007/s10311-018-0807-7

Fernandes P, Cruz A, Angelova B, Pinheriro HM, Cabral JMS (2003) Microbial conversion of steroid compounds: recent developments. Enzym Microb Technol 32:688–705. https://doi.org/10.1016/S0141-0229(03),00029-2

Gogoi S, Shekarrao K, Duarah A, Bora TC, Gogoi S, Boruah RC (2012) A microwave promoted solvent-free approach to steroidal quinolines and their in vitro evaluation for antimicrobial activities. Steroids 77:1438–1445. https://doi.org/10.1016/j.steroids.2012.08.008

Gude VG, Martinez-Guerra E (2018) Green chemistry with process intensification for sustainable biodiesel production. Envirn Chem Lett 16:327–341. https://doi.org/10.1007/s10311-017-0680-9

Gupta P, Mahajan A (2015) Green chemistry approaches as sustainable alternatives to conventional strategies in the pharmaceutical industry. RSC Adv 5:26686–26705. https://doi.org/10.1039/c5ra00358j

Gupta P, Paul S (2014) Solid acids: green alternatives for acid catalysis. Catal Today 236:153–170. https://doi.org/10.1016/j.cattod.2014.04.010

Hegazy MEF, Mohamed TA, EIShamy AI, Mohmed AEIH, Mahalel UA, Reda EH, Shaheen AM, Tawfik WA, Shahat AA, Shams KA, Abdel-Azimm NS, Hammounda FM (2015) Microbial biotransformation as a tool for drug development based on natural products from mevalonic acid pathway: a review. J Adv Res 6:17–33. https://doi.org/10.1016/j.jare.2014.11.009

Hosseinabadi T, Vahidi H, Nickavar B, Kobarfard F (2015) Biotransformation of progesterone by whole cells of Filamentous Fungi Aspergillus brasiliensis. Iran J Pharm Res 14:919–924

Huang Y, Zhao D, Liu Chang, Gan C, Zhan J, Lin Q, Shi H, Cui J (2017) Rapid microwave assisted synthesis and antiproliferative evaluation of novel steroidal thiazole derivatives. Chem Res Chin Univ 33:206–212. https://doi.org/10.1007/s40242-017-6372-y

Kakati D, Sarma RK, Saikia R, Barua NC, Sarma JC (2013) Rapid microwave assisted synthesis and antimicrobial bioevaluation of novel steroidal chalcones. Steroids 78:321–326. https://doi.org/10.1016/j.steroids.2012.12.003

Kaplan W, Khatri HR, Nagorny P (2016) Concise enantioselective total synthesis of cardiotonic steroids 19-hydroxysarmentogenin and trewianin aglycone. J Am Chem Soc 138:7194–7198. https://doi.org/10.1021/jacs.6b04029

Khan AT, Ghosh S, Choudhary LH (2005) A highly efficient synthetic protocol for tetrahydropyranylation/depyranylation of alcohols and phenols. Eur J Org Chem 22:4891–4896. https://doi.org/10.1002/ejoc.200500400

LaFrate AL, Gunther JR, Carlson KE, Katzenellenbogen JA (2008) Synthesis and biological evaluation of guanylhydrazone coactivator binding inhibitors for the estrogen receptor. Bioorg Med Chem 16:10075. https://doi.org/10.1016/j.bmc.2008.10.007

Lami L, Casal B, Cuadra L, Merino J, Alvarez A, Ruiz-Hitzky E (1999) Synthesis of 2,4-D ester herbicides: new routes using inorganic solid supports. Green Chem 1:199–204. https://doi.org/10.1039/a902531f

Larsson DG (2014) Pollution from drug manufacturing: review and perspectives. J Philos Trans R Soc B 369:20130571. https://doi.org/10.1098/rstb.2013.0571

Lichtfouse E, Albrecht P (1994) Synthesis of triaromatic steroid hydrocarbons methylated at position 2, 3 or 6: molecular fossils of yet unknown biological origin. Tetrahedron 50(6):1731–1744. https://doi.org/10.1016/S0040-4020(01)80848-6

Lichtfouse E, Riolo J, Albrecht P (1990) Occurrence of 2-methyl, 3-methyl- and 6-methyltriaromatic steroid hydrocarbons in geological samples. Tetrahedron Lett 31(27):3937–3940. https://doi.org/10.1016/S0040-4039(00)97511-7

Lichtfouse E, Albrecht P, Behar F, Hayes JM (1994) A molecular and isotopic study of the organic matter from the Paris basin, France. Geochim Cosmochim Acta 58:209–221. https://doi.org/10.1016/0016-7037(94)90458-8

Lichtfouse E, Leblond C, Da Silva M, Behar F (1998) Occurrence of biomarkers and straight-chain biopolymers in humin: implication for the origin of soil organic matter. Naturwissenschaften 85(10):497–501. https://doi.org/10.1007/s001140050538

Lidstrom P, Tierney J, Wathey B, Westman J (2001) Microwave assisted organic synthesis-a review. Tetrahedron 57:9225–9283. https://doi.org/10.1016/S0040-4020(01),00906-1

Mesquita LMM (2012/2013) Ph.D thesis, University of Coimbra

Misra B, Thakur A, Mahata PP (2015) Pharmaceutical Impurities: a review. IJPC 05:232–239. https://doi.org/10.7439/ijpc.v5i7.2140

Morzycki JW (2011) Application of olefin metathesis in the synthesis of steroids. Steroids 76:949–966. https://doi.org/10.1016/j.steroids.2011.04.002

Orita A, Tanahashi C, Kakuda A, Otera J (2000) Highly efficient and versatile acylation of alcohols with Bi(OTf)(3) as catalyst. Angew Chem Int Ed 39:2877–2879. https://doi.org/10.1002/1521-3773(20000818)39:16%3c2877:AIDANIE2877%3e3.0.CO;2-V

Orita A, Tanahashi C, Kakuda A, Otera J (2001) Highly powerful and practical acylation of alcohols with acid anhydride catalyzed by Bi(OTf)3. J Org Chem 66:8926–8934. https://doi.org/10.1021/jo0107453

Ornelas VP, Cabeza M, Bratoeff E, Heuze I, Sanchez M, Ramirez E, Rodriguez EN (2005) New 5-alpha-reductase inhibitors: in vitro and in vivo effects. Steroids 70:217–224. https://doi.org/10.1016/j.steroids.2004.11.008

Ouyang S, Kuang X, Xu Q, Yin D (2014) Preparation of a carbon based solid acid with high acid density via a novel method. J Mater Sci Chem Eng 2:4–8. https://doi.org/10.4236/msce.2014.26002

Parish EJ, Kizito SA, Qiu Z (2004) Review of chemical syntheses of 7-keto- Δ5-sterols. Lipids 39:801–804. https://doi.org/10.1007/s11745-004-1299-y

Patel SS, Savjani JK (2015) Systematic review of plant steroids as potential anti-inflammatory agents: current status and future perspectives. JPHYTO 4:121–125

Peterson DH (1985) Autobiography. Steroids 45:1–17. https://doi.org/10.1016/0039-128X(85),90061-3

Salvador JAR, Clark JH (2001) The allylic oxidation of unsaturated steroids by tert-butyl hydroperoxide using homogeneous and heterogeneous cobalt acetate. Chem Commun. https://doi.org/10.1039/b007447k

Salvador JAR, Silvestre SM (2005) Bismuth-catalyzed allylic oxidation using t-butyl hydroperoxide. Tetrahedron Lett 46:2581–2584. https://doi.org/10.1016/j.tetlet.2005.02.080

Salvador JAR, Silvestre SM (2006) Processo para a oxidação alílica de compostos insaturados usando hidroperóxido de t-butilo e catalisadores de bismuto, Patente Portuguesa, PT PT Patent 103211B. Patent 103211B

Salvador JAR, Silvestre SM, Moreira VM (2006) Catalytic oxidative processes in steroid chemistry: allylic oxidation, β-selective epoxidation, alcohol oxidation and remote functionalization reactions. Curr Org Chem 10:2227–2257. https://doi.org/10.2174/138527206778742641

Salvador JAR, Silvestre SM, Pinto RMA (2011) Bismuth(III) reagents in steroid and terpene chemistry. Molecules 16:2884–2913. https://doi.org/10.3390/molecules16042884

Salvador JAR, Silvestre SM, Moreira VM (2012) Recent developments in oxidative processes in steroid chemistry. Curr Org Chem 16:1243–1276. https://doi.org/10.2174/138527212800564204

Salvador JAR, Pinto RMA, Silvestre AM (2015) Pharmaceutical green chemistry applied to the chemical synthesis of steroid compounds. Curr Green Chem 2:97–134. https://doi.org/10.2174/2213346101666140915212302

Shan LH, Liu HM, Huang KX, Dai GF, Cao C, Dong RJ (2009) Synthesis of 3β, 7α, 11α-trihydroxy-pregn-21-benzylidene-5-en-20-one derivatives and their cytotoxic activities. Bioorg Med Chem Lett 19:6637–6639. https://doi.org/10.1016/j.bmcl.2009.10.019

Silvestre SM, Silva MMC, Salvador JAR (2016) INTECH, Chap 2, pp 35–56

Smith LL (1984) Steroids. In: Rehm HJ, Reed G, Ebel HF (eds) Biotechnology, a comprehensive treatise in 8 volumes, vol 6a. Verlag-Chemie, Weinheim, pp 31–78

Spinella A, Fortunati T, Soriente A (1997) Microwave accelerated witting reactions of stabilized phosphorus ylides with ketones under solvent free conditions. Synlett 1:93–94. https://doi.org/10.1055/s-1997-689

Stephens JR, Butler PL, Clow CH, Oswald MC, Smith RC, Mohan RS (2003) Bismuth triflate: an efficient catalyst for the formation and deprotection of tetrahydropyranyl ethers. Eur J Org Chem 2003:3827–3831. https://doi.org/10.1002/ejoc.200300295

Swizdor A, Panek A, Milecka-Tronina N, Kolek T (2012) Biotransformations utilizing β-oxidation cycle reactions in the synthesis of natural compounds and medicines. Int J Mol Sci 13:16514–16543. https://doi.org/10.3390/ijms131216514

Tong WY, Dong X (2009) Microbial biotransformation: recent developments on steroid drugs. Recent Pat Biotechnol 3:141–153. https://doi.org/10.2174/187220809788700157

Wendell SG, Edward JP (2016) A short review of methods for the allylic oxidation of ∆5 steroidal compounds to enones. J Steroids Horm Sci 7:1–5. https://doi.org/10.4172/2157-7536.1000171

Wolfling J (2007) Recent developments in the isolation and synthesis of D-homosteroids and related compounds (LT-2114HR). Arkivoc 5:210–230. https://doi.org/10.3998/ark.5550190.0008.517

Xing R, Liu Y, Wang Y, Chen Li, Wu H, Jiang Y, He M, Wu P (2007) Active solid acid catalysts prepared by sulfonation of carbonization controlled mesoporous carbon materials. Microp Mesop Mater 105:41–48. https://doi.org/10.1016/j.micromeso.2007.06.043

Zhan J, Liu W, Guo H, Zhang Y, Guo D (2003) Selective dehydrogenation of resibufogenin and cinobufagin at 3-OH by Pseudomonas aeruginosa. Enzym Microb Technol 33:29–32. https://doi.org/10.1016/S0141-0229(03),00068-1

Zlotos DP (2005) Recent advances in neuromuscular blocking agents. Mini-Rev Med Chem 5:595–606. https://doi.org/10.2174/1389557054023215

Zohri AA, Galil Abdel MSM (1999) Progesterone transformations by three species of Humicola. Folia Microbiol 44:277–282
Acknowledgements
One of the authors Dr. Princy Gupta gratefully acknowledges the financial support from University Grants Commission (Ministry of Human Resource Development, Govt. of India) under UGC-BSR Start-up Grant No. F.30-35/2017(BSR).
About this article
Cite this article
Gupta, P., Mahajan, A. Sustainable approaches for steroid synthesis. Environ Chem Lett 17, 879–895 (2019). https://doi.org/10.1007/s10311-018-00845-x
Received:

Accepted:

Published:

Issue Date:

DOI: https://doi.org/10.1007/s10311-018-00845-x
Keywords