Abstract
The abundance of humic-like substances in the atmosphere has received considerable attention since these substances play an important role in various atmospheric processes. The wide variety of quantitative techniques used to study humic-like substances produce dissimilar results, making data comparison difficult. Also, global background concentrations and the transfer of atmospheric humic-like substances are poorly known. Here, we compared resins to extract humic-like substances in aerosols, and we measured contents in aerosols from Mt. Fuji. Results show that diethylaminoethyl cellulose resins extracted more humic-like substances than the diethylaminoethyl resin (hydroxylated methacrylic polymer). The mean humic-like substances concentrations in the free troposphere in East Asia is similar to that in Europe, suggesting that the global background level of humic-like substances is 0.05 μg C m−3, based on the humic-like substances concentrations on Mt. Fuji and Mt. Sonnblick. Humic-like substances concentrations, especially fulvic acids concentration, at the summit of Mt. Fuji increased when air masses came from the continent along with the carbon monoxide and ozone.
This is a preview of subscription content, log in to check access.
Access options
Buy single article
Instant access to the full article PDF.
US$ 39.95
Tax calculation will be finalised during checkout.
Subscribe to journal
Immediate online access to all issues from 2019. Subscription will auto renew annually.
US$ 79
Tax calculation will be finalised during checkout.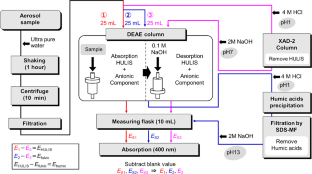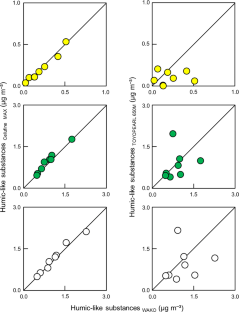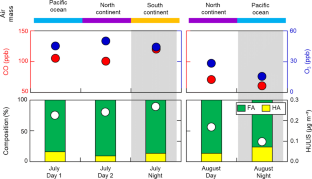 Acknowledgements
This research was carried out by cooperation from the NPO Mount Fuji Research Station (MFRS) and supported by Grant-in-Aid for Scientific Research (No. 16K21427) from the Japan Society for the Promotion of Science and Waseda University Grant for Special Research Projects (Project Number: 2016S-068).
About this article
Cite this article
Katsumi, N., Miyake, S., Okochi, H. et al. Humic-like substances global levels and extraction methods in aerosols. Environ Chem Lett 17, 1023–1029 (2019). https://doi.org/10.1007/s10311-018-00820-6
Received:

Accepted:

Published:

Issue Date:
Keywords
Diethylaminoethyl resin

Free troposphere

Humic-like substances

Water-soluble organic carbon