Abstract
Artificial soils made from waste materials offer an alternative to imported natural topsoils, notably in large-scale groundwork and reclamation projects. Benefits include diversion of waste from landfill and recycling. Nonetheless, there is limited information on the characteristics needed to support plant growth in the long term, particularly the existence of a sustainable nitrogen reservoir. Therefore, we assessed the efficacy of nitrogen cycling and retention within an artificial soil composed of 25% sand, 10% clay, 32.5% composted bark and 32.5% composted green waste over 52 weeks. Leachate was analysed for nitrogen species and nitrogen concentrations, and two of the soil columns had fertiliser added after 26 and 48 weeks. Results show that nitrate concentrations decreased from 6.73 to 0.36 mg N L−1 after 2 weeks, due to poor retention of this anion in soil, and remained low for 6 months, before increasing up to 5.87 mg N L−1 after week 26. This sharp increase in dissolved nitrate was preceded by a decrease in the ratio of dissolved organic carbon to dissolved organic nitrogen in the soil leachate. This finding indicates that the soil had become carbon-limited, leading to mineralisation of organic nitrogen by soil organisms and excretion of nitrogen. We also found that fertilisation of the soil did not alleviate carbon limitation and nitrogen loss was greater in fertilised soils, indicating nitrogen saturation. After the onset of carbon limitation, the dissolved nitrate concentrations in both the fertilised and unfertilised soils were close to exceeding the European Union threshold of concern for nitrate groundwater and river pollution. Thus, while the deployment of artificial soils is a viable option for landscaping projects, loss of nitrogen may be environmentally significant and soil management protocols must take account of both the carbon and nitrogen status of the substrate.
Access options
Buy single article
Instant access to the full article PDF.
USD 39.95
Price excludes VAT (USA)
Tax calculation will be finalised during checkout.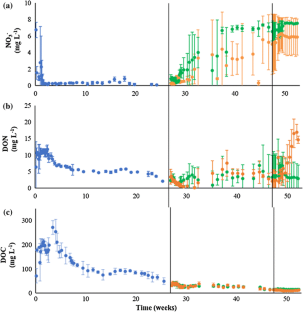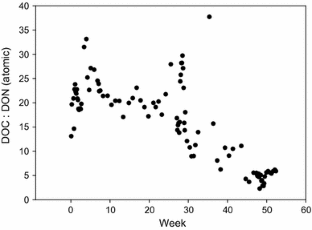 References
Badr ESA, Achterberg EP, Tappin AD, Hill SJ, Braungardt CB (2003) Determination of dissolved organic nitrogen in natural waters using high-temperature catalytic oxidation. Trac-Trends Anal Chem 22:819–827

Banwart S (2011) Save our soils. Nature 474:151–152

Bellamy PH, Loveland PJ, Bradley RI, Lark RM, Kirk GJD (2005) Carbon losses from all soils across England and Wales 1978–2003. Nature 437:245–248. http://www.nature.com/nature/journal/v437/n7056/suppinfo/nature04038_S1.html

Belyaeva ON, Haynes RJ (2009) Chemical, microbial and physical properties of manufactured soils produced by co-composting municipal green waste with coal fly ash. Bioresour Technol 100:5203–5209. https://doi.org/10.1016/j.biortech.2009.05.032

Belyaeva ON, Haynes RJ, Sturm EC (2012) Chemical, physical and microbial properties and microbial diversity in manufactured soils produced from co-composting green waste and biosolids. Waste Manag 32:2248–2257. https://doi.org/10.1016/j.wasman.2012.05.034

Bingham AH, Cotrufo MF (2016) Organic nitrogen storage in mineral soil: implications for policy and management. Sci Total Environ 551–552:116–126. https://doi.org/10.1016/j.scitotenv.2016.02.020

Brady NC, Weil RR (2008) The nature and properties of soil, 14th edn. Prentice Hall, New Jersey, 965 pp

Dayton EA, Whitacre SD, Dungan RS, Basta NT (2010) Characterization of physical and chemical properties of spent foundry sands pertinent to beneficial use in manufactured soils. Plant Soil 329:27–33. https://doi.org/10.1007/s11104-009-0120-0

de Koff JP, Lee BD, Dungan RS, Santini JB (2010) Effect of compost-, sand-, or gypsum-amended waste foundry sands on turfgrass yield and nutrient content. J Environ Qual 39:375–383. https://doi.org/10.2134/jeq2008.0330

Eurostat (2012) Agri-environmental indicator—nitrate pollution of water. http://ec.europa.eu/eurostat/statistics-explained/index.php/Agrienvironmental_indicator_-_nitrate_pollution_of_water Accessed 8th Mar 2017

Farrell M, Hill PW, Farrar J, Bardgett RD, Jones DL (2011) Seasonal variation in soluble soil carbon and nitrogen across a grassland productivity gradient. Soil Biol Biochem 43:835–844. https://doi.org/10.1016/j.soilbio.2010.12.022

Farrell M, Hill PW, Farrar J, DeLuca TH, Roberts P, Kielland K, Dahlgren R, Murphy DV, Hobbs PJ, Bardgett RD, Jones DL (2013) Oligopeptides represent a preferred source of organic N uptake: a global phenomenon? Ecosystems 16:133–145. https://doi.org/10.1007/s10021-012-9601-8

Goodale CL, Fredriksen G, Weiss MS, McCalley CK, Sparks JP, Thomas SA (2015) Soil processes drive seasonal variation in retention of 15 N tracers in a deciduous forest catchment. Ecology 96:2653–2668. https://doi.org/10.1890/14-1852.1

Haraldsen TK, Brod E, Krogstad T (2014) Optimising the organic components of topsoil mixtures for urban grassland. Urban For Urban Green 13:821–830. https://doi.org/10.1016/j.ufug.2014.05.004

Haynes RJ (2005) Labile organic matter fractions as central components of the quality of agricultural soils: an overview. In: Sparks DL (ed) Advances in agronomy, vol 85. Academic Press, San Diego, pp 221–268

Holmes RM, Aminot A, Kerouel R, Hooker BA, Peterson BJ (1999) A simple and precise method for measuring ammonium in marine and freshwater ecosystems. Can J Fish Aquat Sci 56:1801–1808

Jones DL, Chesworth S, Khalid M, Iqbal Z (2009) Assessing the addition of mineral processing waste to green waste-derived compost: an agronomic, environmental and economic appraisal. Biores Technol 100:770–777. https://doi.org/10.1016/j.biortech.2008.06.073

Kirkwood D (1996) Nutrients: practical notes on their determination in sea water. International Council for the Exploration of the Sea, Copenhagen

Knicker H (2011) Soil organic N—an under-rated player for C sequestration in soils? Soil Biol Biochem 43:1118–1129. https://doi.org/10.1016/j.soilbio.2011.02.020

Koch A, McBratney A, Adams M et al (2013) Soil security: solving the global soil crisis. Global Policy 4:434–441. https://doi.org/10.1111/1758-5899.12096

Koolen AJ, Rossignol JP (1998) Introduction to symposium 19: construction and use of artificial soils. Soil Tillage Res 47:151–155

LeBauer DS, Treseder KK (2008) Nitrogen limitation of net primary productivity in terrestrial ecosystems is globally distributed. Ecology 89:371–379. https://doi.org/10.1890/06-2057.1

Lees K, Fitzsimons M, Snape J, Tappin A, Comber S (2016) Pharmaceuticals in soils of lower income countries: physico-chemical fate and risks from wastewater irrigation. Environ Int 94:712–723. https://doi.org/10.1016/j.envint.2016.06.018

Lehmann J, Rillig MC, Thies J, Masiello CA, Hockaday WC, Crowley D (2011) Biochar effects on soil biota—a review. Soil Biol Biochem 43:1812–1836. https://doi.org/10.1016/j.soilbio.2011.04.022

Lewis DB, Castellano MJ, Kaye JP (2014) Forest succession, soil carbon accumulation, and rapid nitrogen storage in poorly remineralized soil organic matter. Ecology 95:2687–2693. https://doi.org/10.1890/13-2196.1

Little MG, Lee CTA (2010) Sequential extraction of labile elements and chemical characterization of a basaltic soil from Mt. Meru, Tanzania. J Afr Earth Sci 57:444–454. https://doi.org/10.1016/j.jafrearsci.2009.12.001

Lützow M, Kögel-Knabner I, Ekschmitt K, Matzner E, Guggenberger G, Marschner B, Flessa H (2006) Stabilization of organic matter in temperate soils: mechanisms and their relevance under different soil conditions—a review. Eur J Soil Sci 57:426–445. https://doi.org/10.1111/j.1365-2389.2006.00809.x

Perakis SS, Hedin LO (2002) Nitrogen loss from unpolluted South American forests mainly via dissolved organic compounds. Nature 415:416–419

Rillig M, Caldwell B, Wösten H, Sollins P (2007) Role of proteins in soil carbon and nitrogen storage: controls on persistence. Biogeochemistry 85:25–44. https://doi.org/10.1007/s10533-007-9102-6

Ryba SA, Burgess RM (2002) Effects of sample preparation on the measurement of organic carbon, hydrogen, nitrogen, sulphur and oxygen concentrations in marine sediments. Chemosphere 48:139–147

Schofield HK (2015) A biogeochemical study of nutrient dynamics in artificial soil. PhD thesis, University of Plymouth, Plymouth. http://hdl.handle.net/10026.1/3766

Schollenberger CJ, Simon RH (1945) Determination of exchange capacity and exchangeable bases in soil-ammonium acetate method. Soil Sci 59:13–24

Schwarzenbach R, Gschwend P, Imboden D (1993) Environmental organic chemistry. Wiley, New York

Speight J, Lee S (2000) Environmental technology handbook, 2nd edn. Taylor & Francis, New York

Treseder K, Pytel M, Mappley M, Griffiths A, Pettitt T (2011) Evolution of pest management strategies in the rain-forest Biome at the Eden Project, the first 10 years. Outlooks Pest Manag 22:22–31. https://doi.org/10.1564/22feb07

Vinther FP, Hansen EM, Eriksen J (2006) Leaching of soil organic carbon and nitrogen in sandy soils after cultivating grass-clover swards. Biol Fertil Soils 43:12–19. https://doi.org/10.1007/s00374-005-0055-4

Watson CJ, Jordan C, Lennox SD, Smith RV, Steen RWJ (2000) Organic nitrogen in drainage water from grassland in northern Ireland. J Environ Qual 29:1233–1238

White R (2006) Principles and practice of soil science; the soil as a natural resource. Blackwell Publishing, Oxford

Yu WH, Li N, Tong DS, Zhou CH, Lin CX, Xu CY (2013) Adsorption of proteins and nucleic acids on clay minerals and their interactions: a review. Appl Clay Sci 80–81:443–452. https://doi.org/10.1016/j.clay.2013.06.003
Acknowledgements
We are grateful for the comments of the Reviewers and Editors, which improved the manuscript considerably. The support of the Eden Project Green, Science and Foundation Teams is also gratefully acknowledged. This work was supported through a European Social Fund studentship awarded to HKS.
About this article
Cite this article
Schofield, H.K., Pettitt, T.R., Tappin, A.D. et al. Does carbon limitation reduce nitrogen retention in soil?. Environ Chem Lett 16, 623–630 (2018). https://doi.org/10.1007/s10311-017-0700-9
Received:

Accepted:

Published:

Issue Date:

DOI: https://doi.org/10.1007/s10311-017-0700-9
Keywords
Artificial soil

Nitrogen

Nitrate

Organic nitrogen

Carbon limitation

Fertilisation