Abstract
Simple and soft means are needed to manage horse stress. For instance, essential oils such as lavender oil contain active principles that may mitigate stress responses in humans and animals. Here we developed a protocol to test the effects of essential oil on equine stress response. We tested the effect of lavender oil on horse stress. Twenty-eight Welsh horse fillies were divided into two groups: horses treated with a roll-on with 2 mL of vegetable oil (control) and horses treated with 2 mL of 10% lavender essential oil in vegetable oil. Horses were then subjected to a series of stress tests. Heart rates and stress behavioral indicators were monitored during the 30 min of the stress tests. Saliva was collected. Blood from six horses was sampled after lavender essential oil application to follow plasma linalool content and antioxidant efficiency. Results show that stress indicators such as heart rate, alert postures and defecations are lower in lavender oil-treated horses. Lavender essential oil also modified salivary cortisol. Pharmacokinetics of linalool in plasma displayed a peak 20 min after lavender essential oil application, thus confirming the effect of lavender oil. Overall, our findings demonstrate that lavender essential oil reduces the response to stress of horses placed in stressful situations.
This is a preview of subscription content, log in to check access.
Access options
Buy single article
Instant access to the full article PDF.
US$ 39.95
Price includes VAT for USA
Subscribe to journal
Immediate online access to all issues from 2019. Subscription will auto renew annually.
US$ 99
This is the net price. Taxes to be calculated in checkout.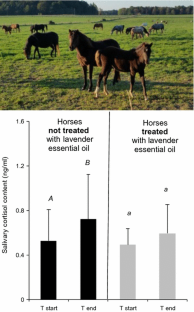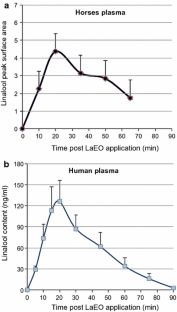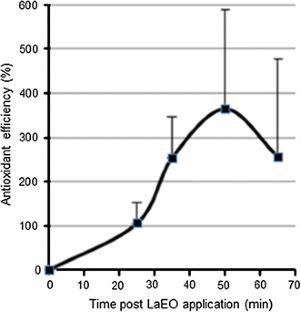 References
Amorati R, Foti MC, Valgimigli L (2013) Antioxidant activity of essential oils. J Agric Food Chem 61:10835–10847. https://doi.org/10.1021/jf403496k

Duarte A, Luis A, Oleastro M, Domingues FC (2016) Antioxidant properties of coriander essential oil and linalool and their potential to control Campylobacter spp. Food Control 61:115–122. https://doi.org/10.1016/j.foodcont.2015.09.033

Ferguson CE, Kleinman HF, Browning J (2013) Effect of lavender aromatherapy on acute-stressed horses. J Equine Vet Sci 33:67–69. https://doi.org/10.1016/j.jevs.2012.04.014

Jager W, Buchbauer G, Jirovetz L, Fritzer M (1992) Percutaneous absorpion of lavender oil from a massage oil. J Soc Cosmet Chem 43:49–54

Hawken PAR, Fiol C, Blache D (2011) Behavioral reactivity to psychosocial stress determines the effects of lavender oil on anxiety in sheep. J Anim Sci 89(Suppl):10. https://doi.org/10.1016/j.physbeh.2011.12.005

Hoferl M, Krist S, Buchbauer G (2006) Chirality influences the effects of linalool on physiological parameters of stress. Planta Med 72:1188–1192. https://doi.org/10.1055/s-2006-947202

Lansade L, Simon F (2010) Horses' learning performances are under the influence of several temperamental dimensions. Appl Anim Behav Sci 125:30–37. https://doi.org/10.1016/j.applanim.2010.02.010

Lansade L, Pichard G, Leconte M (2008) Sensory sensitivities: components of a horse's temperament dimension. Appl Anim Behav Sci 114:534–553. https://doi.org/10.1016/j.applanim.2008.02.012

Lansade L, Valenchon M, Foury A, Neveux C, Cole SW, Laye S, Cardinaud B, Levy F, Moisan M-P (2014) Behavioral and transcriptomic fingerprints of an enriched environment in horses (Equus caballus). PLoS ONE 9:1–19. https://doi.org/10.1371/journal.pone.0114384

Letizia CS, Cocchiara J, Lalko J, Api AM (2003) Fragrance material review on linalyl acetate. Food Chem Tox 41:965–976. https://doi.org/10.1016/s0278-6915(03)00014-0

Muir WW (2013) Stress and pain: their relationship to health related quality of life (HRQL) for horses. Equine Vet J 45:655–656. https://doi.org/10.1111/evj.12152

Seol GH, Kang P, Lee HS (2016) Antioxidant activity of linalool in patients with carpal tunnel syndrome. BMC Neurol 16:1471–2377. https://doi.org/10.1186/s12883-016-0541-3

Schuwald AM, Nöldner M, Wilmes T, Klugbauer N, Leuner K, Müller WE (2013) Lavender oil-potent anxiolytic properties via modulating voltage dependent calcium channels. PLoS One 8:e59998. https://doi.org/10.1371/journal.pone.0059998

Shaw D, Annett JM, Doherty B, Leslle JC (2007) Anxiolytic effects of lavender oil inhalation on open-field behaviour in rats. Phytomedicine 14:613–620. https://doi.org/10.1016/j.phymed.2007.03.007

Valenchon M, Levy F, Fortin M, Leterrier C, Lansade L (2013) Stress and temperament affect working memory performance for disappearing food in horses, Equus caballus. Anim Behav 86:1233–1240. https://doi.org/10.1016/j.anbehav.2013.09.026

Valgimigli L, Iori R (2009) Antioxidant and pro-oxidant capacities of ITCs. Env Mol Mutag 50:222–237. https://doi.org/10.1002/em.20468
Acknowledgements
The authors are grateful to Fabrice Reigner and Jean Marie Yvon (INRA Nouzilly, France) for their efficient help and for the blood sampling.
About this article
Cite this article
Poutaraud, A., Guilloteau, L., Gros, C. et al. Lavender essential oil decreases stress response of horses. Environ Chem Lett 16, 539–544 (2018). https://doi.org/10.1007/s10311-017-0681-8
Received:

Accepted:

Published:

Issue Date:
Keywords
Horse

Stress

Lavandula angustifolia

Essential oils

Pharmacokinetic

Antioxidant