Abstract
To reduce the environmental footprint of human activities, the quality of environmental media such as water, soil and the atmosphere should be first assessed. Microorganisms are well suited for a such assessment because they respond fast to environmental changes, they have a huge taxonomic and genetic diversity, and they are actively involved in biogeochemical cycles. Here, we review microbiological methods that provide sensitive and robust indicators for environmental diagnosis. Methods include genomics, transcriptomics, proteomics and metabolomics to study the abundance, diversity, activity and functional potentials of indigenous microbial communities in various environmental matrices such as water, soil, air and waste. We describe the advancement, technical limits and sensitivity of each method. Examples of method application to farming, industrial and urban impact are presented. We rank the most advanced indicators according to their level of operability in the different environmental matrices based on a technology readiness level scale.
This is a preview of subscription content, log in to check access.
Access options
Buy single article
Instant access to the full article PDF.
US$ 39.95
Price includes VAT for USA
Subscribe to journal
Immediate online access to all issues from 2019. Subscription will auto renew annually.
US$ 99
This is the net price. Taxes to be calculated in checkout.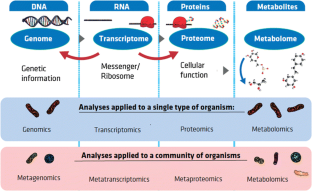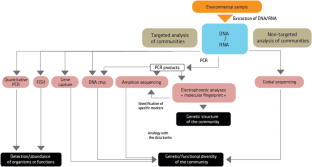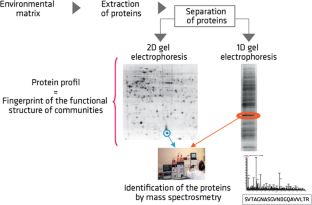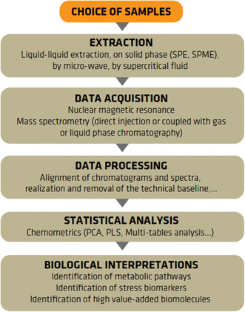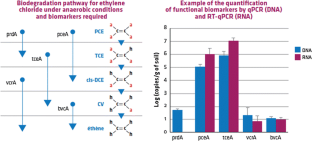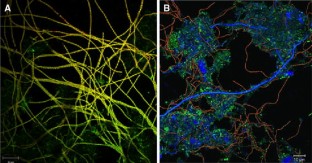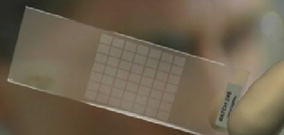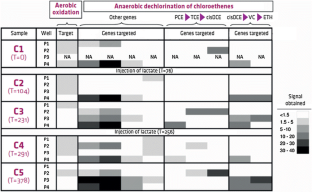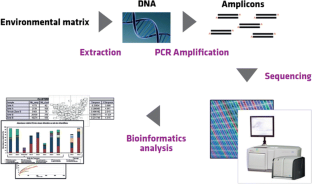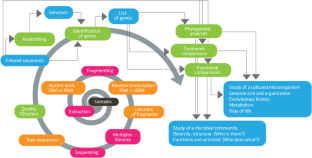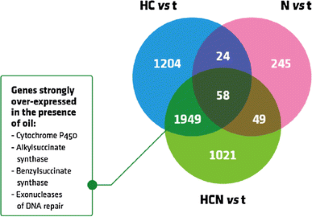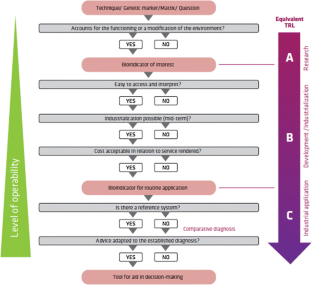 References
Bailly J, Fraissinet-Tachet L, Verner M-C, Debaud J-C, Lemaire M, Wesolowski-Louvel M et al (2007) Soil eukaryotic functional diversity, a metatranscriptomic approach. ISME J 1(7):632–642. doi:10.1038/ismej.2007.68

Baker BJ, Sheik CS, Taylor CA, Jain S, Bhasi A, Cavalcoli JD, Dick GJ (2013) Community transcriptomic assembly reveals microbes that contribute to deep-sea carbon and nitrogen cycling. ISME J 7(10):1962–1973. doi:10.1038/ismej.2013.85

Barrios E (2007) Soil biota, ecosystem services and land productivity. Ecol Econ 64(2):269–285. doi:10.1016/j.ecolecon.2007.03.004

Bertin PN, Heinrich-Salmeron A, Pelletier E, Goulhen-Chollet F, Arsène-Ploetze F, Gallien S et al (2011) Metabolic diversity among main microorganisms inside an arsenic-rich ecosystem revealed by meta- and proteo-genomics. ISME J 5(11):1735–1747. doi:10.1038/ismej.2011.51

Brodie EL, DeSantis TZ, Joyner DC, Baek SM, Larsen JT, Andersen GL, Hazen TC, Richardson PM, Herman DJ, Tokunaga TK, Wan JM, Firestone MK (2006) Application of a high-density oligonucleotide microarray approach to study bacterial population dynamics during uranium reduction and reoxidation. Appl Environ Microbiol 72(9):6288–6298. doi:10.1128/AEM.00246-06

Buitenhuis ET, Hashioka T, Le Quéré C (2013) Combined constraints on global ocean primary production using observations and models. Glob Biogeochem Cycles 27:847–858. doi:10.1002/gbc.20074

Chaparro JM, Badri DV, Vivanco JM (2014) Rhizosphere microbiome assemblage is affected by plant development. ISME J 8(4):790–803. doi:10.1038/ismej.2013.196

Delmont TO, Robe P, Clark I, Simonet P, Vogel T (2011) Metagenomic comparison of direct and indirect soil DNA extraction approaches. J Microbiol Methods 86(3):397–400. doi:10.1016/j.mimet.2011.06.013

Dequiedt S, Saby NPA, Lelievre M, Jolivet C, Thioulouse J, Toutain B, Arrouays D, Bispo A, Lemanceau P, Ranjard L (2011) Biogeographical patterns of soil molecular microbial biomass as influenced by soil characteristics and management. Glob Ecol Biogeogr 20(4):641–652. doi:10.1111/j.1466-8238.2010.00628.x

Dugat-Bony E, Peyretaillade E, Parisot N, Biderre-Petit C, Jaziri F, Hill D, Rimour S, Peyret P (2012) Detecting unknown sequences with DNA microarrays: explorative probe design strategies. Environ Microbiol 14(2):356–371. doi:10.1111/j.1462-2920.2011.02559.x

Dumont MG, Pommerenke B, Casper P (2013) Using stable isotope probing to obtain a targeted metatranscriptome of aerobic methanotrophs in lake sediment. Environ Microbiol Rep 5:757–764. doi:10.1111/1758-2229.12078

Durban N, Juzan L, Krier J, Gillot S (2016) Control of Microthrix parvicella by aluminium salts addition. Water Sci Technol 73(2):414–422. doi:10.2166/wst.2015.456

Fiehn O, Kopka J, Dörmann P, Altmann T, Trethewey RN, Willmitzer L (2000) Metabolite profiling for plant functional genomics. Nat Biotechnol 18(11):1157–1161. doi:10.1038/81137

Figeys D (2000) The Achilles' heel of proteomics. Trends Biotechnol 18(12):483. doi:10.1016/S0167-7799(00)01507-9

Freedman DL, Gossett JM (1989) Biological reductive dechlorination of tetrachloroethylene and trichloroethylene to ethylene under methanogenic conditions. Appl Environ Microbiol 55(9):2144–2151

Frias-Lopez J, Shi Y, Tyson GW, Coleman ML, Schuster SC, Chisholm SW, Delong EF (2008) Microbial community gene expression in ocean surface waters. Proc Natl Acad Sci USA 105(10):3805–3810. doi:10.1073/pnas.0708897105

Geisen S, Tveit A, Clark I, Richter A, Svenning MM, Bonkowski M, Urich T (2015) Metatranscriptomic census of active protists in soils. ISME J 9(10):2178–2190. doi:10.1038/ismej.2015.30

Ghai R, Mizunon CM, Picazo A, Camacho A, Rodriguez-Valera F (2014) Key roles for freshwater Actinobacteria revealed by deep metagenomic sequencing. Mol Ecol 23(24):6073–6090. doi:10.1111/mec.12985

Gifford SM, Sharma S, Moran MA (2014) Linking activity and function to ecosystem dynamics in a coastal bacterioplankton community. Front Microbiol 5:185. doi:10.3389/fmicb.2014.00185

Gilbert J, Field D, Huang Y, Edwards R, Li W, Gilna P, Joint I (2008) Detection of large numbers of novel sequences in the metatranscriptomes of complex marine microbial communities. PLoS One 3(8):e3042. doi:10.1371/journal.pone.0003042

Hayatsu M, Tago K, Saito M (2008) Various players in the nitrogen cycle: diversity and functions of the microorganisms involved in nitrification and denitrification. Soil Sci Plant Nutr Soil 54(1):33–45. doi:10.1111/j.1747-0765.2007.00195.x

Horrigue W, Dequiedt S, Chemidlin Prévost-Bouré N, Jolivet C, Saby N, Arrouays D, Bispo A, Maron PA, Ranjard L (2016) Predictive model of soil molecular microbial biomass. Ecol Indic 64:203–211. doi:10.1016/j.ecolind.2015.12.004

Joux F, Bertrand JC, De Wit R, Grossi V, Intertaglia L, Lebaron P, Michotey V, Normand P, Peyret P, Raimbault P, Tamburini C, Urios L (2011) Les biopuces en écologie microbienne. Méthodes d'études des micro-organismes dans l'environnement. Chapitre 17. In: Bertrand JC, Caumette P, Lebaron P, Matheron R, Normand P (eds) Ecologie Microbienne. Microbiologie des milieux naturels et anthropisés. Presses Universitaires de Pau et des Pays de l'Adour, Pau, pp 799–876

Keiblinger KM, Wilhartitz IC, Schneider T, Roschitzki B, Schmid E, Eberl L, Riedel K, Zechmeister-Boltenstern S (2012) Soil metaproteomics—comparative evaluation of protein extraction protocols. Soil Biol Biochem 54:14–24. doi:10.1016/j.soilbio.2012.05.014

Lankadurai BP, Nagato EG, Simpson MJ (2013) Environmental metabolomics: an emerging approach to study organism responses to environmental stressors. Environ Rev 21(13):180–205. doi:10.1139/er-2013-0011

Leary DH, Hervey WJ IV, Deschamps JR, Kusterbeck AW, Vora GJ (2013) Which metaproteome? The impact of protein extraction bias on metaproteomic analyses. Mol Cell Probes 27(5–6):193–199. doi:10.1016/j.mcp.2013.06.003

Lesniewski RA, Jain S, Anantharaman K, Schloss PD, Dick GJ (2012) The metatranscriptome of a deep-sea hydrothermal plume is dominated by water column methanotrophs and lithotrophs. ISME J 6(12):2257–2268. doi:10.1038/ismej.2012.63

London RE, Houck DR (2004) Introduction to metabolomics and metabolic profiling. In: Hamadeh HK, Afshari CA (eds) Toxicogenomics: principles and applications. Wiley, New York, pp 299–340

Lucio M (2009) Datamining metabolomics: the convergence point of non-target approach and statistical investigation. Thesis, Technical university of Munchen, 189p. http://nbn-resolving.de/urn:nbn:de:bvb:91-diss-20080916-673608-1-4

Mao Y, Xia Y, Wang Z, Zhang T (2014) Reconstructing a Thauera genome from a hydrogenotrophic-denitrifying consortium using metagenomic sequence data. Appl Microbiol Biotechnol 98(15):6885–6895. doi:10.1007/s00253-014-5756-x

Maron PA, Ranjard L, Mougel C, Lemanceau P (2007) Metaproteomics: a new approach for studying functional microbial ecology. Microbial Ecol 53(3):486–493. doi:10.1007/s00248-006-9196-8

Maron PA, Mougel C, Ranjard L (2011) Soil microbial diversity: spatial overview, driving factors and functional interest. CRAS Biol II 334(5–6):403–411. doi:10.1016/j.crvi.2010.12.003

McCarren J, Becker JW, Repeta DJ, Shi Y, Young CR, Malmstrom RR, Chisholm SW, DeLong EF (2010) Microbial community transcriptomes reveal microbes and metabolic pathways associated with dissolved organic matter turnover in the sea. Proc Natl Acad Sci 107(38):16420–16427. doi:10.1073/pnas.1010732107

Militon C, Atkinson A, Michotey V, Jeziorski C, Cravo-Laureau C, Durand R, Bonin P, Cuny P (2016) Metatranscriptomes of marine coastal sediment affected by oil addition and/or by the bioturbating activity of the marine polychaete Hediste diversicolor: who are the microbial players? Mar Genom. doi:10.1016/j.margen.2016.06.006

Mondav R, Woodcroft BJ, Kim EH, McCalley CK, Hodgkins SB, Crill PM, Chanton J, Hurst GB, VerBerkmoes NC, Saleska SR, Hugenholtz P, Rich VI, Tyson GW (2014) Discovery of a novel methanogen prevalent in thawing permafrost. Nat Commun 5:3212. doi:10.1038/ncomms4212

Mushtag MY, Choi YH, Verpoorte R, Wilson EG (2013) Extraction for metabolomics: access to the metabolome. Phytochem Anal 25(4):291–306. doi:10.1002/pca.2505

Ng C, DeMaere MZ, Williams TJ, Lauro FM, Raftery M, Gibson JAE, Andrews-Pfannkoch C, Lewis M, Hoffman JM, Thomas T, Cavicchioli R (2010) Metaproteogenomic analysis of a dominant green sulfur bacterium from Ace Lake, Antarctica. ISME J 4(8):1002–1019. doi:10.1038/ismej.2010.28

Nicholson JK, Lindon JC, Holmes E (1999) 'Metabonomics': understanding the metabolic responses of living systems to pathophysiological stimuli via multivariate statistical analysis of biological NMR spectroscopic data. Xenobiotica 29(11):1181–1189. doi:10.1080/004982599238047

Nielsen KM, Johnsen PJ, Bensasson D, Daffonchio D (2007) Release and persistence of extracellular DNA in the environment. Environ Biosaf Res 6(1–2):37–53. doi:10.1051/ebr:2007031

Ottesen E, Young CR, Eppley JM, Ryan JP, Chavez FP, Scholin CA, DeLonga EF (2013) Pattern and synchrony of gene expression among sympatric marine microbial populations. Proc Natl Acad Sci USA 110(6):E488–E497. doi:10.1073/pnas.1222099110

Pelletier E, Kreimeyer A, Bocs S, Rouy Z, Gyapay G, Chouari R et al (2008) "Candidatus Cloacamonas acidaminovorans": genome sequence reconstruction provides a first glimpse of a new bacterial division. J Bacteriol 190(7):2572–2579. doi:10.1128/JB.01248-07

Poretsky RS, Bano N, Buchan A, LeCleir G, Kleikemper J, Pickering M, Pate WM, Moran MA, Hollibaugh JT (2005) Analysis of microbial gene transcripts in environmental samples. Appl Environ Microbiol 71(7):4121–4126. doi:10.1128/AEM.71.7.4121-4126.2005

Poretsky RS, Hewson I, Sun S, Allen AE, Zehr JP, Moran MA (2009) Comparative day/night metatranscriptomic analysis of microbial communities in the North Pacific subtropical gyre. Environ Microbiol 11(6):1358–1375. doi:10.1111/j.1462-2920.2008.01863.x

Pulleman M, Creamer R, Hamer U, Helder J, Pelosi C, Pérès G, Rutgers M (2012) Soil biodiversity, biological indicators and soil ecosystem services—an overview of European approaches. Curr Opin Environ Sustain 4(5):529–538. doi:10.1016/j.cosust.2012.10.009

Quaiser A, Bodi X, Dufresne A, Naquin D, Francez AJ, Dheilly A, Coudouel S, Pédrot M, Vandenkoornhuyse P (2014) Unraveling the stratification of an iron-oxidizing microbial mat by metatranscriptomics. PLoS One 9(7):e102561. doi:10.1371/journal.pone.0102561

Raes J, Bork P (2008) Molecular eco-systems biology: towards an understanding of community function. Nat Rev Microbiol 6(9):693–699. doi:10.1038/nrmicro1935

Ramachandran N, Hainsworth E, Bhullar B, Eisenstein S, Rosen B, Lau AY, Walter JC, LaBaer J (2004) Self-assembling protein microarrays. Science 305(5680):86–90. doi:10.1126/science.1097639

Rames EK, Smith MK, Hamill SD, De Faveri J (2013) Microbial indictors related to yield and disease and changes in soil microbial community structure with ginger farm management practices. Aust Plant Pathol 42(6):685–692. doi:10.1007/s13313-013-0231-1

Ritz K, Black HIJ, Campbell CD, Harris JA, Wood C (2009) Selecting indicators for monitoring soils: a framework for balancing scientific and technical opinion to assist policy development. Ecol Ind 9(6):1212–1221. doi:10.1016/j.ecolind.2009.02.009

Savichtcheva O, Debroas D, Perga ME, Arnaud F, Lyautey E, Kirkham A, Chardon C, Alric B, Domaizon I (2014) Effects of nutrients and warming on Planktothrix dynamics and diversity: a palaeolimnological view based on sedimentary DNA and RNA. Freshw Biol 60:31–49

Sharma SK, Ramesh A, Sharma MP, OmJoshi OP, Govaerts B, Steenwerth KL, Karlen DL (2011) Microbial community structure and diversity as indicators for evaluating soil quality. In: Lichtfouse E (ed) Biodiversity, biofuels, agroforestry and conservation agriculture. Springer, Berlin, pp 317–358. doi:10.1007/978-90-481-9513-8_11

Terrat S, Plassart P, Bourgeois E, Ferreira S, Dequiedt S, Adele-Dit-De-Renseville A, Lemanceau P, Bispo A, Chabbi A, Maron PA, Ranjard L (2015) Meta-barcoded evaluation of the ISO standard 11063 DNA extraction procedure to characterize soil bacterial and fungal community diversity and composition. Microbial Biotechnol 8(1):131–142. doi:10.1111/1751-7915.12162

Tseng CH, Tang SL (2014) Marine microbial metagenomics: from individual to the environment. Int J Mol Sci 15(5):8878–8892. doi:10.3390/ijms15058878

Turner TR, Ramakrishnan K, Walshaw J, Heavens D, Alston M, Swarbreck D, Osbourn A, Grant A, Poole PS (2013) Comparative metatranscriptomics reveals kingdom level changes in the rhizosphere microbiome of plants. ISME J 7(12):2248–2258. doi:10.1038/ismej.2013.119

Tveit A, Schwacke R, Svenning MM, Urich T (2013) Organic carbon transformations in high-Arctic peat soils: key functions and microorganisms. ISME J 7(2):299–311. doi:10.1038/ismej.2012.99

Urich T, Lanzén A, Qi J, Huson DH, Schleper C, Schuster SC (2008) Simultaneous assessment of soil microbial community structure and function through analysis of the meta-transcriptome. PLoS One 3(6):e2527. doi:10.1371/journal.pone.0002527

Vila-Costa M, Sharma S, Moran MA, Casamayor EO (2013) Diel gene expression profiles of a phosphorus limited mountain lake using metatranscriptomics. Environ Microbiol 15(4):1190–1203. doi:10.1111/1462-2920.12033

Wilmes P, Bond PL (2006) Metaproteomics: studying functional gene expression in microbial ecosystems. Trends Microbiol 14(2):92–97. doi:10.1016/j.tim.2005.12.006

Yates JR 3rd, Speicher S, Griffin PR, Hunkapiller T (1993) Peptide mass maps: a highly informative approach to protein identification. Anal Biochem 214(2):397–408. doi:10.1006/abio.1993.1514

Zhou J, He Z, Yang Y, Deng Y, Tringe SG, Alvarez-Cohen L (2015) High-throughput metagenomic technologies for complex microbial community analysis: open and closed formats. MBio 6(1):e02288-14. doi:10.1128/mBio.02288-14
Acknowledgments
The authors would like to thank the scientific experts P. Amato (CNRS), T. Heulin (CNRS), B. Balloy (Chambre d'agriculture de France), S. Courtois (SUEZ), J.Y. Richard (SUEZ), P. Bonin (Université Aix Marseille), J. M. Baudoin (ONEMA), A. M. Pourcher (IRSTEA), A. Henry (VEOLIA), for their comments and review of this article. This review was granted by ADEME (French National Agency for Energy and Environment).
Additional information
P. Cuny, P. A. Maron and L. Ranjard have contributed equally to the coordination of this review.
About this article
Cite this article
Bouchez, T., Blieux, A.L., Dequiedt, S. et al. Molecular microbiology methods for environmental diagnosis. Environ Chem Lett 14, 423–441 (2016). https://doi.org/10.1007/s10311-016-0581-3
Received:

Accepted:

Published:

Issue Date:
Keywords
Molecular microbiology

Environmental diagnosis

Bioindicator

Environmental matrix