Abstract
Nanoparticles are now widely applied in products. The synthesis of nanomaterials using biological materials is an emerging field, notably for medical applications because biologically derived compounds can be safe. For instance, calcium phosphate is a natural biomineral that possesses an excellent biocompatibility due to its chemical similarity to human hard tissue such as bone and teeth. Here, we synthesized calcium phosphate nanoparticles by using bark extract of Spanish cherry (Mimusops elengi). Calcium phosphate nanoparticles showed an absorbance at 275 nm by UV–visible analysis and particle size of 25 nm by nanoparticle tracking and analysis. Fourier transform infrared spectroscopy revealed the presence of aromatic amines as a capping and reducing agent. Transmission electron microscopy showed the presence of polydispersed spherical nanoparticles with an average size of 50 nm. Measurements of zeta potential revealed the stability of the synthesized calcium phosphate nanoparticles. These particles demonstrated antibacterial activity against Streptococcus mutans, Staphylococcus aureus and Escherichia coli. We conclude that the synthesis of calcium phosphate nanoparticles by using a M. elengi is easy, eco-friendly and scalable.
Access options
Buy single article
Instant access to the full article PDF.
US$ 39.95
Tax calculation will be finalised during checkout.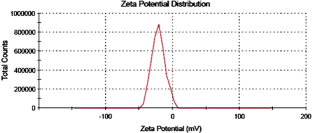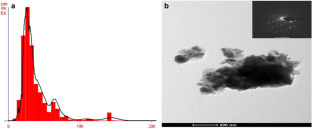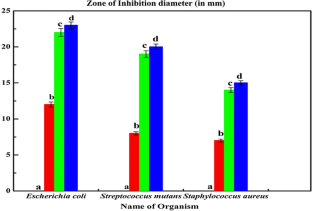 References
Banik M, Basu T (2014) Calcium phosphate nanoparticles: a study of their synthesis, characterization and mode of interaction with salmon testis DNA. Dalton Trans. doi:10.1039/c3dt52522h

Bauer AW, Kirby WMM, Sherris JC, Turck M (1966) Antibiotic susceptibility testing by a standardized single disk method. Am J Clin Pathol 45:493–496

Birla SS, Tiwari VV, Gade AK, Ingle AP, Yadav AP, Rai MK (2009) Fabrication of silver nanoparticles by Phoma glomerata and its combined effect against Escherichia coli, Pseudomonas aeruginosa and Staphylococcus aureus. Lett Appl Microbiol 48(2):173–179

Brunner T, Loher S, Stark W (2006) Fluoro-apatite and calcium phosphate nanoparticles by flame synthesis. Eur Cells Mater 11:6

Chen R, Qian Y, Li R, Zhang Q, Liu D, Wang M, Xu Q (2010) Methazolamide calcium phosphate nanoparticles in an ocular delivery system. Yakugaku Zasshi 130(3):419–424

Cheng L, Weir MD, Xu HH, Antonucci JM, Kraigsley AM, Lin NJ et al (2012a) Antibacterial amorphous calcium phosphate nanocomposite with quaternary ammonium dimethacrylate and silver nanoparticles. Dent Mater 28(5):561–572

Cheng L, Weir MD, Limkangwalmongkol P, Hack GD, Xu HH, Chen QM et al (2012b) Tetracalcium phosphate composite containing quaternary ammonium dimethacrylate with antibacterial properties. J Biomed Mater Res B Appl Biomater 100(3):726–734

Epple M, Kovtun A (2010) Functionalized calcium phosphate nanoparticles for biomedical application. Key Eng Mater 441:299–330

Hart NK, Johns SR, Lamberton JA (1968) Alkaloids of Mimusops elengi bark. Aust J Chem 21:1393–1395

Hou S, Ma H, Ji Y, Hou W, Jia N (2013) A calcium phosphate nanoparticle-based biocarrier for efficient cellular delivery of antisense oligodeoxynucleotides. Appl Mater Interface 5:1131–1136

Imazato S (2009) Bioactive restorative materials with antibacterial effects: new dimension of innovation in restorative dentistry. Dent Mater J 28:11–19

Kaur P, Luthra R, Puneet (2011) Nanocomposites—a step towards improved restorative dentistry. Indian J Dent Sci 3(4):28–31

Kovtun A, Kozlova D, Ganesan K, Biewald C, Seipold N, Gaengler P, Wolfgang H, Epple M (2011) Chlorhexidine-loaded calcium phosphate nanoparticles for dental maintenance treatment: combination of mineralizing and antibacterial effects. RSC Adv 2:870–875

Mahl D, Diendorf J, Meyer-Zaika W, Epple M (2011) Possibilities and limitations of different analytical methods for the size determination of a bimodal dispersion of metallic nanoparticles. Coll Surf A Physicochem Eng Aspects 377:386–392

Misra G, Mitra CR (1967) Constituents of bark of Mimusops elengi. Phytochemistry 6:453–460

Naqvi S, Maitra AN, Abdin MZ, Akmal M, Arora I, Samim M (2012) Calcium phosphate nanoparticle mediated genetic transformation in plants. J Mater Chem 22:3500–3507

Roy I, Mitra S, Maitra A, Mozumdar S (2002) Calcium phosphate nanoparticles as novel non-viral vectors for targeted gene delivery. Int J Pharm 250:25–33

Salamanca-Buentello F, Persad DL, Court EB, Martin DK, Daar AS, Singer PA (2005) Nanotechnology and the developing world. PLoS Med 2(5):e97

Sastry M, Ahmad A, Khan MI, Kumar R (2003) Biosynthesis of metal nanoparticles using fungi and actinomycete. Curr Sci 85(2):162–170

Shivshankar S, Ahmad A, Sastry M (2003) Geranium leaf assisted biosynthesis of silver nanoparticles. Biotechnol Prog 19(6):1627–1631

Singh S, Bhardwaj P, Singh V, Aggarwal S, Mandal UK (2008) Synthesis of nanocrystalline calcium phosphate in microemulsion effect of nature of surfactants. J Colloid Interface Sci 319:322–329

Sun L, Laurence C, Stanislav A, Frukhtbeyn BE (2010) Preparation and properties of nanoparticles of calcium phosphates with various Ca/P ratios. J Res Natl Inst Stand Technol 115:243–255
Acknowledgments
We thank UGC, New Delhi for financial support under UGC-SAP.
About this article
Cite this article
Pokale, P., Shende, S., Gade, A. et al. Biofabrication of calcium phosphate nanoparticles using the plant Mimusops elengi . Environ Chem Lett 12, 393–399 (2014). https://doi.org/10.1007/s10311-014-0460-8
Received:

Accepted:

Published:

Issue Date:
Keywords
Calcium phosphate nanoparticles

Mimusops elengi

Nanoparticle tracking and analysis

FTIR

TEM

Antibacterial activity