Abstract
We investigated the dynamics of litterfall and litter decomposition of Sasa dwarf bamboo (Sasa senanensis) and trees to clarify the characteristics of organic matter and nitrogen cycling between plant and soil in a natural cool-temperate mixed forest ecosystem dominated by an understory vegetation of Sasa. Mean annual Sasa litterfall over the 3-year study period was 164 g m−2 year−1, which accounted for approximately 29% of total litterfall. Litter decomposition of Sasa leaf and Sasa culm was significantly slower than that of tree leaf during first and second years. The slow decomposition rates of both Sasa litter types were caused by a significantly higher silicate than in tree leaf. Nitrogen concentration in litter increased as decomposition progressed, especially in Sasa leaf and tree leaf. As a result of the slow decomposition of both Sasa litter types, 111 and 73% of nitrogen to the initial amounts were retained in Sasa leaf and Sasa culm after 3 years, respectively. The amounts of retained nitrogen in Sasa leaf, Sasa culm, and tree leaf after 3 years were 1.29, 0.47, and 3.92 g N m−2, respectively, indicating that the differences of litter decomposition rates among the litter types influence on the nitrogen cycling in forest ecosystem through the differences of the nitrogen release from litter.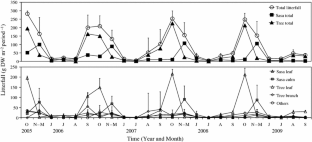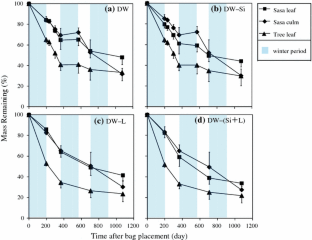 References
Aerts R (1997) Climate, leaf litter chemistry and leaf-litter decomposition in terrestrial ecosystems—a triangular relationship. Oikos 79:439–449

Berg B, McClaugherty CA (1989) Nitrogen and phosphorus release from decomposing litter in relation to the disappearance of lignin. Can J Bot 67:1148–1156

Binkley D, Giardina C (1998) Why do tree species affect soils? The warp and woof of tree-soil interactions. Biogeochemistry 42:89–106

Bocock KL, Gilbert OJW (1957) The disappearance of leaf litter under different woodland conditions. Plant Soil 9:179–185

Bray JR, Gorham E (1964) Litter productions in forests of the world. Adv Ecol Res 21:101–157

Elliott CL, Snyder GH, Jones DB (1988) Rapid gravimetric determination of Si in rice straw. Commun Soil Sci Plant Anal. 19:1543–1550

FAO (1988) Soil map of the world. Revised legend. Reprinted with corrections 1990. World Soil Resources Reports 60. FAO-UNESCO-ISRIC, Rome

Fogel R, Cromack K (1977) Effect of habitat and substrate quality on Douglas fir litter decomposition in Western Oregon. Can J Bot 55:1632–1640

Forest Soil Division (1976) Classification of forest soil in Japan (1975). Bull Gov For Exp Sta 280:1–28 (in Japanese with English summary)

Fukuzawa K, Shibata H, Takagi K, Nomura M, Kurima N, Fukazawa T, Satoh F, Sasa K (2006) Effect of clear-cutting on nitrogen leaching and fine root dynamics in a cool-temperate forested watershed in northern Japan. For Ecol Manag 225:257–261

Gosz JR, Likens GE, Bormann FH (1973) Nutrient release from decomposing leaf and branch litter in the Hubbard Brook forest, New Hampshire. Ecol Monogr 43:173–191

Hobbie SE, Ogdahl M, Chorover J, Chadwick OA, Oleksyn J, Zytkowiak R, Reich PB (2007) Tree species effects on soil organic matter dynamics: the role of soil cation composition. Ecosystems 10:999–1018

Hunt HW, Ingham ER, Coleman DC, Elliott ET, Reid CPP (1988) Nitrogen limitation of production and decomposition in prairie mountain meadow and forest. Ecology 69:1009–1016

Joergensen RG, Kubler H, Meyer B, Wolters V (1995) Carbon and nitrogen relationships in the microbial biomass in soils of beech (Fagus sylvatica L.) forests. Biol Fert Soils 19:215–219

Jones LHP, Handreck KA (1967) Silica in soils, plants, and animals. Adv Agron 19:107–149

Kaneko N, Salamanca EF (1999) Mixed leaf litter effects on decomposition rates and soil microarthropod communities in an oak-pine stand in Japan. Ecol Res 14:131–138

Keyser P, Kirk TK, Zeikus JG (1978) Ligninolytic enzyme system of Phanerochaete chrysosporium: synthe-sized in the absence of lignin in response to nitrogen starvation. J Bacteriol 135:790–797

King HGC, Heath GW (1967) The chemical analysis of small samples of leaf material and the relationship between the disappearance and composition of leaves. Pedobiologia 7:192–197

Ma JF, Yamaji N (2006) Silicon uptake and accumulation in higher plants. Trends Plant Sci 11:392–397

Magill AH, Aber JD (1998) Long-terms effects of experimental nitrogen additions on foliar litter decay and humus formation in forest ecosystems. Plant Soil 203:301–311

Meentemeyer V (1978) Macroclimate and lignin control of litter decomposition rates. Ecology 59:465–472

Melillo JM, Aber JD, Muratore JF (1982) Nitrogen and lignin control of hardwood leaf litter decomposition dynamics. Ecology 63:621–626

Motomura H, Hikosaka K, Suzuki M (2008) Relationships between photosynthetic activity and silica accumulation with ages of leaf in Sasa Veitchii (Poaceae, Bambusoideae). Ann Bot 101:463–468

Noguchi M, Yoshida T (2004) Tree regeneration in partially cut conifer–hardwood mixed forests in northern Japan: roles of establishment substrate and dwarf bamboo. For Ecol Manag 190:335–344

Olson JS (1963) Energy storage and the balance of producers and decomposers in ecological systems. Ecology 44:322–331

Osono T, Hobara S, Koba K, Kameda K, Takeda H (2006) Immobilization of avian excreta-derived nutrients and reduced lignin decomposition in needle and twig litter in a temperate coniferous forest. Soil Biol Biochem 38:517–525

Osono T, Ishii Y, Hirose D (2008) Fungal colonization and decomposition of Castanopsis sieboldii leaves in a subtropical forest. Ecol Res 23:909–917

Shibata H, Kuboi T, Konohira E, Satoh F, Sasa K (2005) Retention processes of anthropogenic nitrogen deposition in a forest watershed in northern Japan. In: Zhu Z, Minami K, Xing G (eds) Proceedings of the 3rd international nitrogen conference. Science Press USA, Beijing, pp 626–630

Shibata H, Ozawa M, Satoh F, Sasa K (2007) The effect of treatment for land surface during forest practice on soil nitrogen dynamics. J Jpn For Soc 89:314–320 (in Japanese with English summary)

Shibata H, Toda H, Fukushima K, Tanio Y, Takahashi T, Yoshida T (2009) Relationship between biogeochemical processes and forest management in Japanese forest ecosystems. J Jpn For Soc 91:408–420 (in Japanese with English summary)

Takahashi K, Uemura S, Suzuki J, Hara T (2003) Effects of understory dwarf bamboo removal on soil water and the growth of overstory trees in a dense secondary Betula ermanii forest, northern Japan. Ecol Res 18:767–774

Taylor BR, Parkinson D, Parsons WJF (1989) Nitrogen and lignin content as predictors of litter decay rates: a microcosm test. Ecology 70:97–104

The Japan Society for Analytical Chemistry, Hokkaido Branch (1971) Analytical chemistry experiments. Kagakudojin, Kyoto, Japan (in Japanese)

Tripathi SK, Sumida A, Ono K, Shibata H, Uemura S, Takahashi K, Hara T (2006a) The effects of understorey dwarf bamboo (Sasa kurilensis) removal on soil fertility in a Betula ermanii forest of northern Japan. Ecol Res 21:315–320

Tripathi SK, Sumida A, Shibata H, Ono K, Uemura S, Kodama Y, Hara T (2006b) Leaf litterfall and decomposition of different above-and belowground parts of birch (Betula ermanii) trees and dwarf bamboo (Sasa kurilensis) shrubs in a young secondary forest in Northern Japan. Biol Fert Soils 43:237–246

Vitousek PM, Howarth RW (1991) Nitrogen limitation on land and in the sea: how can it occur? Biogeochemistry 13:87–115

Watanabe N, Yajima T, Shibuya M (1995) Stand structures and species compositions of mixed stands of Sasa kurilensis and Sasa senanensis. Fac Agric Hokkaido Univ 43:198–199 (in Japanese)

Xu XN, Shibata H (2007) Landscape patterns of overstory litterfall and related nutrient fluxes in a cool-temperate forest watershed in northern Hokkaido, Japan. J For Res 5:271–282

Yajima T, Matsuda K (1987) Quantity of new leaves and dead leaves of sasa. In: Transactions of the 98th annual meeting of the Japanese forestry society, pp 295–296 (in Japanese)

Yajima T, Watanabe N, Shibuya M (1997) Changes in biomass of above-and under-ground parts in Sasa kurilensis and Sasa senanensis stands with culm height. J Jpn For Soc 79:234–238 (in Japanese with English summary)
Acknowledgments
This study was conducted in the Nakagawa Experimental Forest of Hokkaido University, one of the core sites of JaLTER (Japan Long Term Ecological Research Network). We are grateful to all faculty and technical staff members of Nakagawa Experimental Forest of Hokkaido University for their helpful support in the field study. We also thank Drs. Shigeru Uemura, Toshiya Yoshida, Joo Young Cha, Yasunori Nakagawa as well as the graduate students of Northern Forestry Research and Development Office, Field Science Center for Northern Biosphere, Hokkaido University, for their helpful comments, discussion, and cooperation with the field work and data analysis.
About this article
Cite this article
Watanabe, T., Fukuzawa, K. & Shibata, H. Temporal changes in litterfall, litter decomposition and their chemical composition in Sasa dwarf bamboo in a natural forest ecosystem of northern Japan. J For Res 18, 129–138 (2013). https://doi.org/10.1007/s10310-011-0330-1
Received:

Accepted:

Published:

Issue Date:
Keywords
Immobilization

Litter-bag method

Nitrogen cycling

Silicate

Understory vegetation