Abstract
We evaluated the survival and growth of Amburana cearensis, Cedrela fissilis, and Sterculia striata seedlings in three seasonally tropical dry forest fragments that were subjected to different logging levels (intact, intermediately and heavily logged). In each fragment, we planted 40 seedlings of each species and monitored these over a period of 1 year. The highest seedling survival rate (64%) occurred in the heavily logged fragment, which, however, also had the highest mortality risk for all species during the dry season. Only S. striata seedlings had different survival rates among the fragments. Height and diameter growth were higher at sites with higher canopy openness in the wet season. The survival and growth rates of seedlings planted in logged fragments indicate that this technique can be applied to restore and enrich logged forests of the Paranã River Basin.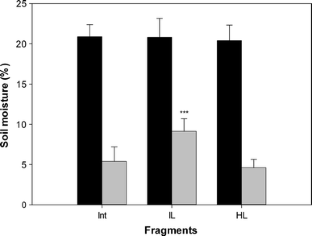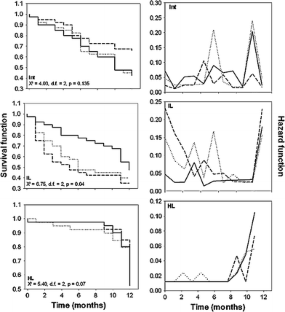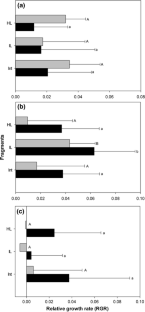 References
Agência Nacional de Águas (2004) Sistema de informações hidrológicas (Hidroweb). http://www.ana.gov.br. Accessed 26 Mar 2010

Augspurger CK (1984) Light requirements of neotropical tree seedlings: a comparative study of growth and survival. J Ecol 72:777–795

Ayres M, Ayres JR, M, Ayres DL, Santos, AAS (2000) Bioestat 2.0: aplicações estatísticas nas áreas de ciências biológicas e médicas. Sociedade Civil Mamirauá/MCT—CNPq, Belém

Barbosa LM (2000) Considerações gerais e modelos de recuperação de formações florestais. In: Rodrigues RR, Leitão Filho HF (eds) Matas ciliares: conservação e recuperação. Editora da Universidade de São Paulo, São Paulo

Basset Y, Novotny V, Miller SE, Springate ND (1998) Assessing the impact of forest disturbance on tropical invertebrates: some comments. J Appl Ecol 35:461–466

Bawa KS, Seidler R (1998) Natural forest management and conservation of biodiversity in tropical forests. Conserv Biol 12:46–55

Bebber D, Brown N, Speight M, Moura-Costa P, Wai Y (2002) Spatial structure of light and dipterocarp seedling growth in a tropical secondary forest. Forest Ecol Manag 157:65–75

Borchert R (1994) Soil and stem water storage determine phenology and distribution of tropical dry forest trees. Ecology 75:1437–1449

Bueno PC (2003) Estrutura de populações, germinação e longevidade de sementes de árvores de Floresta Estacional Decidual. Dissertation (Master in Ecology), Universidade de Brasília

Ceccon E, Huante P, Campo J (2003) Effects of nitrogen and phosphorus fertilization on the survival and recruitment of seedlings of dominant tree species in two abandoned tropical dry forests in Yucata'n, Mexico. For Ecol Manag 182:387–402

Ceccon E, Sánchez S, Campo J (2004) Tree seedling dynamics in two abandoned tropical dry forests of differing successional status in Yucatán, Mexico: a field experiment with N and P fertilization. Plant Ecol 170:277–285

Ceccon E, Huante P, Rincón E (2006) Abiotic factors influencing tropical dry forests regeneration. Braz Arch Biol Technol 49:305–312

Chazdon RL, Fetcher N (1984) Photosynthetic light environments in a lowland tropical rain forest in Costa Rica. J Ecol 72:553–564

Cintra R (1997) Leaf litter effects on seed and seedling predation of the palm Astrocaryum murumuru and the legume tree Dipteryx micrantha in Amazonian Forest. J Trop Ecol 13:709–725

Clark DB, Clark DA (1989) The role of physical damage in the seedling mortality regime of a neotropical rain forest. Oikos 55:225–230

Clark DB, Clark DA (1991) The impact of physical damage on canopy tree regeneration in tropical rain-forest. J Ecol 79:447–457

Colosimo E (2001) Análise de sobrevivência aplicada. In: 46° Reunião anual da região brasileira da sociedade Internacional de biometria. RBRAS, Piracicaba

Facelli JM (1994) Multiple indirect effects of plant litter affect the establishment of woody seedlings in old fields. Ecology 75:1727–1735

Fox GA (1993) Failure-time analysis: emergence, flowering, survivorship, and other waiting times. In: Scheiner SM, Gurevitch J (eds) Design and analysis of ecological experiments. Chapman and Hall, New York

Fredericksen NJ, Fredericksen TS (2000) Respuesta de la fauna terrestre al aprovechamiento forestal y los incendios en un bosque humedo tropical en Bolivia. Documento técnico 89/2000, Proyeto BOLFOR, Santa Cruz

Fredericksen TS, Mostacedo B (2000) Regeneration of timber species following selection logging in a Bolivian tropical dry forest. Forest Ecol Manag 131:47–55

Gerhardt K (1996) Effects of root competition and canopy openness on survival and growth of tree seedlings in a tropical seasonal dry forest. Forest Ecol Manag 82:33–48

Gerhardt K (1998) Leaf defoliation of tropical dry forest tree seedlings—implications for survival and growth. Trees-Struct Funct 13:88–95

Grogan J, Ashton MS, Galvão J (2003) Big-leaf mahogany (Swietenia macrophylla) seedling survival and growth across a topographic gradient in southeast Pará, Brazil. Forest Ecol Manag 186:311–326

Howe HF (1990) Survival and growth of juvenile Virola surinamensis in Panama: effects of herbivory and canopy closure. J Trop Ecol 6:259–280

Howlett BE, Davidson DW (2003) Effects of seed availability, site conditions, and herbivory on pioneer recruitment after logging in Sabah, Malaysia. Forest Ecol Manag 184:369–383

Hunt R (1990) Basic growth analysis. Unwin Hyman, London

Inoue MT (1980) Photosynthesis and transpiration in Cedrela fissilis Vell. seedlings in relation to light intensity and temperature. Turrialba 30:280–283

Instituto Brasileiro de Geografia e Estatística (IBGE) (1995). Zoneamento geoambiental e agroecológico do estado de Goiás: região nordeste. IBGE/Divisão de Geociências do Centro-Oeste, Rio de Janeiro

International union for conservation of nature (2010) IUCN Red list of threatened species. http://www.iucnredlist.org. Accessed 27 Mar 2010

Jackson RV, Bach CE (1999) Effects of herbivory on growth and survival of seedlings of a rainforest tree, Alphitonia whitei (Rhamnaceae). Aust J Ecol 24:278–286

Khurana E, Singh JS (2001) Ecology of seed and seedling growth for conservation and restoration of tropical dry forest: a review. Environ Conserv 28:39–52

Lemmon PE (1956) A spherical densiometer for estimating forest overstory density. Forest Sci 2:314–320

Lieberman D, Li MG (1992) Seedling recruitment patterns in a tropical dry forest in Ghana. J Veg Sci 3:375–382

Lorenzi H (1992) Árvores brasileiras: manual de identificação e cultivo de plantas arbóreas nativas do Brasil. Instituto Plantarum, Nova Odessa

Mack AL (1998) The potential impact of small-scale physical disturbance on seedlings in a papuan rainforest. Biotropica 30:547–552

Marod D, Kutintara U, Tanaka H, Nakashizuka T (2002) The effects of drought and fire on seed and seedling dynamics in a tropical seasonal forest in Thailand. Plant Ecol 161:41–57

Martínez-Yrízar A (1995) Biomass distribution and primary productivity of tropical dry forests. In: Bullock SH, Mooney HA, Medina E (eds) Seasonally dry tropical forests. Cambridge University Press, Cambridge

McLaren KP, McDonald MA (2003) The effects of soil moisture and shade on seed germination and seedling survival in a tropical dry forest in Jamaica. Forest Ecol Manag 183:61–75

Molofsky J, Augspurger CK (1992) The effect of leaf litter on early seedling establishment in a tropical forest. Ecology 73:68–77

Moreira PR, Silva OA (2004) Produção de serapilheira em área reflorestada. Rev Árvore 28:49–59

Mostacedo JB, Fredericksen TS (2000) Estado de regeneración de especies florestales importantes en Bolivia: evaluación y recomendaciones. Documento técnico 88/2000, Proyeto BOLFOR, Santa Cruz

Muenchow G (1986) Ecological use of failure time analysis. Ecology 67:246–250

Nichols JD, Wagner MR, Agyeman VK, Bosu P, Cobbinah JR (1998) Influence of artificial gaps in tropical forest on survival, growth, and Phytolyma lata attack on Milicia excelsa. Forest Ecol Manag 110:353–362

Ochoa GJ (2000) Efectos de la extracción de madera sobre la diversidad de mamíferos pequeños en bosque de tierras bajas de la Guayana Venezolana. Biotropica 32:146–164

Osunkoya OO, Ash JE, Hopkins MS, Graham AW (1992) Factors affecting survival of tree seedlings in North Queensland rainforests. Oecologia 91:569–578

Parron LM, Ribeiro JF, Martínez-Ramos LL (2000) Revegetação de uma área degradada no Córrego Sarandi, Planaltina, DF. Boletim do Herbário Ezechias de Paulo Heringer 5:88–102

Penã-Claros M, de Boo H (2002) The effect of forest successional stage on seed removal of tropical rain forest tree species. J Trop Ecol 18:261–274

Poorter L, Hayashida-Oliver Y (2000) Effects of seasonal drought on gap and understorey seedlings in a Bolivian moist forest. J Trop Ecol 16:481–498

Pyke DA, Thompson JN (1986) Statistical analysis of survival and removal rate experiments. Ecology 67:240–245

Ray GJ, Brown BJ (1995) Restoring Caribbean dry forests: evaluation of tree propagation techniques. Restor Ecol 3:86–94

Reich PB, Borchert R (1982) Phenology and ecophysiology of the tropical tree, Tabebuia neochrysantha (Bignoniaceae). Ecology 63:294–299

Ricker M, Siebe C, Sánchez S, Shimada K, Larson BC, Martinez-Ramos M, Montagnini F (2000) Optimising seedling management: Pouteria sapota, Diospyros digyna, and Cedrela odorata in a Mexican rainforest. Forest Ecol Manag 139:63–77

Rincón E, Huante P (1993) Growth responses of tropical deciduous tree seedlings to contrasting light conditions. Trees-Struct Funct 7:202–207

Santos DL, Rakocevic M, Takaki M, Ribaski J (2006) Morphological and physiological responses of Cedrela fissilis Vellozo (Meliaceae) seedlings to light. Braz Arch Biol Technol 49:171–182

Scariot A (2000) Seedling mortality by litterfall in Amazonian forest fragments. Biotropica 32:662–669

Scariot A, Sevilha AC (2000) Diversidade, Estrutura e manejo de florestas deciduais e as estratégias para a conservação. In: Cavalcanti TB, Walter BMT (eds.) Tópicos atuais em botânica: palestras convidadas do 51° Congresso Nacional de Botânica. Embrapa Recursos Genéticos e Biotecnologia, Brasília

Scariot A, Sevilha AC (2005) Biodiversidade, estrutura e conservação de Florestas Estacionais Deciduais no Cerrado. In: Scariot A, Sousa-Silva JC, Felfili JM (eds.) Cerrado: ecologia, biodiversidade e conservação. Ministério do Meio Ambiente, Brasília

Schupp EW (1988) Seed and early seedling predation in the forest understory and in treefall gaps. Oikos 51:71–78

Statsoft Inc. (2000) Statistica for Windows: computer program manual. Statsoft Inc., Tulsa

Vieira DLM (2002) Efeitos da exploração madeireira na estrutura populacional e regeneração de árvores de floresta estacional decidual. Dissertation (Master in Ecology), Universidade de Brasília

Vieira DLM, Scariot A (2006) Effects of logging, liana tangles and pasture on seed fate of dry forest tree species in Central Brazil. Forest Ecol Manag 230:197–205

Vieira DLM, Scariot A (2008) Environmental variables and tree population structures in deciduous forests of Central Brazil with different levels of logging. Braz Arch Biol Technol 51:419–431

Webb EL (1997) Canopy removal and residual stand damage during controlled selective logging in lowland swamp forest of northeast Costa Rica. Forest Ecol Manag 95:117–129

Zar JH (1999) Biostatistical analysis. Prentice Hall, New Jersey
Acknowledgments
This research was funded by Embrapa Recursos Genéticos e Biotecnologia and Fundo Nacional de Meio Ambiente (FNMA). The first author received a fellowship from the Conselho Nacional de Desenvolvimento Científico e Tecnológico (CNPq) and Coordenação de Aperfeiçoamento de Pessoal de Nível Superior (CAPES). We are indebted to Daniel Vieira, Alexandre Bonesso, Anderson Sevilha, and Mauricio Bonesso for productive discussions and for help in analyzing and interpreting the results.
About this article
Cite this article
de Souza Gomes Guarino, E., Scariot, A.O. Tree seedling survival and growth in logged and undisturbed seasonal deciduous forest fragments in central Brazil. J For Res 17, 193–201 (2012). https://doi.org/10.1007/s10310-011-0294-1
Received:

Accepted:

Published:

Issue Date:
Keywords
Canopy openness

Drought

Logging

Paranã River Basin

Seedling establishment