Abstract
Many populations have a bimodal size distribution, even when composed of a single cohort. In developing forest stands, this pattern is usually attributed to asymmetric competition at canopy closure among trees which have access to the upper canopy and those which have failed to reach it. Nevertheless, alternative explanations for bimodality exist, and in sessile organisms spatial pattern analysis can be used to compare their predictions. A 0.25-ha plot was created in a maturing stand of Asiatic white birch (Betula platyphylla Sukacz.) in Central Kamchatka. All stems >1 cm diameter at breast height (DBH) were fully mapped. Mark correlation analysis revealed size compensation among stems up to 3.5 m apart, providing evidence that competition affected the distribution of stem sizes. The spatial pattern of trees was analysed using the pair correlation function g(r). Large trees (>20 cm DBH) had a dispersed distribution to which a Strauss soft-core Gibbs process model was fitted. This suggested that large trees interacted at scales up to 4.16 m. Small trees (1–20 cm DBH) were distributed randomly, but a cross-pair correlation analysis revealed a greater likelihood of occurrence beginning at 4.3 m from large trees, closely matching the modelled interaction distance. These results are consistent with the hypothesis that asymmetric competition is structuring this bimodal cohort of trees: large stems tend towards a dispersed pattern, exerting competitive effects at scales up to approximately 4 m, whereas smaller stems are more commonly found in the interstices within the pattern of large trees.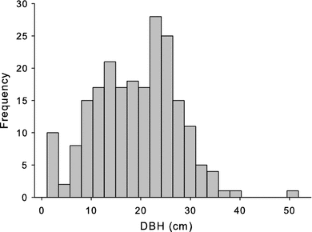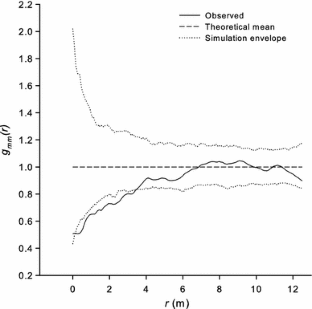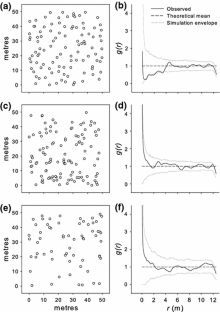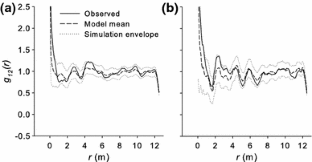 References
Aikman DP, Watkinson AR (1980) A model for growth and self-thinning in even-aged monocultures of plants. Ann Bot 45:419–427

Baddeley A, Turner R (2005) SPATSTAT: an R package for analyzing spatial point patterns. J Stat Softw 12:1–42

Bauer S, Wyszomirski T, Berger U, Hildenbrandt H, Grimm V (2004) Asymmetric competition as a natural outcome of neighbourhood interactions among plants: results from the field-of-neighbourhood modelling approach. Plant Ecol 170:135–145

Brassard BW, Chen HYH (2006) Stand structural dynamics of North American boreal forests. Crit Rev Plant Sci 25:115–137

Coomes DA, Allen RB (2007) Mortality and tree-size distributions in natural mixed-age forests. J Ecol 95:27–40

Diggle PJ (2003) Statistical analysis of spatial point patterns. Arnold, London, UK

Doležal J, Ishii H, Vetrova VP, Sumida A, Hara T (2004) Tree growth and competition in a Betula platyphylla-Larix cajanderi post-fire forest in central Kamchatka. Ann Bot 94:333–343

Ferguson SH, Archibald DJ (2002) The 3/4 power law in forest management: how to grow dead trees. For Ecol Manage 169:283–292

Ford ED (1975) Competition and stand structure in some even-aged plant monocultures. J Ecol 63:311–333

Franc A (2001) Bimodality for plant sizes and spatial pattern in cohorts: The role of competition and site conditions. Theor Popul Biol 60:117–132

Freeman EA, Ford ED (2002) Effects of data quality on analysis of ecological patterns using the K(d) statistical function. Ecology 83:35–46

Gates DJ (1978) Bimodality in even-aged plant monocultures. J Theor Biol 71:525–540

Grabarnik P, Särkkä A (2009) Modelling the spatial structure of forest stands by multivariate point processes with hierarchical interactions. Ecol Model 220:1232–1240

Homma K, Takahashi K, Hara T, Vetrova VP, Vyatkina MP, Florenzev S (2003) Regeneration processes of a boreal forest in Kamchatka with special reference to the contribution of sprouting to population maintenance. Plant Ecol 166:25–35

Huang F, Ogata Y (1999) Improvements of the maximum pseudo-likelihood estimators in various spatial statistical models. J Comput Graph Stat 8:510–530

Huston MA, DeAngelis DL (1987) Size bimodality in monospecific populations: a critical review of potential mechanisms. Am Nat 129:678–707

Illian J, Penttinen A, Stoyan H, Stoyan D (2008) Statistical analysis and modelling of spatial point patterns. Wiley, Chichester, UK

Koike T, Kitao M, Quoreshi AM, Matsuura Y (2003) Growth characteristics of root–shoot relations of three birch seedlings raised under different water regimes. Plant Soil 255:303–310

Krestov PV (2003) Forest vegetation of easternmost Russia (Russian Far East). In: Kolbek J, Srutek M, Box EO (eds) Forest vegetation of Northeast Asia. Kluwer, Dordrecht, pp 93–180

Laesele AM (1965) Spacing and competition in natural stands of sand pine. Ecology 46:65–72

Law R, Illian J, Burslem DFRP, Gratzer G, Gunatilleke CVS, Gunatilleke IAUN (2009) Ecological information from spatial patterns of plants: insights from point process theory. J Ecol 97:616–628

Loosmore NB, Ford ED (2006) Statistical inference using the G or K point pattern spatial statistics. Ecology 87:1925–1931

McIntire EJB, Fajardo A (2009) Beyond description: the active and effective way to infer processes from spatial patterns. Ecology 90:46–56

Moeur M (1993) Characterizing spatial patterns of trees using stem-mapped data. For Sci 39:756–775

Moravie M-A, Robert A (2003) A model to assess relationships between forest dynamics and spatial structure. J Veg Sci 14:823–834

Murrell DJ (2009) On the emergent spatial structure of size-structured populations: When does self-thinning lead to a reduction in clustering? J Ecol 97:256–266

Newton AC (2007) Forest ecology and conservation: a handbook of techniques. Oxford University Press, New York, NY

Perala DA, Alm AA (1990) Reproductive ecology of birch: a review. For Ecol Manage 32:1–38

Perry GLW, Miller BP, Enright NJ (2006) A comparison of methods for the statistical analysis of spatial point patterns in plant ecology. Plant Ecol 187:59–82

R Development Core Team (2009) R: a language and environment for statistical computing. R Foundation for Statistical Computing, Vienna, Austria

Rabinowitz D (1979) Bimodal distribution of seedlings weight in relation to density of Festuca paradowa Desv. Nature 277:297–298

Ripley BD (1977) Modelling spatial patterns. J Roy Stat Soc Seri B 39:172–212

Seiwa K, Kikuzawa K (1996) Importance of seed size for the establishment of seedlings of five deciduous broad-leaved tree species. Vegetatio 123:51–64

Sterner RW, Ribic CA, Schatz GE (1986) Testing for life history changes in spatial patterns of four tropical tree species. J Ecol 74:621–633

Stoyan D, Penttinen A (2000) Recent applications of point process methods in forestry statistics. Stat Sci 15:61–78

Strauss DJ (1975) A model for clustering. Biometrika 62:467–475

Takahashi K, Homma K, Vetrova VP, Florenzev S, Hara T (2001) Stand structure and regeneration in a Kamchatka mixed boreal forest. J Veg Sci 12:627–634

Turkington R, Harper JL (1979) The growth, distribution and neighbour relationships of Trifolium repens: a permanent pasture. I. Ordination, pattern and contact. J Ecol 67:201–218

Watt AS (1947) Pattern and process in the plant community. J Ecol 35:1–22

Weiner J (1986) How competition for light and nutrients affects size variability in Ipomoea tricolor populations. Ecology 67:1425–1427

Wiegand T, Moloney KA (2004) Rings, circles, and null-models for point pattern analysis in ecology. Oikos 104:209–229
Acknowledgments
Field data were collected with the assistance of Kim Warren, Tim Kell, Joe Wright, and Fredi Baumgarten. Logistical support was provided by Bystrinsky Nature Park and Vitus Bering Kamchatka State University. Funding was provided by The University of Nottingham, The British Ecological Society, The Royal Geographical Society, The Albert Reckitt Charitable Trust, and The Andrew Croft Memorial Fund. For further information, including raw data and photographs, see http://www.kamchatka2008.org.uk.
Electronic supplementary material
Below is the link to the electronic supplementary material.
Supplementary Appendix A. Positions of live B. platyphylla trees >1 cm DBH in a 0.25-ha plot in central Kamchatka. Circle size is an arbitrary scale representing DBH (EPS 3414 kb)
Supplementary Appendix B. Pair correlation function g(r) of large trees against simulation envelopes for the fitted Strauss process (EPS 2127 kb)
About this article
Cite this article
Eichhorn, M.P. Spatial organisation of a bimodal forest stand. J For Res 15, 391–397 (2010). https://doi.org/10.1007/s10310-010-0200-2
Received:

Accepted:

Published:

Issue Date:
Keywords
Birch

Gibbs process

Kamchatka

Marked point-pattern

Size distribution