Access options
Buy single article
Instant access to the full article PDF.
US$ 39.95
Tax calculation will be finalised during checkout.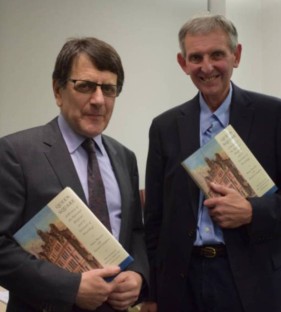 Literatur
1.

Holmes G (1945) The National Hospital Queen Square: 1860–1948. Edinburgh – London, E. & S. Livingstone

2.

Anonym (Critchley M) (1960) Queen Square and the National Hospital 1860–1960. Foreword by Sir Ernest Gowers. E. Arnold, London

3.

Robinson G (1982) The National Hospitals for Nervous Diseases 1948–1982. The Board of Governors of the Hospitals for Nervous Diseases, London

4.

Shorvon SD, Shepherd L (2012) The beginning of the end of the falling sickness: epilepsy and its treatment in London 1860–1910. S. Shorvon, London

5.

Lekka V (2015) The neurological emergence of epilepsy: The National Hospital for the Paralysed and Epileptic. Boston studies in the philosophy and history of science, Bd. 305. Springer, Cham – Heidelberg – New York, et al, S 1870–1895

6.

Krämer G (2012) Lexikon der Epileptologie. Hippocampus, Bad Honnef, S 1238

7.

Shorvon SD, Weiss G, Goodkin HP (2009) Notes on the origins of Epilepsia and the International League Against Epilepsy. Epilepsia 50:368–376

8.

Yasiry Z, Shorvon SD (2012) How phenobarbital revolutionized epilepsy therapy: the story of phenobarbital therapy in epilepsy in the last 100 years. Epilepsia 53(Suppl 8):26–39

9.

Shorvon S, Weiss G, Avanzini G et al (2009) The International League Against Epilepsy 1909–2009. A centenary history. Wiley-Blackwell, Oxford – Chichester – Hoboken

10.

https://en.wikipedia.org/wiki/Alastair_Compston. Zugegriffen: 31. Mai 2019

11.

Compston A, Ebers G, Lassmann H et al (Hrsg) (1998) McAlpine's Multiple Sclerosis. 3. Aufl. Churchill Livingston, Boston – Oxford – Johannesburg, et al (4. Auflage 2005)

12.

Wilson SAK (1935) Epilepsie und verwandte Krankheiten. The Epilepsies. In: Bumke O, Foerster O (Hrsg) Spezielle Neurologie IX. Erkrankungen des Rückenmarks und Gehirns VII. Handbuch der Neurologie, Bd. 17. Springer, Berlin, S 1–87

13.

Slater E, Beard AW, Glithero E (1963) The schizophrenia-like psychoses of epilepsy. Br J Psychiatry 109:95–150

14.

Sargant W, Slater E (Hrsg) (1944) An introduction to physical methods of treatment in psychiatry. With a chapter on treatment of the epilepsies by D. Hill. Baltimore, Williams & Wilkins (2. Auflage 1948)

15.

Slater E (1965) Diagnosis of "Hysteria". Slightly abridged Shorvon Memorial Lecture delivered at the National Hospital, Queen Square, London, on 30 November, 1964. Brit Med J 1:1395–1399. https://www.ncbi.nlm.nih.gov/pmc/articles/PMC2166300/pdf/brmedj02396-0023.pdf. Zugegriffen: 31. Mai 2019
Ethics declarations
Interessenkonflikt
G. Krämer gibt an, dass kein Interessenkonflikt besteht.
About this article
Cite this article
Krämer, G. Simon D. Shorvon, Alastair Compston: Queen Square: A History of the National Hospital and its Institute of Neurology (2019). Z. Epileptol. 34, 113–115 (2021). https://doi.org/10.1007/s10309-020-00349-1