Abstract
Nowadays, China increasingly sees education as a critical component of becoming a world emerging power. Since 2015, China has implemented its new education strategy, named the "World first-class universities and world first-class disciplines" project. In this context, the university's internal governance has become a critical factor for the Chinese standards to construct world first-class universities. The Chinese government has published a series of related documents to enhance university autonomy and improve external conditions with university governance's mechanism reform. The paper firstly discusses the research statutes and proposes the analytical framework based on the stakeholder theory and quadrilateral model. Secondly, it presents the history and progress of the university's internal governance in China and Europe and summarizes their experiences and characteristics. Thirdly, it discusses the similarities and differences between Europe and China in the universities' internal governance, which focuses on the internal governance framework and the power distribution. In this way, the university budget and finance, teacher's appointment and promotion, enrollment power, curriculum design, research, and even the housing and equipment assignment are all analyzed. Finally, it summarizes China and Europe's internal governance models with the key factors and prominent features in the different models. It also discusses the common issues that the universities are facing in internal governance.
Access options
Buy single article
Instant access to the full article PDF.
USD 39.95
Price excludes VAT (USA)
Tax calculation will be finalised during checkout.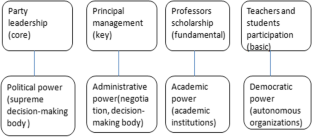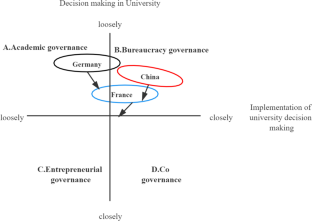 References
Bleiklie I (2014) Comparing university organizations across boundaries. High Educ 67:381–391

Bleiklie I, Kogan M (2007) Organization and governance of universities. High Educ Pol 20:477–493

Boatright JR (2002) Contractors as stakeholders: reconciling stakeholder theory with the nexus-of-contracts firm. J Bank Finance 26(9):1837–1852

Cai L, Lu S (2017) The three directions of the reform of the two-level management system of the "college as an entity"-based on a comparative study of Chinese and American research universities. Higher Edu Explor J 11:83–88

Capano G, Regini M, Turri M (2016) Changing governance in universities: Italian higher education in comparative perspective. Palgrave MacMillan, London

Central People's Government of the People's Republic of China (2019). "China Education Modernization 2035 Plan" on 22 December. (available at: http://www.moe.gov.cn/s78/A02/zfs__left/s6528/s6529/201412/t20141222_182222.html, 2020-6-1). Accessed 1 Aug 2020

Chen B (2017) On the power and function of university autonomy. Higher Edu Explor J (08):30–35

Christensen T (2011) A review of: "Public management reform and modernization: trajectories of administrative change in Italy, France, Greece, Portugal and Spain by Edoardo Ongaro." Int Public Manag J 14(2):256–257. https://doi.org/10.1080/10967494.2011.590739

Clark BR (1983) The higher education system: academic organization in cross-national perspective. University of California Press

Clark BR (2000) Collegial entrepreneurialism in proactive universities: lessons from Europe. Change 32(1):10–19

De Boer H, Enders J, Schimank U (2008) Comparing higher education governance systems in four European countries. Springer, Netherlands

De Boer H, File J, Huisman J, Seeber M, Vukasovic M, Westerheijden D (2017) Structural reform in European higher education: an introduction. In: File J, Huisman J et al (eds) De Boer H. Policy analysis of structural reforms in higher education.Palgrave Macmillan, Cham, pp 1–28

Enders J, Van Vught FA (2007). Introduction. In: Enders J, van Vught FA (ed) Towards a cartography of higher education policy change. Center for Higher Education Policy Studies, Enschede, pp21–28.

Estermann T, Nokkala T (2009) University autonomy in Europe: an exploratory study. European University Association, Brussels

Ferlie E, Musselin C, Andresani G (2009) The governance of higher education systems: a public management perspective. In: Paradeise C, Reale E, Bleiklie I, Ferlie E (eds) University governance Western European comparative perspectives. Springer, Heidelberg, pp 1–21

Gornitzka A, Maassen P, de Boer H (2017) Change in university governance structures in continental Europe. High Educ Q 71:274–289

Hufty M (2011) Investigating policy processes: the governance analytical framework (GAF). Research for sustainable development: foundations, experiences, and perspectives. In: Wiesmann U, Hurni H, (eds) Geographica Bernensia. pp. 403–424

Kersbergen CJ, Waarden F (2004) "Governance" as a bridge between disciplines: cross-disciplinary inspiration regarding shifts in governance and problems of governability, accountability and legitimacy. Eur J Polit Res 43:143–171

Lapworth S (2004) Arresting the decline in shared governance: towards a flexible model for academic participation[J]. High Educ Q 4:299–314

LI F (2007) Stakeholder theory and innovation of university management system. Edu Res 6:36–39

Liu Y, Li Z et al (2010) Research on the two-level management mode of colleges and universities. Edu Econ 2:12–15

Liu Y W, Xia J, Qiu Y C (2014) The purpose and specific system construction of university charter. J Edu Sci Hunan Norm Univ 13(002):78–81

McNay I (1995) From the collegial academy to corporate enterprise: the changing cultures of universities. In: Schuller T (ed) The changing university? (The Society for Research into Higher Education). Open University Press, London, pp 105–115

Ministry of Education of the People's Republic of China (2010) "Outline of the National Medium and Long-term Education Reform and Development Plan (2010–2020)" on 29 July , (available at: http://www.moe.gov.cn/srcsite/A01/s7048/201007/t20100729_171904.html, 2020–5–20). Accessed 1 Aug 2020

Ministry of Education of the People's Republic of China (2011) "Interim Measures for the Establishment of the Constitution of Higher Education Institutions " on 28 November , (available at: http://www.moe.gov.cn/jyb_xwfb/xw_fbh/moe_2069/s7135/s7741/s7742/201311/t20131128_160158.html, 2020–5–20). Accessed 1 Aug 2020

Ministry of Education of the People's Republic of China (2014) "Opinions on Further Implementing and Expanding the Autonomy of Colleges and Universities to Improve the Internal Governance Structure of Colleges and Universities " On 23 February , (available at: http://www.gov.cn/zhengce/2019-02/23/content_5367987.htm, 2020–5–18). Accessed 1 Aug 2020

Ministry of Education of the People's Republic of China (2014) "Regulations for Academic Committees of Higher Education Institutions" on 29 January , (available at: http://www.moe.gov.cn/srcsite/A02/s5911/moe_621/201401/t20140129_163994.html, 2020–5–20). Accessed 1 Aug 2020

Musselin C, Teixeira PN (2014) Reforming higher education: public policy design and implementation. Springer, Dordrecht

Oxford University Press (1995) Our global neighborhood: the report of the commission on global governance. George Washington J Int Law Econ (3), 754–756

Piattoni S (2009) Multi-level governance in the EU. Does it work ? Globalization and Politics : A Conference in Honor of. Globalization and Politics: A Conference in Honor of Suzanne Berger, 46

Pierre J, Peters BG (2000) Governance, politics and the state. Macmillan, Basingstoke

Rhodes RAW (1997) From marketization to diplomacy: it's the mix that matters. Aust J Public Adm 56:40–53

Sorbonne Universités. (2020) Sorbonne Universités Gouvernance. (available at: http://www.sorbonne-universites.fr/a-propos-de/gouvernance.html, 2020–6–1). Accessed 1 Aug 2020

Sui YF (2020) Turning to the innovation of university internal governance system: an important agenda for the modernization of higher education governance system. Educ Res 41(12):67–85

Teixeira P, Dill D, Amaral A, Jongbloed BB (2004) Markets in higher education :. Kluwer Academic Publishers

Universität Darmstadt (2020) Universität Darmstadt Aktuelle Regelungen der TU Darmstadt. Fachbereichsmanagement Organigramm. (available at: https://www.wi.tu-darmstadt.de/fachbereich/dekanat/index.de.jsp, 2020-6-1). Accessed 1 Aug 2020

Vught FV, Maassen P, Müller J (2007) Diversity and differentiation in higher education. Springer, Netherlands

Wang B, Tao K (2016) Analysis of the status quo of the internal governance structure of public colleges and universities-Based on a survey of 10 college managers. Coll Educ Manag 3:42–46

Wang Y (2014) The Enlightenment of American University Governance on the construction of modern university governance system with Chinese characteristics. China Higher Educa Res 000(009):33–37

Xiao W (2017) University governance: a fashionable word abused. J Suzhou Univ (educ Sci Ed) 3:73–80

Yu K (2000) Right politics and public welfare politics. Social Science Literature Press, Beijing

Zang SL (2011) On the relationship between the principal responsibility system under the leadership of the party committee. China Higher Educ (Z1):28–30
Additional information
Publisher's note
Springer Nature remains neutral with regard to jurisdictional claims in published maps and institutional affiliations.
About this article
Cite this article
Wang, Y., Liu, Q. & Chen, R. Comparative study on the internal governance models of Chinese and European universities. Asia Eur J 20, 115–135 (2022). https://doi.org/10.1007/s10308-021-00636-0
Received:

Revised:

Accepted:

Published:

Issue Date:

DOI: https://doi.org/10.1007/s10308-021-00636-0