Abstract
Frozen conflicts, situations in which war ended yet stable peace did not materialize, trouble both Asia and Europe. Despite the clear policy relevance of this problem, the notion of frozen conflicts remains surprisingly blurred in peace and conflict studies literature. In this paper, we seek to provide a rigorous conceptualization of frozen conflicts. We situate frozen conflicts into a broader debate about enduring rivalries in international politics and demonstrate the theoretical relevance of the term vis-à-vis existing concepts. Furthermore, we outline a theoretical model of frozen conflict dynamics, which portrays frozen conflicts as dynamic configurations undergoing a periodical "thawing" in relations between the opposing sides: either toward diplomatic negotiations ("peaceful thawing") or re-escalation toward use of armed force ("violent thawing"). We illustrate the usefulness of our model with empirical observations from other articles in this special issue and conclude with possible avenues for further research.
This is a preview of subscription content, log in to check access.
Access options
Buy single article
Instant access to the full article PDF.
US$ 39.95
Price includes VAT for USA
Subscribe to journal
Immediate online access to all issues from 2019. Subscription will auto renew annually.
US$ 99
This is the net price. Taxes to be calculated in checkout.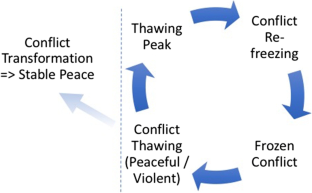 Notes
1.

Notably, Dembinska and Campana (2017) employ a theoretical perspective grounded in political sociology to examine internal processes of frozen conflicts in the context of "de facto states," mentioning a number of empirical examples that spatially extend beyond the post-Soviet space.

2.

In our own dataset (forthcoming), we operationalize this frozen conflict starting point using the Correlates of War (COW) threshold of 1000 battle-related deaths per 12 months.

3.

As a part of our research project "Early Warning Indicators of Escalating Frozen Conflicts," we conducted several interviews with senior-level diplomats between 2015 and 2017. The interviews demonstrated that policy makers are not only generally interested in these conflicts but also interested in them particularly because they see them as dynamic, fearing that the development on the ground could eventually lead to the resurgence of major violence and regional destabilization.

4.
References
Aggestam K, Björkdahl A (2011) Just peace postponed: unending peace processes and frozen conflicts. Available at: https://lup.lub.lu.se/search/publication/0aeca3dc-a3d1-46c7-82a7-44258cf35baf

Anderson ND (2017) America's North Korean nuclear trilemma. Wash Q 40(4):153–164

Azar EE (1985) Protracted international conflicts: ten propositions. Int Interact 12(1):59–70

Azar EE, Jureidini P, McLaurin R (1978) Protracted social conflict: theory and practice in the Middle East. J Palest Stud 8(1):41–60

BBC (2014) Ukraine crisis: "frozen conflicts" and the Kremlin. Available at: http://www.bbc.com/news/world-europe-29078541. Accessed 23 Oct 2017

Blank S (2008) Russia and the Black Sea's frozen conflicts in strategic perspective. Mediterr Q 19(3):23–54

Blank S (2016) Putin cannot afford the frozen conflict in Ukraine. Newsweek. Available at: http://www.newsweek.com/putin-cannot-afford-frozen-conflict-ukraine-421083

Botes J (2003) Conflict transformation: a debate over semantics or a crucial shift in the theory and practice of peace and conflict studies? International Journal of Peace Studies 8(2):1–27

Boulding KE (1978) Stable peace. University of Texas Press, Austin

Boulding KE (1991) Stable peace among nations: a learning process. In: Boulding E, Brigagao C, Clements K (eds) Peace culture and society: transnational research and dialogue. Westview Press, Boulder, pp 108–114

Brecher M (1993) Crises in world politics: theory and reality. Pergamon Press, Oxford

Broers L (2015) From "frozen conflict" to enduring rivalry: reassessing the Nagorny Karabakh conflict. Nationalities Papers 43(4):556–576

Burridge T (2016) Ukraine conflict: daily reality of east's "frozen war" BBC News. Available at: http://www.bbc.com/news/world-europe-35990401. Accessed 23 Oct 2017

Caspersen N (2009) Playing the recognition game: external actors and de facto states. The International Spectator 44(4):47–60

Choi JK, Bae JY (2016) Security implications of a nuclear North Korea: crisis stability and imperatives for engagement. Korea Obs 47(4):807–827

CNN (2014) Will Ukraine's Crimea region be Europe's next "frozen" conflict?. CNN Available at: http://edition.cnn.com/2014/02/27/opinion/ukraine-crimea-russia/

Cohen SP, Azar EE (1981) From war to peace: the transition between Egypt and Israel. J Confl Resolut 25(1):87–114

Colaresi M, Thompson WR (2002) Strategic rivalries, protracted conflict, and crisis escalation. J Peace Res 39(3):263–287

Cornell SE (2017a) The Armenian-Azerbaijani conflict and European security. In: Cornell SE (ed) The international politics of the Armenian-Azerbaijani conflict: the original "frozen conflict" and European security. Palgrave Macmillan, New York, pp 1–21

Cornell SE (ed) (2017b) The international politics of the Armenian-Azerbaijani conflict: the original "frozen conflict" and European security. Palgrave Macmillan, New York

Davis PK et al (2016) Deterrence and stability for the Korean peninsula. Korean J Def Anal 28(1):1–23

Dembinska M, Campana A (2017) Frozen conflicts and internal dynamics of de facto states: perspectives and directions for research. Int Stud Rev 19(1):1–25

Diehl P, Goertz G (2000) War and peace in international rivalry. University of Michigan Press, Ann Arbor

Faber MJ (2000) Cold wars and frozen conflicts: the European experience. In: Kaldor M (ed) Global insecurity. Bloomsbury Academic, London, pp 53–94

Felician S (2011) North and South Korea: a frozen conflict on the verge of unfreezing? IAI Working Papers 11/24

Ferrero-Waldner B (2006) "Frozen conflicts": Transnistria, South-Ossetia, and the Russian-Georgian dispute. European Parliament Plenary. Available at: http://eu-un.europa.eu/frozen-conflicts-transnistria-south-ossetia-and-the-russian-georgian-dispute-speech-by-eu-commissioner-ferrero-waldner/

Fregoso CC, Zivkovic N (2012) Western Sahara: a frozen conflict. Journal of Regional Security 7(2):139–150

Ganguly S (1995) Indo-Pakistani nuclear issues and the stability/instability paradox. Stud Confl Terror 18(4):325–334

Ganguly S, Hagerty DT (2012) Fearful symmetry: India-Pakistan crises in the shadow of nuclear weapons. Oxford University Press, Oxford

George AL (2006) On foreign policy: unfinished business. Routledge, London

Hensel PR, Goertz G, Diehl PF (2000) The democratic peace and rivalries. J Polit 62(4):1173–1188

Japaridze T, Rondeli A (2004) Europe is on Georgia's mind. In: Asmus RD, Dimitrov K, Forbrig J (eds) A new Euro-Atlantic strategy for the Black Sea region. German Marshall Fund of the United States, Washington, D.C., pp 40–47

Kacowicz AM et al (2000) Stable peace among nations. Rowman & Littlefield Publishers, Lanham

Kapur SP (2005) India and Pakistan's unstable peace. Int Secur 30(2):127–152

Kelman HC (1985) Overcoming the psychological barrier: an analysis of the Egyptian-Israeli peace process. Negot J 1(3):213–234

Kerry J (2013) Remarks with Azerbaijani Foreign Minister Elmar Mammadyarov before their meeting. Available at: https://www.state.gov/secretary/remarks/2013/06/210214.htm

King C (2001) The benefits of ethnic war: understanding Eurasia's unrecognized states. World Polit 53(4):524–552

Klein JP, Goertz G, Diehl PF (2006) The new rivalry dataset: procedures and patterns. J Peace Res 43(3):331–348

Kolsto P (2006) The sustainability and future of unrecognized quasi-states. J Peace Res 43(6):723–740

Luttwak EN (1999) Give war a chance. Foreign Aff 78(4):36–44

Lynch D (2004) Engaging Eurasia's separatist states: unresolved conflicts and de facto states. United States Institute of Peace Press, Washington, D.C.

Lynch D (2005) New thinking about "frozen" conflicts. Hels Monit 16(3):192–195

Mistry D (2009) Complexity of deterrence among new nuclear states: the India-Pakistan case. In: Paul TV, Morgan PM, Wirtz JJ (eds) Complex deterrence: strategy in the global age. University of Chicago Press, Chicago, p 345

Mitchell C (2002) Beyond resolution: what does conflict transformation actually transform? Peace and Conflict Studies 9(1). Available at: http://nsuworks.nova.edu/pcs/vol9/iss1/1

Morar F (2010) The myth of "frozen conflict": transcending illusive dilemmas. Concordiam: Journal of European Security and Defence Issues 1(2):10–17

Morgan PM (1977) Deterrence: a conceptual analysis. Sage, Beverly Hills

Müller H (2005) Theories of peace. In: Evangelista M (ed) Peace studies: critical concepts in political science. Routledge, Oxon, pp 53–87

Müller H (2014) Evilization in liberal discourse: from Kant's "unjust enemy" to today's "rogue state". Int Politics 51(4):475–491

Obama B (2016) Press conference of President Obama and Prime Minister Renzi of the Republic of Italy. Available at: https://obamawhitehouse.archives.gov/the-press-office/2016/10/18/press-conference-president-obama-and-prime-minister-renzi-republic-italy

Perry V (2009) At cross purposes? Democratization and peace implementation strategies in Bosnia and Herzegovina's frozen conflict. Hum Rights Rev 10(1):35–54

Reimann C (2004) Assessing the state-of-the-art in conflict transformation. In: Austin A, Fischer M, Ropers N (eds) Transforming ethnopolitical conflict. Springer, Wiesbaden, pp 41–66

Roehrig T (2016) North Korea, nuclear weapons, and the stability-instability paradox. Korean J Def Anal 28(2):181–198

Rupesinghe K (ed) (1995) Conflict transformation. St. Martin's Press, New York

Souleimanov E (2013) Understanding ethnopolitical conflict: Karabakh, South Ossetia, and Abkhazia wars reconsidered. Palgrave Macmillan, London

The Economist (2016) A frozen conflict explodes. Economist 53–54. Available at: http://www.economist.com/news/europe/21696563-after-facing-decades-armenia-and-azerbaijan-start-shooting-frozen-conflict-explodes

The Japan Times (2017) Moldova's "frozen conflict" over breakaway Transnistria has lessons for east Ukraine. Available at: https://www.japantimes.co.jp/news/2017/05/28/world/moldovas-frozen-conflict-breakaway-transnistria-lessons-east-ukraine/#.We2tcxOCw9U

The Moscow Times (2017) Corruption thrives on Russia's frozen conflicts. Available at: https://themoscowtimes.com/articles/corruption-thrives-on-russias-frozen-conflicts-39610

The New York Times (2012) A "frozen conflict" that could boil over. The New York Times Available at: http://www.nytimes.com/2012/03/09/opinion/a-frozen-conflict-that-could-boil-over.html

Thompson WWR (2001) Identifying rivals and rivalries in world politics. Int Stud Q 45(4):557–586

Tudoroiu T (2016) Unfreezing failed frozen conflicts: a post-Soviet case study. J Contemp Eur Stud 24(3):375–396

Wallensteen P (1991) The resolution and transformation of international conflicts: a structural perspective. In: Väyrynen R (ed) New directions in conflict theory: conflict resolution and conflict transformation. Sage, London, pp 129–152

Wallensteen P (2002) Understanding conflict resolution: war, peace and the global system. Sage, London

Welt C (2010) The thawing of a frozen conflict: the internal security dilemma and the 2004 prelude to the Russo-Georgian War. Eur Asia Stud 62(1):63–97

Wolff S (2011) A resolvable frozen conflict? Designing a settlement for Transnistria. Nationalities Papers 39(6):863–870
Acknowledgements
We would like to thank the reviewers and our colleagues, Harald Müller, Vojtech Bahensky, Kamil Klosek, Pavlina Blahova, and Marie Nemeckova, for their constructive comments and recommendations. An earlier version of this article was presented at the 2017 International Studies Association (ISA) Annual Convention in Baltimore and the 2017 ISSS-ISAC Annual Conference in Washington, D.C. We are grateful to the chairs, discussants, and participants in individual panel sessions for their insightful remarks and ideas.
Funding
We acknowledge funding by the Charles University Research Centre program UNCE/HUM/028 (Peace Research Center Prague/Faculty of Social Sciences) and by the Ministry of the Interior of the Czech Republic, grant project VI20152019011.
About this article
Cite this article
Smetana, M., Ludvík, J. Between war and peace: a dynamic reconceptualization of "frozen conflicts". Asia Eur J 17, 1–14 (2019). https://doi.org/10.1007/s10308-018-0521-x