Abstract
The European Union (EU)'s trade strategy has changed since 2015 with the re-introduction of human rights and the EU's refusal to grant China Market Economy Status. The questions under investigation here are what were the drivers of EU-China trade before the strategic turn and what consequences could the new EU strategy bring about in the relationship. The paper will draw from 16 interviews with think tanks and policy makers carried out in Beijing and Brussels in 2015 to uncover the Chinese perceptions of the EU and its diplomats as well as the preferences that have so far pushed China to make the EU one of its first trade partners. This work concludes that in order for the EU-China trade relationship to keep functioning, the new EU strategy towards China needs to keep human rights as an issue separated from trade, needs to boost knowledge and legislation transfers on sensitive issues like food safety and environmental management and finally needs to keep the "European way" of dealing with trade frictions and disputes with China.
This is a preview of subscription content, log in to check access.
Access options
Buy single article
Instant access to the full article PDF.
US$ 39.95
Tax calculation will be finalised during checkout.
Subscribe to journal
Immediate online access to all issues from 2019. Subscription will auto renew annually.
US$ 99
Tax calculation will be finalised during checkout.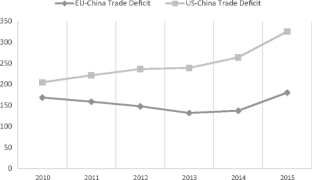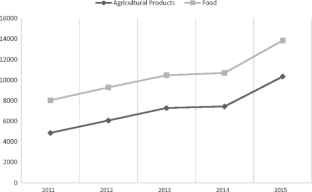 Notes
1.

Since the election of Donald Trump, the TTIP project has been buried. However, this does not take away the EU's initial intention to turn away from the multilateral WTO organization and towards its American partner to initiate trade standards.

2.

The EU is currently working on a China-specific calculation methodology that would allow it to recognize China's market economy status without giving China the full benefits linked to the status.

3.

In practice, there were five occurrences of the word "human rights" in the European Commission document "A Maturing Partnership: Shared interests and Challenges in EU-China relations" in 2003, four occurrences in "EU-China: Closer Partners, Growing Responsibilities" in 2006 against 16 occurrences of the word in the new strategy edited in 2016.

4.

In order to make the comparison easier, the figures for the USA were translated into euros using the average dollar-euro exchange rate of the year 2013.

5.

6.

7.

These include on the Chinese side, the Chinese Ministry of Commerce (MOFCOM), the Chinese Academy of Social Sciences, China Institute of Contemporary International Relations, Renmin University, the China Institute of International Studies; on the European side, DG Trade, DG Environment, the European External Action Service, and the EU delegation to China.

8.

PM 2.5 particles are half the size of a micron and are therefore able to travel deep into the respiratory system. They are proven to have severe adverse effects on human health if the exposure is long term.

9.

Chai Jing, a famous former TV presenter on CCTV released "Under the Dome", a documentary on China's environmental problems. It targets major state-owned companies as well as different ministries and institutions. The movie remained online 4 days before being taken off by Chinese authorities in February 2015. It has been viewed over 300 million times.

10.

These are far from being isolated incidents. For example, for the sole year of 2011, China had to face scandals on pork meat, beef meat, recycled out-of-date food, fake beef and cat meat.

11.

Dumping takes place when a product is sold at a price that is lower than the production costs. It is an illegal practice in international trade law (Article IV of the Uruguay Round agreement, 1994). However, the WTO does not regulate how a country or organization like the EU establishes that there has been dumping on a product or not. It is up to each entity to establish its own procedure.

12.

As aforementioned, international trade law allow governments and organizations like the EU to put in place counter measures (under the form of quotas or duties) in case the anti-dumping investigation establishes that a product is being dumped by another party

13.

In his three-page June 2013 speech, he repeated five times his preference for a negotiated solution with the Chinese over an application of the higher tariffs

14.

This case was solved at the WTO on 18.12.2014 and gave reason to China. In this case against the USA, China filed a complaint against the procedure through which the USA establishes that a product is being dumped in its market.

15.

China launched an anti-dumping inquiry on European wine sales to China on the 5th of June 2013, 1 day after De Gucht's intervention explaining the EU's intention to impose tariffs on Chinese solar panel exports in case the agreement was not reached by August. The trade probe was dropped by China once the two parties agreed on a deal.
References
China Daily (2016) European Commission still undecided on China market economy status. 21rst of July 2016, available on the following link: http://www.chinadaily.com.cn/world/cn_eu/2016-07/21/content_26163769.htm, retrieved on the 24.08.2016

Dai B. (2010) State Councillor Dai Bingguo: agreeing on China's path to peaceful development. Website of the Chinese Ministry of Foreign Affairs (Wai Jiao Bu Wang Zhan), 6th of December 2010, [戴秉国:"中国国务委员戴秉国:坚持走和平发展道路",外交部网站,2010年12月 6日], Available on the following link: http://www.gov.cn/ldhd/2010-12/06/content_1760381.htm, retrieved 12/01/2016

Economy E (2014) Environmental governance in China: state control to crisis management. Daedalus 143(2):184–197

Eglin M (1997) China's entry into the WTO with a little help from the EU. Int Aff 73(3):439–508

European Commission (2003) A maturing partnership—shared interests and challenges in EU-China relations. Commission Policy Paper For Transmission to the Council and the European Parliament, COM (2003) 533 final

European Commission (2006) EU-China: closer partners, growing responsibilities. COM (2006) 631 final

European Commission (2013a) EU-China 2020 Strategic Agenda for Cooperation. [Electronic document], https://eeas.europa.eu/china/docs/eu-china_2020_strategic_agenda_en.pdf

European Commission (2013b) EU imposes provisional anti-dumping tariffs on Chinese solar panels. Press Release, IP/13/501

European Commission (2014) Fact sheet: facts and figures on EU-China trade. [Electronic document], http://www.trade.ec.europa.eu/doclib/html/144591.htm

European Commission (2015) Trade for all: towards a more responsible trade and investment policy. 14.10.2015. Available on the following link: http://trade.ec.europa.eu/doclib/docs/2015/october/tradoc_153846.pdf

European Commission (2016a) Joint communication to the European Parliament and the Council: elements for a new EU strategy on China. JOIN (2016) 30 Final

European Commission (2016b) Shared vision, common action: a stronger Europe, a global strategy for the European Union's foreign and security policy. June 2016, available on the following link: https://eeas.europa.eu/top_stories/pdf/eugs_review_web.pdf

Grevi, G (2010) Making EU strategic partnerships effective. FRIDE, Working Paper N°105. Available on the following link: http://www.fride.org/download/WP105_Making_EU_Strategic_ENG_dic10.pdf

Holstag J (2011) The elusive axis: assessing the EU-China strategic partnership. J Common Mark Stud 49(2):293–313

Kinzelbach K, Thelle H (2011) Taking human rights to China: the EU's approach. China Q 205:60–79

Morrison WM (2014) "China-US Trade Issues", Report RL33536, Congressional Research Service. https://fas.org/sgp/crs/row/RL33536.pdf

Pan, Z (2012) Conceptual gaps in China-EU relations: global governance, human rights and strategic partnerships. Palgrave Macmillan

Perry E (2014) Growing pains: challenges for a rising China. Daedalus 143(2):5–13

Sautenet A (2007) The current status and prospects of the 'strategic partnership' between the EU and China: towards the conclusion of a partnership and cooperation agreement. Eur Law J 13(6):699–731

Shambaugh D (2008) China eyes Europe in the world: real convergence or cognitive dissonance. In: Shambaugh D, Sandschneider E, Hong Z (eds) China-Europe relations: perceptions, policies and prospects. Routledge, London, pp 127–147

Xi J (2014) Speech at the College of Europe, 01.04.2014, English Transcript Available on the Following link: https://www.coleurope.eu/system/files_force/speech-files/speech_by_xi_jinping.pdf?download=1, retrieved on the 12.01.2017

Zhou Q (2005) Conflicts over human rights between the US and China. Human Rights Q 27:105–124
Acknowledgements
I would like to thank Professor T. Christiansen and R. Maher and the RSCAS for organizing the conference "China's rise and the EU's response" which led to this special issue. I am particularly grateful for the feedback and advice given by R. Maher and M. Lestra on the initial drafts of this article.
About this article
Cite this article
Brugier, C.M. The EU's trade strategy towards China: lessons for an effective turn. Asia Eur J 15, 199–212 (2017). https://doi.org/10.1007/s10308-017-0475-4
Keywords
European Union

World Trade Organization

Solar Panel

Strategic Partnership

Trade Dispute