Abstract
Due to global climate change, the Arctic is losing its ice cover with two expected economic consequences: new accessible natural resource reserves and opening maritime routes are anticipated to become accessible. As a result, the Arctic is expected to transform into a globally important geoeconomic space. The article approaches the geoeconomic Arctic by asking whether this transformation is plausible and forthcoming. In particular, the article analyzes critically practical challenges for Arctic economic development as well as geopolitical challenges to the region as a favourable investment and operating environment. The article concludes that while the Arctic will develop economically, the pace and scope of developments are likely to remain moderate due to complex challenges, and that the geoeconomic importance of the region may be exaggerated. Furthermore, external geopolitical dynamics can hinder the realization of the geoeconomic potential of the Arctic. Due to various spill-over effects, illustrated by the crisis in Ukraine, the Arctic is not necessarily as stable an investment and operating environment as often assumed.
Access options
Buy single article
Instant access to the full article PDF.
USD 39.95
Price excludes VAT (USA)
Tax calculation will be finalised during checkout.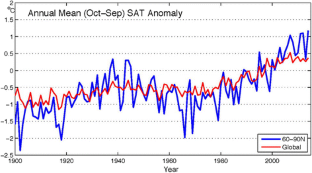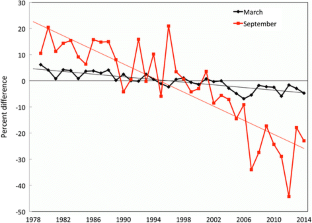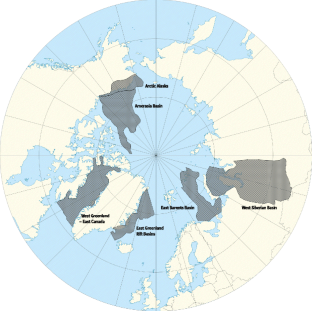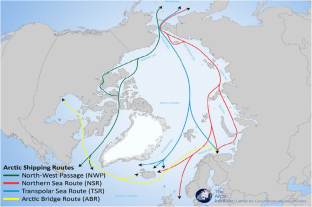 Notes
This stems not only from its 'hybrid warfare' in Ukraine but also more broadly from Russia's dismissal of various international norms and commitments, such as European security infrastructure based on principles agreed upon in the 1975 Conference on Security and Co-operation in Europe; the security assurances to Ukraine agreed upon in the 1994 Budapest Memorandum; conventional and nuclear arms limitation frameworks; and best practices of conducting military exercises.

These include, for example, the re-opening of various military bases and the establishment of a new strategic military command in the region. The securing of the Arctic was also highlighted in Russia's new 2014 military strategy. For a previous discussion, see Zysk (2011).

See e.g. a comment by the former US Secretary of State Hillary Clinton in Peritz (2014).

Russia has also introduced counter-sanctions on the import of food products from western markets.
References
Alaska Arctic Policy Commission (AACP) (2015) AAPC final report, http://www.akarctic.com/wp-content/uploads/2015/01/AAPC_final_report_lowres.pdf, 30 January 2015. Accessed 15 June 2015

AMSA (2009) Arctic marine shipping assessment 2009 Report, Arctic Council, http://www.arctic.gov/publications/AMSA_2009_Report_2nd_print.pdf

Arctic Council (2013) The Kiruna Declaration. http://www.arctic-council.org/index.php/en/document-archive/category/425-maindocuments-from-kiruna-ministerialmeeting, 15 May 2013. Accessed 7 Nov 2014

Baker P and Higgins A (2014) U.S. and European sanctions take aim at Putin's economic efforts, International NY Times, 12 September 2014, http://www.nytimes.com/2014/09/13/world/europe/european-union-details-tightened-sanctions-against-russia.html?_r=0. Accessed 9 October 2014

Baker P, Cowell A and Kanter J (2014) Coordinated sanctions aim at Russia's ability to tap its oil reserves, International NY Times, 29 July 2014, http://www.nytimes.com/2014/07/30/world/europe/european-sanctions-russia.html. Accessed 14 October 2014

Bergh K (2012) The Arctic policies of Canada and the United States: domestic motives and international context, SIPRI Insights on Peace and Security No. 2012/1, July 2012. Stockholm International Peace Research Institute

Borgerson S (2013) The coming Arctic boom: as the ice melts, the region heats up, Foreign Affairs, July/August 2013

Brigham LW (2011) The challenges and security issues of Arctic marine transport. In: Kraska J (ed) Arctic security in an age of climate change. Cambridge University Press, Cambridge

Brigham LW (2013) Arctic marine transport driven by natural resource development, Baltic Rim Economies: Special Issue on the Future of the Arctic, no. 2, 27 March 2013

Budzik P (2009) Arctic oil and natural gas potential. U.S. Energy Information Administration, October 2009

Buixadé Farréa A et al (2014) Commercial Arctic shipping through the Northeast Passage: routes, resources, governance, technology, and infrastructure. Polar Geography, DOI

Byers M (2013) International law and the Arctic. Cambridge University Press, Cambridge

Carney J (2014) Ukraine in the White House Daily Press Briefing, The Embassy of the United States: Kiev, Ukraine, 3 April 2014, http://ukraine.usembassy.gov/statements/wh-ukraine-04032014.html. Accessed 29 October 2014

Claes DH, Moe A (2014) Arctic petroleum resources in a regional and global perspective. In: Tamnes R, Offerdal K (eds) Geopolitics and security in the Arctic: regional dynamics in a global world. Routledge, New York

Conley H (2014) America's new foreign policy frontier, Polar Initiative Policy Brief Series, Wilson Center

DNV (2013) Winterization for cold climate operations (Tentative), Offshore standard DNV-OS-A201, Det Norske Veritas AS

EIA (2014) China, U.S. Energy Information Administration, 4 February, 2014

Farchy J (2014) Russian oil: between a rock and a hard place, Financial Times, 29 October 2014, http://www.ft.com/intl/cms/s/2/fc354a6a-5dcb-11e4-b7a2-00144feabdc0.html#axzz3I5AW2rej. Accessed 11 November 2014

Funk M (2014) The wreck of the Kulluk, The New York Times, 30 December 2014, http://www.nytimes.com/2015/01/04/magazine/the-wreck-of-the-kulluk.html?_r=0. Accessed 11 February 2015

Garcés de los Fayos F (2015) The outcome of the ninth Arctic Council ministerial meeting, European Parliament, Directorate-General for External Policies, Policy Department, http://www.europarl.europa.eu/RegData/etudes/ATAG/2015/549036/EXPO_ATA(2015)549036_EN.pdf. Accessed 26 May 2015

Global News (2015) Russian foreign minister to miss Canada's final Arctic Council meeting, Global News, 12 April 2015, http://globalnews.ca/news/1934246/russian-foreign-minister-to-miss-canadas-final-arctic-council-meeting/. Accessed 14 April 2015

Gotkowska J (2014) Norway and the bear, Centre for Eastern Studies, OSW

Government of Canada (2014) Canada takes principled stand on Arctic council meetings, 15 April 2014, http://www.international.gc.ca/media/arctic-arctique/news-communiques/2014/04/15a.aspx?lang=eng. Accessed 29 October 2014

Grady J (2014) Former Coast Guard commandant: US and Russia working together in Arctic, US Naval Institute News, 30 September 2014, http://news.usni.org/2014/09/30/former-coast-guard-commandant-u-s-russia-working-together-arctic. Accessed 28 October 2014

Hahl M (2013) What's next in the Arctic?, Baltic Rim Economies: Special Issue on the Future of the Arctic, no. 2, 27 March 2013, http://www.utu.fi/fi/yksikot/tse/yksikot/PEI/BRE/Documents/2013/BRE%202-2013%20web.pdf. Accessed 6 September 2014

Hart A, Jones B and Steven D (2012) Chill out: why cooperation is balancing conflict among major powers in the new Arctic, The Brookings Institution, May 2012

Heikkilä E (2012) Katainen: Arktinen osaaminen on uusi Nokia, YLE, 27 November 2012, http://yle.fi/uutiset/katainen_arktinen_osaaminen_on_uusi_nokia/6393407. Accessed 20 May 2015

Hilde PS (2014) Armed forces and security challenges in the Arctic. In: Tamnes R, Offerdal K (eds) Geopolitics and security in the Arctic: regional dynamics in a global world. Routledge, New York

Humpert M (2013) The future of Arctic shipping: a new silk road for China? The Arctic Institute

Humpert M (2014) Arctic shipping: an analysis of the 2013 Northern Sea Route season. The Arctic Institute

Humpert M and Raspotnik A (2012) The future of Arctic shipping, The Arctic Institute, http://www.thearcticinstitute.org/2012/10/the-future-of-arctic-shipping.html

Humrich C and Wolf K.D (2012) From meltdown to showdown? Challenges and options for governance in the Arctic, PRIF Report No. 113, Peace Research Institute Frankfurt.

IEA (2012) World Energy Outlook 2012, International Energy Agency

IPCC (2013) Climate change 2013: the physical science basis, Intergovernmental Panel on Climate Change

Jakobson L and Peng J (2012) China's Arctic aspirations, SIPRI Policy Paper No. 34, November 2012, Stockholm International Peace Research Institute

Keil K (2013) The questionable Arctic bonanza—exaggerated hopes and false images of the Arctic as 'prime real estate', The Arctic Institute, 4 September 2013, http://www.thearcticinstitute.org/2013/09/the-questionable-arctic-bonanza.html. Accessed 17 August 2014

Kerr RA (2012) Ice-free arctic sea may be years, not decades, away. Science 337(6102):1591

Klimenko E (2013) Interdependence, not sovereignty, is the key to the development of Russia's Arctic region, SIPRI Essay, October 13, 2013. Stockholm International Peace Research Institute

Larusson E (2014) Commercial or political interests: oil and gas in the Russian Arctic. UIPaper No. 7, The Swedish Institute of International Affairs

Le Miére C (2014) Ukraine brings cool wind to the Arctic, IISS Voices, 20 September 2014, International Institute for Strategic Studies, http://www.iiss.org/en/iiss%20voices/blogsections/iiss-voices-2014-b4d9/september-2f2a/ukraine-arctic-9239. Accessed 28 October 2014

Lloyd's (2012) Arctic opening: opportunity and risk in the High North, London: Chatham House. http://www.lloyds.com/%7E/media/Files/News%20and%20Insight/360%20Risk%20Insight/Arctic_Risk_Report_20120412.pdf. Accessed 7 September 2014

Luttwak EN (1990) From geopolitics to geo-economics: logic of conflict, grammar of commerce. The National Interest 20:17–24

Marson J (2012) Gazprom postpones development of Shtokman field, Wall Street Journal, August 30, 2012, http://online.wsj.com/article/SB10000872396390444914904577620733220528246.html. Accessed 11 November 2014

Nan X and Anker M (2012) Prospects for liquefied natural gas (LNG) in the Arctic, Pöyry Working Paper WP-2012-005

Nilsen T (2014) Discovers Kara Sea oil a week before sanctions hit, Barents Observer, 29 September 2014, http://barentsobserver.com/en/energy/2014/09/discovers-kara-sea-oil-week-sanctions-hit-29-09. Accessed 8 April 2015

Nilsen T (2014) Complicated geopolitics should not affect Barents cooperation, Barents Observer, 10 September 2014, http://barentsobserver.com/en/politics/2014/09/complicated-geopolitics-should-not-affect-barents-cooperation-10-09. Accessed 28 October 2014

Nilsen T (2015) Sanctions have cost ExxonMobil $1bn, Barents Observer, 3 March 2015, http://barentsobserver.com/en/energy/2015/03/sanctions-have-cost-exxonmobil-1bn-03-03. Accessed 8 April 2015

NOOA (2014) Arctic Report Card: update for 2014, National Oceanic and Athmospheric Administration, http://www.arctic.noaa.gov/reportcard/. Accessed 26 May 2015

NSRIO (2013) NSR Transit 2013, Northern Sea Route Information Office, http://www.arctic-lio.com/docs/nsr/transits/Transits_2013_final.pdf. Accessed 26 May 2015

NSRIO (2014) List of NSR transit voyages in 2014 navigational season, Northern Sea Route Information Office, http://www.arctic-lio.com/docs/nsr/transits/Transits_2014.pdf. Accessed 26 May 2015

O'Rourke R (2015) Changes in the Arctic: background and issues for congress, Congressional Research Service, https://www.fas.org/sgp/crs/misc/R41153.pdf. Accessed 6 March 2015

Offerdal K (2014) Interstate relations: the complexities of Arctic politics. In: Tamnes R, Offerdal K (eds) Geopolitics and security in the Arctic: regional dynamics in a global world. Routledge, New York

Peritz I (2014) Hillary Clinton warns Montreal crowd of Russia's increased activity in Arctic, The Globe and Mail, 18 March 2014, http://www.theglobeandmail.com/news/politics/clinton-warns-montreal-crowd-of-russias-increased-activity-in-arctic/article17560676/. Accessed 21 March 2015

Pettersen T (2013) China starts commercial use of Northern Sea Route, Barents Observer, 14 March 2013, http://barentsobserver.com/en/arctic/2013/03/china-starts-commercial-use-northern-sea-route-14-03. Accessed 14 September 2014

Pettersen T (2014) USA cancels joint exercises with Russia, Barents Observer, 05 March 2014, http://barentsobserver.com/en/security/2014/03/usa-cancels-joint-exercises-russia-05-03. Accessed 28 October 2014

Pettersen T (2014) Northern Sea Route traffic plummeted, Barents Observer, 16 December 2014, http://barentsobserver.com/en/arctic/2014/12/northern-sea-route-traffic-plummeted-16-12. Accessed 7 February 2015

Polyak L et al (2010) History of sea ice in the Arctic. Quat Sci Rev 29:1757–1778

Rosen Y (2014) U.S.-Russia tensions create worries for Arctic scientists, Alaska Dispatch News, 9 May 2014, http://www.adn.com/article/20140509/us-russia-tensions-create-worries-arctic-scientists. Accessed 29 October 2014

Sputnik International (2015) US representative for Arctic to visit Russia January, 16 January 2015, http://sputniknews.com/russia/20150116/1016992729.html. Accessed 20 March 2015

Staalesen A (2015) Risks too high with Rosneft, Norwegian drillmen say, Barents Observer, 27 February 2015, http://barentsobserver.com/en/energy/2015/02/risks-too-high-rosneft-norwegian-drillmen-say-27-02. Accessed 8 April 2015

Staun J (2015) Russia's strategy in the Arctic, Royal Danish Defence College

Synberg K (2013) Russia and the Arctic, Baltic Rim Economies: special issue on the future of the Arctic, no. 2, 27 March 2013. http://www.utu.fi/fi/yksikot/tse/yksikot/PEI/BRE/Documents/2013/BRE%202-2013%20web.pdf. Accessed 25 May 2015

Tamnes R, Holsmark SG (2014) The geopolitics of the Arctic in historical perspective. In: Tamnes R, Offerdal K (eds) Geopolitics and security in the Arctic: regional dynamics in a global world. Routledge, New York

The Economist (2012) The melting north: Special Report, June 16, 2012, http://www.economist.com/node/21556798. Accessed 16 October 2014

The Ilullissat Declaration (2008), http://www.oceanlaw.org/downloads/arctic/Ilulissat_Declaration.pdf. Accessed 6 November 2014

Tonami A (2014) Arctic policies of Japan, South Korea, and Singapore, Polar Initiative Policy Brief Series, September 2014, Wilson Center, http://www.wilsoncenter.org/sites/default/files/FINAL%20CI_140915_Tonami_brief_v1.pdf. Accessed 11 March 2015

UNCLOS (1982) United Nations Convention on the Law of the Sea, http://www.un.org/depts/los/convention_agreements/texts/unclos/unclos_e.pdf. Accessed 5 November 2014

USGS (2008) Circum-arctic resource appraisal: estimates of undiscovered oil and gas north of the Arctic Circle, http://pubs.usgs.gov/fs/2008/3049/fs2008-3049.pdf. Accessed 15 June 2015

Vihma A (2013) The shale gas boom: the global implications of the rise of unconventional fossil energy, FIIA Briefing Paper 122, The Finnish Institute of International Affairs, http://www.fiia.fi/en/publication/319/the_shale_gas_boom/. Accessed 6 January 2015

Young OR (2009) Whither the Arctic? Conflict or cooperation in the Circumpolar North. Polar Rec 45(232)

Zysk K (2011) Military aspects of Russia's Arctic policy: hard power and natural resources. In: Kraska J (ed) Arctic security in an age of climate change. Cambridge University Press, Cambridge
About this article
Cite this article
Käpylä, J., Mikkola, H. The promise of the geoeconomic Arctic: a critical analysis. Asia Eur J 14, 203–220 (2016). https://doi.org/10.1007/s10308-015-0447-5
Published:

Issue Date:

DOI: https://doi.org/10.1007/s10308-015-0447-5
Keywords
Arctic Ocean

Continental Shelf

Maritime Transport

Arctic State

Arctic Council