Abstract
The debt crisis in several member states of the euro area has raised doubts on the viability of the European Economic and Monetary Union (EMU) and the future of the euro. While the launch of the euro in 1999 stirred a lot of interests in regional monetary integration and even monetary unification in various parts of the world, including East Asia, the current crisis has had the opposite effect, even raising expectations of a break-up of the euro area. Indeed, the crisis has highlighted the problems and tensions that will inevitably arise within a monetary union when imbalances build up and become unsustainable. This article discusses the causes of the current European crisis and the challenges that EMU countries face in solving it. Based on this analysis, it derives five lessons for regional financial and monetary cooperation and integration in East Asia.
Access options
Buy single article
Instant access to the full article PDF.
USD 39.95
Price excludes VAT (USA)
Tax calculation will be finalised during checkout.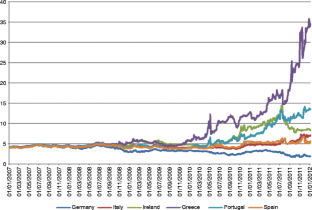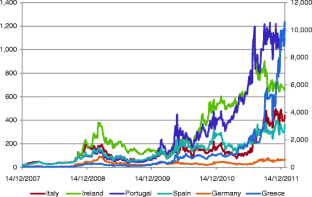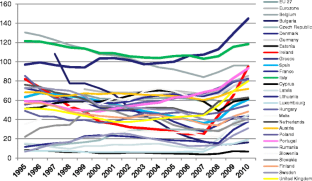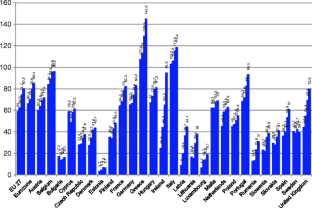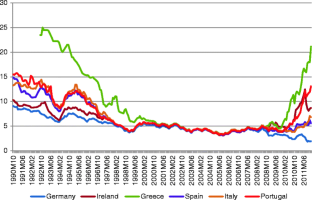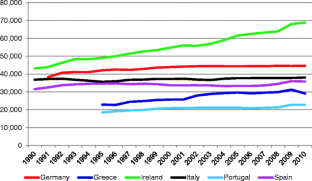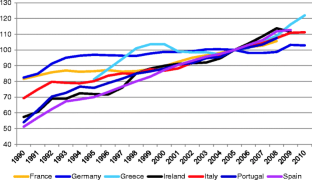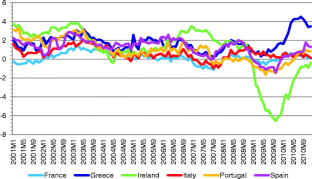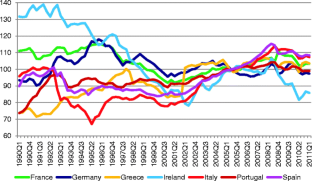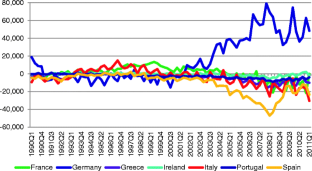 Notes
The fact that the Nordic countries Denmark, Finland, Norway and Sweden are among the countries with the most generous and comprehensive social security systems (not only in Europe but in the world) but have sound public finances with relatively low debt-to-GDP ratios and are not affected by the crisis speaks for itself.

According to Darvas (2011), the balance sheet of Irish-owned banks was 3.7 times the GDP in 2007; including international banks residing in Ireland, the ratio was 7.1 times the Irish GDP. Darvas cites figures from the Central Bank of Ireland according to which the total liabilities of the credit institutions resident in Ireland were €1,446 billion in September 2008, of which €787 billion was the liability of domestic banks. See Regling and Watson (2010) and McMahon (2010) for comprehensive analyses of the causes of Ireland's banking crisis.

The SGP requires EU member countries to have an annual budget deficit no higher than 3 % of GDP and a national debt lower than 60 % of GDP or approaching that value.

This problem was highlighted by Buiter and Siebert (2005), who pointed out that the ECB's open market operations created moral hazard by not discriminating sovereign risk within the eurozone.

Indeed, as discussed earlier, the level of debt in Spain was below the eurozone average in 2010.

Indeed, the European Union's medium-term financial assistance facility, which was originally designed in 1970 to deal with balance of payment problems of all member states of the European Community/EU, has since 1999 been restricted to non-euro area member states only, that is, its members are all EU member countries which have not adopted the euro (Bulgaria, Czech Republic, Denmark, Estonia, Latvia, Lithuania, Hungary, Poland, Romania, Sweden and the UK). Cf. McKay et al. (2010).

Article 123, §1 states: "Overdraft facilities or any other type of credit facility with the European Central Bank or with the central banks of the Member States (hereinafter referred to as 'national central banks') in favour of Union institutions, bodies, offices or agencies, central governments, regional, local or other public authorities, other bodies governed by public law, or public undertakings of Member States shall be prohibited, as shall the purchase directly from them by the European Central Bank or national central banks of debt instruments."

A similar view was expressed by Standard & Poor's (2012), the rating agency, when it downgraded nine euro area countries in January 2012: "[T]he effectiveness, stability, and predictability of European policymaking and political institutions have not been as strong as we believe are called for by the severity of a broadening and deepening financial crisis in the eurozone."

For an analysis and discussion of different forms of currency baskets and their effects on East Asian countries' real exchange rates, see Volz (2010).

The Single Market and Production Base is part of the plan for creating the ASEAN Economic Community (AEC), the details of which are outlined in the AEC Blueprint (ASEAN 2008) that was formally approved the ASEAN heads of state/government in November 2007. Plummer (2010: 15) remarks that most concrete measures projected in the AEC Blueprint "really refer to concerted efforts to develop national capital markets, rather than any grandiose regionally-integrated market". For a discussion of ASEAN financial integration in the light of the European experiences see Volz (2013).

For an overview of various initiatives to promote bond market development in the region, see for instance, Schou-Zibell (2008).

Steps towards the creation of European supervisory authorities to help oversee Europe's financial sector from a pan-European perspective were taken only in late 2008, when the president of the European Commission mandated a high-level expert group on financial supervision in the EU. The expert group, led by Jacques de Larosière, proposed three new supervisory authorities, which were established in November 2010 and started operation in January 2011: the European Banking Authority (EBA) based in London, the European Securities and Markets Authority based in Paris and the European Insurance and Occupational Pensions Authority based in Frankfurt. These three supervisory authorities were complemented by the creation of the European Systemic Risk Board, which is responsible for the macroprudential oversight of the financial system within the EU and which has a secretariat hosted by the ECB.

On the issue of subsidiary, see Plummer (2010, pp. 16–17).

While macroprudential regulation to deal with capital inflows is particularly important in a monetary union where interest rate and exchange rate policy cannot be used at all to address the buildup of bubbles (e.g. Spain), it is also crucial for any kind of fixed exchange rate system where monetary policy independence is constrained (e.g. China). For macroprudential supervision and regulation across Asia, see Kawai (2011, p. 123 ff.).

AMRO was incorporated under Singaporean corporate law, and its planned transformation into an organisation with an international legal entity will certainly help AMRO to attract qualified staff.

The IMF used to receive a lot of criticism, not least from Asia, for being intransparent, which hurt the Fund's credibility.

Plummer (2010, p. 19) remarks that "[t]here are a sufficient number of critical issues of high priority in Asia but that are lower in importance at the global level, and vice versa, to justify an institutional cooperative structure such as the AFSD."

To strengthen the financial system, it will be of course important to also regulate the shadow banking system, which played a major role in the global financial crisis. For proposals for regulating the shadow banking system, see Gorton and Metrick (2010).

The 11 countries are: Austria, Belgium, Estonia, France, Germany, Greece, Italy, Portugal, Slovakia, Slovenia and Spain. On the effects of a FTT on financial stability and growth in Europe, see Griffith-Jones and Persaud (2012).
References
ADB (2008) Emerging Asian regionalism: a partnership for shared prosperity. Asian Development Bank, Manila

ADB (2010) Institutions for regional integration: toward an Asian economic community. Asian Development Bank, Manila

Admati AR, Hellwig M (2013) The bankers' new clothes: what's wrong with banking and what to do about it. Princeton University Press, Princeton

Admati AR, DeMarzo PM, Hellwig MF, Pfleiderer P (2011) Fallacies, irrelevant facts, and myths in the discussion of capital regulation: why bank equity is not expensive. The Rock Center for Corporate Governance Working Paper No. 86, Stanford University, Stanford, CA

ASEAN (2008) ASEAN Economic Community blueprint, ASEAN Secretariat, Jakarta (http://www.asean.org/archive/5187-10.pdf). Accessed 7 June 2013

ASEAN+3 Finance Ministers and Central Bank Governors (2012) The joint statement of the 15th ASEAN+3 Finance Ministers and Central Bank Governors' Meeting, Manila, 3 May, (http://www.mof.go.jp/english/international_policy/convention/asean_plus_3/as3_120503.pdf). Accessed 7 June 2013

Azis IJ (2013) Inadequate regional financial safety nets reflect complacency. ADBI Working Paper 411, Asian Development Bank Institute, Tokyo

Bergsten CF, Kirkegaard JF (2012) The coming resolution of the european crisis, policy briefs PB12–1. Peterson Institute for International Economics, Washington DC

Buiter WH, Siebert A (2005) How the Eurosystem's treatment of collateral in its open market operations weakens fiscal discipline in the eurozone (and what to do about it). CEPR Discussion Paper No. 5387, Centre for Economic Policy Research, London

Calvo GA (1998) Capital flows and capital-market crises: the simple economics of sudden stops. J Appl Econ 1(1):35–54

Chabchitrchaidol A (2012) AMRO's role in regional economic surveillance and promoting regional economic and financial stability. In: Volz U (ed) Financial stability in emerging markets: dealing with global liquidity. German Development Institute, Bonn, pp 65–69

Darvas Z (2011) A tale of three countries. Recovery after banking crisis. Bruegel Policy Contribution No. 2011/19, Bruegel, Brussels

Delpla J, von Weizsäcker J (2011) Eurobonds: the blue bond concept and its implications. Bruegel Policy Contribution No. 2011/02, Bruegel, Brussels

FitzGerald J, Kearney I (2011) Irish government debt and implied debt dynamics 2011–2015. Quarterly Economic Commentary, Autumn, Economic and Social Research Institute, Dublin

Fujii M, Kawai M (2010) Lessons from Japan's banking crisis, 1991-2005. ADBI Working Paper No. 222, Asian Development Bank Institute, Tokyo

Gorton G, Metrick G (2010) Regulating the shadow banking system. Brookings Papers on Economic Activity, Fall, pp. 261–297

Griffith-Jones S, Persaud A (2012) Financial transaction taxes. Study written for the European Parliament (http://www.europarl.europa.eu/document/activities/cont/201202/20120208ATT37596/20120208ATT37596EN.pdf). Accessed 7 June 2013

Henning CR (2002) East Asian financial cooperation. Policy analyses in international economics 68. Institute for International Economics, Washington DC

Henning CR (2011) Coordinating regional and multilateral financial institutions. PIIE Working Paper No. 11–9, Peterson Institute for International Economics, Washington DC

Jonung L (2009) The Swedish model for resolving the banking crisis of 1991–93. Seven reasons why it was successful. Economic Papers No. 360, DG ECFIN, European Commission, Brussels

Kawai M (2008) Toward a regional exchange rate regime in East Asia. Pac Econ Rev 13(1):83–103

Kawai M (2009) The role of an Asian currency unit. In: Hamada K, Reszat B, Volz U (eds) Towards monetary and financial integration in East Asia. Edward Elgar, Cheltenham, pp 304–322

Kawai M (2010) East Asian financial co-operation and the role of the ASEAN+3Macroeconomic research office. In: Volz U, Caliari A (eds) Regional and global liquidity arrangements. German Development Institute, Bonn, pp 50–56

Kawai M (2011) G-20 financial reforms and emerging Asia's challenges. In: Derviş K, Kawai M, Lombardi D (eds) Asia and policymaking for the global economy. Brookings Institution Press, Washington DC, pp 105–150

Lombardi D (2010) Financial regionalism: a review of the issues. Brookings Institution, Washington DC

Mayer T (2011) Euroland's hidden balance-of-payments crisis. EU Monitor 88, Deutsche Bank Research, 26 October, Frankfurt am Main

McKay J, Volz U, Wölfinger R (2010) Regional financing arrangements and the stability of the international monetary system. DIE Discussion Paper No. 13/2010, German Development Institute, Bonn

McMahon J (2010) The Irish banking crisis: lessons learned, future challenges. Address to Mazars Banking Conference, 26 May (http://www.centralbank.ie/press-area/speeches%5CPages%5CAddresstoMazarsBankingConference,2010byJonathanMcMahon,AssistantDirectorGeneral,FinancialInstitutionsSupervision,CentralBan.aspx). Accessed 7 June 2013

Mersch Y (2011) Optimal currency area revisited. Pierre Werner Lecture at the European Institute, Florence, 26 October (http://www.bis.org/review/r111027b.pdf). Accessed 7 June 2013

Ogawa E, Ito T (2002) On the desirability of a regional basket currency arrangement. J Japan Int Econ 16(3):317–334

Ortiz (2011) It's too early for a Brady Plan for Greece. Financial Times, 22 November

Ostry JD, Ghosh AR, Habermeier K, Chamon M, Qureshi MS, Reinhardt DBS (2010) Capital inflows: the role of controls. IMF Staff Position Note No. 10/04, International Monetary Fund, Washington DC

Ostry JD, Ghosh AR, Habermeier K, Laeven L, Chamon M, Qureshi MS, Kokenyne A (2011) Managing capital inflows: what tools to use? Staff Discussion Note No. 11/06, International Monetary Fund, Washington DC

Plummer MG (2010) Regional monitoring of capital flows and coordination of financial regulation: stakes and options for Asia. ADBI Working Paper No. 201, Asian Development Bank Institute, Tokyo

Standard & Poor's (2012) Factors behind our rating actions on eurozone sovereign governments. 13 January (http://www.standardandpoors.com/ratings/articles/en/us/?articleType=HTML&assetID=1245327305715). Accessed 7 June 2013

Regling K, Watson M (2010) A preliminary report on the sources of Ireland's banking crisis. Report commissioned by the Minister for Finance of Ireland, May (http://www.bankinginquiry.gov.ie/Preliminary%20Report%20into%20Ireland's%20Banking%20Crisis%2031%20May%202010.pdf). Accessed 7 June 2013

Reinhart C, Reinhart V (2009) Capital flow bonanzas: an encompassing view of the past and present. In: Frankel J, Pissarides C (eds) NBER international seminar on macroeconomics 2008. University of Chicago Press, Chicago, pp 9–62

Schou-Zibell L (2008) Regional cooperation and the development of bond markets—the Asian experience. In: Volz U (ed) Financial innovation and emerging markets. Opportunities for growth vs. risks for financial stability. InWEnt, Berlin, pp 127–144

Suarez J (2010) The Spanish crisis: background and policy challenges. CEPR Discussion Paper No. 7909, Centre for Economic Policy Research, London

Sussangkarn C (2012) The Chiang Mai initiative multilateralization: origin, development and outlook. Asian Econ Policy Rev 6(2):203–220

Turner A (2012) Monetary and financial stability: lessons from the crisis and from classic economics texts. Speech at the South African Reserve Bank, Pretoria, 2 November (www.fsa.gov.uk/static/pubs/speeches/1102-at.pdf). Accessed 7 June 2013

Véron N (2010) European bank stress tests: third time lucky? VoxEU, 20 December (http://www.voxeu.org/index.php?q=node/5947). Accessed 7 June 2013

Véron N (2011) The European debt and financial crisis: origins, options. Congressional Testimony Submitted to the US Senate Committee on Banking, Housing, and Urban Affairs: Subcommittee on Security and International Trade and Finance, 22 September (http://banking.senate.gov/public/index.cfm?FuseAction=Files.View&FileStore_id=9bec6123-d58d-423d-bf17-4fdcb9b113c3). Accessed 7 June 2013

Volz U (2006) On the feasibility of a regional exchange rate system for East Asia: lessons of the 1992/1993 EMS crisis. J Asian Econ 17(6):1107–1127

Volz U (2010) Prospects for monetary cooperation and integration in East Asia. MIT Press, Cambridge

Volz U (2012a) Financial regionalism in East Asia. International Spectator 47(4):95–109

Volz U (2012b) The need and scope for strengthening co-operation between regional financing arrangements and the IMF. DIE discussion paper no. 15/2012, German Development Institute, Bonn

Volz U (2013) ASEAN financial integration in the light of recent European experiences. Journal of Southeast Asian Economies. vol 30 (2) (in press)

Weidmann J (2011) Germany's role in the global economy. Speech at the American Council on Germany, Washington DC, 26 September (http://www.bis.org/review/r110930f.pdf?frames=0). Accessed 7 June 2013

Wyplosz C (2011) A failsafe way to end the eurozone crisis. VoxEU, 26 September (http://voxeu.org/index.php?q=node/7031). Accessed 7 June 2013
Acknowledgments
Helpful comments by Charles Adams, Giovanni Capannelli, Gunter Dufey, Yüksel Görmez, Raffaele De Marchi, Masahiro Kawai, Mario Lamberte, Peter Morgan, Jae-Ha Park, T.N. Srinivasan, Shigeo Kashiwagi and other participants at presentations given at the Asian Development Bank Institute, the Lee Kuan Yew School of Public Policy, the Chinese Academy of Social Sciences, the UN Economic and Social Commission for Asia and the Pacific, the Thailand Development Research Institute and Chulalongkorn University as well as by two anonymous referees are gratefully acknowledged. The usual disclaimer applies.
About this article
Cite this article
Volz, U. Lessons of the European crisis for regional monetary and financial integration in East Asia. Asia Eur J 11, 355–376 (2013). https://doi.org/10.1007/s10308-013-0351-9
Received:

Revised:

Accepted:

Published:

Issue Date:

DOI: https://doi.org/10.1007/s10308-013-0351-9
Keywords