Zusammenfassung
Das Levonorgestrel-Intrauterin-System (LNG-IUS) ist eine innovative intrauterine hormonelle Kontrazeptionsmethode. Die hormonelle Wirkung ist – im Gegensatz zu den hormonellen Kontrazeptiva – lokal begrenzt. Die Sicherheit ist mit einem Pearl-Index von 0,16 sehr hoch. LNG-IUS sind bei jeder Frau mit entsprechenden uterinen Voraussetzungen anwendbar. Die Indikation gilt auch für die Nulliparae, insbesondere auch dann, wenn für andere, systemische oder östrogenhaltige Methoden Kontraindikationen bestehen. Sehr wichtig ist der vorherige klinische Ausschluss von Infektionen. Empfehlenswert ist das Vorliegen eines unauffälligen zytologischen Abstriches, der möglichst nicht älter als 6 Monate sein sollte. Andererseits kann der Abstrich auch mit der Einlage erfolgen, die Patientin ist dann aber darüber aufzuklären, dass im schlimmsten Fall (Konisation) eine Entfernung der Spirale notwendig ist. Eine postpartale Einlage des LNG-IUS wird frühestens nach 6 Wochen empfohlen. Das Stillen wird durch ein LNG-IUS nicht beeinflusst, so dass ein LNG-IUS auch zur Anwendung in der Laktationsperiode geeignet ist. Die Rate an Tubargraviditäten ist bei LNG-IUS niedriger als bei Frauen mit einem Kupfer-IUD oder ohne Kontrazeption. Initiale Blutungsstörungen sind unter LNG-IUS-Anwendung relativ häufig, bedürfen aber meist keiner Therapie. Initial treten auch gehäuft funktionelle Ovarialzysten auf, die sich in den meisten Fällen spontan zurückbilden und keiner weiteren Therapie bedürfen. Nach der Anwendung eines LNG-IUS sind bezüglich der Fertilität keine Nachteile zu erwarten. Für die LNG-IUS gibt es verschiedene weitere Indikation oder positive Nebeneffekte: So wird die Hypermenorrhö (eine zugelassene Indikation für LNG-IUS) mitbehandelt. Aber auch bei Patientinnen, die an einer Endometriose oder Adenomyosis leiden, hat LNG-IUS klinische Vorteile. So werden adenomyosisassoziierte Beschwerden in 70 % der Fälle mit einem LNG-IUS erfolgreich behandelt. Auch in der Perimenopause ist ein LNG-IUS als eine kontrazeptive Methode, die gleichzeitig auch eine Endometriumprotektion bezüglich der häufig auftretenden Endometriumhyperplasien hat, sinnvoll. Das Spektrum der intrauterinen hormonellen Kontrazeption wird mit einem kleineren und noch niedriger dosierten System (Jaydess®) erweitert. Vorteile sind hier vor allem die einfachere Insertion bei Nulliparae sowie die etwas geringere Größe des IUS.
Abstract
Levonogestrel-IUS (LNG-IUS) are an innovative hormonal method of contraception. LNG-IUS have the advantages of oral contraceptives and IUD without specific disadvantages of these methods. The contraceptive safety is very high (Pearl-index = 0.16). LNG-IUS can be used in all woman, if the local uterine conditions are given. It is also possible in nulliparous woman, especially in cases of contraindications of other methods. The exclusion of genital infections is very important. A regular PAP-smear not older than 6 months is necessary. A postpartal use of LNG-IUS is possible 6 weeks after birth. LNG-IUS has no influence to lactation, so it is possible to use LNG-IUS also in the period of lactation. The risk of ectopie pregnancy is in LNG-IUS users lower in comparison to women using CU-IUD or no contraception. Bleeding disorders in the first months of LNG-IUS use occurred often, but a treatment is not necessary. In the first months of use LNG-IUS ovarian cysts occurred more often, but in the most of cases no treatment is necessary because they disappear spontaneously. After use of LNG-IUS no disadvantages for fertility are expected, LNG-IUS has also a place in specific situations because LNG-IUS has a lot of therapeutical side effects. LNG-IUS has labelling and is successfully woman suffering from heavy menstrual bleedings. Also in patients with endometriosis or adenomyosis the use of LNG-IUS has clinical advantages. Adenomyosis associated symptoms will be treated by LNG-IUS with a success rate of 70 %. In the perimenopause LNG-IUS is also a good contraceptive option because the endometrial protection effect is useful also for the prevention and treatment of endometrial hyperplasia. The introduction of low dose IUS (Jaydess®) will extent the spectrum of intrauterine contraception. Advantages of Jaydess® are especially the easier insertion in nulliparous women. In comparison to other contraceptive methods IUS have a lot of advantages.
Access options
Buy single article
Instant access to the full article PDF.
US$ 39.95
Tax calculation will be finalised during checkout.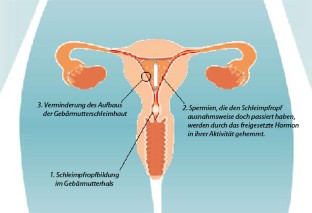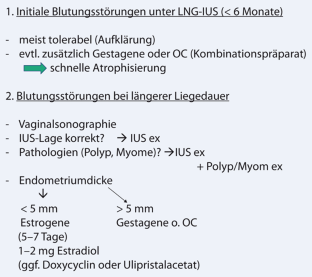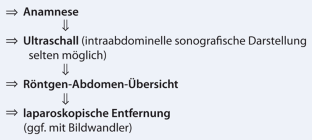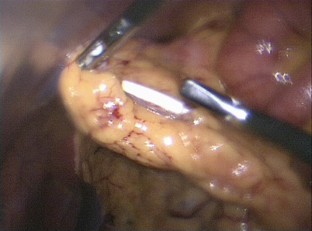 Literatur
1.

Andersson K, Batar I, Rybo G (1992) Return to fertility after removal of a levonorgestrel-releasing intrauterine device and Nova-T. Contraception 46:575–584

2.

Andersson K et al (1994) LNG-releasing and Cu-releasing IUDs during five years of use: a randomized comparative trial. Contraception 49:56–72

3.

Backman T, Rauramo I, Jaakkola K et al (2005) Use of the levonorgestrel-releasing intrauterine system and breast cancer. Obstet Gynecol 106 (4):813–817

4.

Bahamondes MV, Monteiro I, Canteiro R et al (2011) Length of the endometrial cavity and intrauterine contraceptive device expulsion. Int J Gynaecol Obstet 113 (Epub 2011)

5.

Braghetto AM et al (2007) Effectiveness of the levonorgestrel-releasing intrauterine system in the treatment of adenomyosis diagnosed and monitored by magnetic resonance imaging. Contraception 76:195–199

6.

Chin J, Konje JC, Hickey M (2009) Levonorgestrel intrauterine system for endometrial protection in women with breast cancer on adjuvant tamoxifen. Cochrane Database Syst Rev 7:CD007245

7.

Dinger J, Bardenheuer K, Minh TD (2001) Levonorgrestrel-releasing and copper intrauterine devices and the risk of breast cancer. Contraception 83:211–217

8.

Endrikat J, Vilos G, Muysers C et al (2011) The levonorgestrel-releasing intrauterine system provides a reliable, long-term treatment option for women with idiopathic menorrhagia. Arch Gynecol Obstet 8 (Epub ahead of print)

9.

Fachinformation (2010) LNG-IUS Intrauterinpessar mit Hormonabgabe

10.

Gemzell-Danielsson K, Inki P, Boubli L et al (2010) Bleeding pattern and safety of consecutive use of the levonorgestrel-releasing intrauterine system (LNG-IUS) – a multicentre prospective study. Hum Reprod 25:354–359

11.

Gemzell-Danielsson K, Schellschmidt I, Apter D (2012) A randomized, phase II study describing the efficacy, bleeding profile, and safety of two low-dose levonorgestrel-releasing intrauterine contraceptive systems and LNG-IUS. Fertil Steril 97(3):616–622

12.

Göretzlehner G, Römer T, Göretzlehner U (2010) Blutungsstörungen – Neugeborenenperiode bis Postmenopause. De Gruyter, Berlin

13.

Heikinheimo O (2009) Use of the LNG-IUS after delivery and induced abortion. Gynaecology Forum 14:21–24

14.

Heikinheimo O, Inki P, Kunz M et al (2010) Double-blind, randomized, placebo-controlled study on the effect of misoprostol on ease of consecutive insertion of the levonorgestel-releasing intrauterine system. Contraception 81:481–486

15.

Järvelä I et al (1998) The effect of a levonorgestrel-releasing intrauterine system on uterine artery blood flow, hormone concentrations and ovarian cyst formation in fertile women. Hum Reprod 13:3379–3383

16.

Jensen JT et al (2009) Subject and clinician experience with the levonorgestrel-releasing intrauterine system. Contraception 77:22–29

17.

Lukes AS, Reardon B, Arepally G (2008) Use of the levonorgestrel-releasing intrauterine system in women with hemostatic disorders. Fertil Steril 90:673–677

18.

Mansour D, Inki P, Gemzell-Danielsson K (2010) Efficacy of contraceptive methods: a review of the literature. Eur J Contracept Reprod Health Care 15:19–31

19.

Marions L, Lövkvist L, Taube A et al (2011) Use of the levonorgestrel releasing-intrauterine system in nulliparous women – a non-interventional study in Sweden. Eur J Contracept Reprod Health Care 16:126–134

20.

Pakarinen P, Toivonen J, Luukkainen T (2003) Randomized comparison of levonorgestrel- and copper-releasing, intrauterine systems immediately after abortion, with 5 years follow up. Contraception 68:31–34

21.

Peipert JF, Zhao Q, Allswoth JE et al (2011) Continuation and satisfaction of reversible contraception. Obstet Gynecol 117:1105–1113

22.

Römer T (2007) Die Hormonspirale – eine geeignete Verhütungsmethode für Nulliparae. Frauenarzt 48:379–380

23.

Römer T, Linsberger D (2009) User satisfaction with a levonorgestrel-releasing intrauterine system (LNG-IUS): data from an international survey. Eur J Contracept Reprod Health Care 14:391–398

24.

Römer T (2009) Erfahrungen und Empfehlungen zur Anwendung des Levonorgestrel-Intrauterinsystems. Thieme Praxis Report 1:1–24

25.

Römer T, Göretzlehner G (2008) Kontrazeption mit OC in 111 Problemsituationen. De Gruyter, Berlin

26.

Shabaan MM, Zakherah MS, El-Nashar SA, Sayed GH (2011) Levonorgestrel-releasing intrauterine system compared to low dose combined oral contraceptive pills for idiopathic menorrhagia: a randomized clinical trial. Contraception 83:48–54

27.

Sordal T, Inki P, Draeby J et al (2013) Mangament of initial bleeding or spotting after levonorgestrel-releasing intrauterine system placement. A randomized controlled trial. Obstet Gynecol (in Press)

28.

Vilos GA, Marks J, Tureanu V et al (2011) The levonorgestrel intrauterine system is an effective treatment in selected obese women with abnormal uterine bleeding. J Minim Invasive Gynecol 18:75–80

29.

Zhou L et al (2003) Use of the New Zealand Intensive Medicines Monitoring Programme to study the levonorgestrel-releasing intrauterine device (LNG-IUS). Pharmacoepidemiol Drug Saf 12:317–377
Einhaltung der ethischen Richtlinien
Interessenkonflikt. T. Römer hat Honorare für Vorträge von Bayer HealthCare, MSD, Jenapharm, Hologic, Ethicon, Vifor und Gedeon Richter erhalten und ist in Beratergremien für Bayer HealthCare, MSD und Vifor tätig. K. J. Bühling ist Referent und Mitglied im internationalen und nationalen Advisory Board von Bayer HealthCare sowie Referent für MSD und Jenapharm. Dieser Beitrag beinhaltet keine Studien an Menschen oder Tieren.
About this article
Cite this article
Römer, T., Bühling, K. Intrauterine hormonelle Kontrazeption. Gynäkologische Endokrinologie 11, 188–196 (2013). https://doi.org/10.1007/s10304-012-0532-4
Schlüsselwörter
Kontrazeptionsmethoden

Levonorgestrel-Intrauterin-System

Ovarialzysten

Stillperiode

Fertilität
Keywords
Contraceptive methods

Levonorgestrel intrauterine system

Ovarian cyst

Lactation period

Fertility