Zusammenfassung
Das Neuropeptid Oxytocin beeinflusst speziesübergreifend eine Reihe körperlicher Funktionen und sozialer Verhaltensweisen. Nicht zuletzt aufgrund neuer methodischer Möglichkeiten der Experimentalpsychologie sowie in der zerebralen Bildgebung konnten in den letzten Jahren Tier- und Humanstudien erhebliche Fortschritte bei der Untersuchung der Wirkweisen des oxytonergen Systems verzeichnen. Diese Übersichtsarbeit gibt einen Abriss über die neusten Kenntnisse der Rolle des Oxytocins in der frühen Mutter-Kind-Bindung sowie in sozialen Interaktions- und Informationsprozessen.
Abstract
The neuropeptide oxytocin influences various physiological and social functions. In recent years animal and human research has progressed in the study of the oxytonergic system due to methodological advances in experimental psychology and neuroimaging. This review summarizes the latest results on the role of oxytocin in early mother-child bonding as well as in social interaction and information processing.
Access options
Buy single article
Instant access to the full article PDF.
US$ 39.95
Tax calculation will be finalised during checkout.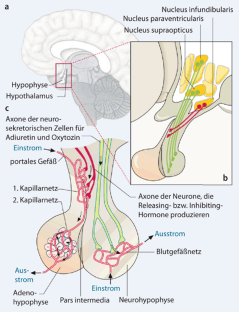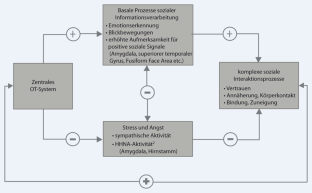 Literatur
1.

Birbaumer N, Schmidt RF (2006) Biologische Psychologie, 6. Aufl. Springer, Berlin Heidelberg New York Tokyo

2.

Born J, Lange T, Kern W et al (2002) Sniffing neuropeptides: a transnasal approach to the human brain. Nature Neurosci 5:514–516

3.

Campbell A (2010) Oxytocin and human social behavior. Pers Soc Psychol Rev 14:281–295

4.

Ditzen B, Neumann ID, Bodenmann G et al (2007) Effects of different kinds of couple interaction on cortisol and heart rate responses to stress in women. Psychoneuroendocrinology 32:565–574

5.

Ditzen B, Schaer M, Gabriel B et al (2009) Intranasal oxytocin increases positive communication and reduces cortisol levels during couple conflict. Biol Psychiatry 65:728–731

6.

Domes G, Heinrichs M, Gläscher J et al (2007) Oxytocin attenuates amygdala responses to emotional faces regardless of valence. Biol Psychiatry 15:1187–1190

7.

Domes G, Heinrichs M, Michel A et al (2007) Oxytocin improves "mind reading" in humans. Biol Psychiatry 61:731–733

8.

Domes G, Lischke A, Berger C et al (2010) Effects of intranasal oxytocin on emotional face processing in women. Psychoneuroendocrinolgy 35:83–93

9.

Donaldson ZR, Young LJ (2008) Oxytocin, vasopressin, and the neurogenetics of sociality. Science 322:900–904

10.

Feldman R (2007) Parent – infant synchrony and the construction of shared timing, physiological precursors, developmental outcomes, and risk conditions. J Child Psychol Psychiatry 48:329–354

11.

Feldman R, Gordon I, Zagoory-Sharon O (2010) The cross-generation transmission of oxytocin in humans. Horm Behav 58:669–676

12.

Fries ABW, Ziegler TE, Kurian JR et al (2005) Early experience in humans is associated with changes in neuropeptides critical for regulating social behavior. Proc Natl Acad Sci U S A 102:17237–17240

13.

Gamer M, Zurowski B, Büchel C (2010) Different amygdala subregions mediate valence-related and attentional effects of oxytocin in humans. Proc Natl Acad Sci U S A 107:9400–9405

14.

Goodson JL, Evens AK, Lindberg L, Allen CD (2005) Neuro-evolutionary patterning of sociality. Proc Natl Acad Sci U S A 272:227–235

15.

Gordon I, Zagoory-Sharon O, Leckman JF, Feldman R (2010) Oxytocin and the development of parenting in humans. Biol Psychiatry 68:377–382

16.

Grewen KM, Davenport RE, Light KC (2010) An investigation of plasma and salivary oxytocin responses in breast- and formula-feeding mothers of infants. Psychophysiology 47:625–632

17.

Heim C, Young LJ, Newport DJ et al (2009) Lower CSF oxytocin concentrations in women with a history of childhood abuse. Mol Psychiatry 14:954–958

18.

Heinrichs M, Baumgartner T, Kirschbaum C, Ehlert U (2003) Social support and oxytocin interact to suppress cortisol and subjective responses to psychosocial stress. Biol Psychiatry 54:1389–1398

19.

Heinrichs M, Meinlschmidt G, Neumann I et al (2001) Effects of suckling on hypothalamus-pituitary-adrenal axis responses to psychosocial stress in postpartum lactating women. J Clin Endocrinol Metab 86:4798–4804

20.

Huber D, Veinant P, Stoop R (2005) Vasopressin and oxytocin excite distinct neuronal populations in the central amygdala. Science 308:245–248

21.

Kirsch P, Esslinger C, Chen Q et al (2005) Oxytocin modulates neural circuitry for social cognition and fear in humans. J Neurosci 25:11489–11493

22.

Kosfeld M, Heinrichs M, Zak PJ et al (2005) Oxytocin increases trust in humans. Nature 435:673–676

23.

Labuschagne I, Phan KL, Wood A et al (2010) Oxytocin attenuates amygdala reactivity to fear in generalized social anxiety disorder. Neuropharmacology 35:2403–2413

24.

Landgraf R, Neumann ID (2004) Vasopressin and oxytocin release within the brain: a dynamic concept of multiple and variable modes of neuropeptide communication. Front Neuroendocrinol 25:150–176

25.

Lee R, Ferris CF, Van de Kar LD, Coccaro EF (2009) Cerebrospinal fluid oxytocin, life history of aggression, and personality disorder. Psychoneuroendocrinology 34:1567–1573

26.

Lim MM, Young LJ (2007) Neuropeptidergic regulation of affiliative behavior and social bonding in animals. Horm Behav 50:506–517

27.

Matthiesen AS, Ransjö-Arvidson AB, Nissen E, Uvnäs-Moberg K (2001) Postpartum maternal oxytocin release by newborns: effects of infant hand massage and sucking. Birth 28:13–19

28.

Petrovic P, Kalisch R, Singer T, Dolan RJ (2008). Oxytocin attenuates affective evaluations of conditioned fear and amygdala activity. J Neurosci 8:6607–6615

29.

Strathearn L, Fonagy P, Amico J, Montague PR (2009) Adult attachment predicts maternal brain and oxytocin response to infant cues. Neuropharmacology 34:2655–2666

30.

Ivmäs-Moberg K (1996) Neuroendocrinology of mother – child interaction. Trends Endocrinol Metab 7:126–131
Interessenkonflikt
Der korrespondierende Autor gibt an, dass kein Interessenkonflikt besteht.
About this article
Cite this article
Bertsch , K., Herpertz, S. Oxytocin – ein prosoziales Hormon. Gynäkologische Endokrinologie 9, 36–40 (2011). https://doi.org/10.1007/s10304-010-0388-4
Schlüsselwörter
Oxytocin

Hormone

Soziale Verhaltensweisen

Zwischenmenschliche Interaktion

Hypothalamus-Hypophysen-System
Keywords
Oxytocin

Hormones

Social cognition

Interpersonal interaction

Hypothalamic-pituitary system