Zusammenfassung
Die genauen Mechanismen und das Ausmaß der Fertilitätsminderung bei geringgradig ausgeprägter Endometriose bleiben weitgehend unklar. Vor dem Hintergrund einer durchschnittlichen Spontanschwangerschaftsrate von knapp 30% in 6 Monaten in diesem Patientinnenkollektiv stellt sich die Frage einer Aufwand-Nutzen-Risiko-Abschätzung der Anwendung unterschiedlicher Methoden der assistierten Reproduktion. Wenn bestimmte Voraussetzungen erfüllt sind, kann aber mittels ovarieller Stimulation in Verbindung mit intrauterinen Inseminationen (COH-IUI) über eine limitierte Anzahl von Behandlungszyklen eine 3- bis 5fache Erhöhung der monatlichen Fruchtbarkeitsrate (MFR) bei vorliegender Endometriose erzielt werden. Im Vergleich zu Paaren mit idiopathischer Sterilität sind die Chancen für eine mittels COH-IUI herbeigeführte Schwangerschaft allerdings um ungefähr die Hälfte reduziert. Der Stellenwert der COH-IUI und Entscheidungswege für die Indikation auch anderer Methoden der Sterilitätsbehandlung bei endometrioseassoziierter Sterilität sind in einem Algorithmus dargestellt.
Abstract
The exact mechanisms and the extent of impairment of fertility associated with low-grade endometriosis remain to a large extent unclear. Considering an average spontaneous pregnancy rate of about 30% during 6 months for these patients, expenses, benefits, and risks must be taken into account for choosing the most appropriate method of assisted reproduction for infertility treatment. Under certain conditions a three- to fivefold increase of the monthly fecundity rate (MFR) can be achieved in the presence of endometriosis by controlled ovarian hyperstimulation and intrauterine insemination (COH IUI) over a limited number of treatment cycles. Compared with couples suffering from unexplained infertility, the probability to achieve a pregnancy by COH-IUI is nevertheless reduced in endometriosis patients by approximately 50%. The significance of COH-IUI and a decision pathway for the indication of a COH-IUI and other methods to treat infertility associated with endometriosis are presented as an algorithm.
Access options
Buy single article
Instant access to the full article PDF.
USD 39.95
Price includes VAT (USA)
Tax calculation will be finalised during checkout.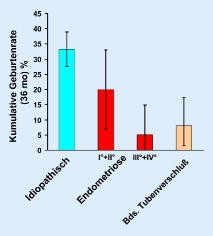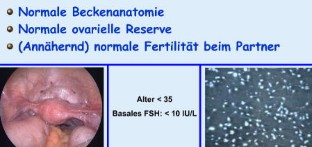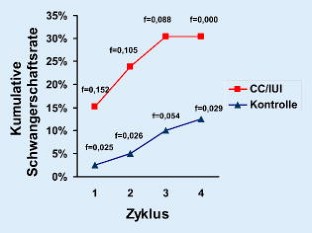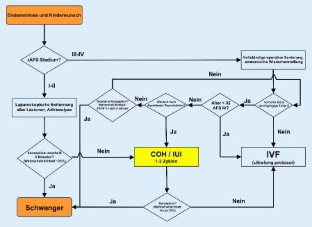 Literatur
1.

Adamson GD, Pasta DJ (1994) Surgical treatment of endometriosis-associated infertility: meta-analysis compared with survival analysis. Am J Obstet Gynecol 171:1488–1504

2.

Anaf V, El N I, Simon P et al. (2000) Sigmoid endometriosis and ovarian stimulation. Hum Reprod 15:790–794

3.

Barnhart K, Dunsmoor-Su R, Coutifaris C (2002) Effect of endometriosis on in vitro fertilization. Fertil Steril 77:1148–1155

4.

Claman P, Wilkie V, Collins D (2004) Timing intrauterine insemination either 33 or 39 hours after administration of human chorionic gonadotropin yields the same pregnancy rates as after superovulation therapy. Fertil Steril 82:13–16

5.

Collins JA, Burrows EA, Wilan AR (1995) The prognosis for live birth among untreated infertile couples. Fertil Steril 64:22–28

6.

D'Hooghe TM, Bambra CS, Raeymaekers BM, Koninckx PR (1996) Increased incidence and recurrence of recent corpus luteum without ovulation stigma (luteinized unruptured follicle syndrome?) in baboons with endometriosis. J Soc Gynecol Investig 3:140–144

7.

D'Hooghe TM, Debrock S, Hill JA, Meuleman C (2003) Endometriosis and subfertility: is the relationship resolved? Semin Reprod Med 21:243–254

8.

Deaton JL, Gibson M, Blackmer KM et al. (1990) A randomized, controlled trial of clomiphene citrate and intrauterine insemination in couples with unexplained infertility or surgically corrected endometriosis. Fertil Steril 54:1083–1088

9.

Deutsches IVF-Register (2004) Deutsches IVF-Register. http://www.deutsches-ivf-register.org. Ref Type: Internet Communication

10.

Dmowski WP, Pry M, Ding J, Rana N (2002) Cycle-specific and cumulative fecundity in patients with endometriosis who are undergoing controlled ovarian hyperstimulation-intrauterine insemination or in vitro fertilization-embryo transfer. Fertil Steril 78:750–756

11.

Evers JL (2002) Female subfertility. Lancet 360:151–159

12.

Fedele L, Bianchi S, Marchini M et al. (1992) Superovulation with human menopausal gonadotropins in the treatment of infertility associated with minimal or mild endometriosis: a controlled randomized study. Fertil Steril 58:28–31

13.

Govaerts I, Devreker F, Delbaere A et al. (1998) Short-term medical complications of 1500 oocyte retrievals for in vitro fertilization and embryo transfer. Eur J Obstet Gynecol Reprod Biol 77:239–243

14.

Guzick DS, Silliman NP, Adamson GD et al. (1997) Prediction of pregnancy in infertile women based on the American Society for Reproductive Medicine's revised classification of endometriosis. Fertil Steril 67:822–829

15.

Heinig J, von Otte S, Greb RR, Kiesel L (2002) Molecular mechanisms contributing to the pathogenesis of endometriosis. Gynecol Endocrinol 16:493–504

16.

Hughes EG (1997) The effectiveness of ovulation induction and intrauterine insemination in the treatment of persistent infertility: a meta-analysis. Hum Reprod 12:1865–1872

17.

Kaplan PF, Patel M, Austin DJ, Freund R (2002) Assessing the risk of multiple gestation in gonadotropin intrauterine insemination cycles. Am J Obstet Gynecol 186:1244–1247

18.

Kissler S, Wildt L, Schmiedehausen K et al. (2004) Predictive value of impaired uterine transport function assessed by negative hysterosalpingoscintigraphy (HSSG). Eur J Obstet Gynecol Reprod Biol 113:204–208

19.

Kodama H, Fukuda J, Karube H et al. (1996) Benefit of in vitro fertilization treatment for endometriosis-associated infertility. Fertil Steril 66:974–979

20.

Koninckx PR, Kennedy SH, Barlow DH (1999) Pathogenesis of endometriosis: the role of peritoneal fluid. Gynecol Obstet Invest 47 [Suppl 1]:23–33

21.

Kunz G, Herbertz M, Noe M, Leyendecker G (1998) Sonographic evidence for the involvement of the utero-ovarian counter-current system in the ovarian control of directed uterine sperm transport. Hum Reprod Update 4:667–672

22.

Leyendecker G, Herbertz M, Kunz G, Mall G (2002) Endometriosis results from the dislocation of basal endometrium. Hum Reprod 17:2725–2736

23.

Leyendecker G, Kunz G, Wildt L et al. (1996) Uterine hyperperistalsis and dysperistalsis as dysfunctions of the mechanism of rapid sperm transport in patients with endometriosis and infertility. Hum Reprod 11:1542–1551

24.

Marcoux S, Maheux R, Berube S (1997) Laparoscopic surgery in infertile women with minimal or mild endometriosis. Canadian Collaborative Group on Endometriosis. N Engl J Med 337:217–222

25.

Nuojua-Huttunen S, Tomas C, Bloigu R et al. (1999) Intrauterine insemination treatment in subfertility: an analysis of factors affecting outcome. Hum Reprod 14:698–703

26.

Olive DL, Lee KL (1986) Analysis of sequential treatment protocols for endometriosis-associated infertility. Am J Obstet Gynecol 154:613–619

27.

Omland AK, Tanbo T, Dale PO, Abyholm T (1998) Artificial insemination by husband in unexplained infertility compared with infertility associated with peritoneal endometriosis. Hum Reprod 13:2602–2605

28.

Panidis DK, Matalliotakis IM (1998) Subfertility associated with minimal to mild endometriosis. Main mechanisms. J Reprod Med 43:1034–1042

29.

Parazzini F (1999) Ablation of lesions or no treatment in minimal-mild endometriosis in infertile women: a randomized trial. Gruppo Italiano per lo Studio dell'Endometriosi. Hum Reprod 14:1332–1334

30.

Renier M, Verheyden B, Termote L (1995) An unusual coincidence of endometriosis and ovarian stimulation. Eur J Obstet Gynecol Reprod Biol 63:187–189

31.

Simon C, Gutierrez A, Vidal A et al. (1994) Outcome of patients with endometriosis in assisted reproduction: results from in-vitro fertilization and oocyte donation. Hum Reprod 9:725–729

32.

Simpson CW, Taylor PJ, Collins JA (1992) A comparison of ovulation suppression and ovulation stimulation in the treatment of endometriosis-associated infertility. Int J Gynaecol Obstet 38:207–213

33.

Surrey ES, Schoolcraft WB (2003) Management of endometriosis-associated infertility. Obstet Gynecol Clin North Am 30:193–208

34.

Taylor PJ, Collins JA (1992) Unexplained infertility. Oxford University Press, New York, pp 153–169

35.

The ESHRE Capri Workshop (1996) Infertility revisited: the state of the art today and tomorrow. The ESHRE Capri Workshop. European Society for Human Reproduction and Embryology. Hum Reprod 11:1779–1807

36.

Tummon IS, Asher LJ, Martin JS, Tulandi T (1997) Randomized controlled trial of superovulation and insemination for infertility associated with minimal or mild endometriosis. Fertil Steril 68:8–12
Interessenkonflikt:
Der korrespondierende Autor versichert, dass keine Verbindungen mit einer Firma, deren Produkt in dem Artikel genannt ist, oder einer Firma, die ein Konkurrenzprodukt vertreibt, bestehen.
About this article
Cite this article
Greb, R. Ovarielle Stimulation und intrauterine Insemination (COH-IUI). Gynäkologische Endokrinologie 2, 194–200 (2004). https://doi.org/10.1007/s10304-004-0083-4
Schlüsselwörter
Ovarielle Stimulation

Intrauterine Insemination

Monatliche Fruchtbarkeitsrate

Gonadotropine

Behandlungsalgorithmus
Keywords
Controlled ovarian hyperstimulation

Intrauterine insemination

Monthly fecundity rate

Gonadotropins

Treatment algorithm