Abstract
The bacterial diversity in fermenting dye vats with woad (Isatis tinctoria L.) prepared and maintained in a functional state for approximately 12 months was examined using a combination of culture-dependent and -independent PCR-DGGE analyses and next-generation sequencing of 16S rRNA amplicons. An extremely complex ecosystem including taxa potentially contributing to both indigo reduction and formation, as well as indigo degradation was found. PCR-DGGE analyses revealed the presence of Paenibacillus lactis, Sporosarcina koreensis, Bacillus licheniformis, and Bacillus thermoamylovorans, while Bacillus thermolactis, Bacillus pumilus and Bacillus megaterium were also identified but with sequence identities lower than 97%. Dominant operational taxonomic units (OTUs) identified by pyrosequencing included Clostridium ultunense, Tissierella spp., Alcaligenes faecalis, Erysipelothrix spp., Enterococcus spp., Virgibacillus spp. and Virgibacillus panthothenicus, while sub-dominant OTUs included clostridia, alkaliphiles, halophiles, bacilli, moderately thermophilic bacteria, lactic acid bacteria, Enterobacteriaceae, aerobes, and even photosynthetic bacteria. Based on the current knowledge of indigo-reducing bacteria, it is considered that indigo-reducing bacteria constituted only a small fraction in the unique microcosm detected in the natural indigo dye vats.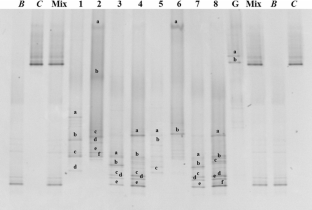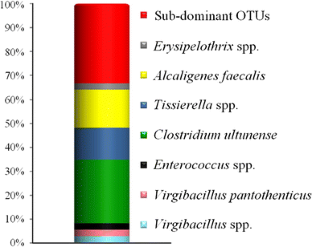 References
1.

Aino K, Narihiro T, Minamida K, Kamagata Y, Yoshimune K, Yumoto I (2010) Bacterial community characterization and dynamics of indigo fermentation. FEMS Microbiol Ecol 74:174–183

2.

Aquilanti L, Santarelli S, Babini V, Osimani A, Clementi F (2013) Quality evaluation and discrimination of semi-hard and hard cheeses from the Marche region (Central Italy) using chemometric tools. Int Dairy J 29:42–52

3.

Blackburn RS, Bechtold T, John P (2009) The development of indigo reduction methods and pre-reduced indigo products. Coloration Technol 125:193–207

4.

Cardinali F, Taccari M, Milanović V, Osimani A, Polverigiani S, Garofalo C, Foligni R, Mozzon M, Zitti S, Raffaelli N, Clementi F, Aquilanti L (2016) Yeast and mould dynamics in Caciofiore della Sibilla cheese coagulated with an aqueous extract of Carlina acanthifolia All. Yeast 33:403–414

5.

Ercolini D (2004) PCR-DGGE fingerprinting: novel strategies for detection of microbes in food. J Microbiol Methods 56:297–314

6.

Ercolini D (2013) High-throughput sequencing and metagenomics: moving forward in the culture-independent analysis of food microbial ecology. Appl Environ Microbiol 79(10):3148–3155

7.

Garofalo C, Bancalari E, Milanović V, Cardinali F, Osimani A, Savo Sardaro ML, Bottari B, Bernini V, Aquilanti L, Clementi F, Neviani E, Gatti M (2017) Study of the bacterial diversity of foods: PCR-DGGE versus LH-PCR. Int J Food Microbiol 242:24–36

8.

Garofalo C, Osimani A, Milanović V, Aquilanti L, De Filippis F, Stellato G, Di Mauro S, Turchetti B, Buzzini P, Ercolini D, Clementi F (2015) Bacteria and yeast microbiota in milk kefir grains from different Italian regions. Food Microbiol 49:123–133

9.

Garofalo C, Silvestri G, Aquilanti L, Clementi F (2008) PCR-DGGE analysis of lactic acid bacteria and yeast dynamics during the production processes of three varieties of Panettone. J Appl Microbiol 105(1):243–254

10.

Han X, Wei Wang W, Xiao X (2008) Microbial biosynthesis and biotransformation of indigo and indigo-like pigments. Chin J Biotechnol 24:921–926

11.

Hartl A, Gaibor ANP, van Bommel MR, Hofmann-de Keijzer R (2015) Searching for blue: experiments with woad fermentation vats and an explanation of the colours through dye analysis. J Archaeol Sci 2:9–39

12.

Hirota K, Aino K, Nodasaka Y, Yumoto I (2013) Oceanobacillus indicireducens sp. nov., a facultative alkaliphile that reduces an indigo dye. Int J Syst Evol Microbiol 63:1437–1442

13.

Hirota K, Aino K, Yumoto I (2013) Amphibacillus iburiensis sp. nov., an alkaliphile that reduces an indigo dye. Int J Syst Evol Microbiol 63:4303–4308

14.

Hirota K, Aino K, Yumoto I (2016) Fermentibacillus polygoni gen. nov., sp. nov., an alkaliphile that reduces indigo dye. Int J Syst Evol Microbiol 66:2247–2253

15.

Hirota K, Okamoto T, Matsuyama H, Yumoto I (2016) Polygonibacillus indicireducens gen nov., sp. nov., an indigo-reducing and obligate alkaliphile isolated from indigo fermentation liquor for dyeing. Int J Syst Evol Microbiol. doi:10.1099/ijsem.0.001405

16.

Hynes WL, Ferretti JJ, Gilmore MS, Segarra RA (1992) PCR amplification of streptococcal DNA using crude cell lysates. FEMS Microbiol Lett 94:139–142

17.

John P, Arghyros S, Nicholson S (2008) Indigo reducing bacteria from the medieval woad (Isatis tinctoria L.) vat: some aspects of their interaction with indigo. In: Dyes in History and Archaeology, pp. 45–50. ISBN 9781904982074

18.

Khelifi E, Touhami Y, Thabet OBD, Ayed L, Bouallagui H, Fardeau ML, Hamdi M (2012) Exploring bioaugmentation strategies for the decolourization of textile wastewater using a two species consortium (Bacillus cereus and Bacillus pumilus) and characterization of produced metabolites. Desalt Water Treat 45:48–54

19.

Lu L, Zhao M, Wang TN, Zhao LY, Du MH, Li TL, Li DB (2012) Characterization and dye decolorization ability of an alkaline resistant and organic solvents tolerant laccase from Bacillus licheniformis LS04. Bioresour Technol 115:35–40

20.

Miller D (1984) Indigo from seed to dye. Indigo Press APTOS, Santa Cruz

21.

Muyzer G, DeWall EC, Uitterlinden AG (1993) Profiling of complex microbial populations by denaturing gradient gel electrophoresis analysis of polymerase chain reaction-amplified genes coding for 16S rRNA. Appl Environ Microbiol 59:695–700

22.

Nakajima K, Hirota K, Nodasaka Y, Yumoto I (2005) Alkalibacterium iburiense sp. nov., an obligate alkaliphile that reduces an indigo dye. Int J Syst Evol Microbiol 55:1525–1530

23.

Nicholson SK, John P (2005) The mechanism of bacterial indigo reduction. Appl Microbiol Biotechnol 68:117–123

24.

Oberthür C, Schneider B, Graf H, Hamburger M (2004) The elusive indigo precursors in woad (Isatis tinctoria L.) Identification of the major indigo precursor, isatan a, and a structure revision of isatan B. Chem Biodivers 1:174–182

25.

Orsini R, Aquilanti L, Osimani A, Santilocchi R (2012) Isatis tinctoria L.: biomass production and indigo dye yield as influenced by mineral and organic nitrogen fertilization. Agrochimica 6:292–308

26.

Osimani A, Aquilanti L, Baldini G, Silvestri G, Butta A, Clementi F (2012) Implementation of a biotechnological process for vat dyeing with woad. J Ind Microbiol Biotechnol 39:1309–1319

27.

Osimani A, Garofalo C, Aquilanti L, Milanović V, Clementi F (2015) Unpasteurised commercial boza as a source of microbial diversity. Int J Food Microbiol 194:62–70

28.

Padden AN, Dillon VM, Edmonds J, Collins MD, Alvarez N, John P (1999) An indigo-reducing moderate thermophile from a woad vat, Clostridium isatidis sp. nov. Int Syst Bacteriol 49:1025–1031

29.

Padden AN, Dillon VM, John P, Edmonds J, Collins MD, Alvarez N (1998) Clostridium used in medieval dyeing. Nature 396:225

30.

Padden AN, John P, Collins MD, Hutson R, Hall AR (2000) Indigo-reducing Clostridium isatidis isolated from a variety of sources, including a 10th-century viking dye vat. J Archaeol Sci 27:953–956

31.

Randazzo CL, Torriani S, Akkermans ADL, De Vos WM, Vaughan EE (2002) Diversity, dynamics, and activity of bacterial communities during production of an artisanal Sicilian cheese as evaluated by 16S rRNA analysis. Appl Environ Microbiol 68:1882–1892

32.

Regar RK, Gaur VK, Mishra G, Jadhao S, Kamthan M, Manickam N (2016) Draft genome sequence of Alcaligenes faecalis strain IITR89, an indole-oxidizing bacterium. Genome Announc 4(2):e00067-16

33.

Roshan P (2015) Denim. Manufacture, finishing and applications. Woodhead publishing series in textiles -number 164. Elsevier, Cambridge

34.

Shipkowski S, Brenchley JE (2005) Characterization of an unusual cold-active beta-glucosidase belonging to family 3 of the glycoside hydrolases from the psychrophilic isolate Paenibacillus sp. strain C7. Appl Environ Microbiol 71:4225–4232

35.

Takahara Y, Tanabe O (1960) Studies on the reduction of indigo in industrial fermentation vat (XXI). J Ferment Technol 38:293–297

36.

Yang G, Zhou S (2014) Sinibacillus soli gen. nov., sp. nov., a moderately thermotolerant member of the family Bacillaceae. Int J Syst Evol Microbiol 64:1647–1653

37.

Yumoto I, Hirota K, Nodasaka Y, Yokota Y, Hoshino T, Nakajima K (2004) Alkalibacterium psychrotolerans sp. nov., a psychrotolerant obligate alkaliphile that reduces an indigo dye. Int J Syst Evol Microbiol 54:2379–2383

38.

Yumoto I, Hirota K, Nodasaka Y, Tokiwa Y, Nakajima K (2008) Alkalibacterium indicireducens sp. nov., an obligate alkaliphile that reduces indigo dye. Int J Syst Evol Microbiol 58:901–905
Acknowledgements
The authors wish to thank Dr. Francesca De Filippis of the Dipartimento di Agraria, Universita degli Studi di Napoli Federico II, Italy, for her valuable assistance in pyrosequencing analyses.
About this article
Cite this article
Milanović, V., Osimani, A., Taccari, M. et al. Insight into the bacterial diversity of fermentation woad dye vats as revealed by PCR-DGGE and pyrosequencing. J Ind Microbiol Biotechnol 44, 997–1004 (2017). https://doi.org/10.1007/s10295-017-1921-4
Received:

Accepted:

Published:

Issue Date:
Keywords
Microbial diversity

Indigo reduction

Spore-forming bacteria

Fermentation liquor

Isatis tinctoria L