Abstract
The fungus Mucor indicus is found in this study able to consume glucose and fructose, but not sucrose in fermentation of sugarcane and sugar beet molasses. This might be an advantage in industries which want to selectively remove glucose and fructose for crystallisation of sucrose present in the molasses. On the other hand, the fungus assimilated sucrose after hydrolysis by the enzyme invertase. The fungus efficiently grew on glucose and fructose and produced ethanol in synthetic media or from molasses. The cultivations were carried out aerobically and anaerobically, and manipulated toward filamentous or yeast-like morphology. Ethanol was the major metabolite in all the experiments. The ethanol yield in anaerobic cultivations was between 0.35 and 0.48 g/g sugars consumed, depending on the carbon source and the growth morphology, while a yield of as low as 0.16 g/g was obtained during aerobic cultivation. The yeast-like form of the fungus showed faster ethanol production with an average productivity of 0.90 g/l h from glucose, fructose and inverted sucrose, than the filamentous form with an average productivity of 0.33 g/l h. The biomass of the fungus was also analyzed with respect to alkali-insoluble material (AIM), chitin, and chitosan. The biomass of the fungus contained per g maximum 0.217 g AIM and 0.042 g chitosan in yeast-like cultivation under aerobic conditions.
Access options
Buy single article
Instant access to the full article PDF.
US$ 39.95
Tax calculation will be finalised during checkout.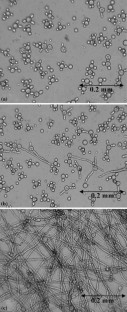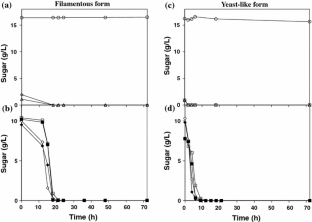 References
1.

Kosaric N, Russell I, Stewart GG (1980) Ethanol production by fermentation: an alternative liquid fuel. Adv Appl Microbiol 26:147–210

2.

Vinuesal JF, Mirabel P, Ponche JL (2003) Air quality effects of using reformulated and oxygenated gasoline fuel blends: application to the Strasbourg area (F). Atmos Environ 37:1757–1774

3.

Thomas V, Kwong A (2001) Ethanol as a lead replacement: phasing out leaded gasoline in Africa. Energy Policy 29:1133–1143

4.

Taherzadeh MJ (1999) Ethanol from lignocellulose. Department of Chemical and Biological Engineering, Chalmers University of Technology, Sweden

5.

Vaurinecz G (1979) The formation and composition of beet molasses. Sugar Technol Rev 6:117–306

6.

Maurice Patuerau J (1989) By-products of the cane sugar industry: an introduction to their industrial utilization. Elsevier, Amsterdam

7.

Sues A, Millati R, Edebo L, Taherzadeh MJ (2005) Ethanol production from hexoses, pentoses, and dilute-acid hydrolyzate by Mucor indicus. FEMS Yeast Res 5:669–676

8.

Millati R, Edebo L, Taherzadeh MJ (2005) Performance of Rhizopus, Rhizomucor, and Mucor in ethanol production from glucose, xylose, and wood hydrolyzates. Enzyme Microb Technol 36:294–300

9.

Synowiecki J, Al-Khateeb NAAQ (1997) Mycelia of Mucor rouxii as a source of chitin and chitosan. Food Chem 60:605–610

10.

Jeihanipour A, Karimi K, Taherzadeh MJ (2007) Antimicrobial properties of fungal chitosan. Res J Biol Sci 2:239–243

11.

Ravi Kumar MNV (2000) A review of chitin and chitosan applications. React Funct Polym 46:1–27

12.

Chatterjee S, Adhya M, Guha AK, Chatterjee BP (2005) Chitosan from Mucor rouxii: production and physico-chemical characterization. Process Biochem 40:395–400

13.

Edebo L (2002) Porous structure comprising fungi cell walls. United States Patent 6,423,337

14.

Bartnicki-Garcia S, Nickerson Walter J (1962) Nutrition growth, and morphogenesis of Mucor rouxii. J Bacteriol 84:841–858

15.

Orlowski M (1991) Mucor dimorphism. Microbiol Rev 55:234–258

16.

Papagianni M (2004) Fungal morphology and metabolite production in submerged mycelial processes. Biotechnol Adv 22:189–259

17.

Gibbs PA, Seviour RJ, Schmid F (2000) Growth of filamentous fungi in submerged culture: problems and possible solutions. Crit Rev Biotechnol 20:17–48

18.

Karimi K, Emtiazi G, Taherzadeh MJ (2006) Production of ethanol and mycelial biomass from rice straw hemicellulose hydrolyzate by Mucor indicus. Process Biochem 41:653–658

19.

Taherzadeh MJ, Eklund R, Gustafsson L, Niklasson C, Lidén G (1997) characterization and fermentation of dilute acid hydrolyzates from wood. Ind Eng Chem Res 36:4659–4665

20.

Bartnicki-Garcia S, Nickerson WJ (1962) Induction of yeastlike development in Mucor by carbon dioxide. J Bacteriol 84:829–840

21.

Bartnicki-Garcia S, Nickerson WJ (1962) Isolation, composition, and structure of cell walls of filamentous and yeast-like forms of Mucor rouxii. Biochim Biophys Acta 58:102–119

22.

Bartnicki-Garcia S, Reyes E (1968) Chemical composition of Sporangiophore walls of Mucor rouxii. Biochim Biophys Acta 165:32–42

23.

Barrera CR, Corral J (1980) Effect of hexoses on the levels of pyruvate decarboxylase in Mucor rouxii. J Bacteriol 142:1029–1031
Acknowledgments
The authors are grateful to the Culture Collection of Göteborg University for providing Mucor indicus and to Novozymes A/S for supplying the invertase enzyme.
About this article
Cite this article
Sharifia, M., Karimi, K. & Taherzadeh, M.J. Production of ethanol by filamentous and yeast-like forms of Mucor indicus from fructose, glucose, sucrose, and molasses. J Ind Microbiol Biotechnol 35, 1253–1259 (2008). https://doi.org/10.1007/s10295-008-0422-x
Received:

Accepted:

Published:

Issue Date:
Keywords
Sugarcane molasses

Sugar beet molasses

Ethanol

Mucor indicus

Morphology