Abstract
Repair of DNA in bacteria following ultraviolet (UV) disinfection can cause reactivation of inactivated bacteria and negatively impact the efficiency of the UV disinfection process. In this study, various strains of E. coli (wild-type, UV-resistant and antibiotic-resistant strains) were investigated for their ability to perform dark repair and photoreactivation, and compared based on final repair levels after 4 h of incubation, as well as repair rates. Analysis of the results revealed that the repair abilities of different E. coli strains can differ quite significantly. In photoreactivation, the log repair ranged from 10 to 85%, with slightly lower log repair percentages when medium-pressure (MP) UV disinfection was employed. In dark repair, log repair ranged from 13 to 28% following low-pressure (LP) UV disinfection. E. coli strains ATCC 15597 and ATCC 11229 were found to repair the fastest and to the highest levels for photoreactivation and dark repair, respectively. These strains were also confirmed to repair to higher levels when compared to a pathogenic E. coli O157:H7 strain. Hence, these strains could possibly serve as conservative indicators for future repair studies following UV disinfection. In addition, dimer repair by photoreactivation and dark repair was also confirmed on a molecular level using the endonuclease sensitive site (ESS) assay.
This is a preview of subscription content, log in to check access.
Access options
Buy single article
Instant access to the full article PDF.
US$ 39.95
Tax calculation will be finalised during checkout.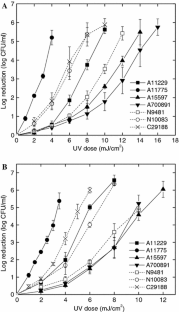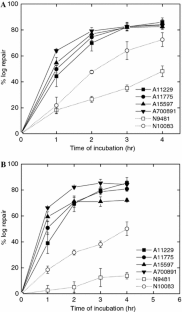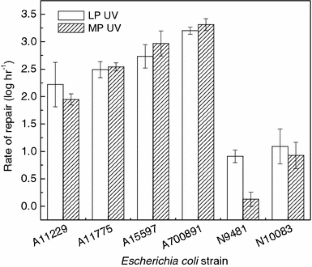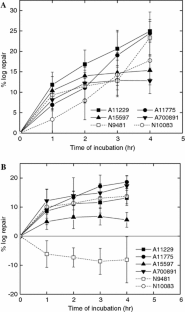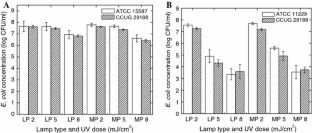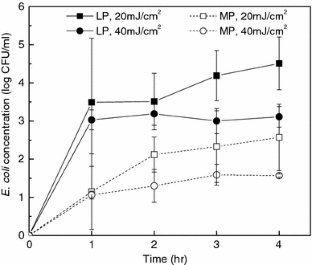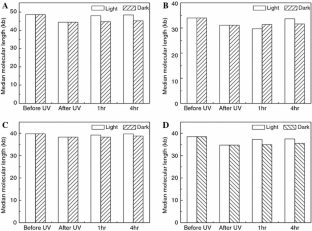 References
1.

Belosevic M, Craik SA, Stafford JL, Neumann NF, Kruithof J, Smith DW (2001) Studies on the resistance/reactivation of Giardia muris cysts and Cryptosporidium parvum oocysts exposed to medium-pressure ultraviolet radiation. FEMS Microbiol Lett 204:197–203

2.

Bolton JR, Linden KG (2003) Standardization of methods for fluence (UV dose) determination in bench-scale UV experiments. J Environ Eng 129(3):209–215

3.

Chan YY, Killick EG (1995) The effect of salinity, light and temperature in a disposal environment on the recovery of E. coli following exposure to ultraviolet radiation. Water Res 29:1373–1377

4.

Harm W (1980) Biological effects of ultraviolet radiation. Cambridge University Press, New York

5.

Harris GD, Adams VD, Sorensen DL, Curtis MS (1987) Ultraviolet inactivation of selected bacteria and virus with photoreactivation of the bacteria. Water Res 21(6):687–692

6.

Hu JY, Chu XN, Quek PH, Feng YY, Tan XL (2005) Repair and regrowth of Escherichia coli after low- and medium-pressure ultraviolet disinfection. Water Supply 5(5):101–108

7.

Jagger J (1967) Introduction to research in ultraviolet photobiology. Prentice-Hall, Inc., Englewood Cliffs

8.

Job GD, Trengove R, Realey GJ (1995) Trials using a mobile ultraviolet disinfection system in South West water. Water Environ J 9:257–263

9.

Kalisvaart BF (2004) Re-use of wastewater: preventing the recovery of pathogens by using medium-pressure UV lamp technology. Water Sci Technol 50(6):337–344

10.

Kruithof JC, van der Leer RC (1990) Practical experiences with UV disinfection in the Netherlands. J Water Supply Res Technol AQUA 41(2):88–94

11.

Lindenauer KG, Darby JL (1994) Ultraviolet disinfection of wastewater: Effect of dose on subsequent photoreactivation. Water Res 28:805–817

12.

Liu W, Andrews SA, Bolton JR, Linden KG, Sharpless C, Stefan M (2002) Comparison of disinfection by product (DBP) formation from different UV technologies at bench scale. Water Supply 2(5–6):515–521

13.

Malley JP Jr (1999) Control of disinfection by-product formation using ultraviolet light. In: Singer PC (eds) Formation and control of disinfection by-products in drinking water. American Water Works Association, USA

14.

Masschelein WJ, Rice RG (2003) Ultraviolet light in water and wastewater sanitation. Lewis Publishers, Boca Raton

15.

Mofidi AA, Rochelle PA, Chou CI, Mehta HM, Linden KG, Malley JP (2002) Bacterial survival after ultraviolet light disinfection: resistance, regrowth and repair. American Water Works Association Water Quality and Technology Conference (AWWA WQTC), Seattle, Washington, 10–13 November 2002

16.

Oguma K, Katayama H, Mitani H, Morita S, Hirata T, Ohgaki S (2001) Determination of pyrimidine dimers in Escherichia coli and Cryptosporidium parvum during UV light inactivation, photoreactivation and dark repair. Appl Environ Microbiol 67(10):4630–4637

17.

Oguma K, Katayama H, Ohgaki S (2002) Photoreactivation of Escherichia coli after low- or medium-pressure UV disinfection determined by an endonuclease sensitive site assay. Appl Environ Microbiol 68(12):6029–6035

18.

Olsen SJ, Miller G, Breuer T, Kennedy M, Higgins C, Walford J, McKee G, Fox K, Bibb W, Mead P (2002) A waterborne outbreak of Escherichia coli O157:H7 infections and hemolytic uremic syndrome: implications for rural water systems. Emerg Infect Dis 8(4):370–375

19.

Quek PH, Hu JY, Chu XN, Feng YY, Tan XL (2006) Photoreactivation of Escherichia coli following medium-pressure UV disinfection and its control using chloramination. Wat Sci Technol 53(6):123–129

20.

Rubin L, Menshonkova T, Simukova N, Budowsky E (1981) The effects of high-intensity UV-radiation on nucleic acids and their componenets. I. Thymine. Photochem Photobiol 34:339–344

21.

Salcedo I, Andrade A, Quiroga JM, Nebot E (2007) Photoreactivation and dark repair in UV-treated microorganisms. Effect Temp 73(5):1594–1600

22.

Shin G-A, Linden KG, Arrowood MJ, Sobsey MD (2001) Low-pressure UV inactivation and DNA repair potential of Cryptosporidium parvum oocyts. Appl Environ Microbiol 67(7):3029–3032

23.

Sommer R, Lhotsky M, Haider T, Cabaj A (2000) UV inactivation, liquid-holding recovery and photoreactivation of Escherichia coli O157 and other pathogenic Escherichia coli strains in water. J Food Prot 63(8):1015–1020

24.

Clescerl LS, Greenberg AE, Eaton AD (eds) (1998) Standard methods for the examination of water, wastewater, 19th edn. American Public Health Assocation, USA

25.

Swerdlow DL, Woodruff BA, Brady RC, Griffin PM, Tippen S, Donnell HD Jr, Geldreich E, Payne BJ, Meyer A Jr, Wells JG (1992) A waterborne outbreak in Missouri of Escherichia coli O157:H7 associated with bloody diarrhea and death. Ann Int Med 117(10):812–819

26.

Tosa K, Hirata T (1999) Photoreactivation of enterohemorrhagic Escherichia coli following UV disinfection. Wat Res 33(2):361–366

27.

Wolfe RL (2004) Ultraviolet disinfection of potable water: current technology and research needs. Environ Sci Technol 24(66):768–773

28.

Zimmer JL, Slawson RM (2002) Potential repair of Escherichia coli DNA following exposure to UV radiation from both medium- and low-pressure UV sources used in drinking water treatment. Appl Environ Microbiol 68(7):3293–3299

29.

Zimmer JL, Slawson RM, Huck PM (2003) Inactivation and potential repair of Cryptosporidium parvum following low- and medium-pressure ultraviolet disinfection. Water Res 37:3517–3523
Acknowledgments
The authors wish to thank Ms Chua Koon Joo Jessica and Mr Ho Ming Wei for their assistance in conducting the study.
About this article
Cite this article
Quek, P.H., Hu, J. Indicators for photoreactivation and dark repair studies following ultraviolet disinfection. J Ind Microbiol Biotechnol 35, 533 (2008). https://doi.org/10.1007/s10295-008-0314-0
Received:

Accepted:

Published:
Keywords
Dark repair

Escherichia coli

Indicators

Photoreactivation

Low- and medium-pressure ultraviolet disinfection

Gel electrophoresis