Abstract
Silver products have been used for thousands of years for their beneficial effects, often for hygiene and in more recent years as antimicrobials on wounds from burns, trauma, and diabetic ulcers. Silver sulfadiazine creams (Silvazine and Flamazine) are topical ointments that are marketed globally. In recent years, a range of wound dressings with slow-release Ag compounds have been introduced, including Acticoat, Actisorb Silver, Silverlon, and others. While these are generally accepted as useful for control of bacterial infections (and also against fungi and viruses), key issues remain, including importantly the relative efficacy of different silver products for wound and burn uses and the existence of microbes that are resistant to Ag+. These are beneficial products needing further study, although each has drawbacks. The genes (and proteins) involved in bacterial resistance to Ag have been defined and studied in recent years.
This is a preview of subscription content, log in to check access.
Access options
Buy single article
Instant access to the full article PDF.
US$ 39.95
Price includes VAT for USA
Subscribe to journal
Immediate online access to all issues from 2019. Subscription will auto renew annually.
US$ 199
This is the net price. Taxes to be calculated in checkout.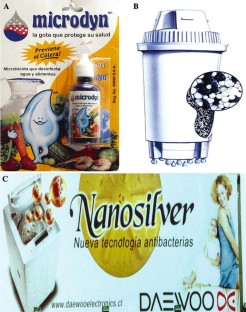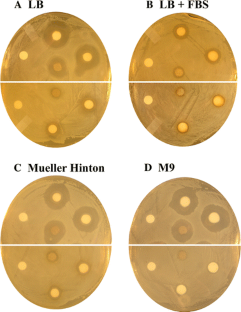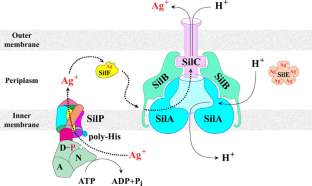 References
1.

Annear DI, Mee BJ, Bailey M (1976) Instability and linkage of silver resistance, lactose fermentation and colony structure in Enterobacter cloacae. J Clin Path 29:441–443

2.

Arguello JM (2003) Identification of ion-selectivity determinants in heavy-metal transport P1B-type ATPases. J Membr Biol 195:93–108

3.

Astashkin AV, Raitsimring AM, Walker FA, Rensing C, McEvoy MM (2005) Characterization of the copper(II) binding site in the pink copper binding protein CusF by electron paramagnetic resonance spectroscopy. J Biol Inorg Chem 10:221–230

4.

Becker RO (1999) Silver ions in the treatment of local infections. Metal-Based Drugs 6:311–314

5.

Belly RT, Kydd GC (1982) Silver resistance in microorganisms. Dev Indust Microbiol 23:567–577

6.

Bragg PD, Rainne DG (1974) The effect of silver ions on the respiratory chain of Escherichia coli. Can J Microbiol 20:883–889

7.

Bridges K, Kidson A, Lowbury EJL, Wilkins MD (1979) Gentamicin- and silver-resistant Pseudomonas. Br Med J 1:446–449

8.

Burrell RE (2003) A scientific perspective on the use of topical silver preparations. Ostomy Wound Manage 49(5A Suppl.):19–24. www.owm.com

9.

Chu CS, Matylevitch NP, McManus AT, Goodwin CW, Pruitt BA Jr (2000) Accelerated healing with a mesh autograft/allodermal composite skin graft treated with silver nylon dressings with and without direct current in rats. J Trauma 49:115–125

10.

Chu CS, McManus AT, Mason AD, Pruitt BA Jr (2005) Topical silver treatment after escharectomy of infected full thickness burn wounds in rats. J Trauma 58:1040–1046

11.

Chu CS, McManus AT, Matylevich NP, Mason AD Jr, Pruitt BA Jr (1995) Enhanced survival of autoepidermal-allodermal composite grafts in allosensitized animals by use of silver-nylon dressings and direct current. J Trauma 39:273–278

12.

Clement JL, Jarrett PS (1994) Antibacterial silver. Metal-Based Drugs 1:467–482

13.

Darouiche RO 1999. Anti-infective efficacy of silver-coated medical prostheses. Clin Infect Dis 29:1371–1377

14.

Davis IJ, Richards H, Mullany P (2005) Isolation of silver- and antibiotic-resistant Enterobacter cloacae from teeth. Oral Microbiol Immunol 20:191–194

15.

Deitch EA, Marino AA, Gillespie TE, Albright JA (1983) Silver-nylon: a new antimicrobial agent. Antimicrob Agents Chemother 23:356–359

16.

Deitch EA, Marino AA, Malakanok V, Albright JA (1987) Silver nylon cloth: in vitro and in vivo evaluation of antimicrobial activity. J Trauma 27:301–304

17.

Dibrov P, Dzioba J, Gosink KK, Hase CC (2002) Chemiosmotic mechanism of antimicrobial activity of Ag+ in Vibrio cholerae. Antimicrob Agents Chemother 46:2668–2670

18.

Dunne SM, Gainsford ID, Wilson NH (1997) Current materials and techniques for direct restorations in posterior teeth. Part 1: silver amalgam. Internat Dental J 47:123–136

19.

Feng QL, Wu J, Chen GQ, Cui FZ, Kim TN, Kim JO (2000) A mechanistic study of the antibacterial effect of silver ions on Escherichia coli and Staphylococcus aureus. J Biomed Mater Res 52:662–668

20.

Franke S, Grass G, Nies DH (2001) The product of the ybdE gene of the Escherichia coli chromosome is involved in detoxification of silver ions. Microbiology 147:965–972

21.

Franke S, Grass G, Rensing C, Nies DH (2003) Molecular analysis of the copper-transporting efflux system CusCFBA of Escherichia coli. J Bacteriol 185:3804–3812

22.

Fraser JF, Bodman J, Sturgess R, Faoagali J, Kimble RM (2004) An in vitro study of the anti-microbial efficacy of a 1% silver sulphadiazine and 0.2% chlorhexidine digluconate cream, 1% silver sulphadiazine cream and a silver coated dressing. Burns 30:35–41

23.

Gallant-Behm CL, Yin HQ, Liu S, Heggers JP, Langford RE, Olson ME, Hart DA, Burrell RE (2005) Comparison of in vitro disc diffusion and time kill-kinetic assays for the evaluation of antimicrobial wound dressing efficacy. Wound Repair Regen 13:412–421

24.

George N, Faoagali J, Muller M (1997) Silvazine (silver sulfadiazine and chlorhexidine) activity against 200 clinical isolates. Burns 23:493–495

25.

Gibbs RJ (1999) Silver colloids: do they work? Paperback, published by R. Gibbs, 40 pp, ISBN: 0967699207

26.

Gupta A, Maynes M, Silver S (1998) The effects of halides on plasmid silver resistance in Escherichia coli. Appl Environ Microbiol 64:5042–5045

27.

Gupta A, Matsui K, Lo JF, Silver S (1999) Molecular basis for resistance to silver cations in Salmonella. Nat Med 5:183–188

28.

Gupta A, Phung LT, Taylor DE, Silver S (2001) Silver resistance genes in plasmids of the IncHII incompatibility group and on the Escherichia coli chromosome. Microbiology 147:3393–3402

29.

Haefeli C, Franklin C, Hardy K (1984) Plasmid-determined silver resistance in Pseudomonas stutzeri isolated from a silver mine. J Bacteriol 158:389–392

30.

Hendry AT, Stewart IO (1979) Silver-resistant Enterobacteriaceae from hospital patients. Can J Microbiol 25:915–921

31.

Holt KB, Bard AJ (2005) Interaction of silver (I) ions with the respiratory chain of Escherichia coli: an electrochemical and scanning electrochemical microscopy study of the antimicrobial mechanism of micromolar Ag+. Biochemistry 44:13214–13223

32.

Innes ME, Umraw N, Fish JS, Gomez M, Cartotto RC (2001) The use of silver coated dressings on donor site wounds: a prospective, controlled matched pair study. Burns 27:621–627

33.

Ip M, Lui SL, Poon VKM, Lung I, Burd A (2006) Antimicrobial activities of silver dressings: an in vitro comparison. J Med Microbiol 55: 59–63

34.

Klasen HJ (2000) Historical review of the use of silver in the treatment of burns. I. Early uses. Burns 26:117–130

35.

Klasen HJ (2000) A historical review of the use of silver in the treatment of burns. II. Renewed interest for silver. Burns 26:131–138

36.

Lansdown ABG, Williams A, Chandler S, Benfield S (2005) Silver absorption and antibacterial efficacy of silver dressings. J Wound Care 14:155–160

37.

Lansdown ABG (2002) Silver: 1. its antibacterial properties and mechanism of action. J Wound Care 11:125–130

38.

Lee SM, Grass G, Rensing C, Barrett SR, Yates CJ, Stoyanov JV, Brown NL (2002) The Pco proteins are involved in periplasmic copper handling in Escherichia coli. Biochem Biophys Res Commun 295:616–620

39.

Li X-Z, Nikaido H, Williams KE (1997) Silver-resistant mutants of Escherichia coli display active efflux of Ag+ and are deficient in porins. J Bacteriol 179:6127–6132

40.

Liu HH (1999) Antibiotic resistance in bacteria: a current and future problem. Adv Exp Med Biol 455:387–396

41.

Loftin IR, Franke S, Roberts SA, Weichsel A, Heroux A, Montfort WR, Rensing C, McEvoy MM (2005) A novel copper-binding fold for the periplasmic copper resistance protein CusF. Biochemistry 44:10533–10540

42.

Lygre GB, Hol PJ, Eide R, Isrenn R, Gjerdet NR (1999) Mercury and silver in saliva from subjects with symptoms self-related to amalgam fillings. Clin Oral Investig 3:216–218

43.

McHugh SL, Moellering RC, Hopkins CC, Swartz MN (1975) Salmonella typhimurium resistant to silver nitrate, chloramphenicol, and ampicillin. Lancet 1: 235–240

44.

Melaiye A, Youngs WJ (2005) Silver and its applications as an antimicrobial agent. Expert Opin Ther Pat 15:125–130 http://www.ashley-pub.com

45.

Modak SM, Fox CL Jr (1974) Mechanism of silver sulfadiazine action on burn wound infections. Antimicrob Agents Chemother 5:582–588

46.

Modak SM, Sampath L; Fox CL Jr 1988 Combined topical use of silver sulfadiazine and antibiotics as a possible solution to bacterial resistance in burn wounds. J Burn Care Rehabil 9:359–363

47.

Monafo WW, West MA (1990) Current treatment recommendations for topical burn therapy. Drugs 40:364–373

48.

Pruitt BA Jr, McManus AT, Kim SH, Goodwin CW (1998) Burn wound infections: current status. World J Surg 22:135–145

49.

Richard JW III, Spencer BA, McCoy LF, Carino E, Washington J, Edgar P, Rosenblatt J, Goodheart R, Heggers JP ((2002) Acticoat™ versus Silverlon®: the truth. J Burns 1:11–19

50.

Russell AD, Hugo WB (1994) Antimicrobial activity and action of silver. Progress Med Chem 31:351–370

51.

Salyers AA, Amabile-Cuevas CF (1997) Why are antibiotic resistance genes so resistant to elimination? Antimicrob Agents Chemother 41:2321–2325

52.

Silver S (2003) Bacterial silver resistance: molecular biology and uses and misuses of silver compounds. FEMS Microbiol Rev 27:341–354

53.

Silver S, Gupta A, Matsui K, Lo JF (1999) Resistance to Ag(I) cations in bacteria: environments, genes and proteins. Metal-Based Drugs 6:315–320

54.

Silver S, Lo J-F, Gupta A (1999) Silver cations as an antimicrobial agent: clinical uses and bacterial resistance. APUA Newslett 17:1–3

55.

Silver S, Phung LT (1996) Bacterial heavy metal resistance: new surprises. Annu Rev Microbiol 50:753–789

56.

Silver S, Phung LT (2005) A bacterial view of the periodic table: genes and proteins for toxic inorganic ions. J Ind Microbiol Biotechnol 32:587–605

57.

Spadaro JA, Berger TJ, Barranco SD, Chapin SE, Becker RO (1974) Antibacterial effects of silver electrodes with weak direct current. Antimicrob Agents Chemother 6:637–642

58.

Thomas S, McCubbin P (2003) A comparison of the antimicrobial effects of four silver-containing dressings on three organisms. J Wound Care 12:101–107

59.

Vimy MJ, Hooper DE, King WW, Lorscheider FL (1997) Mercury from maternal "silver" tooth fillings in sheep and human breast milk: a source of neonatal exposure. Biol Trace Elem Res 56:143–152

60.

Yin HQ, Langford R, Burrell RE (1999) Comparative evaluation of the antimicrobial activity of ACTICOAT antimicrobial barrier dressing. J Burn Care Rehabil 20:195–200
About this article
Cite this article
Silver, S., Phung, L.T. & Silver, G. Silver as biocides in burn and wound dressings and bacterial resistance to silver compounds. J IND MICROBIOL BIOTECHNOL 33, 627–634 (2006). https://doi.org/10.1007/s10295-006-0139-7
Received:

Accepted:

Published:

Issue Date:
Keywords
Silver toxicity

Medical uses of silver

Industrial uses of silver

Wound treatments

Resistance mechanism