Abstract
Global Navigation Satellite System Interferometric Reflectometry (GNSS-IR) has become a robust method to extract the characteristic environmental features of reflected surfaces, where the signal transmitted from satellites reflects before receiving at GNSS antenna. When the signal arrives at the GNSS antenna from more than one path, a multipath error occurs, which causes interference of the direct and reflected signals. The interference of direct and reflected signals shows a pattern for sensing environmental features, where the signal reflects, and multipath directly affects the signal strength. Analyzing the signal strength represented by the signal-to-noise ratio (SNR) enables the retrieval of environment-related features. The software developed, named GIRAS (GNSS-IR Analysis Software), can process multi-constellation GNSS signal data and estimate the SNR metrics, namely phase, amplitude, and frequency, for further computations with several optional statistical analyses for controlling the quality of the estimations, as required, such as snow depth retrieval, effective reflector height estimation, and soil moisture monitoring. The software developed in the MATLAB environment has a graphical user interface. To represent the processes of the working procedures of the software, we conducted a case study with 7-day site data from the multi-GNSS experiment (MGEX) Project network displaying how to process GNSS data with input and output file properties.
Access options
Buy single article
Instant access to the full article PDF.
USD 39.95
Price includes VAT (USA)
Tax calculation will be finalised during checkout.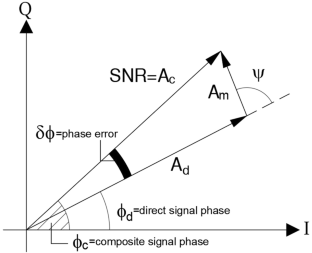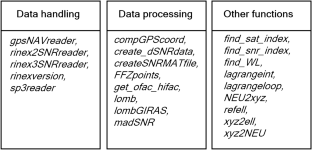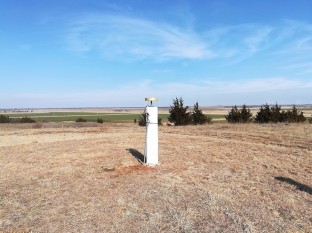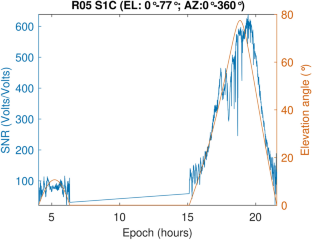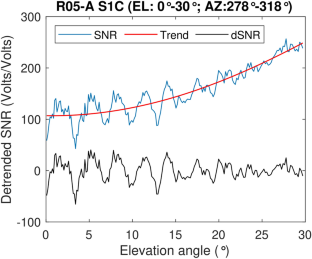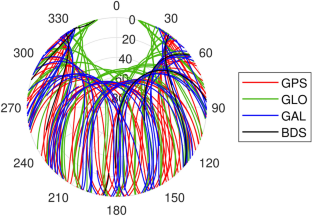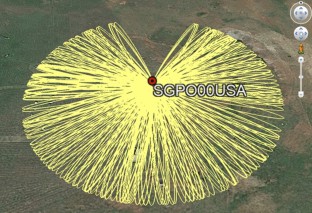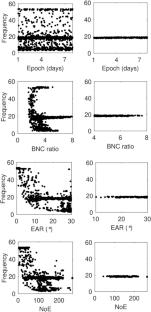 References
Altuntas C, Tunalioglu N (2020) Estimation performance of soil moisture with GPS-IR method. Sigma: J Eng Nat Sci 38(4):2217-2230

Anderson KD (2000) Determination of water level and tides using interferometric observations of GPS signals. J Atmos Oceanic Tech 17(8):1118–1127. https://doi.org/10.1175/1520-0426(2000)017%3c1118:DOWLAT%3e2.0.CO;2

Axelrad P, Comp CJ, MacDoran PF (1996) SNR-based multipath error correction for GPS differential phase. IEEE Trans Aerosp Electron Syst 32(2):650–660

Bilich A, Axelrad P, Larson KM (2007) Scientific utility of the signal-to-noise ratio (SNR) Reported by Geodetic GPS Receivers, Proc. ION GNSS 2007, Institute of Navigation, Nashville, Tennessee, USA, September 25–28, 1999–2010.

Bilich A, Larson KM (2007) Mapping the GPS multipath environment using the signal-to-noise ratio (SNR). Radio Sci. https://doi.org/10.1029/2007RS003652

Chen Q, Won D (2014) Akos DM (2014) Snow depth sensing using the GPS L2C signal with a dipole antenna. EURASIP J Adv Signal Process 1:106. https://doi.org/10.1186/1687-6180-2014-106

Chew C, Small EE, Larson KM (2016) An algorithm for soil moisture estimation using GPS-interferometric reflectometry for bare and vegetated soil. GPS Sol 20(3):525–537. https://doi.org/10.1007/s10291-015-0462-4

Craymer M (2021) Geodetic Toolbox. MATLAB central file exchange (https://mathworks.com/matlabcentral/fileexchange/15285-geodetic-toolbox).

Gutmann ED, Larson KM, Williams MW, Nievinski FG, Zavorotny V (2012) Snow measurement by GPS interferometric reflectometry: an evaluation at Niwot Ridge. Colorado Hydrol Process 26(19):2951–2961. https://doi.org/10.1002/hyp.8329

Han M, Zhu Y, Yang D, Chang Q, Hong X, Song S (2020) Soil moisture monitoring using GNSS interference signal: proposing a signal reconstruction method. Remote Sens Lett 11(4):373–382. https://doi.org/10.1080/2150704X.2020.1718235

Hefty J, Gerhatova LU (2014) Using GPS multipath for snow depth sensing-first experience with data from permanent stations in Slovakia. Acta Geodyn Geomater 11(1):53–63. https://doi.org/10.13168/AGG.2013.0055

Hekimoglu S, Erdogan B, Soycan M, Durdag UM (2014) Univariate approach for detecting outliers in geodetic networks. J Surv Eng 140(2):04014006. https://doi.org/10.1061/(ASCE)SU.1943-5428.0000123

Hocke K (1998) Phase estimation with the Lomb-Scargle periodogram method. Ann Geophys-Eur Geophys Soc 16:356–358

Jin S, Qian X, Kutoglu H (2016) Snow depth variations estimated from GPS-Reflectometry: a case study in Alaska from L2P SNR data. Remote Sensing 8(1):63. https://doi.org/10.3390/rs8010063

Larson KM, Braun JJ, Small EE, Zavorotny VU, Gutmann ED, Bilich AL (2009a) GPS multipath and its relation to near-surface soil moisture content. IEEE J Select Topics Appl Earth Observ Remote Sens 3(1):91–99. https://doi.org/10.1109/JSTARS.2009.2033612

Larson KM, Gutmann ED, Zavorotny VU, Braun JJ, Williams MW, Nievinski FG (2009) Can we measure snow depth with GPS receivers? Geophys Res Lett. https://doi.org/10.1029/2009GL039430

Larson KM, Nievinski FG (2013) GPS snow sensing: results from the EarthScope Plate Boundary Observatory. GPS Solutions 17(1):41–52. https://doi.org/10.1007/s10291-012-0259-7

Larson KM, Small EE, Gutmann ED, Bilich AL, Axelrad A, Braun JJ (2008) Using GPS multipath to measure soil moisture fluctuations: initial results. GPS Sol 12(3):173–177

Larson KM, Small EE, Gutmann ED, Bilich AL, Braun JJ, Zavorotny VU (2008) Use of GPS receivers as a soil moisture network for water cycle studies. Geophys Res Lett 35:L24405

Lomb NR (1976) Least-squares frequency analysis of unequally spaced data. Astrophys Space Sci 39(2):447–462

Maronna RA, Martin DR, Yohai VJ (2006) Robust statistics: theory and methods. Wiley Series in Probability and Statistics, New York

Masters D, Axelrad P, Katzberg S (2004) Initial results of land-reflected GPS bistatic radar measurements in SMEX02. Remote Sens Environ 92(4):507–520. https://doi.org/10.1016/j.rse.2004.05.016

Ozeki M, Heki K (2012) GPS snow depth meter with geometry-free linear combinations of carrier phases. J Geodesy 86(3):209–219. https://doi.org/10.1007/s00190-011-0511-x

Qian X, Jin S (2016) Estimation of snow depth from GLONASS SNR and phase-based multipath reflectometry. IEEE J Select Topics Appl Earth Observ Remote Sens 9(10):4817–4823. https://doi.org/10.1109/JSTARS.2016.2560763

Roesler C, Larson KM (2018) Software tools for GNSS interferometric reflectometry (GNSS-IR). GPS Solut 22(3):80

Rousseeuw PJ, Leroy AM (1987) Robust regression and outlier detection, vol 1. Wiley, New York

Roussel N, Frappart F, Ramillien G, Darrozes J, Baup F, Lestarquit L, Ha MC (2016) Detection of soil moisture variations using GPS and GLONASS SNR data for elevation angles ranging from 2 to 70. IEEE J Select Topics Appl Earth Observ Remote Sens 9(10):4781–4794. https://doi.org/10.1109/JSTARS.2016.2537847

Scargle JD (1982) Studies in astronomical time series analysis. II-Statistical aspects of spectral analysis of unevenly spaced data. Astrophys J 263:835–853

Small EE, Larson KM, Braun JJ (2010) Sensing vegetation growth with reflected GPS signals. Geophys Res Lett 37(12):L12401. https://doi.org/10.1029/2010GL042951

Wan W, Larson KM, Small EE, Chew CC, Braun JJ (2015) Using geodetic GPS receivers to measure vegetation water content. GPS Sol 19:237–248. https://doi.org/10.1007/s10291-014-0383-7

Xi R, Zhou X, Jiang W, Chen Q (2018) Simultaneous estimation of dam displacements and reservoir level variation from GPS measurements. Measurement 122:247–256. https://doi.org/10.1016/j.measurement.2018.03.036

Yang Y, Zheng Y, Yu W, Chen W, Weng D (2019) Deformation monitoring using GNSS-R technology. Adv Space Res 63(2019):3303–3314

Zhang S, Roussel N, Boniface K, Ha MC, Frappart F, Darrozes J, Baup F, Calvet JC (2017) Use of reflected GNSS SNR data to retrieve either soil moisture or vegetation height from a wheat crop. Hydrol Earth Syst Sci 21:4767–4784. https://doi.org/10.5194/hess-21-4767-2017
Acknowledgements
We would like to thank The Crustal Dynamics Data Information System (CDDIS) and the Center for Orbit Determination in Europe (CODE) for the GNSS data and IGS precise orbits and open-access MATLAB codes provided by Roesler and Larson (2018) and Craymer (2021).
Additional information
Publisher's Note
Springer Nature remains neutral with regard to jurisdictional claims in published maps and institutional affiliations.
The GPS Tool Box is a column dedicated to highlighting algorithms and source code utilized by GPS engineers and scientists. If you have an interesting program or software package you would like to share with our readers, please pass it along; e-mail it to us at gpstoolbox@ngs.noaa.gov. To comment on any of the source code discussed here, or to download source code, visit our website at http://www.ngs.noaa.gov/gps-toolbox. This column is edited by Stephen Hilla, National Geodetic Survey, NOAA, Silver Spring, Maryland, and Mike Craymer, Geodetic Survey Division, Natural Resources Canada, Ottawa, Ontario, Canada.
About this article
Cite this article
Altuntas, C., Tunalioglu, N. GIRAS: an open-source MATLAB-based software for GNSS-IR analysis. GPS Solut 26, 16 (2022). https://doi.org/10.1007/s10291-021-01201-3
Received:

Accepted:

Published:
Keywords
GNSS-IR

SNR metrics

Statistical quality analysis

GIRAS