Abstract
We address two main problems related to the receiver and satellite differential code biases (DCBs) determination. The first issue concerns the drifts and jumps experienced by the DCB determinations of the International GNSS Service (IGS) due to satellite constellation changes. A new alignment algorithm is introduced to remove these nonphysical effects, which is applicable in real time. The full-time series of 18 years of Global Positioning System (GPS) satellite DCBs, computed by IGS, are realigned using the proposed algorithm. The second problem concerns the assessment of the DCBs accuracy. The short- and long-term receiver and satellite DCB performances for the different Ionospheric Associate Analysis Centers (IAACs) are discussed. The results are compared with the determinations computed with the two-layer Fast Precise Point Positioning (Fast-PPP) ionospheric model, to assess how the geometric description of the ionosphere affects the DCB determination and to illustrate how the errors in the ionospheric model are transferred to the DCB estimates. Two different determinations of DCBs are considered: the values provided by the different IAACs and the values estimated using their pre-computed Global Ionospheric Maps (GIMs). The second determination provides a better characterization of DCBs accuracy, as it is confirmed when analyzing the DCB variations associated with the GPS Block-IIA satellites under eclipse conditions, observed mainly in the Fast-PPP DCB determinations. This study concludes that the accuracy of the IGS IAACs receiver DCBs is approximately 0.3–0.5 and 0.2 ns for the Fast-PPP. In the case of the satellite DCBs, these values are about 0.12–0.20 ns for IAACs and 0.07 ns for Fast-PPP.
This is a preview of subscription content, log in to check access.
Access options
Buy single article
Instant access to the full article PDF.
US$ 39.95
Price includes VAT for USA
Subscribe to journal
Immediate online access to all issues from 2019. Subscription will auto renew annually.
US$ 99
This is the net price. Taxes to be calculated in checkout.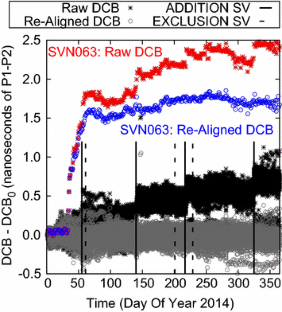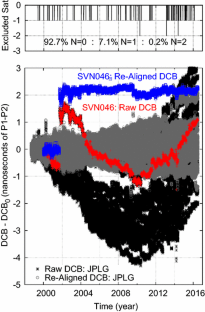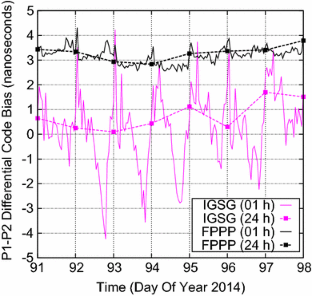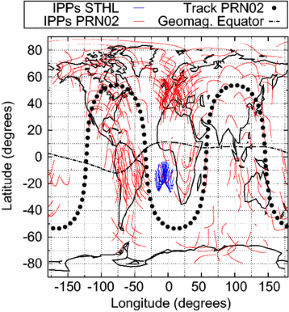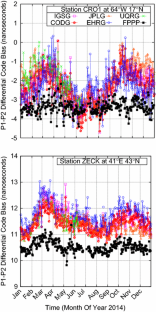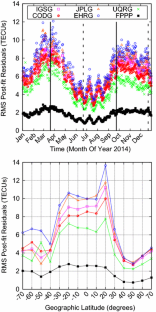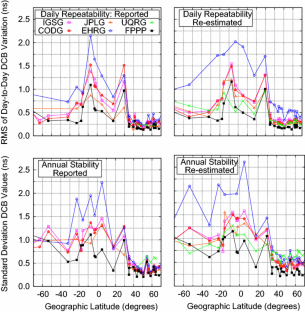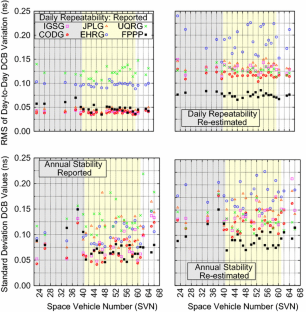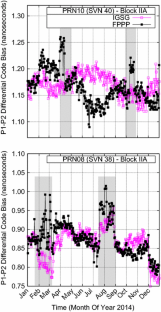 References
Colleen HY, Feess WA, Esposti RD, Chasko A, Cosentino B, Wilson B, Wheaton B (1999) GPS satellite interfrequency biases. In: Proceedings of ION GPS 1999, Institute of Navigation, Cambridge, MA, USA, 27–30 June, pp 347–354

Hernández-Pajares M, Juan JM, Sanz J (1999) New approaches in global ionospheric determination using ground GPS data. J Atmos Solar Terr Phys 61:1237–1247. doi:10.1016/S1364-6826(99)00054-1

Hernández-Pajares M, Juan JM, Sanz J, Orus R, Garcia-Rigo A, Feltens J, Komjathy A, Schaer SC, Krankowski A (2009) The IGS VTEC maps: a reliable source of ionospheric information since 1998. J Geod 83:263–275. doi:10.1007/s00190-008-0266-1

IS-GPS-200H (2014). Navstar GPS space segment/navigation user interface. IS-GPS-200H interface control document. http://www.gps.gov/technical/icwg/IS-GPS-200H.pdf

Juan JM, Rius A, Hernández-Pajares M, Sanz J (1997) A two layers model of the ionosphere using Global Positioning System data. Geophys Res Lett 24(4):393–396. doi:10.1029/97GL00092

Komjathy A, Wilson BD, Runge TF, Boulat BM, Mannucci AJ, Sparks L, Reyes MJ (2002) A new ionospheric model for wide area differential GPS: the multiple shell approach. In: Proceedings of ION NTM 2002, Institute of Navigation, San Diego, CA, USA, 28–30 Jan, pp 460–466

Li Z, Yuan Y, Li H, Ou J, Huo X (2012) Two-step method for the determination of the differential code biases of COMPASS satellites. J Geod 86(11):1059–1107. doi:10.1007/s00190-012-0565-4

Montenbruck O, Hugentobler U, Dach R, Steigenberger P, Hauschild A (2011) Apparent clock variations of the Block IIF-1 (SVN062) GPS satellite. GPS Solut. 16(3):303–313. doi:10.1007/s10291-011-0232-x

Montenbruck O, Hauschild A, Steigenberger P (2014) Differential code bias estimation using multi-GNSS observations and global ionosphere maps. Navigation 61(3):191–201. doi:10.1002/navi.64

Ray J, Senior K (2005) Geodetic techniques for time and frequency comparisons using GPS phase and code measurements. Metrologia 4(42):215–232. doi:10.1088/0026-1394/42/4/005

Rovira-Garcia A, Juan JM, Sanz J, González-Casado G (2015) A World-Wide Ionospheric Model for Fast Precise Point Positioning. IEEE Trans Geosci Remote Sens 53(8):4596–4604. doi:10.1109/TGRS.2015.2402598

Rovira-Garcia A, Juan JM, Sanz J, González-Casado G, Ibáñez-Segura D (2016) Accuracy of ionospheric models used in GNSS and SBAS: methodology and analysis. J Geod. 90(3):229–240. doi:10.1007/s00190-015-0868-3

Schaer S (2008) Differential code biases (DCB) in GNSS analysis. In: Proceedings of international GNSS service analysis center workshop 2008, Miami Beach. https://www.ngs.noaa.gov/IGSWorkshop2008/docs/Schaer_DCB_IGSWS2008.ppt

Schaer S, Guenter W, Feltens J (1998) IONEX: The IONosphere Map EXchange format version 1. https://igscb.jpl.nasa.gov/igscb/dataformat/ionex1.pdf

Yue X, Schreiner WS, Hunt DC, Rocken C, Kuo YH (2011) Quantitative evaluation of the low Earth orbit satellite based slant total electron content determination. Space Weather 9(9):S09001. doi:10.1029/2011SW000687

Zhang D, Shi H, Jin Y, Zhang W, Hao Y, Xiao Z (2014) The variation of the estimated GPS instrumental bias and its possible connection with ionospheric variability. Sci China Technol Sci 57(1):67–79. doi:10.1007/s11431-013-5419-7

Zhong J, Lei J, Dou X, Yue X (2016) Is the long-term variation of the estimated GPS differential code biases associated with ionospheric variability? GPS Solut 20(3):313–319. doi:10.1007/s10291-015-0437-5
Acknowledgements
The authors acknowledge the use of data and products from the International GNSS Service. This work has been partially sponsored by the Spanish Ministry of Science and Innovation project CGL2015-66410-P, the ESA/ESTEC ICASES project PO 1520026618/01, and the ESA/EPO project EG-SIFE, Contract No. 40001122/14/NL/WE.
About this article
Cite this article
Sanz, J., Miguel Juan, J., Rovira-Garcia, A. et al. GPS differential code biases determination: methodology and analysis. GPS Solut 21, 1549–1561 (2017). https://doi.org/10.1007/s10291-017-0634-5
Received:

Accepted:

Published:

Issue Date:
Keywords
DCB

Ionospheric models

GPS

GNSS