Abstract
Recent advances in trade theory suggest novel gains from trade liberalisation through technology adoption by expanding exporting firms. These theories rely on strict assumptions regarding the productivity sorting of firms with different technology use. In this paper, we test the sorting of German firms using data on actually implemented technologies. Our analysis distinguishes between manufacturing and service industries. In case of the former, we confirm the sorting pattern of the most productive firms being high-tech exporters, followed by low-tech exporters and then domestic low-tech firms. For services, the evidence is mixed and potentially depends on the tradability of the considered services.
Access options
Buy single article
Instant access to the full article PDF.
US$ 39.95
Tax calculation will be finalised during checkout.
Subscribe to journal
Immediate online access to all issues from 2019. Subscription will auto renew annually.
US$ 79
Tax calculation will be finalised during checkout.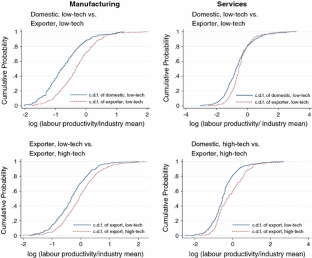 Notes
1.

Note that in common heterogeneous firms models of international trade, firm size and productivity are directly and positively linked (Melitz 2003). The argument that larger firms find it profitable to use the advanced technology is thus equivalent to the statement that the most productive firms will use the high-level technology.

2.

We see some advantages of using actually implemented technologies rather than R&D. First, firms could implement advanced technologies without having invented them themselves, i.e. R&D is not directly linked to the actual implementation. Second, the time-lag between R&D activities and implementation of new technologies could be considerable and would thus be missed in a cross-sectional analysis of sorting patterns. Third, looking at R&D activities usually does not allow differentiation between product and process innovation, the latter of which is closest in spirit to the theoretical mechanism in models such as Bustos (2011) and Lileeva and Trefler (2010).

3.

One of the first applications of the premia analysis in the international trade literature is provided by Bernard and Jensen (1999) who compare performance measures of exporters with those of non-exporters.

4.

For a brief illustration and application of the KS test in a similar context, see for instance Kohler and Smolka (2012).

5.

6.

We acknowledge that this method may seem a bit arbitrary and conduct a more careful analysis of the appropriate treatment of outliers in Sect. 4.3.1. Using different methods, including robust regression techniques, we find our results to be highly robust to different treatments of outliers.

7.

In order to gauge the sensitivity of the results with respect to the definition of the IT indicator, we conduct several robustness analyses. See Sect. 4.3.2 for details.

8.

See for example Engelstätter (2012) for an overview of the performance effects of ERP and SCM.

9.

The majority of domestic firms classified as high-tech are from the machinery or consumer goods industry. These firms are on average smaller than the firms from the other groups with an average firm size of 138 employees compared to 502 employees for the firms of the other groups.

10.

Results can be found in Table 9 in the appendix.

11.

Since the technology intensity classification is different with the alternative IT indicators in comparison to the IT baseline index, the sample size varies slightly as the group composition depends on the respective IT index.

12.

See for example Engelstätter (2012) for further details on these applications.

13.

See e.g. Engelstätter (2012) for a use of this measure.
References
Aral, S., Brynjolfsson, E., & Wu, D. (2006). Which came first, IT or productivity? The virtuous cycle of investment and use in enterprise systems. Twenty seventh international conference on information systems, Milwaukee.

Bernard, A. B., & Jensen, J. B. (1999). Exceptional exporter performance: Cause, effect or both? Journal of International Economics, 47(1), 1–25.

Bresnahan, T., Brynjolfsson, E., & Hitt, L. (2002). Information technologies, workplace organization and the demand for skilled labor: Firm-level evidence. Quarterly Journal of Economics, 117(1), 339–376.

Bustos, P. (2011). Trade liberalization, exports, and technology upgrading: Evidence on the impact of mercosur on Argentinian firms. American Economic Review, 101(1), 304–340.

Engelstätter, B. (2012). It's not all about performance gains—enterprise software and innovations. Economics of Innovation and New Technology, 21(3), 223–245.

Huber, P. J. (1964). Robust estimation of a location parameter. The Annals of Mathematical Statistics, 35(1), 73–101.

Kohler, W., & Smolka, M. (2012). Global sourcing decisions and firm productivity: Evidence from Spain. In R. Stern (Ed.), Quantitative analysis of newly evolving patterns of international trade: Fragmentation; offshoring of activities; and vertical intra-industry trade, (chapt 4, pp. 139–189). World Scientific Studies in International Economics.

Lileeva, A., & Trefler, D. (2010). Improved access to foreign markets raises plant-level productivity... for some plants. Quarterly Journal of Economics, 125(3), 1051–1099.

Melitz, M. (2003). The impact of trade on intra-industry reallocation and aggregate industry productivity. Econometrica, 71(6), 1695–1725.

Melitz, M., & Trefler, D. (2012). Gains from trade when firms matter. Journal of Economic Perspectives, 26(2), 91–118.

Rousseeuw, P. J., & Leroy, A. M. (2005). Robust regression and outlier detection (Vol. 589). New York: Wiley.

Verardi, V., & Croux, C. (2009). Robust regression in stata. Stata Journal, 9(3), 439–453.

Verardi, V., & Wagner, J. (2012). Productivity premia for German manufacturing firms exporting to the euro-area and beyond: First evidence from robust fixed effects estimations. The World Economy, 35(6), 694–712.

Vogel, A., & Wagner, J. (2011). Robust estimates of exporter productivity premia in German business services enterprises. Economic & Business Review, 13(1–2), 7–26.

Vogel, A., & Wagner, J. (2013). Exports, R&D and productivity in German business services firms: A test of the Bustos-model. Empirical Economics Letters, 12(1), 1–6.

Wagner, J. (2012). Exports, R&D and productivity: A test of the Bustos-model with German enterprise data. Economics Bulletin, 32(3), 1942–1948.

ZEW (2010). IKT-Report. Unternehmensbefragung zur Nutzung von Informations- und Kommunikationstechnologien. Available at http://www.zew.de/en/forschung/projekte.php3?action=detail&nr=328&abt=ikt
Acknowledgments
We gratefully acknowledge support by the ZEW research programme Strengthening Efficiency and Competitiveness of the European Knowledge Economies (SEEK), financed by the state of Baden-Württemberg. We thank the participants of the corresponding SEEK workshop in Mannheim, the European Trade Study Group conference 2012 in Leuven, the PhD seminar in Industrial Organization at the University of Mannheim, the 9th International Economics Workshop in Aarhus and an anonymous referee for constructive discussions. James Binfield provided helpful research assistance. For further projects of the authors see www.zew.de/staff_ibe, www.zew.de/staff_jhf and www.zew.de/staff_frl as well as the ZEW annual report under www.zew.de.
Appendix
Appendix
See the Tables 9, 10, 11, 12, 13, 14, 15.
About this article
Cite this article
Bertschek, I., Hogrefe, J. & Rasel, F. Trade and technology: new evidence on the productivity sorting of firms. Rev World Econ 151, 53–72 (2015). https://doi.org/10.1007/s10290-014-0202-9
Keywords
Exports

Productivity

Sorting

Information technology

Firm-level data
JEL Classification