Abstract
This paper examines the effect that a country's business regulatory environment has on the amount of foreign direct investment it attracts. We use the World Bank's Ease of Doing Business ranking to capture the costs that firms face when operating in a country. Several interesting results emerge. Firstly, the Doing Business rank is highly significant when included in a standard empirical foreign direct investment (FDI) model estimated on data averaged over the period 2004–2009. Secondly, the significance of the overall Doing Business is driven by the Ease of Trading Across Borders component. Thirdly, the relationship is significant for middle income countries, but not for the World's poorest region, Sub-Saharan Africa, or for the OECD. Finally, we find no evidence that the ease of doing business of nearby countries has an effect on the FDI that a country gets in general.
Access options
Buy single article
Instant access to the full article PDF.
USD 39.95
Price excludes VAT (USA)
Tax calculation will be finalised during checkout.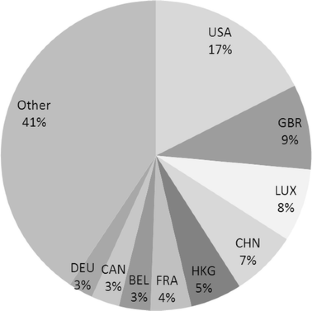 References
Alesina, A., Ardagna, S., Nicoletti, G., & Schiantarelli, F. (2005). Regulation and investment. Journal of the European Economic Association, 3(4), 791–825.

Asiedu, E. (2002). On the determinants of foreign direct investment to developing countries: Is Africa different? World Development, 30(1), 107–119.

Asiedu, E. (2006). Foreign direct investment in Africa: The role of natural resources, market size, government policy, institutions and political instability. The World Economy, 29(1), 63–77.

Barseghyan, L. (2008). Entry costs and cross-country differences in productivity and output. Journal of Economic Growth, 13(2), 145–167.

Blonigen, B., Davies, R., Waddell, G., & Naughton, H. (2007). FDI in space: Spatial autoregressive relationships in foreign direct investment. European Economic Review, 51(5), 1303–1325.

Blonigen, B. and J. Piger (2011). Determinants of Foreign Direct Investment. NBER Working Paper 16704, Cambridge, MA: National Bureau of Economic Research.

Blonigen, B., & Wang, M. (2005). Inappropriate pooling of wealthy and poor countries in empirical FDI studies. In E. G. T. Moran & M. Blomström (Eds.), Does foreign direct investment promote development? (pp. 221–243). Washington, DC: Institute for International Economics.

Bruhn, M. (2011). License to sell: the effect of business registration reform on entrepreneurial activity in mexico. The Review of Economics and Statistics, 93(1), 382–386.

Busse, M., & Hefeker, C. (2007). Political risk, institutions and foreign direct investment. European Journal of Political Economy, 23(2), 397–415.

Carr, D., Markusen, J., & Maskus, K. (2001). Estimating the knowledge-capital model of the multinational enterprise. The American Economic Review, 91(3), 693–708.

Centre d'Etudes Prospectives et d'Informations Internationales. GeoDist and Gravity Databases. http://www.cepii.fr/CEPII/en/cepii/cepii.asp

Djankov, S., Freund, C., & Pham, C. (2010). Trading on time. The Review of Economics and Statistics, 92(1), 166–173.

Djankov, S., McLiesh, C., & Ramalho, R. (2006). Regulation and growth. Economics Letters, 92(3), 395–401.

Eicher, T., L. Helfman, and A. Lenkoski (2011). Robust FDI determinants: Bayesian model averaging in the presence of selection bias. Working Papers 110.

Gastanaga, V., Nugent, J., & Pashamova, B. (1998). Host country reforms and FDI inflows: How much difference do they make? World Development, 26(7), 1299–1314.

Gillanders, R. and K. Whelan (2010). Open for business? Institutions, business environment and economic development. Working Papers 201040, School Of Economics, University College Dublin.

Jayasuriya, D. (2011). Improvements in the world bank's ease of doing business rankings: Do they translate into greater foreign direct investment inflows? Policy Research Working Paper 5787, Washington, DC: World Bank.

Klapper, L., Laeven, L., & Rajan, R. (2006). Entry regulation as a barrier to entrepreneurship. Journal of Financial Economics, 82(3), 591–629.

Lawless, M. (2009). Tax complexity and inward investment. Research Technical Papers 5/RT/09, Central Bank of Ireland.

Lucas, R. (1993). On the determinants of direct foreign investment: Evidence from East and Southeast Asia. World Development, 21(3), 391–406.

The Bureau of Economic Analysis. International Economic Accounts. http://www.bea.gov/international/index.htm

The World Bank. Doing Business. http://www.doingbusiness.org/

The World Bank. World Development Indicators. http://data.worldbank.org/data-catalog/world-development-indicators

The World Economic Forum. The Global Competitiveness Report. http://www.weforum.org/issues/competitiveness-0/gci2012-data-platform/

United Nations Educational, Scientific and Cultural Organization Institute for Statistics. Data Centre. http://www.uis.unesco.org/DataCentre/Pages/default.aspx
Acknowledgment
We are grateful to Michael Breen, Matt Cole, Ron Davies, Patrick Paul Walsh, Karl Whelan, an anonymous referee, the members of University College Dublin's Trade Economics Group and attendees at the 2011 Irish Society for New Economists conference and the 2012 Irish Economic Association Conference for helpful comments and suggestions.
About this article
Cite this article
Corcoran, A., Gillanders, R. Foreign direct investment and the ease of doing business. Rev World Econ 151, 103–126 (2015). https://doi.org/10.1007/s10290-014-0194-5
Published:

Issue Date:

DOI: https://doi.org/10.1007/s10290-014-0194-5
Keywords
Foreign direct investment

Business regulation

Trade costs

Regulation

Doing business
JEL Classification