Abstract
We describe a patient with neurogenic orthostatic hypotension (nOH) after brainstem neurosurgery in whom baroreflex-cardiovagal function was normal despite baroreflex-sympathoneural failure. We also cite other conditions entailing differential alterations in the two efferent limbs of the baroreflex. Any condition involving nOH from selective loss of sympathetic noradrenergic innervation, interference with sympathetic pre-ganglionic transmission in the thoracolumbar spinal cord, sympathectomies, or attenuated intra-neuronal synthesis, storage, or release of norepinephrine would be expected to manifest with selective baroreflex-sympathoneural dysfunction. We advise caution in relying on indices of baroreflex-cardiovagal function for diagnosing nOH, since normal values for these indices do not exclude nOH.
Access options
Buy single article
Instant access to the full article PDF.
USD 39.95
Price excludes VAT (USA)
Tax calculation will be finalised during checkout.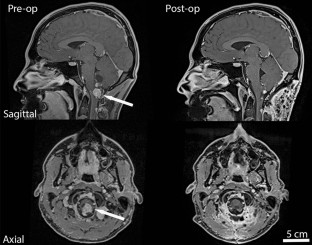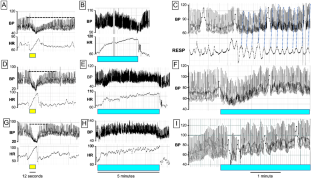 Data availability
The source data are available upon reasonable request as determined by the Corresponding Author.
References
Dutoit AP, Hart EC, Charkoudian N, Wallin BG, Curry TB, Joyner MJ (2010) Cardiac baroreflex sensitivity is not correlated to sympathetic baroreflex sensitivity within healthy, young humans. Hypertension 56:1118–1123

Farrell MC, Shibao CA (2020) Morbidity and mortality in orthostatic hypotension. Auton Neurosci 229:102717

Furlan R, Porta A, Costa F, Tank J, Baker L, Schiavi R, Robertson D, Malliani A, Mosqueda-Garcia R (2000) Oscillatory patterns in sympathetic neural discharge and cardiovascular variables during orthostatic stimulus. Circulation 101:886–892

Goldstein DS, Cheshire WP Jr (2017) Beat-to-beat blood pressure and heart rate responses to the Valsalva maneuver. Clin Auton Res 27:361–367

Goldstein DS, Horwitz D, Keiser HR (1982) Comparison of techniques for measuring baroreflex sensitivity in man. Circulation 66:432–439

Idiaquez JF, Idiaquez J, Casar JC, Biaggioni I (2021) Neurogenic orthostatic hypotension. Lessons from synucleinopathies. Am J Hypertens 34:125–133

Manin't Veld AJ, Boomsma H, Moleman P, Schalekamp MADH (1987) Congenital dopamine-beta-hydroxylase deficiency. Lancet 1:183–188

Nathan MA, Reis DJ (1977) Chronic labile hypertension produced by lesions of the nucleus tractus solitarii in the cat. Circ Res 40:72–81

Norcliffe-Kaufmann L, Kaufmann H, Palma JA, Shibao CA, Biaggioni I, Peltier AC, Singer W, Low PA, Goldstein DS, Gibbons CH, Freeman R, Robertson D; Autonomic Disorders Consortium (2018) Orthostatic heart rate changes in patients with autonomic failure caused by neurodegenerative synucleinopathies. Ann Neurol 83:522–531

Phillips AA, Krassioukov AV, Ainslie PN, Warburton DE (2012) Baroreflex function after spinal cord injury. J Neurotrauma 29:2431–2445

Preiss G, Polosa C (1974) Patterns of sympathetic neuron activity associated with Mayer waves. Am J Physiol 226:724–730

Shibao CA, Garland EM, Black BK, Mathias CJ, Grant MB, Root AW, Robertson D, Biaggioni I (2020) Congenital absence of norepinephrine due to CYB561 mutations. Neurology 94:e200–e204

Taylor JA, Williams TD, Seals DR, Davy KP (1998) Low-frequency arterial pressure fluctuations do not reflect sympathetic outflow: gender and age differences. Am J Physiol 274:H1194-1201

ten Harkel AD, van Lieshout JJ, Wieling W (1991) Circulatory autonomic failure 50 years after acute poliomyelitis. Clin Auton Res 1:215–217

van Lieshout JJ, Wieling W, Wesseling KH, Endert E, Karemaker JM (1990) Orthostatic hypotension caused by sympathectomies performed for hyperhidrosis. Neth J Med 36:53–57
Acknowledgements
The research reported here was supported (in part) by the Division of Intramural Research, National Institutes of Health (NINDS). 
Funding
Division of Intramural Research, NINDS, NIH.
Ethics declarations
Conflict of interest
The authors have no conflicts of interest to disclose.
About this article
Cite this article
Goldstein, D.S., Dill, S., Sullivan, P. et al. Baroreflex-sympathoneural without baroreflex-cardiovagal failure in neurogenic orthostatic hypotension. Clin Auton Res (2023). https://doi.org/10.1007/s10286-023-00935-z
Received:

Accepted:

Published:

DOI: https://doi.org/10.1007/s10286-023-00935-z
Keywords
Orthostatic hypotension

Baroreflex

Sympathoneural

Cardiovagal

Neurosurgery