Access options
Buy single article
Instant access to the full article PDF.
USD 39.95
Price excludes VAT (USA)
Tax calculation will be finalised during checkout.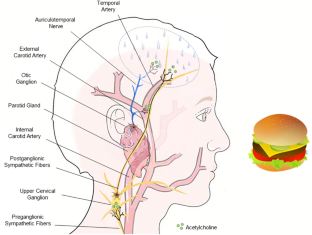 Availability of data and material
All authors ensure that all data and materials as well as software application or custom code (if applicable) support the published claims and comply with field standards.
References
Young A, Okuyemi OT. Frey syndrome. 2022. StatPearls [Internet]. Treasure Island: StatPearls Publishing. https://www.ncbi.nlm.nih.gov/books/NBK562247/. Accessed 14 Dec 2022

Linder TE, Huber A, Schmid S (1997) Frey's syndrome after parotidectomy: a retrospective and prospective analysis. Laryngoscope 107(11 Pt 1):1496–1501. https://doi.org/10.1097/00005537-199711000-00013

Betti C, Milani GP, Lava SAG et al (2022) Auriculotemporal Frey syndrome not associated with surgery or diabetes: systematic review. Eur J Pediatr 181:2127–2134. https://doi.org/10.1007/s00431-022-04415-w

Harrison K, Donaldson I (1979) Frey's syndrome. J R Soc Med 72(7):503–508. https://doi.org/10.1177/014107687907200708

Purkayastha S, Firth JA, Darzi AW (2013) Surgical anatomy for the treatment for Frey's syndrome. In: Mathias CJ, Bannister R (eds) Autonomic failure: a textbook of clinical disorders of the autonomic nervous system, 5th edn. Oxford: Oxford University Press, pp 86–87

Wood CB, Netterville JL (2019) Temporoparietal Frey syndrome: An uncommon variant of a common syndrome. Laryngoscope 129(9):2071–2075. https://doi.org/10.1002/lary.27632.

Motz KM, Kim YJ (2016) Auriculotemporal syndrome (Frey syndrome). Otolaryngol Clin North Am 49(2):501–509. https://doi.org/10.1016/j.otc.2015.10.010.

Tugnoli V, Marchese Ragona R, Eleopra R, Quatrale R, Capone JG, Pastore A, Montecucco C, De Grandis D (2002) The role of gustatory flushing in Frey's syndrome and its treatment with botulinum toxin type A. Clin Auton Res 12(3):174–178. https://doi.org/10.1007/s10286-002-0026-x
Funding
Bianca Caliò has nothing to disclose. Gregor K. Wenning: research support from the Austrian Autonomic Society, Austrian National Bank Jubilee Fonds, Austrian Neurology Society, Austrian Parkinson Society, Austrian Science Foundation, Guide point-USA, Institut de Recherches Internationales Servier, Michael J Fox Foundation, MSA Coalition, Parkinson Fonds Austria, Tirol Kliniken, Tyrolean Science Foundation; and consulting and/or lecture fees from Abbvie, Affiris, Alterity, BIAL, Biogen, Biohaven, Cytora, Hoffman RocheNovartis, Inbeeo LTD, Inhibicase, IONIS, Lundbeck, Minoryx, Ono Pharma, PRANA, Takeda, TEVA, Thearavance Biopharma, UniQure, Vaxxinity and Yumanity, outside of the present work. Alessandra Fanciulli: royalties from Springer Verlag, speaker fees and honoraria from Healthware, Stopp-HSP, Theravance Biopharma, the Austrian Autonomic Society, the Austrian Neurology Society, the International Parkinson Disease and Movement Disorders Society; and research grants from the Austrian Science Fund, Austrian Exchange Program, Parkinson Fund, Dr Johannes and Hertha Tuba Foundation and US MSA Coalition, outside of the present work. Carlo Colosimo: royalties from Oxford University Press and Cambridge University Press, speaker fees and honoraria from BIAL, Ipsen, the International Parkinson Disease and Movement Disorders Society, outside of the present work.
Ethics declarations
Conflict of interest
This research did not receive any specific grant from funding agencies in the public, commercial, or not-for-profit sectors. Bianca Caliò is supported by the European Erasmus Program. The authors declare that there are no conflicts of interest relevant to this work.
Ethical approval
No institutional review board approval is required for reports of cases referring to the Santa Maria Hospital in Terni, Italy.
About this article
Cite this article
Caliò, B., Wenning, G.K., Fanciulli, A. et al. Forehead and scalp gustatory sweating after temporomandibular joint surgery: an atypical presentation of Frey's syndrome. Clin Auton Res (2023). https://doi.org/10.1007/s10286-023-00931-3
Received:

Accepted:

Published:

DOI: https://doi.org/10.1007/s10286-023-00931-3
Keywords
Gustatory sweating

Frey's syndrome

Botulinum toxin