Abstract
Abnormalities in orthostatic blood pressure changes upon active standing are associated with morbidity, mortality, and reduced quality of life. However, over the last decade, several population-based cohort studies have reported a remarkably high prevalence (between 25 and 70%) of initial orthostatic hypotension (IOH) among elderly individuals. This has raised the question as to whether the orthostatic blood pressure patterns in these community-dwelling elderly should truly be considered as pathological. If not, redefining of the systolic cutoff values for IOH (i.e., a value ≥ 40 mmHg in systolic blood pressure in the first 15 s after standing up) might be necessary to differ between normal aging and true pathology. Therefore, in this narrative review, we provide a critical analysis of the current reference values for the changes in systolic BP in the first 60 s after standing up and discuss how these values should be applied to large population studies. We will address factors that influence the magnitude of the systolic blood pressure changes following active standing and the importance of standardization of the stand-up test, which is a prerequisite for quantitative, between-subject comparisons of the postural hemodynamic response.
Access options
Buy single article
Instant access to the full article PDF.
USD 39.95
Price excludes VAT (USA)
Tax calculation will be finalised during checkout.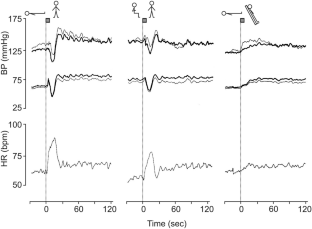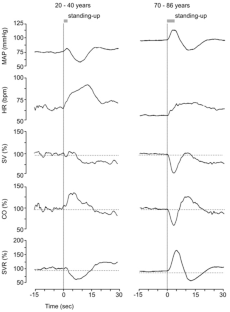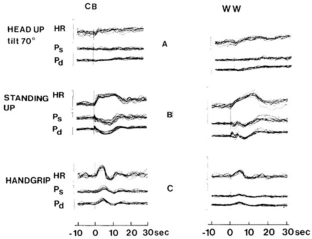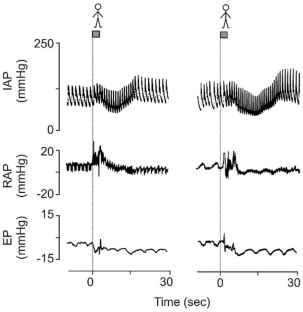 References
Freeman R, Wieling W, Axelrod FB, Benditt DG, Benarroch E, Biaggioni I, Cheshire WP, Chelimsky T, Cortelli P, Gibbons CH, Goldstein DS, Hainsworth R, Hilz MJ, Jacob G, Kaufmann H, Jordan J, Lipsitz LA, Levine BD, Low PA, Mathias C, Raj SR, Robertson D, Sandroni P, Schatz I, Schondorff R, Stewart JM, van Dijk JG (2011) Consensus statement on the definition of orthostatic hypotension, neurally mediated syncope and the postural tachycardia syndrome. Clin Auton Res 21:69–72

Fedorowski A, Hamrefors V, Sutton R, van Dijk JG, Freeman R, Lenders JW, Wieling W (2017) Do we need to evaluate diastolic blood pressure in patients with suspected orthostatic hypotension? Clin Auton Res 27:167–173

Freeman R, Illigens BMW, Lapusca R, Campagnolo M, Abuzinadah AR, Bonyhay I, Sinn DI, Miglis M, White J, Gibbons CH (2020) Symptom recognition is impaired in patients with orthostatic hypotension. Hypertension 75:1325–1332

Romero-Ortuno R, Cogan L, Fan CW, Kenny RA (2010) Intolerance to initial orthostasis relates to systolic BP changes in elders. Clin Auton Res 20:39–45

Romero-Ortuno R, Cogan L, Foran T, Kenny RA, Fan CW (2011) Continuous noninvasive orthostatic blood pressure measurements and their relationship with orthostatic intolerance, falls, and frailty in older people. J Am Geriatr Soc 59:655–665

van Wijnen VK, Harms MP, Go-Schon IK, Westerhof BE, Krediet CT, Stewart J, Wieling W (2016) Initial orthostatic hypotension in teenagers and young adults. Clin Auton Res 26:441–449

van Wijnen VK, Harms MPM, Wieling W (2018) Orthostatic hypotension in the first minute after standing up: what is the clinical relevance and do symptoms matter? Hypertension 71:816–818

Rivasi G, Rafanelli M, Mossello E, Brignole M, Ungar A (2020) Drug-related orthostatic hypotension: beyond anti-hypertensive medications. Drugs Aging 37:725–738

Moloney D, O'Connor J, Newman L, Scarlett S, Hernandez B, Kenny RA, Romero-Ortuno R (2021) Clinical clustering of eight orthostatic haemodynamic patterns in The Irish Longitudinal Study on Ageing (TILDA). Age Ageing 50:854–860

van Wijnen VK, Finucane C, Harms MPM, Nolan H, Freeman RL, Westerhof BE, Kenny RA, Ter Maaten JC, Wieling W (2017) Noninvasive beat-to-beat finger arterial pressure monitoring during orthostasis: a comprehensive review of normal and abnormal responses at different ages. J Intern Med 282:468–483

Ten Harkel AD, Van Lieshout JJ, Van Lieshout EJ, Wieling W (1990) Assessment of cardiovascular reflexes: influence of posture and period of preceding rest. J Appl Physiol 68:147–153

Dambrink JH, Imholz BP, Karemaker JM, Wieling W (1991) Circulatory adaptation to orthostatic stress in healthy 10–14-year-old children investigated in a general practice. Clin Sci (Lond) 81:51–58

Sprangers RL, Wesseling KH, Imholz AL, Imholz BP, Wieling W (1991) Initial blood pressure fall on stand up and exercise explained by changes in total peripheral resistance. J Appl Physiol 70:523–530

Imholz BP, Dambrink JH, Karemaker JM, Wieling W (1990) Orthostatic circulatory control in the elderly evaluated by non-invasive continuous blood pressure measurement. Clin Sci (Lond) 79:73–79

Thomas KN, Cotter JD, Galvin SD, Williams MJ, Willie CK, Ainslie PN (2009) Initial orthostatic hypotension is unrelated to orthostatic tolerance in healthy young subjects. J Appl Physiol 107:506–517

Lewis NC, Ainslie PN, Atkinson G, Jones H, Grant EJ, Lucas SJ (2013) Initial orthostatic hypotension and cerebral blood flow regulation: effect of alpha1-adrenoreceptor activity. Am J Physiol Regul Integr Comp Physiol 304:R147-154

Finucane C, O'Connell MD, Fan CW, Savva GM, Soraghan CJ, Nolan H, Cronin H, Kenny RA (2014) Age-related normative changes in phasic orthostatic blood pressure in a large population study: findings from The Irish Longitudinal Study on Ageing (TILDA). Circulation 130:1780–1789

Briggs R, Carey D, Kennelly SP, Kenny RA (2018) Longitudinal association between orthostatic hypotension at 30 seconds post-standing and late-life depression. Hypertension 71:946–954

Finucane C, van Wijnen VK, Fan CW, Soraghan C, Byrne L, Westerhof BE, Freeman R, Fedorowski A, Harms MPM, Wieling W, Kenny R (2019) A practical guide to active stand testing and analysis using continuous beat-to-beat non-invasive blood pressure monitoring. Clin Auton Res 29:427–441

Gibbons CH, Freeman R (2015) Clinical implications of delayed orthostatic hypotension: a 10-year follow-up study. Neurology 85:1362–1367

Wieling W, van Twist DJL, van Wijnen VK, Harms MPM (2021) Spectrum of hemodynamic responses in the first 60 seconds after active standing up: importance of time course of blood pressure changes and definitions. J Am Med Dir Assoc. https://doi.org/10.1016/j.jamda.2021.03.035

Saedon NI, Frith J, Goh CH, Ahmad WAW, Khor HM, Tan KM, Chin AV, Kamaruzzaman SB, Tan MP, Saedah S, Tey NP, Siti Z, Khoo SPL, Rosly HN, Azriyati WNWAA, Ainoriza MA, Chan CS, Wee MC, Por LY, Zaharah H, Norlida A, Firdaus A, Zaherah JS, Rajasuriar R, Sajaratulnish O, Hairi NN, Morgan K, Cumming R, Morris T, MacKenzie L (2020) Orthostatic blood pressure changes and physical, functional and cognitive performance: the MELoR study. Clin Auton Res 30:129–137

van Twist DJL, Mostard GJM, Sipers W (2020) Delayed recovery from initial orthostatic hypotension: an expression of frailty in the elderly. Clin Auton Res 30:105–106

Imholz BP, Settels JJ, van der Meiracker AH, Wesseling KH, Wieling W (1990) Non-invasive continuous finger blood pressure measurement during orthostatic stress compared to intra-arterial pressure. Cardiovasc Res 24:214–221

Harms MPM, Finucane C, Perez-Denia L, Juraschek SP, van Wijnen VK, Lipsitz LA, van Lieshout JJ, Wieling W (2021) Systemic and cerebral circulatory adjustment within the first 60 s after active standing: an integrative physiological view. Auton Neurosci 231:102756

Wieling W, Veerman DP, Dambrink JH, Imholz BP (1992) Disparities in circulatory adjustment to standing between young and elderly subjects explained by pulse contour analysis. Clin Sci (Lond) 83:149–155

Wieling W, Karemaker JM (2013) Measurement of heart rate and blood pressure to evaluate disturbances in neurocardiovascular control. In: Bannister R, Mathias CJ (eds) Autonomic Failure. A textbook of clinical disorders of the autonomic nervous system. Oxford University Press, pp 290–306

Shen WK, Sheldon RS, Benditt DG, Cohen MI, Forman DE, Goldberger ZD, Grubb BP, Hamdan MH, Krahn AD, Link MS, Olshansky B, Raj SR, Sandhu RK, Sorajja D, Sun BC, Yancy CW (2017) 2017 ACC/AHA/HRS Guideline for the Evaluation and Management of Patients With Syncope: Executive Summary: A Report of the American College of Cardiology/American Heart Association Task Force on Clinical Practice Guidelines and the Heart Rhythm Society. J Am Coll Cardiol 70:620–663

Brignole M, Moya A, de Lange FJ, Deharo JC, Elliott PM, Fanciulli A, Fedorowski A, Furlan R, Kenny RA, Martin A, Probst V, Reed MJ, Rice CP, Sutton R, Ungar A, van Dijk JG, Group ESCSD (2018) 2018 ESC Guidelines for the diagnosis and management of syncope. Eur Heart J 39:1883–1948

Thijs RD, Brignole M, Falup-Pecurariu C, Fanciulli A, Freeman R, Guaraldi P, Jordan J, Habek M, Hilz M, Traon AP, Stankovic I, Struhal W, Sutton R, Wenning G, Van Dijk JG (2021) Recommendations for tilt table testing and other provocative cardiovascular autonomic tests in conditions that may cause transient loss of consciousness : consensus statement of the European Federation of Autonomic Societies (EFAS) endorsed by the American Autonomic Society (AAS) and the European Academy of Neurology (EAN). Clin Auton Res 233:102792

Frith J (2015) Diagnosing orthostatic hypotension: a narrative review of the evidence. Br Med Bull 115:123–134

van der Velde N, van den Meiracker AH, Stricker BH, van der Cammen TJ (2007) Measuring orthostatic hypotension with the Finometer device: is a blood pressure drop of one heartbeat clinically relevant? Blood Press Monit 12:167–171

Borst C, van Brederode JF, Wieling W, van Montfrans GA, Dunning AJ (1984) Mechanisms of initial blood pressure response to postural change. Clin Sci (Lond) 67:321–327

Lewis NC, Atkinson G, Lucas SJ, Grant EJ, Jones H, Tzeng YC, Horsman H, Ainslie PN (2011) Is there diurnal variation in initial and delayed orthostatic hypotension during standing and head-up tilt? Chronobiol Int 28:135–145

Sheikh NA, Ranada S, Kogut K, Bourne KM, Lei LY, Sheldon RS, Exner DV, Phillips AA, Runte M, Raj SR (2021) Exploring the refractory period of an active stand in females with initial orthostatic hypotension. J Am Coll Cardiol 77:3228–3229

Rowell L (1993) Human cardiovascular control. Oxford University Press, Oxford

Stewart JM, Clarke D (2011) "He's dizzy when he stands up": an introduction to initial orthostatic hypotension. J Pediatr 158:499–504

Lagro J, Schoon Y, Heerts I, Meel-van den Abeelen AS, Schalk B, Wieling W, Olde Rikkert MG, Claassen JA (2014) Impaired systolic blood pressure recovery directly after standing predicts mortality in older falls clinic patients. J Gerontol A Biol Sci Med Sci 69:471–478

Fan CW, Savva GM, Finucane C, Cronin H, O'Regan C, Kenny RA, Irish Longitudinal Study on A (2012) Factors affecting continuous beat-to-beat orthostatic blood pressure response in community-dwelling older adults. Blood Press Monit 17:160–163

O'Connor JD, O'Connell MDL, Nolan H, Newman L, Knight SP, Kenny RA (2020) Impact of standing speed on the peripheral and central hemodynamic response to orthostasis: evidence from the Irish Longitudinal Study on Ageing. Hypertension 75:524–531

de Bruine ES, Reijnierse EM, Trappenburg MC, Pasma JH, de Vries OJ, Meskers CG, Maier AB (2017) Standing up slowly antagonises initial blood pressure decrease in older adults with orthostatic hypotension. Gerontology 63:137–143

Mol A, Reijnierse EM, Trappenburg MC, van Wezel RJA, Maier AB, Meskers CGM (2018) Rapid systolic blood pressure changes after standing up associate with impaired physical performance in geriatric outpatients. J Am Heart Assoc 7:e010060

Mol A, Woltering JHH, Colier W, Maier AB, Meskers CGM, van Wezel RJA (2019) Sensitivity and reliability of cerebral oxygenation responses to postural changes measured with near-infrared spectroscopy. Eur J Appl Physiol 119:1117–1125

Fitzgibbon-Collins LK, Heckman GA, Bains I, Noguchi M, McIlroy WE, Hughson RL (2021) Older adults' drop in cerebral oxygenation on standing correlates with postural instability and may improve with sitting prior to standing. J Gerontol A Biol Sci Med Sci 76:1124–1133

Borst C, Wieling W, van Brederode JF, Hond A, de Rijk LG, Dunning AJ (1982) Mechanisms of initial heart rate response to postural change. Am J Physiol 243:H676-681

Hammer PE, Saul JP (2005) Resonance in a mathematical model of baroreflex control: arterial blood pressure waves accompanying postural stress. Am J Physiol Regul Integr Comp Physiol 288:R1637-1648

Sprangers RL, van Lieshout JJ, Karemaker JM, Wesseling KH, Wieling W (1991) Circulatory responses to stand up: discrimination between the effects of respiration, orthostasis and exercise. Clin Physiol 11:221–230

Goldstein DS, Cheshire WP Jr (2017) Beat-to-beat blood pressure and heart rate responses to the Valsalva maneuver. Clin Auton Res 27:361–367

Eckberg DL, Sleight P (1992) Human baroreflexes in health and disease. Clarendon Press, Oxford

Braam EA, Verbakel D, Adiyaman A, Thien T (2009) Orthostatic hypotension: revision of the definition is needed. J Hypertens 27:2119–2120

Sorond FA, Khavari R, Serrador JM, Lipsitz LA (2005) Regional cerebral autoregulation during orthostatic stress: age-related differences. J Gerontol A Biol Sci Med Sci 60:1484–1487

Sorond FA, Serrador JM, Jones RN, Shaffer ML, Lipsitz LA (2009) The sit-to-stand technique for the measurement of dynamic cerebral autoregulation. Ultrasound Med Biol 35:21–29

Omboni S, Smit AA, van Lieshout JJ, Settels JJ, Langewouters GJ, Wieling W (2001) Mechanisms underlying the impairment in orthostatic tolerance after nocturnal recumbency in patients with autonomic failure. Clin Sci (Lond) 101:609–618

van Dijk N, Boer MC, De Santo T, Grovale N, Aerts AJ, Boersma L, Wieling W (2007) Daily, weekly, monthly, and seasonal patterns in the occurrence of vasovagal syncope in an older population. Europace 9:823–828

Hu K, Scheer FA, Laker M, Smales C, Shea SA (2011) Endogenous circadian rhythm in vasovagal response to head-up tilt. Circulation 123:961–970

Lusardi P, Mugellini A, Preti P, Zoppi A, Derosa G, Fogari R (1996) Effects of a restricted sleep regimen on ambulatory blood pressure monitoring in normotensive subjects. Am J Hypertens 9:503–505

Muenter NK, Watenpaugh DE, Wasmund WL, Wasmund SL, Maxwell SA, Smith ML (2000) Effect of sleep restriction on orthostatic cardiovascular control in humans. J Appl Physiol 88:966–972

Kooner JS, Raimbach S, Watson L, Bannister R, Peart S, Mathias CJ (1989) Relationship between splanchnic vasodilation and postprandial hypotension in patients with primary autonomic failure. J Hypertens Suppl 7:S40-41

Jansen RW, Lipsitz LA (1995) Postprandial hypotension: epidemiology, pathophysiology, and clinical management. Ann Intern Med 122:286–295

Jansen RW, Connelly CM, Kelley-Gagnon MM, Parker JA, Lipsitz LA (1995) Postprandial hypotension in elderly patients with unexplained syncope. Arch Intern Med 155:945–952

Coupland NJ, Bailey JE, Wilson SJ, Horvath R, Nutt D (1995) The effects of clonidine on cardiovascular responses to standing in healthy volunteers. Clin Auton Res 5:171–177

Darowski A, Chambers SA, Chambers DJ (2009) Antidepressants and falls in the elderly. Drugs Aging 26:381–394

Canney M, O'Connell MD, Murphy CM, O'Leary N, Little MA, O'Seaghdha CM, Kenny RA (2016) Single agent antihypertensive therapy and orthostatic blood pressure behaviour in older adults using beat-to-beat measurements: the Irish Longitudinal Study on Ageing. PLoS One 11:e0146156

Romero-Ortuno R, O'Connell MD, Finucane C, Soraghan C, Fan CW, Kenny RA (2013) Insights into the clinical management of the syndrome of supine hypertension–orthostatic hypotension (SH-OH): the Irish Longitudinal Study on Ageing (TILDA). BMC Geriatr 13:73

Kamaruzzaman S, Watt H, Carson C, Ebrahim S (2010) The association between orthostatic hypotension and medication use in the British Women's Heart and Health Study. Age Ageing 39:51–56

Gaxatte C, Faraj E, Lathuillerie O, Salleron J, Deramecourt V, Pardessus V, Destailleur MH, Boulanger E, Puisieux F (2017) Alcohol and psychotropic drugs: risk factors for orthostatic hypotension in elderly fallers. J Hum Hypertens 31:299–304

Press Y, Punchik B, Freud T (2016) Orthostatic hypotension and drug therapy in patients at an outpatient comprehensive geriatric assessment unit. J Hypertens 34:351–358

Rivasi G, Kenny RA, Ungar A, Romero-Ortuno R (2020) Effects of benzodiazepines on orthostatic blood pressure in older people. Eur J Intern Med 72:73–78

Richardson J, Kerr SR, Shaw F, Kenny RA, O'Brien JT, Thomas AJ (2009) A study of orthostatic hypotension in late-life depression. Am J Geriatr Psychiatry 17:996–999

van de Borne P, Mark AL, Montano N, Mion D, Somers VK (1997) Effects of alcohol on sympathetic activity, hemodynamics, and chemoreflex sensitivity. Hypertension 29:1278–1283

Palma JA, Kaufmann H (2020) Management of orthostatic hypotension. Continuum (Minneap Minn) 26:154–177

Onrot J, Goldberg MR, Biaggioni I, Hollister AS, Kingaid D, Robertson D (1985) Hemodynamic and humoral effects of caffeine in autonomic failure. Therapeutic implications for postprandial hypotension. N Engl J Med 313:549–554

Heseltine D, Dakkak M, Woodhouse K, Macdonald IA, Potter JF (1991) The effect of caffeine on postprandial hypotension in the elderly. J Am Geriatr Soc 39:160–164

Gibbon JR, Frith J (2021) The effects of caffeine in adults with neurogenic orthostatic hypotension: a systematic review. Clin Auton Res 31:499–509

Finucane C, Savva GM, Kenny RA (2017) Reliability of orthostatic beat-to-beat blood pressure tests: implications for population and clinical studies. Clin Auton Res 27:31–39

Belmin J, Abderrhamane M, Medjahed S, Sibony-Prat J, Bruhat A, Bojic N, Marquet T (2000) Variability of blood pressure response to orthostatism and reproducibility of the diagnosis of orthostatic hypotension in elderly subjects. J Gerontol A Biol Sci Med Sci 55:M667-671

Moloney D, Knight SP, Newman L, Kenny RA, Romero-Ortuno R (2021) Eight Orthostatic Haemodynamic Patterns in The Irish Longitudinal Study on Ageing (TILDA): Stability and Clinical Associations after 4 Years. Geriatrics (Basel) 6:50

Weiss A, Beloosesky Y, Grinblat J, Grossman E (2006) Seasonal changes in orthostatic hypotension among elderly admitted patients. Aging Clin Exp Res 18:20–24

Wulff HR, Gotzsche PC (2000) Rational diagnosis and treatment: evidence-based clinical decision-making. Blackwell Science, Oxford

Maurer MS, Cohen S, Cheng H (2004) The degree and timing of orthostatic blood pressure changes in relation to falls in nursing home residents. J Am Med Dir Assoc 5:233–238

Finucane C, O'Connell MD, Donoghue O, Richardson K, Savva GM, Kenny RA (2017) Impaired orthostatic blood pressure recovery is associated with unexplained and injurious falls. J Am Geriatr Soc 65:474–482

Krediet CT, Go-Schon IK, Kim YS, Linzer M, Van Lieshout JJ, Wieling W (2007) Management of initial orthostatic hypotension: lower body muscle tensing attenuates the transient arterial blood pressure decrease upon standing from squatting. Clin Sci (Lond) 113:401–407

van Twist DJL, Dinh T, Bouwmans EME, Kroon AA (2018) Initial orthostatic hypotension among patients with unexplained syncope: an overlooked diagnosis? Int J Cardiol 271:269–273

de Jong JSY, Blok MRS, Thijs RD, Harms MPM, Hemels MEW, de Groot JR, van Dijk N, de Lange FJ (2021) Diagnostic yield and accuracy in a tertiary referral syncope unit validating the ESC guideline on syncope: a prospective cohort study. Europace 23:797–805

Zhou TL, van Twist DJL (2021) Postural blood pressure changes and arterial stiffness: a vicious circle? J Hypertens 39:1311–1313

Nolde JM, Lugo-Gavidia LM, Kannenkeril D, Chan J, Matthews VB, Carnagarin R, Azzam O, Kiuchi MG, Schlaich MP (2021) Increased pulse wave velocity in patients with an orthostatic blood pressure rise independent of other cardiovascular risk factors. J Hypertens 39:1352–1360

Lu DY, Sung SH, Yu WC, Cheng HM, Chuang SY, Chen CH (2014) Wave reflections, arterial stiffness, heart rate variability and orthostatic hypotension. Hypertens Res 37:1056–1061
Ethics declarations
Conflict of interest
The authors declare no conflicts of interest.
About this article
Cite this article
van Twist, D.J.L., Harms, M.P.M., van Wijnen, V.K. et al. Diagnostic criteria for initial orthostatic hypotension: a narrative review. Clin Auton Res 31, 685–698 (2021). https://doi.org/10.1007/s10286-021-00833-2
Received:

Accepted:

Published:

Issue Date:

DOI: https://doi.org/10.1007/s10286-021-00833-2
Keywords
Orthostatic hypotension

Initial orthostatic hypotension

Postural blood pressure changes