Abstract
Purpose
To investigate gastrointestinal function in dementia with Lewy bodies and Parkinson disease.
Methods
We examined gastric emptying and colonic transit time in 19 dementia with Lewy bodies and 46 Parkinson disease patients.
Results
Gastric emptying was longer in dementia with Lewy bodies than in Parkinson disease (p = 0.014). Colonic transit time tended to be longer in dementia with Lewy bodies than in Parkinson disease. There was no relationship between gastric emptying and colonic transit time, nor between gastric emptying, colonic transit time and age.
Conclusion
Gastric emptying was prolonged in dementia with Lewy bodies compared to Parkinson disease.
This is a preview of subscription content, log in to check access.
Access options
Buy single article
Instant access to the full article PDF.
US$ 39.95
Tax calculation will be finalised during checkout.
Subscribe to journal
Immediate online access to all issues from 2019. Subscription will auto renew annually.
US$ 199
Tax calculation will be finalised during checkout.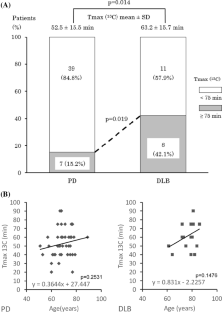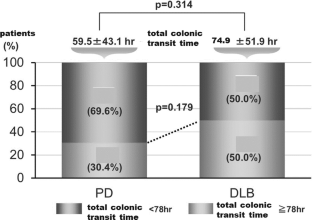 References
1.

McKeith IG, Dickson DW, Lowe J, Emre M, O'Brien JT, Feldman H, Cummings J, Duda JE, Lippa C, Perry EK, Aarsland D, Arai H, Ballard CG, Boeve B, Burn DJ, Costa D, Del Ser T, Dubois B, Galasko D, Gauthier S, Goetz CG, Gomez-Tortosa E, Halliday G, Hansen LA, Hardy J, Iwatsubo T, Kalaria RN, Kaufer D, Kenny RA, Korczyn A, Kosaka K, Lee VM, Lees A, Litvan I, Londos E, Lopez OL, Minoshima S, Mizuno Y, Molina JA, Mukaetova-Ladinska EB, Pasquier F, Perry RH, Schulz JB, Trojanowski JQ, Yamada M; Consortium on DLB. Diagnosis and management of dementia with Lewy bodies: third report of the DLB Consortium. Neurology 2005; 65: 1863–1872

2.

Goodman RA, Lochner KA, Thambisetty M et al (2017) Prevalence of dementia subtypes in United States Medicare fee-for-service beneficiaries, 2011–2013. Alzheimers Dement. 13:28–37

3.

Orme T, Guerreiro R, Bras J (2018) The genetics of dementia with Lewy bodies: current understanding and future directions. Curr Neurol Neurosci Rep. 18:67. https://doi.org/10.1007/s11910-018-0874-y

4.

Hughes AJ, Daniel SE, Kilford L, Lees AJ (1992) Accuracy of clinical diagnosis of idiopathic Parkinson's disease: a clinico-pathological study of 100 cases. J Neurol Neurosurg Psychiatry 55:181–184

5.

Pfeiffer RF (2018) Gastrointestinal dysfunction in Parkinson's disease. Curr Treat Options Neurol. 20:54. https://doi.org/10.1007/s11940-018-0539-9

6.

Knudsen K, Szwebs M, Hansen AK, Borghammer P (2018) Gastric emptying in Parkinson's disease: a mini-review. Parkinsonism Relat Disord. 55:18–25

7.

Sakakibara R, Tateno F, Aiba Y, Ogata T, Kishi M, Terada H, Inaoka T, Nakatsuka T, Matsuoka K. MIBG myocardial scintigraphy identifies premotor PD/DLB during a negative DAT scan period: second report. Mov Disord Clinical Pract 2019: in press

8.

Sakakibara R, Odaka T, Uchiyama T, Asahina M, Yamaguchi K, Yamaguchi T, Yamanishi T, Hattori T (2003) Colonic transit time and rectoanal videomanometry in Parkinson's disease. J Neurol Neurosurg Psychiatry 74:268–272

9.

Doi H, Sakakibara R, Sato M, Masaka T, Kishi M, Tateno A, Tateno F, Tsuyusaki Y, Takahashi O (2012) Plasma levodopa peak delay and impaired gastric emptying in Parkinson's disease. J Neurol Sci 319:86–88

10.

Folstein M, Folstein S, McHugh PR (1975) Mini-mental state; a practical method for grading the cognitive state of patients for the clinician. J Psychiatr Res 12:189–198

11.

Ghoos YF, Maes BD, Geypens BJ, Mys G, Hiele MI, Rutgeerts PJ, Vantrappen G (1993) Measurement of gastric emptying rate of solids by means of a carbon-labeled octanoic acid breath test. Gastroenterology 104:1640–1647

12.

Nakada K, Aoyama N, Nakagawa M, Kawasaki N, Shirasaka D, Zai H, Urita Y, Kitagawa Y, Koyama S, Shishido T, Kusunoki H, Kato M, Hanyu N, Haruma K, Hongo M (2002) The report of the workshop entitled "The present and the future in gastric emptying study assessed by 13C breath test: with special reference to the standardization of the method" at the 44th Annual Meeting of the Japanese Smooth Muscle Society. J Smooth Muscle Res 6:75–91

13.

Devroede G (1993) Radiopaque marker measurement of colorectal transit. In: Schuster MM (ed) Atlas of gastrointestinal motility in health and disease, Chapter 3. Williams and Wilkins, Baltimore, pp 57–75

14.

Sakakibara R, Doi H, Fukudo S. Lewy body constipation. J Anus Rectum, 2018: in press

15.

Shannon K, Vanden Berghe P (2018) The enteric nervous system in PD: gateway, bystander victim, or source of solutions. Cell Tissue Res 373:313–326

16.

Abbott RD, Petrovitch H, White LR, Masaki KH, Tanner CM, Curb JD et al (2001) Frequency of bowel movements and the future risk of Parkinson's disease. Neurology 57:456–462

17.

Giancola F, Torresan F, Repossi R, Bianco F, Latorre R, Ioannou A, De Giorgio R (2016) Downregulation of neuronal vasoactive intestinal polypeptide in Parkinson's disease and chronic constipation. Neurogastroenterol Motility 29:e12995. https://doi.org/10.1111/nmo.12995

18.

Svensson E, Horváth-Puhó E, Thomsen RW, Djurhuus JC, Pedersen L, Borghammer P, Sørensen HT (2015) Vagotomy and subsequent risk of Parkinson's disease. Ann Neurol 78:522–529

19.

Kujawska M, Jodynis-Liebert J (2018) What is the evidence that Parkinson's disease is a prion disorder, which originates in the gut? Int J Mol Sci. 19(11):22. https://doi.org/10.3390/ijms19113573

20.

Lee HJ, Jung KW, Chung SJ, Hong SM, Kim J, Lee JH, Hwang SW, Ryu HS, Kim MJ, Lee HS, Seo M, Park SH, Yang DH, Ye BD, Byeon JS, Choe J, Jung HY, Yang SK, Myung SJ. Relation of enteric α-synuclein to gastrointestinal dysfunction in patients with Parkinson's disease and in neurologically intact subjects. J Neurogastroenterol Motil. 2018; 24:469–478

21.

Liddle RA (2018) Parkinson's disease from the gut. Brain Res 1693(Pt B):201–206

22.

Anselmi L, Toti L, Bove C, Hampton J, Travagli RA (2017) A nigrolvagal pathway controls gastric motility and is affected in a rat model of parkinsonism. Gastroenterology 153:1581–1593

23.

Sakakibara Y, Asahina M, Suzuki A, Hattori T (2009) Gastric myoelectrical differences between Parkinson's disease and multiple system atrophy. Mov Disord 24:1579–1586

24.

Goetze O, Nikodem AB, Wiezcorek J, Banasch M, Przuntek H, Mueller T, Schmidt WE, Woitalla D (2006) Predictors of gastric emptying in Parkinson's disease. Neurogastroenterol Motil 18:369–375

25.

Merchant HA, Liu F, Orlu Gul M, Basit AW (2016) Age-mediated changes in the gastrointestinal tract. Int J Pharm 512:382–395

26.

Fich A, Camilleri M, Phillips SF (1989) Effect of age on human gastric and small bowel motility. J Clin Gastroenterol 11:416–420

27.

Tateno F, Sakakibara R, Kishi M, Ogawa E, Yoshimatsu Y, Takada N, Suzuki Y, Mouri T, Uchiyama T, Yamamoto T (2011) Incidence of emergency intestinal pseudo-obstruction in Parkinson's disease. J Am Geriatr Soc 59:2373–2375
Ethics declarations
Conflict of interest
None of the authors have any conflicts of interest to declare.
About this article
Cite this article
Doi, H., Sakakibara, R., Masuda, M. et al. Gastrointestinal function in dementia with Lewy bodies: a comparison with Parkinson disease. Clin Auton Res 29, 633–638 (2019). https://doi.org/10.1007/s10286-019-00597-w
Received:

Accepted:

Published:

Issue Date:
Keywords
Dementia with Lewy bodies

Parkinson disease

Gastric emptying

Colonic transit time

Constipation