Abstract
Purpose
Postprandial hypotension (PPH) has been associated with increased risk of syncope, falls, stroke, angina and mortality. As the majority of patients with PPH are asymptomatic, the diagnosis is often overlooked. The aim of this study was to perform a systematic review and meta-analysis of available scientific evidence on the likelihood of PPH in neurological diseases.
Methods
A systematic review of the literature (PubMed library, Cochrane Database for Systematic Reviews and Cochrane Central Register of Controlled Trials for results up to January 2017) identified 327 studies, of which 11 reported the frequency of PPH in patients with neurological diseases compared to healthy controls. These 11 studies were on patients with Parkinson's disease (PD; n = 6 studies), multiple system atrophy (MSA; n = 1), Alzheimer's disease (AD; n = 1) and diabetic neuropathy (DN; n = 2).
Results
The meta-analysis revealed that patients with neurological diseases had a significantly higher frequency of PPH than healthy controls [147/289 patients vs. 41/217 controls; odd ratio (OR) 5.23, 95% confidence interval (CI) 2.90–9.45, p < 0.00001]. For each of the four diseases, the respective patients had a significantly higher frequency of PPH than healthy controls (PD: 107/201 patients vs. 32/136 controls; OR 3.49, 95% CI 2.09–5.83, p < 0.0001; MSA: 19/27 patients vs. 0/24 controls; OR 89.55, 95% CI 2.65–3030.33, p = 0.01; AD: 7/10 patients vs. 6/23 controls; OR 6.61, 95% CI 1.28–34.14, p = 0.02; DN: 14/51 patients vs. 3/34 controls; OR 4.83, 95%CI 1.20–19.41, p = 0.03).
Conclusion
The likelihood of having PPH is higher in patients with neurological diseases than in healthy controls. These findings should prompt further research focusing on the epidemiology and pathophysiology of PPH in different neurological diseases.
This is a preview of subscription content,
to check access.
Access this article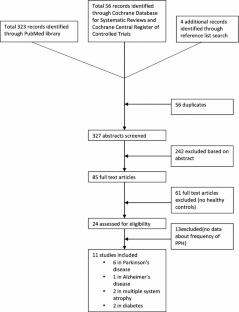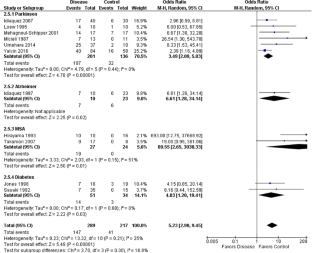 References
Trahair LG, Horowitz M, Jones KL (2014) Postprandial hypotension: a systematic review. J Am Med Dir Assoc 15:394–409

Jansen RW, Lipsitz LA (1995) Postprandial hypotension: epidemiology, pathophysiology, and clinical management. Ann Intern Med 122:286–295

Jansen RW, Connelly CM, Kelley-Gagnon MM, Parker JA, Lipsitz LA (1995) Postprandial hypotension in elderly patients with unexplained syncope. Arch Intern Med 155:945–952

Jansen RW, Penterman BJ, van Lier HJ, Hoefnagels WH (1987) Blood pressure reduction after oral glucose loading and its relation to age, blood pressure and insulin. Am J Cardiol 60:1087–1091

Lipsitz LA, Pluchino FC, Wei JY, Rowe JW (1986) Syncope in institutionalized elderly: the impact of multiple pathological conditions and situational stress. J Chronic Dis 39:619–630

Fisher AA, Davis MW, Srikusalanukul W, Budge MM (2005) Postprandial hypotension predicts all-cause mortality in older, low-level care residents. J Am Geriatr Soc 53:1313–1320

Stroup DF, Berlin JA, Morton SC, Olkin I, Williamson GD, Rennie D, Moher D, Becker BJ, Sipe TA, Thacker SB (2000) Meta-analysis of observational studies in epidemiology: a proposal for reporting. Meta-analysis of Observational Studies in Epidemiology (MOOSE) group. JAMA 283:2008–2012

The Cochrane Collaboration (2011) The Cochrane handbook for systematic reviews of intervension. http://handbook.cochrane.org/whgdata/whlstt83.htm. Accessed 21 Aug 2016

Higgins JP, Thompson SG, Deeks JJ, Altman DG (2003) Measuring inconsistency in meta-analyses. BMJ 327:557–560

Idiaquez J, Benarroch EE, Rosales H, Milla P, Ríos L (2007) Autonomic and cognitive dysfunction in Parkinson's disease. Clin Auton Res 17:93–98

Loew F, Gauthey L, Koerffy A, Herrmann FR, Estade M, Michel JP, Vallotton MB (1995) Postprandial hypotension and orthostatic blood pressure responses in elderly Parkinson's disease patients. J Hypertens 13:1291–1297

Mehagnoul-Schipper DJ, Boerman RH, Hoefnagels WH, Jansen RW (2001) Effect of levodopa on orthostatic and postprandial hypotension in elderly Parkinsonian patients. J Gerontol A 56:M749–M755

Micieli G, Martignoni E, Cavallini A, Sandrini G, Nappi G (1987) Postprandial and orthostatic hypotension in Parkinson's disease. Neurology 37:386–393

Umehara T, Toyoda C, Oka H (2014) Postprandial hypotension in de novo Parkinson's disease: a comparison with orthostatic hypotension. Parkinsonism Relat Disord 20:573–577

Yalcin A, Atmis V, Cengiz OK, Cinar E, Aras S, Varli M, Atli T (2016) Evaluation of cardiac autonomic functions in older Parkinson's disease patients: a cross-sectional study. Aging Dis 7:28–35

Idiaquez J, Rios L, Sandoval E (1997) Postprandial hypotension in Alzheimer's disease. Clin Auton Res 7:119–120

Hirayama M, Watanabe H, Koike Y, Hasegawa Y, Kanaoke Y, Sakurai N, Hakusui S, Takahashi A (1993) Postprandial hypotension: hemodynamic differences between multiple system atrophy and peripheral autonomic neuropathy. J Auton Nerv Syst 43:1–6

Takamori M, Hirayama M, Kobayashi R, Ito H, Mabuchi N, Nakamura T, Hori N, Koike Y, Sobue G (2007) Altered venous capacitance as a cause of postprandial hypotension in multiple system atrophy. Clin Auton Res 17:20–25

Jones KL, Tonkin A, Horowitz M, Wishart JM, Carney BI, Guha S, Green L (1998) Rate of gastric emptying is a determinant of postprandial hypotension in non-insulin-dependent diabetes mellitus. Clin Sci (Lond) 94:65–70

Sasaki E, Kitaoka H, Ohsawa N (1992) Postprandial hypotension in patients with non-insulin-dependent diabetes mellitus. Diabetes Res Clin Pract 18:113–121

Oberman AS, Gagnon MM, Kiely DK, Nelson JC, Lipsitz LA (2000) Autonomic and neurohumoral control of postprandial blood pressure in healthy aging. J Gerontol A 55:M477–M483

Puisieux F, Court D, Baheu E, Dipompeo C, Bulckaen H, Dewailly P (2002) Intraindividual reproducibility of postprandial hypotension. Gerontology 48:315–320

Ferreira-Filho SR, de Castro Rodrigues Ferreira AC, de Oliveira PC (2012) Systemic hemodynamic changes in young and elderly normotensive individuals after ingestion of meals with high lipid, protein, and carbohydrate contents. Blood Press Monit 17:110–115

Visvanathan R, Horowitz M, Chapman I (2006) The hypotensive response to oral fat is comparable but slower compared with carbohydrate in healthy elderly subjects. Br J Nutr 95:340–345

Ferreira-Filho SR, Ferreira ACCR, Oliveira PC, Moreira JFM, Ribeiro EC, Oliveira ÂMM, Do Vale MB (2009) Systemic hemodynamic changes in elderly hypertensive patients after ingesting foods with lipid, protein, and carbohydrate contents. J Clin Hypertens 11:271–276

Sidery MB, Cowley AJ, MacDonald IA (1993) Cardiovascular responses to a high-fat and a high-carbohydrate meal in healthy elderly subjects. Clin Sci (Lond) 84:263–270

Potter JF, Heseltine D, Hartley G, Matthews J, Macdonald IA, James OFW (1989) Effects of meal composition on the postprandial blood pressure, catecholamine and insulin changes in elderly subjects. Clin Sci (Lond) 77:265–272

Mathias CJ, da Costa DF, McIntosh CM, Fosbraey P, Bannister R, Wood SM, Bloom SR, Christensen NJ (1989) Differential blood pressure and hormonal effects after glucose and xylose ingestion in chronic autonomic failure. Clin Sci (Lond) 77:85–92

Heseltine D, Dakkak M, Macdonald IA, Bloom SR, Potter JF (1991) Effects of carbohydrate type on postprandial blood pressure, neuroendocrine and gastrointestinal hormone changes in the elderly. Clin Auton Res 1:219–224

Masuda Y, Kawamura A (2003) Role of the autonomic nervous system in postprandial hypotension in elderly persons. J Cardiovasc Pharmacol 42:S23–S26

Fagius J, Ellerfelt K, Lithell H, Berne C (1996) Increase in muscle nerve sympathetic activity after glucose intake is blunted in the elderly. Clin Auton Res 6:195–203

Hakusui S, Sugiyama Y, Iwase S, Hasegawa Y, Koike Y, Mano T, Takahashi A (1991) Postprandial hypotension: microneurographic analysis and treatment with vasopressin. Neurology 41:712–715

Mitro P, Feterik K, Lenártová M, Cvercková A, Curmová A, Rybárová E, Petrásová D, Rybár R, Trejbal D (2001) Humoral mechanisms in the pathogenesis of postprandial hypotension in patients with essential hypertension. Wien Klin Wochenschr 113:424–432

Seyer-Hansen K (1977) Postprandial hypotension. Br Med J 2:1262

Struhal W, Mahringer C, Lahrmann H, Mörtl C, Buhl P, Huemer M, Ransmayr G (2016) Heart rate spectra confirm the presence of autonomic dysfunction in dementia patients. J Alzheimers Dis 54:657–667

Hoy D, Brooks P, Woolf A, Blyth F, March L, Bain C, Baker P, Smith E, Buchbinder R (2012) Assessing risk of bias in prevalence studies: modification of an existing tool and evidence of interrater agreement. J Clin Epidemiol 65:934–939
Ethics declarations
Conflict of interest
None of the authors have relevant affiliations or financial involvement with any organization or entity with a financial interest in or financial conflict with the subject matter or materials discussed in the manuscript. This includes employment, consultancies, honoraria, stock ownership or options, expert testimony, grants or patents received or pending, or royalties. No writing assistance was utilized in the production of this manuscript.
About this article
Cite this article
Pavelić, A., Krbot Skorić, M., Crnošija, L. et al. Postprandial hypotension in neurological disorders: systematic review and meta-analysis. Clin Auton Res 27, 263–271 (2017). https://doi.org/10.1007/s10286-017-0440-8
Received:

Accepted:

Published:

Issue Date:

DOI: https://doi.org/10.1007/s10286-017-0440-8
Keywords