Abstract
Purpose
Electronic cigarettes are growing in popularity, but the physiological consequences of vaporized nicotine are unknown.
Methods
Twenty healthy non-smokers inhaled vaporized nicotine and placebo (randomized).
Results
Nicotine inhalation was associated with higher arterial pressures in the seated position, and increased arterial pressures in the head-up positions with no other effects on autonomic control.
Conclusions
Our results show that vaporized nicotine inhalation is not innocuous. Longitudinal studies in otherwise healthy non-smokers should be conducted.
Access options
Buy single article
Instant access to the full article PDF.
US$ 39.95
Tax calculation will be finalised during checkout.
Subscribe to journal
Immediate online access to all issues from 2019. Subscription will auto renew annually.
US$ 159
Tax calculation will be finalised during checkout.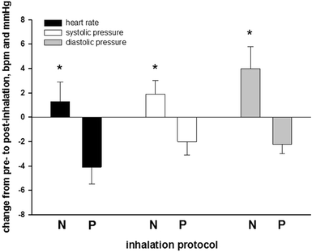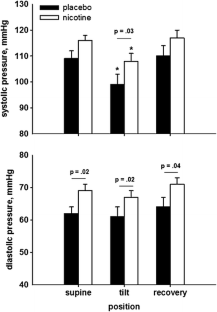 References
1.

Caponnetto P, Campagna D, Papale G, Russo C, Polosa R (2012) The emerging phenomenon of electronic cigarettes. Expert Rev Respir Med 6(1):63–74

2.

Grana RA, Ling PM, Benowitz N, Glantz S (2014) Electronic cigarettes: a scientific review. Circulation 129(19):e490–e492. doi:10.1161/circulationaha.114.008545

3.

Callahan-Lyon P (2014) Electronic cigarettes: human health effects. Tob Control 23(suppl 2):ii36–ii40. doi:10.1136/tobaccocontrol-2013-051470

4.

Yan XS, D'Ruiz C (2015) Effects of using electronic cigarettes on nicotine delivery and cardiovascular function in comparison with regular cigarettes. Regul Toxicol Pharmacol 71(1):24–34. doi:10.1016/j.yrtph.2014.11.004

5.

Cooke WH, Rickards CA, Ryan KL, Kuusela TA, Convertino VA (2009) Muscle sympathetic nerve activity during intense lower body negative pressure to presyncope in humans. J Physiol 587(20):4987–4999

6.

Bramer SL, Kallungal BA (2003) Clinical considerations in study designs that use cotinine as a biomarker. Biomarkers 8(3–4):187–203

7.

Haass M, Kubler W (1997) Nicotine and sympathetic neurotransmission. Cardiovasc Drugs Ther 10(6):657–665 (sponsored by the International Society of Cardiovascular Pharmacotherapy)

8.

Sundlof G, Wallin BG (1978) Human muscle nerve sympathetic activity at rest. Relationship to blood pressure and age. J Physiol 274:621–637

9.

Narkiewicz K, van de Borne PJ, Hausberg M, Cooley RL, Winniford MD, Davison DE, Somers VK (1998) Cigarette smoking increases sympathetic outflow in humans. Circulation 98(6):528–534

10.

Grassi G, Seravalle G, Calhoun DA, Bolla GB, Giannattasio C, Marabini M, Del Bo A, Mancia G (1994) Mechanisms responsible for sympathetic activation by cigarette smoking in humans. Circulation 90(1):248–253
Acknowledgments
This study was supported by a Collaborative Seed Grant through the Office of the Vice President for Research, University of Texas at San Antonio, San Antonio Texas. We appreciate the technical assistance of Ms. Audrey Ramirez.
Ethics declarations
Conflict of interest
The authors declare that they have no conflict of interest.
About this article
Cite this article
Cooke, W.H., Pokhrel, A., Dowling, C. et al. Acute inhalation of vaporized nicotine increases arterial pressure in young non-smokers: a pilot study. Clin Auton Res 25, 267–270 (2015). https://doi.org/10.1007/s10286-015-0304-z
Received:

Accepted:

Published:

Issue Date:
Keywords
Electronic cigarettes

Head-up tilt

Blood pressure

Autonomic control