Abstract
Objective
Postural tachycardia syndrome (PoTS) is an important cause of orthostatic intolerance resulting from cardiovascular autonomic dysfunction. In addition to postural symptoms, PoTS patients may have allied features, including gastrointestinal (GI) symptoms, which have not yet been thoroughly investigated. We evaluated gastric myoelectrical activity in PoTS patients.
Methods
Using cutaneous electrogastrography (EGG), we recorded gastric myoelectrical activity before and after standard liquid meal ingestion in 15 PoTS patients (age 27 ± 4 years); including 7 with and 8 without GI symptoms, and in 11 healthy individuals (age 23 ± 7 years). We performed spectral analysis of EGG recordings to obtain the dominant frequency of gastric pacemaker rhythm (DF), instability coefficient of DF (ICDF), and low (LFR%), normal (NFR%), and high (HFR%) range power percentages of the total power.
Results
Instability coefficient of DF, an index of variability of gastric pacemaker rhythm, was significantly elevated both pre- and post-prandially (30–45 min after the meal) in the PoTS group (8.8 ± 6, 10.0 ± 8 %) compared with controls (4.0 ± 3, 4.0 ± 3 %; both p < 0.05). Patients with GI symptoms had significantly higher post-prandial ICDF (15.0 ± 5 %) than those without GI symptoms (5.6 ± 4 %; p < 0.05). There were no significant differences in DF, LFR%, NFR% and HFR% before and after the meal between the PoTS and control groups, or between PoTS patients with and without GI symptoms.
Interpretation
Our study revealed increased variability of gastric pacemaker rhythm in PoTS, and these findings might be related to pathophysiology of functional GI symptoms in PoTS.
Access options
Buy single article
Instant access to the full article PDF.
USD 39.95
Price excludes VAT (USA)
Tax calculation will be finalised during checkout.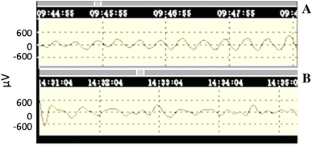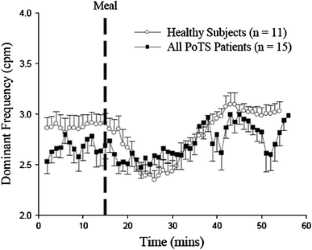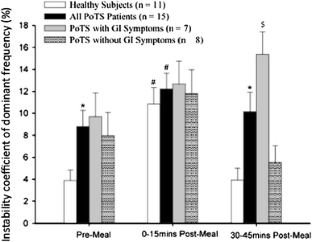 References
Mathias CJ (2002) To stand on one's own legs. Clin Med 2:237–245

Antiel RM, Risma JM, Grothe RM, Brands CK, Fischer PR (2008) Orthostatic intolerance and gastrointestinal motility in adolescents with nausea and abdominal pain. J Pediatr Gastroenterol Nutr 46:285–288

Low PA, Sandroni P, Joyner M, Win-Kuang S (2009) Postural tachycardia syndrome (POTS). J Cardiovasc Electrophysiol 20:352–358

Safder S, Chelimsky TC, O'Riordan MA, Chelimsky G. (2009) Autonomic testing in functional gastrointestinal disorders: implications of reproducible gastrointestinal complaints during tilt table testing. Gastroenterol Res Pract Article ID 868496

Furlan R, Jacob G, Snell M et al (1998) Chronic orthostatic intolerance—a disorder with discordant cardiac and vascular sympathetic control. Circulation 98:2154–2159

Stewart JM (2000) Autonomic nervous system dysfunction in adolescents with postural orthostatic tachycardia syndrome and chronic fatigue syndrome is characterized by attenuated vagal baroreflex and potentiated sympathetic vasomotion. Pediatr Res 48:218–226

Grubb BP, Karas BJ (1998) The potential role of serotonin in the pathogenesis of neurocardiogenic syncope and related autonomic disturbances. J Interv Card Electrophysiol 2:325–332

van Oudenhove L, Vandenberghe J, Geeraerts B et al (2007) Relationship between anxiety and gastric sensorimotor function in functional dyspepsia. Psychosom Med 69:455–463

Chang FY (2005) Electrogastrography: basic knowledge, recording, processing and its clinical applications. J Gastroenterol Hepatol 20:502–516

Muth ER, Koch KL, Stern RM, Thayer JF (1999) Effect of autonomic nervous system manipulations on gastric myoelectrical activity and emotional responses in healthy human subjects. Psychosom Med 61:297–303

Sakakibara Y, Asahina M, Suzuki AK, Hattori T (2009) Gastric myoelectrical differences between Parkinson's disease and multiple system atrophy. Mov Disord 24:1579–1586

Kaneoke Y, Koike Y, Sakurai N et al (1995) Gastrointestinal dysfunction in Parkinson's disease detected by electrogastroenterography. J Auton Nerv Syst 50:275–281

Suzuki A, Asahina M, Ishikawa C, Asahina KM, Honma K, Fukutake T, Hattori T (2005) Impaired circadian rhythm of gastric myoelectrical activity in patients with multiple system atrophy. Clin Auton Res 15:368–372

Mathias CJ, Low DA, Iodice V, Owens AP, Kirbis M, Grahame R (2011) The postural tachycardia syndrome (PoTS)—current experiences and concepts. Nat Neurol 8(1):22–34

Stewart JM, Medow MS, Glover JL, Montgomery LD (2006) Persistent splanchnic hyperemia during upright tilt in postural tachycardia syndrome. Am J Physiol Heart Circ Physiol 290:665–673

Thieben MJ, Sandroni P, Sletten DM et al (2007) Postural orthostatic tachycardia syndrome: the mayo clinic experience. Mayo Clin Proc 82:308–313

Masuki S, Eisenach JH, Johnson CP et al (2007) Excessive heart rate response to orthostatic stress in postural tachycardia syndrome is not caused by anxiety. J Appl Physiol 102:896–903

Raj SR (2006) The Postural Tachycardia Syndrome (POTS): pathophysiology, diagnosis & management. Indian Pacing Electrophysiol J 6:84–99

van Oudenhove L, Vandenberghe J, Geeraerts B et al (2007) Relationship between anxiety and gastric sensorimotor function in functional dyspepsia. Psychosom Med 69:455–463

Bonyhay I, Freeman R (2004) Sympathetic nerve activity in response to hypotensive stress in the postural tachycardia syndrome. Circulation 110:3193–3198

Mazur M, Furgała A, Jabłoński K, Madroszkiewicz D, Ciećko-Michalska I, Bugajski A, Thor PJ (2007) Dysfunction of the autonomic nervous system activity is responsible for gastric myoelectric disturbances in the irritable bowel syndrome patients. J Physiol Pharmacol 58(Suppl 3):131–139

Camilleri M, Hasler WL, Parkman HP et al (1998) Measurement of gastrointestinal motiliy in the GI laboratory. Gastroenterology 115:747–762

Koch KL, Stern RM, Stewart WR et al (1989) Gastric emptying and gastric myoelectric activity in patients with diabetic gastroparesis: effect of long-term domperidone treatment. Am J Gastroenterol 84:1069–1074

Abell TL, Camilleri M, Hench VS et al (1991) Gastric electromechanical function and gastric emptying in diabetic gastroparesis. Eur J Gastroenterol Hepatol 3:163–167

Esler M, Alvarenga M, Pier C et al (2006) The neuronal noradrenaline transporter, anxiety and cardiovascular disease. J Psychopharmacol 20:60–66

Grubb BP, Karas BJ (1998) The potential role of serotonin in the pathogenesis of neurocardiogenic syncope and related autonomic disturbances. J Interv Card Electrophysiol 2:325–332

Camilleri M, Atanasova E, Carlson PJ et al (2002) Serotonin-transporter polymorphism pharmacogenetics in diarrhea-predominant irritable bowel syndrome. Gastroenterology 123:425–432

Neal KB, Parry LJ, Bornstein JC (2009) Strain-specific genetics, anatomy and function of enteric neural serotonergic pathways in inbred mice. J Physiol 587:567–586

Jordan D (2005) Vagal control of the heart: central serotonergic (5-HT) mechanisms. Exp Physiol 90:175–181

Kasparov S, Teschemacher AG (2008) Altered central catecholaminergic transmission and cardiovascular disease. Exp Physiol 93:725–740

Nagata M, Osumi Y (1993) Central alpha 2-adrenoceptor-mediated inhibition of gastric motility in rats. Jpn J Pharmacol 62:329–330

O'Mahony S, Dinan TG, Keeling PW, Chua AS (2006) Central serotonergic and noradrenergic receptors in functional dyspepsia. World J Gastroenterol 12:2681–2687

Stanghellini V, De Ponti F, De Giorgio R, Barbara G, Tosetti C, Corinaldesi R (2003) New developments in the treatment of functional dyspepsia. Drugs 63:869–892

Russo V, De Crescenzo I, Ammendola E, Santangelo L, Calabro R (2007) Sympathovagal balance analysis in idiopathic postural orthostatic tachycardia syndrome. Acta Biomed 78:133–138

Zarate N, Farmer AD, Grahame R et al (2010) Unexplained gastrointestinal symptoms and joint hypermobility: is connective tissue the missing link? Neurogastroenterol Motil 22:252–278

Lu CL, Shan DE, Chen CY, Luo JC, Chang FY, Lee SD, Wu HC, Chen JD (2004) Impaired gastric myoelectrical activity in patients with Parkinson's disease and effect of levodopa treatment. Dig Dis Sci 49:744–749

Meier-Ruge WA, Holschneider AM, Scharli AF (2001) New pathogenetic aspects of gut dysmotility in aplastic and hypoplastic desmosis of early childhood. Pediatr Surg Int 17:140–143
Acknowledgments
We thank Madeline Tippetts, Michael Peche and Vanessa Ponnusamy for their support with the clinical testing of the patients.
Conflict of interest
None declared.
About this article
Cite this article
Seligman, W.H., Low, D.A., Asahina, M. et al. Abnormal gastric myoelectrical activity in postural tachycardia syndrome. Clin Auton Res 23, 73–80 (2013). https://doi.org/10.1007/s10286-012-0185-3
Received:

Accepted:

Published:

Issue Date:

DOI: https://doi.org/10.1007/s10286-012-0185-3
Keywords
Orthostatic intolerance

Autonomic nervous system

Electrogastrography

Gastric motility